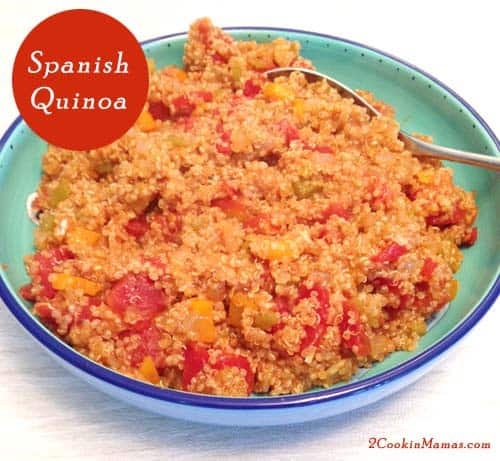 There are just some days that you want to do without the extra starches and added empty calories of processed food and this was one of those days. I decided to try my hand at exchanging the rice in one of our favorite rice dishes, Spanish Rice, with quinoa and see if it would match up. Well it not only matched up but surpassed it! I think I will be making this in the future in place of our favorite rice version.
And if you didn't know, using quinoa is a great benefit to a healthy life style as it is one of the most complete proteins, supplying all eight essential amino acids, and fills you up just as much as whole grains.
Spanish Quinoa
Ingredients:
1 cup quinoa, rinsed well
2 cups chicken broth (use vegetable broth for a vegetarian meal)
2 Tablespoons olive oil
3/4 cup onion, chopped
1/2 green pepper, chopped
1 10-oz can diced tomatoes
1 4-oz can green chiles
2 teaspoons chili powder
Directions:
Drain the diced tomatoes and green chiles, reserving liquids in a 2 cup measuring cup. Fill the measuring cup the remaining way with chicken broth, up to the 2 cup mark.
In a medium saucepan, combine quinoa with the 2 cups of tomato-chile-broth mixture. Bring to a boil, cover, lower heat and cook for approximately 15-20 minutes. Fluff with fork.
Meanwhile, in a large skillet, heat oil and saute onion and pepper for about 5 minutes or until onion is translucent. Add tomatoes, green chiles and chili powder and just heat until tomatoes are warm. Toss in quinoa and serve immediately.
Serves 4.
Serve as a side dish or as a main meal. It is both vegetarian and gluten-free!
Check out the variety of quinoa, such as our favorite Nature's Earthly Choice Premium Organic 100% Whole Grain Quinoa, found on Amazon.com. It's a great place to pick up packaged raw foods as well as gluten-free foods. And if you are part of Amazon Prime there is free 2-day shipping.