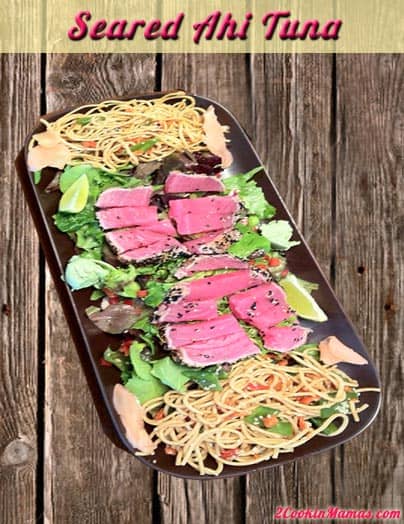 This is one of our family's favorite recipes! It is so easy and so delicious that I think I could eat it every day of the week without getting tired of it. Now, I am really not going to do that, but it just shows you how absolutely yummy it is! And I have found it is a lot cheaper making it for yourself than purchasing it at your local market or fish store.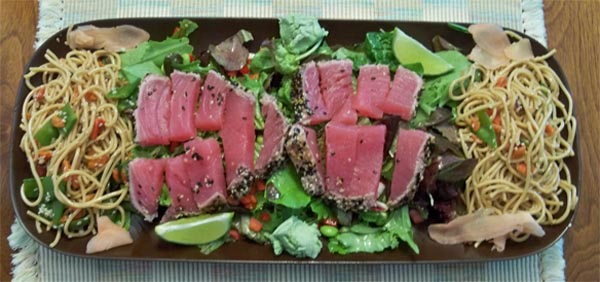 All you need is a hot grill, some sesame seeds and a really thick high grade Ahi tuna steak. I like to serve mine with a kale salad and Asian noodle salad or you could opt for a serving of brown rice and a simple tossed salad.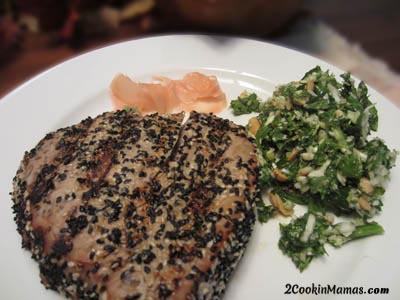 Oh, and by the way, it makes a great appetizer too! Serve it with a little pickled ginger on the side and a nice glass of your favorite wine.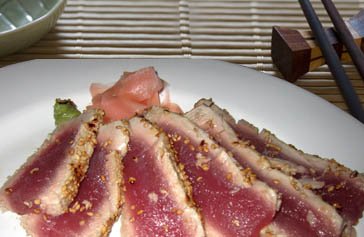 As far as nutritional content goes, fresh tuna is one of the lightest and healthiest fish and is available year round. It is low in calories, sodium and sugar and  rich in protein,niacin, phosphorous, selenium and Vitamins A, B6 and B12. Tuna's protein contains many essential amino acids which help in boosting your immune system. It's wealth of healthy fatty acids, including the all important omega 3's, help protect your heart. However, since there are relatively little carbs to speak of in tuna, adding carb-rich vegetables and/or brown rice would be a good addition for a more balanced diet.
Seared Ahi Tuna with Sesame Seed
Ingredients:
1 1″ thick tuna steak
1/2 cup sesame seeds, white & black mixed
Marinade:
1/4 cup soy sauce
1 Tablespoon sake
1 Tablespoon honey
2 Tablespoons sesame oil
1 Tablespoon rice wine vinegar
Directions:
Mix all ingredients for marinade in small bowl. Place tuna steak in small resealable zippered bag and add marinade. Turn to coat. Place in refrigerator and let stand for at least 30 minutes, turning several times.
Place sesame seeds on a plate. Remove tuna steak from marinade and dip into sesame seed mixture, patting into steak until all sides are coated.
Preheat grill on high. Place tuna steaks directly on grill and quickly sear, about 1-1/2 to 2 minutes per side.
Serve with kale salad for a heart-healthy meal.
Wine Pairing: Seared tuna, especially when served with raw cruciferous vegetables, pairs very well with medium-bodied reds. Pinot Noir is my favorite pairing with this meal but a Cabernet Franc, Syrah or a Merlot will also work. Try the 2010 Cooper Station Pinot Noir or, my other favorite, 2010 Reserve des Vigerons Saumur Champigny (a Cabernet Franc).
DON'T MISS A RECIPE!