I've turned over a new leaf! I have had a strong aversion to polenta ever since I was a little girl but nobody told me that you could add cheese to it! Woohoo! (I'm doing a happy dance here) And my husband is overjoyed since he absolutely loves grits and polenta – so now I've made 2 people happy. 🙂
A few months back, my husband and I visited a restaurant called Harrys in St. Augustine and he ordered a dish which was served atop cheesy grits (or polenta). He let me try some and I was immediately smitten. Who knew grits could be that delicious!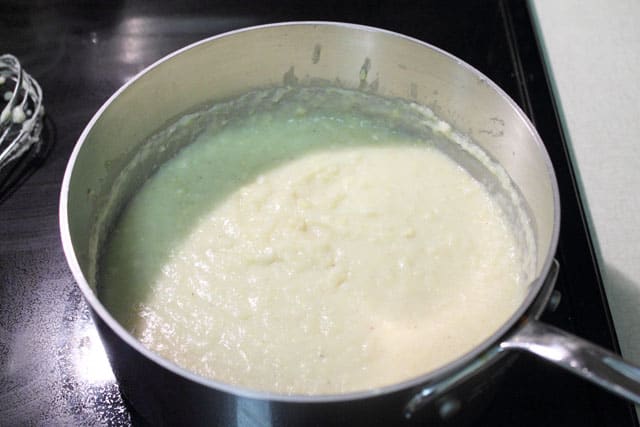 Of course, since then, I have also had them at Season's 52 where they used them as a base for braised short ribs. Oh my, it was heaven! Which, by the way, is why I will be bringing you a braised beef short rib recipe on Wednesday. I just needed to replicate that recipe so I could fix it at home whenever I wanted. Yep, foods I love tend to make their way into my kitchen for sure.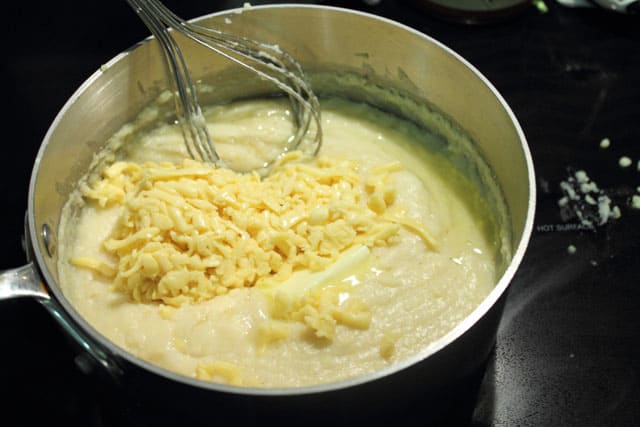 This recipe was adapted from one I found on Shared Appetite to which I added some delicious smoked Gouda à la Seasons. It definitely lent a decidedly gourmet flavor to it. You would never believe that polenta was once considered a peasant dish- well, not anymore!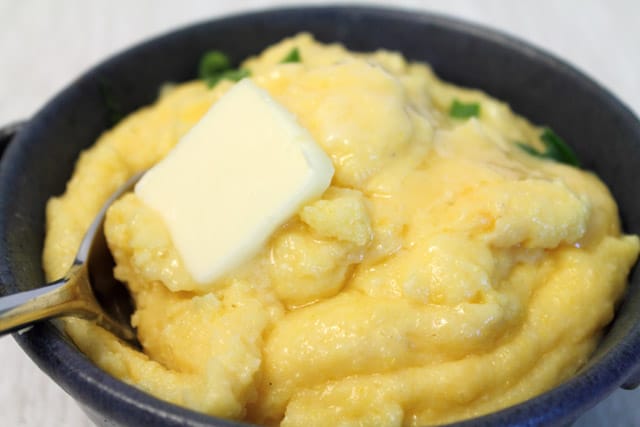 Love polenta too? Check out our Chicken Mole that is perfect served over a Parmesan polenta cake.
Hope you enjoy!
Smoked Gouda Polenta
Ingredients:
1 cup almond milk (or your usual milk)
2-1/2 – 3 cups water or can substitute chicken broth, as needed
1 teaspoon salt
1 cup stone-ground whole grain cornmeal (medium grind works well)
2 Tablespoons butter (or butter substitute or add'l olive oil)
1 Tablespoon extra light olive oil
1 cup smoked gouda, shredded
Directions:
In a medium saucepan, bring milk, water or broth and salt to a boil. Reduce heat to low and whisk in cornmeal, stirring continuously. Simmer for 15-20 minutes. If polenta gets too thick, add 1/4-1/2 cup more water or broth.
Remove from heat and stir in butter, olive oil and cheese.
Serve as a side instead of potatoes or rice, under our Braised Short Ribs (coming Wednesday) or top with your favorite tomato sauce.
Serves 4.
Recipe adapted from one found on Shared Appetite.