These fall-off-the-bone, tender Beef Short Ribs, cooked in a Dutch Oven, are simmered in a wine-beef broth that is perfect served over cheesy polenta. A dinner that is perfect for every day or for company.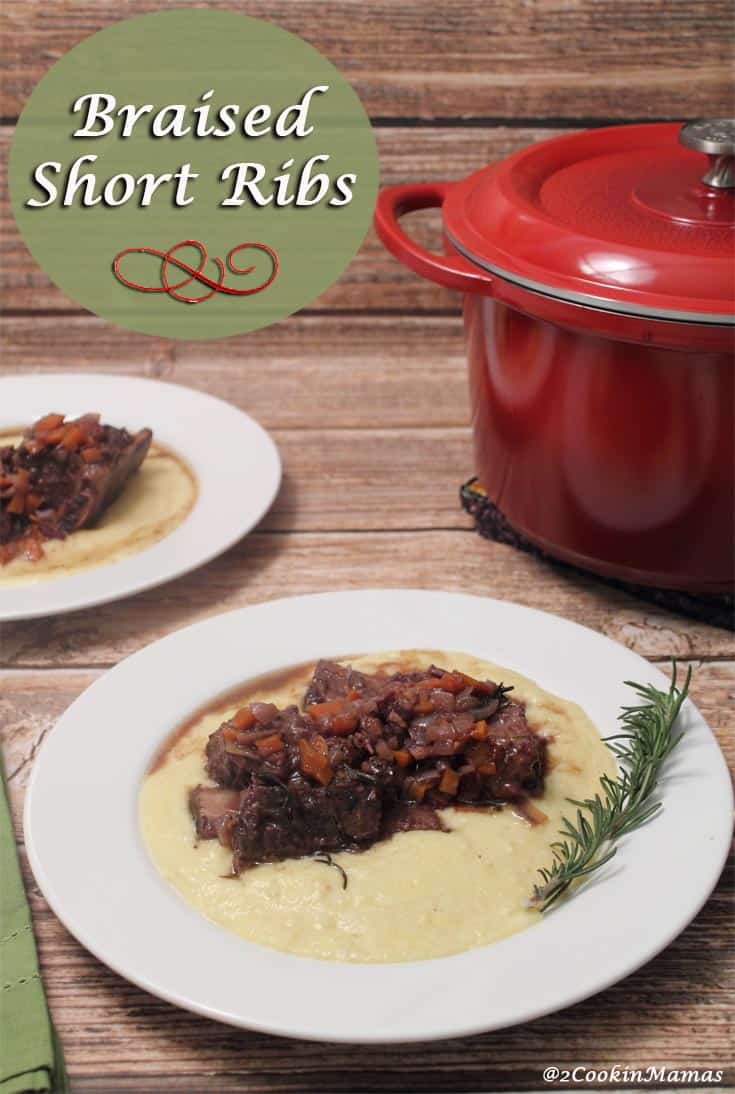 Yay! I finally got a Dutch Oven! I have been wanting one for so long but the prices for major brands are astronomical and then I found this reasonably priced one from Nordic Ware and thought I would give it a try. Well, let me tell you, it works like a charm and this recipe today will prove it.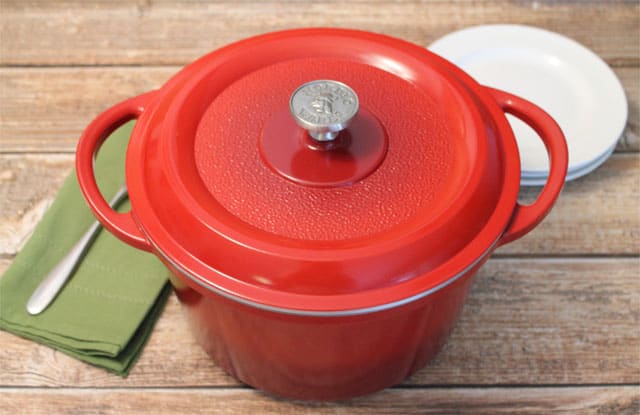 I was pondering what to make with my new Dutch Oven when my husband and I went out for Valentine's Day to Season's 52. And what he ordered was so over-the-top delicious that I knew I just had to try making it at home. It was called Braised Short Ribs and was served over the most creamy cheesy polenta ever – need I say more?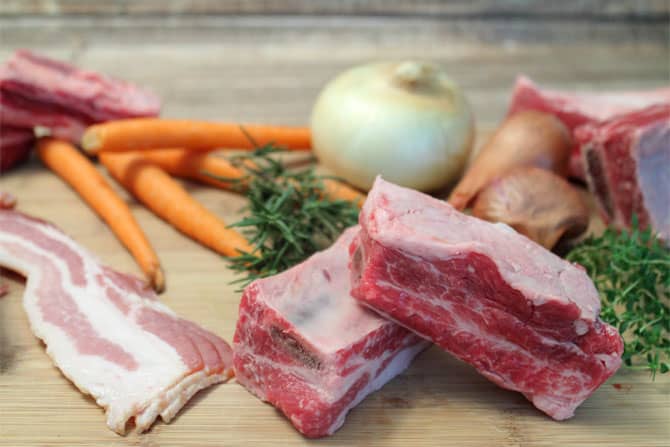 So the minute I got home I started searching for a similar recipe and I finally found one on The Pioneer Woman's site. It looked delicious and, yep you guessed it, I would get to use my new Dutch Oven. Perfect timing! 🙂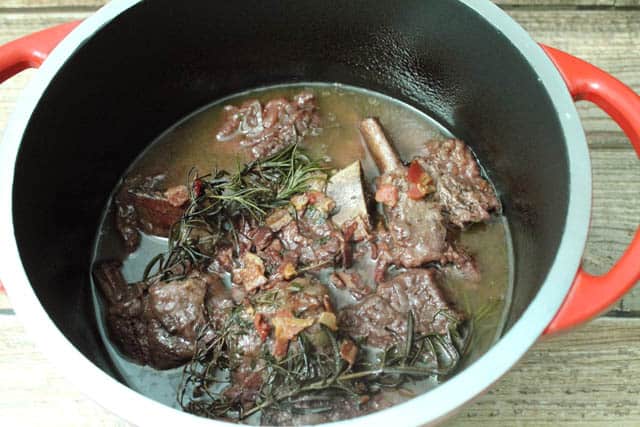 It is really a pretty simple recipe to make, merely browning the short ribs and chopping some veggies, adding a little broth and baking. The baking takes quite some time with a temperature change in the middle of the cooking time so plan this one for a weekend. And, by all means, make extra because you will want to have this again and again.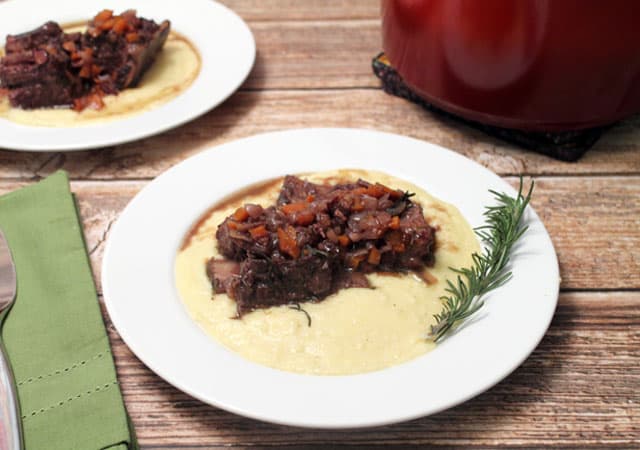 The finishing touch is placing these tender short ribs (and the incredible broth) on top of cheesy polenta. And there is none better than my Smoked Gouda Polenta, lending just the right amount of rustic to the dish. Just take a look at all that heavenly goodness below. How can you resist!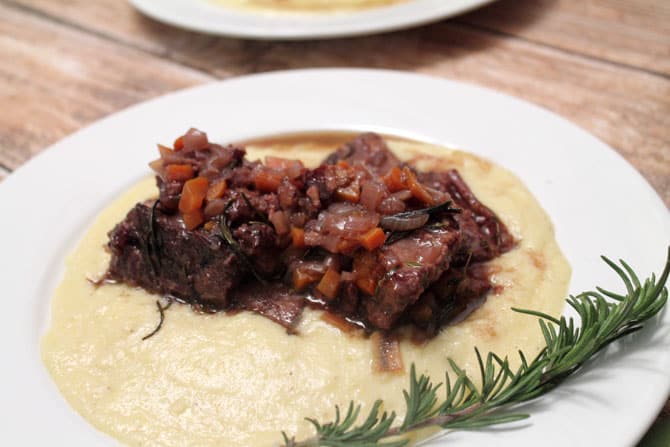 I've got to add that you can make a half recipe of just the broth and it is absolutely delicious as a sauce for steak, leftover beef of any kind and pork. Just cook half of the onion, carrot and shallot called for in the above recipe in bacon fat then add half the broth and red wine, seasoning it with 1 sprig each of the thyme and rosemary. Let it simmer for 30 minutes or so and you're ready to bring your next dinner up a notch! Yum!
Now the next thing I want to do is to try making bread in the Dutch Oven and definitely my sister's fantastic zesty pot roast. Stay tuned!
Enjoy!
Dutch Oven Braised Beef Short Ribs
Ingredients:
8 beef short ribs
Salt & pepper
1/4 cup all-purpose flour (or gluten-free flour)
6 pcs bacon, chopped
2 Tablespoons olive oil, add as needed
1 onion, chopped
4 carrots, chopped
2 shallots, minced
2 cups red wine
2 cups beef broth (or enough to almost cover ribs)
2 sprigs thyme
2 sprigs rosemary
Directions:
Preheat oven to 350 degrees.
Prepare short ribs by seasoning with salt & pepper on both sides. Immediately dredge in flour.
In a 6-quart dutch oven, cook bacon over medium heat until crisp. Remove pieces of bacon, leaving fat in pan.
Add the olive oil to the bacon grease in pan and increase heat to high. Place ribs carefully in pan and brown on all sides. It should take about 1 minute per side. Remove ribs from pan.
Lower heat to medium and add onion, carrots and shallots. Saute for 2-3 minutes then add wine, stir, and bring to boil. Boil for at least 2 minutes before adding remaining ingredients. Taste & adjust seasoning, adding more salt & pepper as needed.
Return ribs to pan. Add additional beef broth or wine to almost cover ribs. Cover and place in oven.
Bake in 350 oven for 2 hours. Reduce heat to 325 and continue to cook for 30-45 minutes longer. Remove from oven.
Let rest 20 minutes with lid on prior to serving.
Place 2 ribs on top of Smoked Gouda Polenta (or your favorite cheesy polenta) then drizzle with sauce.
Serves 4.
Adapted from The Pioneer Woman.

Love yummy, tasty, want to lick the screen pictures? Follow us on Instagram to satisfy your hunger!