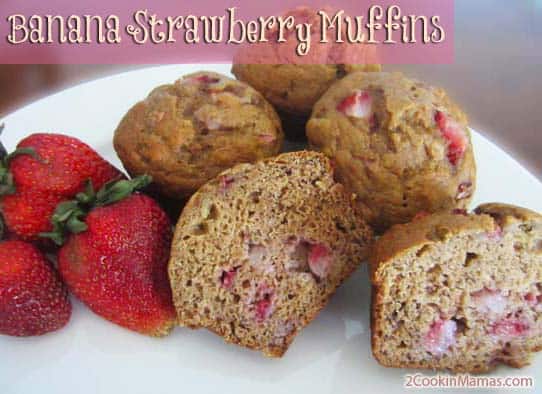 There are several ways you can make your home-baked goods more healthy and still make those favorite family recipes taste delicious. Here is just one example of substituting ingredients in one of my favorite recipes – Banana Strawberry muffins.
Banana Strawberry Muffins
Ingredients:
3 bananas
2/3 cup raw brown sugar (was 2/3 cup white sugar)
1/2 cup unsweetened applesauce (was 1/2 cup vegetable oil)
2 eggs
1 teaspoon vanilla
1 cup King Arthur unbleached all purpose flour + 2/3 cup whole wheat flour (was 1-2/3 cup all-purpose flour)
1 teaspoon baking soda
1 teaspoon cinnamon
½ teaspoon salt
1 cup finely chopped fresh strawberries
Directions:
Preheat oven to 375 degrees. Spray a 12-cup muffin pan with a nonstick spray. Set aside.
In a large bowl, mash bananas then mix in brown sugar, unsweetened applesauce, eggs and vanilla.
In a smaller bowl, combine flour, baking soda, cinnamon and salt and mix well. Add to mashed banana mixture and stir to combine.
Stir in strawberries until incorporated.
Divide batter evenly between 12 muffin cups. Bake for 20 minutes or until toothpick in center comes out clean.
Place pan on wire rack and let muffins rest for 5 minutes. Remove to wire rack to cool completely.
Benefits of substitutions:
Raw brown sugar vs white sugar: Since raw brown sugar goes through less refining than white sugar it has slightly fewer calories contains more natural minerals and an overall higher nutritional value.
Unsweetened applesauce vs vegetable oil: Using unsweetened applesauce in place of vegetable oil reduces the fat content of the muffins while still helping to retain their moistness. 1/2 cup of vegetable oil has 1920 calories, all from fat, while 1/2 cup of the applesauce has 50 calories with zero from fat.
100% whole wheat flour vs white all-purpose flour: Whole wheat flour retains more of the natural nutritional grains since it requires less processing than your everyday bleached white flour. These natural grains contain more folate, riboflavin and vitamins B1, B3 & B5 than all-purpose flour. Additionally, whole wheat flour contains more dietary fiber, 1/2 cup has 6.4 grams vs 1.3 grams, which is known to help prevent constipation and lower cholesterol.
Note that some enriched all-purpose flours contain similar amounts of the same nutrients contained in whole wheat flours but without the additional fiber.