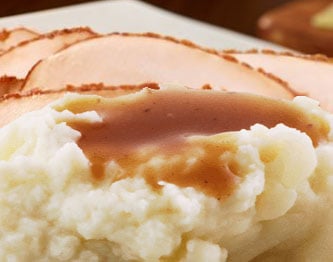 Yes, you can put wine in gravy and it tastes delicious! Try this recipe out next time you have mashed potatoes with poultry for dinner. It really seems to add a more gourmet dimension to your typical chicken gravy.
Chardonnay Mushroom Gravy
Ingredients:
1/4 cup butter
2 cups mushrooms, sliced
2 Tablespoons cornstarch
1-3/4 cups chicken broth
2-3 Tablespoons Chardonnay
2 Tablespoons green onions or leeks, chopped
1/4 teaspoon salt
1/4 teaspoon black pepper
Directions:
In a medium skillet, melt butter. Add mushrooms and cook 3-4 minutes or until softened, stirring often. Mix in cornstarch, stirring continuously until  incorporated. Add in chicken broth, wine, green onions, salt and pepper. Cook, continuing to stir, until thickened, about 3-4 more minutes.
Serve hot with mashed potatoes.