Learn the tip and tricks to make the creamiest, most buttery and perfect mashed potatoes every time. Whether it's your important Thanksgiving or holiday meal or an everyday comfort food dinner, they're so good they'll be gone in a flash.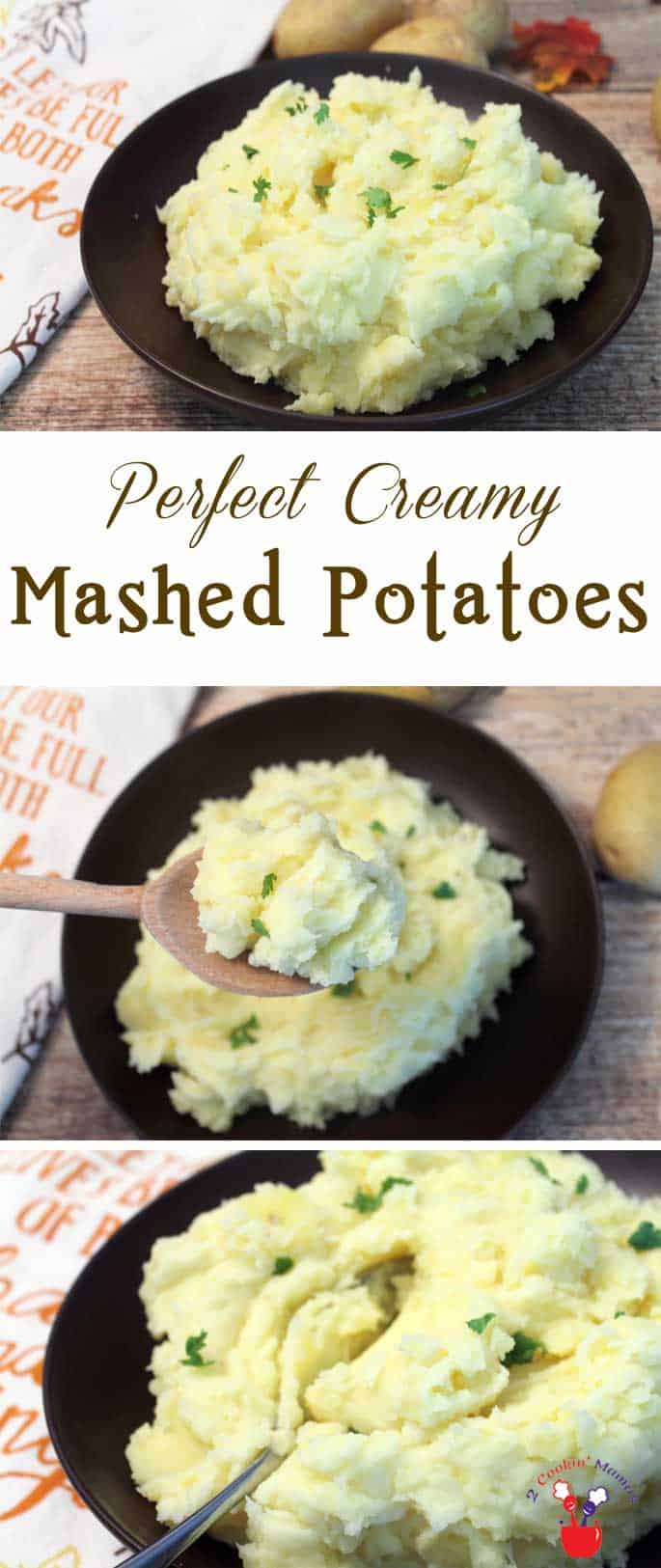 Nothing is better than a pile of hot, creamy mashed potatoes whether smothered in gravy or topped with melting butter. You know I'm right! And a Thanksgiving dinner just wouldn't be the same without them. After all, they are as much a part of the holiday as roasted turkey and pumpkin pie. (and where would you put that delicious turkey gravy without them?)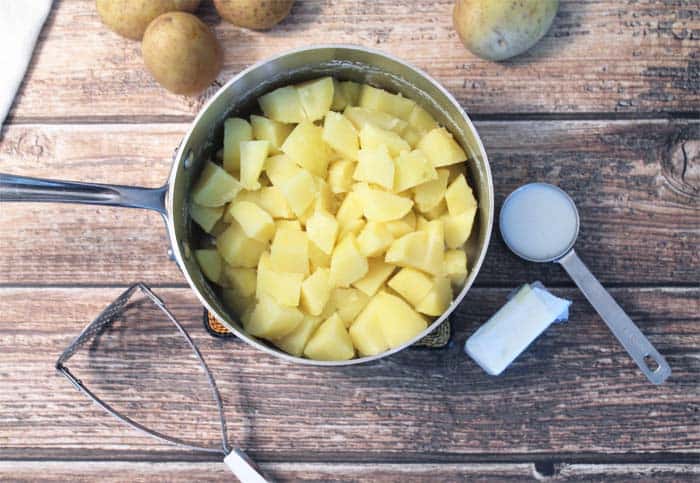 Some people think mashing up the perfect mashed potatoes is hard to do but, on the contrary, it's really quite easy.
Tips for the Perfect Mashed Potatoes
Cooking with the right potatoes is a start. I use Yukon gold potatoes because I think they are sweet and buttery on their own. Then all it takes is adding the right ingredients and whipping them up into a creamy billowy mound of goodness and you'll have perfect mashed potatoes every time.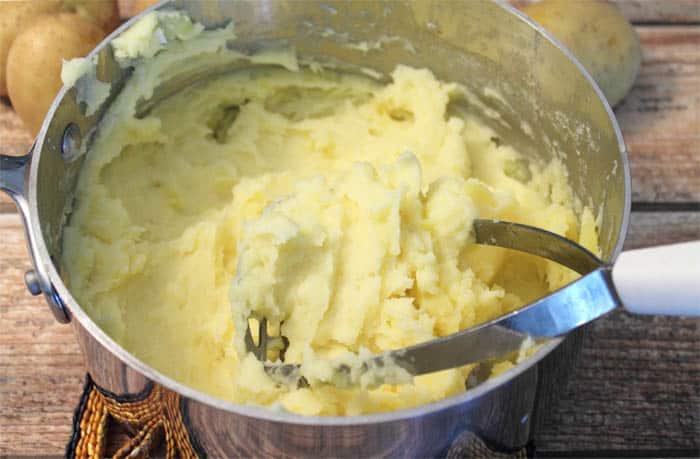 One thing that is very important to remember is to cut the potatoes the same size prior to cooking them. This will ensure that all the potatoes are cooked through at the same time. Once done, I drain them and designate someone to do the mashing for me while I work on the gravy. Usually it's either my son or son-in-law who lends a hand ('cause Dad's carving the turkey).
I lay out the butter and half & half next to them and let 'em at them. They always do a fantastic job and it takes a little pressure off the cook to have some help in the kitchen.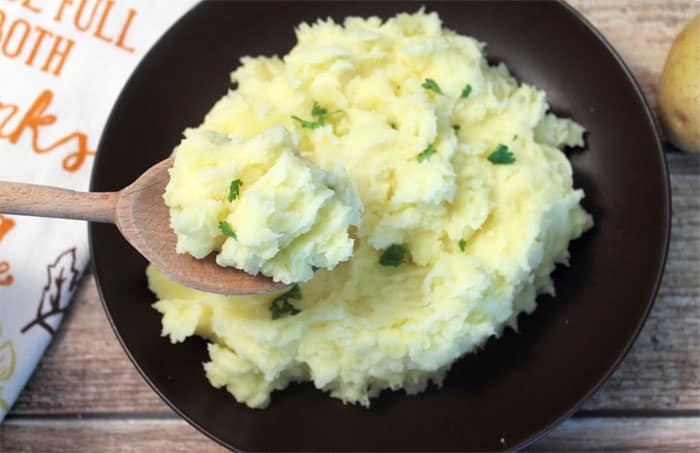 That's it! Lovely mashed potatoes to add to your tasty Thanksgiving table. Still stressing about the big day? Check out our Thanksgiving Day Planner for easy minute by minute steps to a worry-free holiday as well as all the delicious recipes you'll need to make the day special. Have a fantastic Thanksgiving!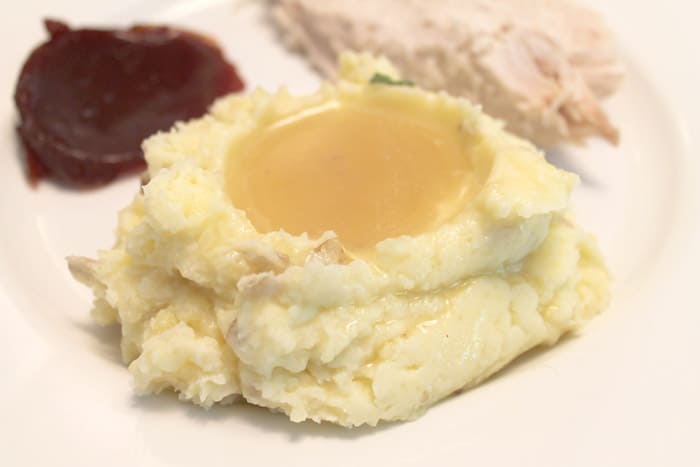 Check out more delicious sides for your Thanksgiving dinner
Love quick & easy recipes? Follow me on Instagram, Facebook, Pinterest & Twitter for all the latest recipe inspiration! Plus join my email list here and receive a free e-book.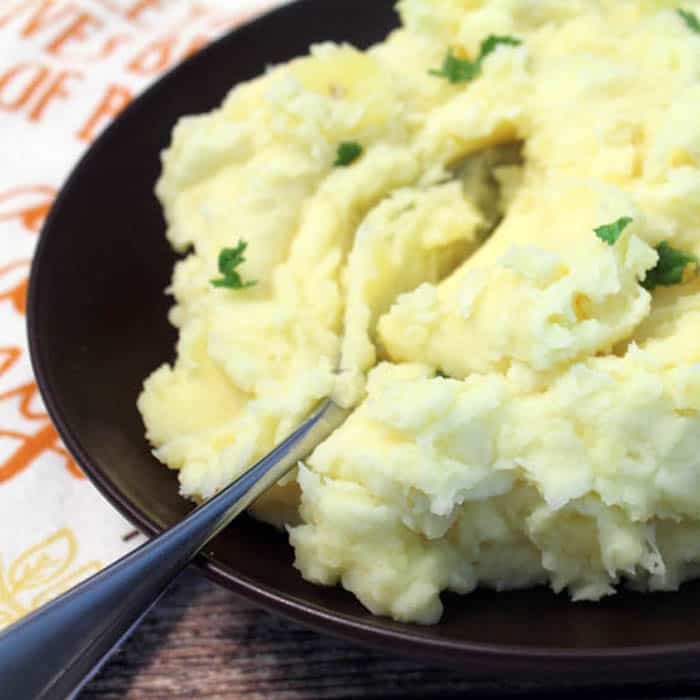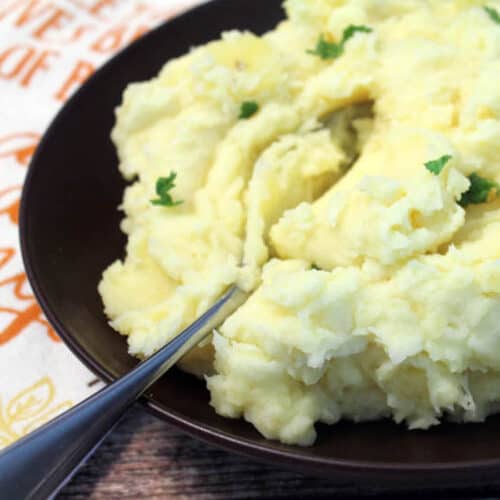 PERFECT MASHED POTATOES
These creamy, buttery perfect mashed potatoes will come out delicious every time. Make them the crowning glory on your Thanksgiving or holiday table.
Ingredients
1-1/2 to 2

lbs.

Yukon gold potatoes,

washed, peeled and quartered

1/4

cup

butter,

to taste (use non-dairy buttery spread for a dairy-free option)

1/4

cup

fat-free half & half,

cream or milk (to make dairy-free substitute almond milk)

Salt & pepper to taste
Directions
Peel potatoes and place in medium saucepan. Fill with water to cover. Add about 1/4-1/2 teaspoon salt (I like to use less and let everyone add to their own liking) and bring to a boil. Simmer for 20-25 minutes or until a fork inserted in a potato breaks it apart.

Drain potatoes and place in a bowl. Using a small hand mixer or a masher, whip potatoes, adding butter and half & half as you whip. Pepper may also be added if your family prefers it a little spicier. Do not over-beat as you want them to stay light and fluffy.

You have to gauge how much half & half or butter you put in. Taste it for butter content and add more if you desire. If the potatoes need to be a little creamier, add more half & half a little at a time.

Believe me, these potatoes, with just the addition of half & half and butter make the fluffiest and tastiest mashed potatoes you have ever had.