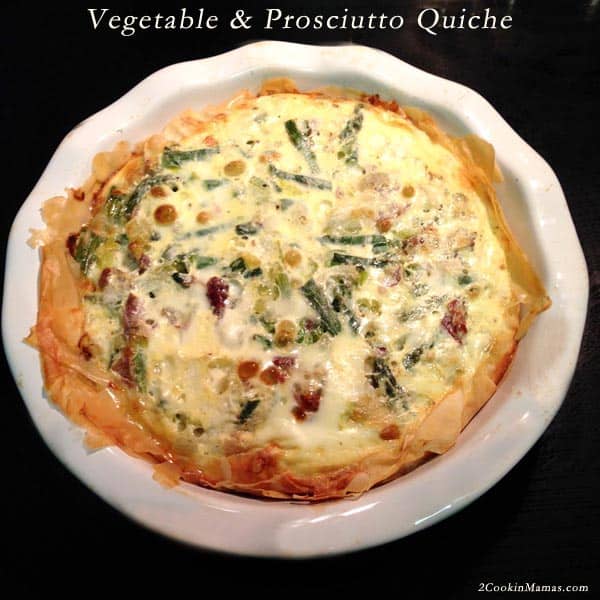 My birthday was in the beginning of January and I received something I have always wanted, a Ninja blender. I had asked my husband for it several times but he said he thought our blender worked just fine. That is, until he saw me trying to make a smoothie and stopping every few seconds to try to push the ingredients down towards the blades, then start it again, stop it again, start it again, well you get the idea.
He finally decided to surprise me with one for my birthday and I have been having fun with it ever since. It is amazing what you can create with the proper tools, like out-of-this-world smoothies, soups and dinner entrees like this Vegetable and Prosciutto Quiche. I first saw the recipe on the Ninja site and adapted it to fit our family's likes. And let me tell you,  it came out delicious!
Now maybe many of you haven't cooked with leeks before but, let me tell you, they are tasty, nutritious and easy to add to recipes or even just grilled by themselves. (recipe coming for grilled leeks soon). If you've never seen them, leeks look like green onions on steroids and can be found in the produce section of your grocery store. Leeks have a taste similar to a shallot but sweeter and lighter.  They are in the same Allium family of vegetables as both garlic and onions and have some of the same health-promoting properties. In fact their antioxidant properties are more concentrated than those in red peppers, cherry tomatoes and carrots. They also have an abundant supply of Vitamin K, manganese and folate.
Until 5 years ago I had never heard of leeks either let alone cooked with them. But I have certainly changed my mind on this tasty vegetable. And combine the leeks wonderful flavor with prosciutto's slightly salty taste and the freshness of asparagus with gooey gruyere cheese and I would say we have a winner! Besides, who doesn't love breakfast for dinner on occasion?
I cut down on some of the calories in this dish by using a few sheets of phyllo instead of a regular crust and switching out the cream for  yogurt and the milk for fat-free half and half. Serve with a side salad and a piece of melon or other favorite fruit for a well rounded and healthy meal.
Enjoy!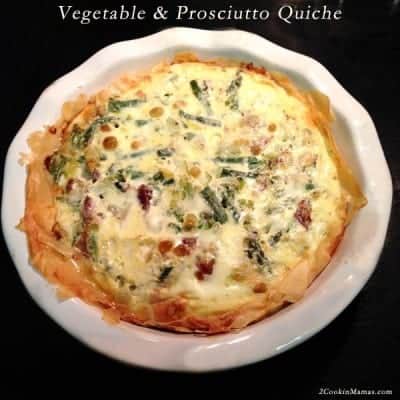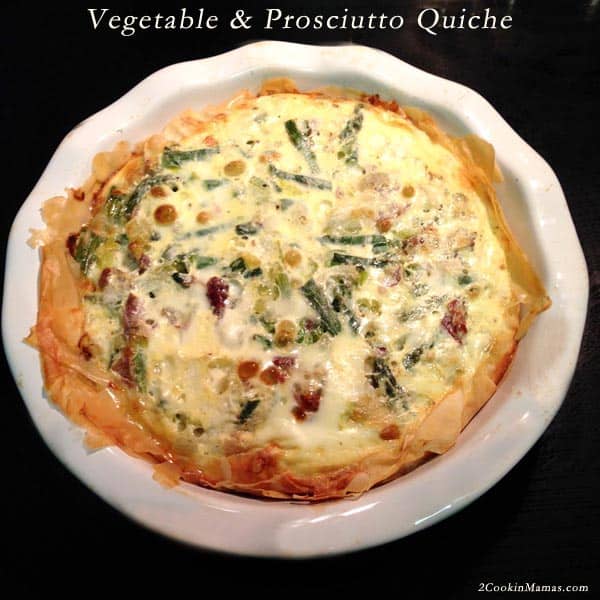 VEGETABLE and PROSCIUTTO QUICHE
Ingredients
3-6

sheets phyllo,

thawed

1

leek,

white & light green parts only, washed & roughly chopped

1/2

large Vidalia onion,

chopped

3

cloves

garlic,

minced

3

oz.

prosciutto,

chopped

2

teaspoons

olive oil

1/2

lb.

asparagus tips,

about 1" long

5

eggs

beaten

1

cup

fat-free half & half

1/2

cup

plain Greek yogurt

2

teaspoons

rosemary

1

teaspoon

salt

1

teaspoon

black pepper

1-1/2

cups

gruyere cheese,

grated

Butter,

melted
Directions
Preheat oven to 350 degrees.

Allow 3-6 sheets of phyllo to thaw then cover with damp towel and set aside.

Place the leek, onion and garlic in a chopper and pulse to chop lightly or chop on a cutting board.

In a large skillet, cook prosciutto until crispy and brown.

Add olive oil to pan and cook leek, onion, garlic and asparagus until soft, about 5 minutes.

In the Ninja pitcher (or a large bowl), combine remaining ingredients except for butter and blend on 2 until smooth. Add prosciutto-vegetable mixture and mix well. Set aside.

In a 9" deep pie plate, lay several phyllo sheets to cover bottom and sides. As you place each layer down brush on a little butter. Add several more phyllo sheets making sure entire bottom and sides of pie plate are covered. Finish by brushing again with a little butter.

Pour prosciutto-vegetable- egg mixture in pie plate. Bake 50-60 minutes until quiche is set and browned.
DON'T MISS A RECIPE!