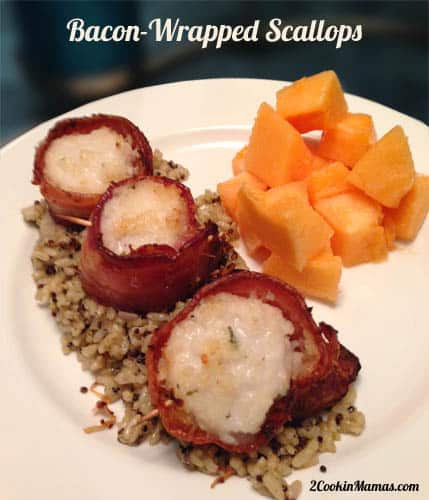 I am sure we all made resolutions for the new year that involved eating healthier and getting in shape. It seems these two are in the top 3 resolutions made every year. And if you are curious, the first is to spend more time with family and friends. I like that one too!
So, let's start out this year with a scallop recipe that is not only delicious but healthy as well. It doesn't take long to fix and when served over brown rice and quinoa you are well on your way to a new you!
Note: The trick in this recipe is to precook the bacon so the scallops and bacon get done at the same time.
Bacon-Wrapped Sea Scallops
Ingredients
3/4 cup pure maple syrup
1/4 cup low sodium soy sauce
1 teaspoon minced garlic
12 large sea scallops
12 slices smoked bacon (or turkey bacon)
12 toothpicks
 2 Tablespoons brown sugar
Directions
Mix the maple syrup, soy sauce, and minced garlic together and place in large Ziploc bag. Add the scallops, tossing to coat, then seal bag and place in refrigerator to marinate for 1-2 hours.
Preheat oven to 350 degrees.
Arrange bacon on a parchment-lined cookie sheet making sure they do not overlap. Bake in preheated oven until just starting to crisp around the edges, the bacon should still be very soft and pliable, about 12 minutes. Remove bacon from baking sheet and set on paper towel to soak up excess grease. Remove parchment paper from cookie sheet and spray sheet lightly with nonstick spray
Wrap each scallop with a piece of bacon and secure with a toothpick. Place on baking sheet. Sprinkle the scallops with a little brown sugar.
Bake in preheated oven until the scallops are opaque and the bacon is crisp, 10 to 15 minutes, turning once halfway through cooking time.
Serves 3.
I served it over a brown rice and quinoa mix but you could also serve it alone with a side salad/ vegetable or as a topping on a tossed salad.
Wine Pairing: The best wines will offer a light and zesty flavor along with a nice acidity that works best with these sweet and smoky scallops. Choose either a Riesling, Vouvray or a Champagne. You may also pair with a medium bodied white such as a Pinot Grigio or a Sauvignon Blanc.