Cheese trays never tasted or looked better than with this unusually delicious Chocolate Honey Walnut Baked Brie in Puff Pastry on them. Cut into the flaky pastry and watch the softened brie, melted chocolate and cinnamon walnuts ooze out. It's truly a mouthwatering appetizer for holiday parties. I received complimentary samples of savory chocolate from Forte Chocolates in conjunction with #Choctoberfest. As always, all opinions are 100% my own.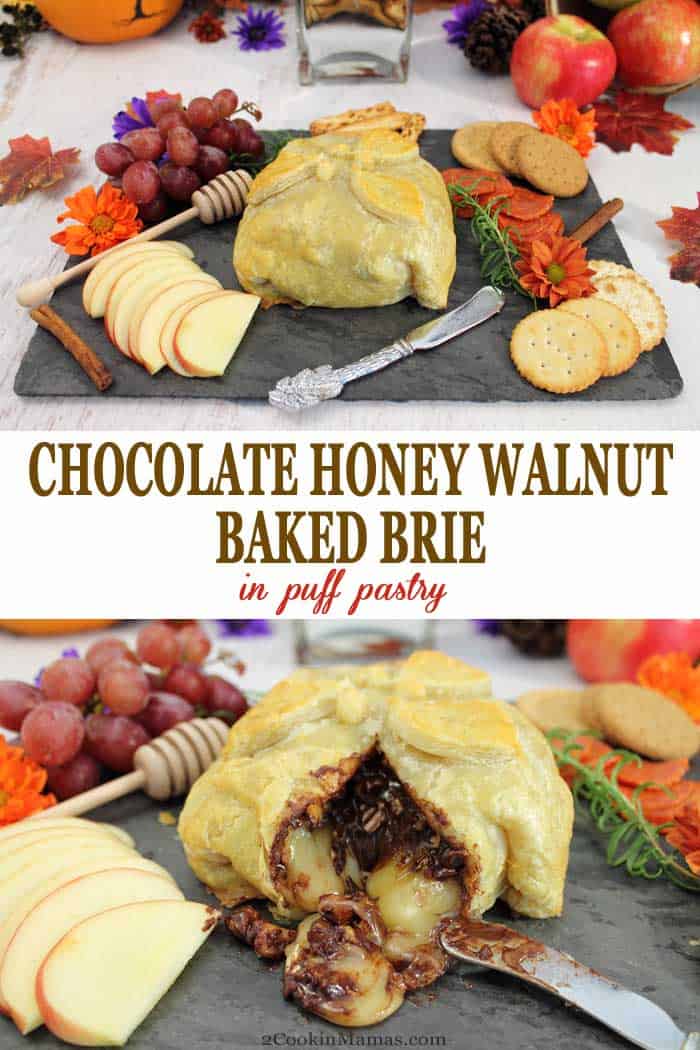 Baked Brie en Croute
It's the last day of Choctoberfest and my last chocolate recipe of the week. This Chocolate Honey Walnut Baked Brie is a little different than my sweet chocolate recipes, this one's uses a savory chocolate that pairs perfectly with the brie. And yes, there are savory chocolates! Who knew?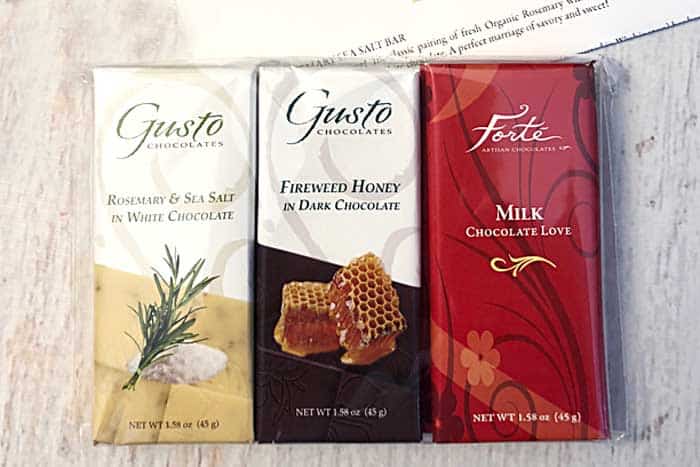 This savory chocolate was a new one for me as I hadn't really seen chocolates like those offered by Forte Chocolates on the market. And, after trying a few of their flavors, branded under the Gusto line, I will definitely be using them again. Let me tell you, these chocolates may be unusual but they're totally delicious. You can choose from a broad range of flavors, everything from Fireweed Honey in Dark Chocolate, to Sea Salt & Rosemary White Chocolate to Dark Chocolate and Orange Essence. They also offer the standard dark, semi-sweet and milk chocolates to bake up your favorite recipes.
Celebrate Life Through Chocolate with Chocolate Honey Walnut Baked Brie
This Chocolate Honey Walnut Baked Brie recipe is a great way to, as Forte Chocolates would put it, "Celebrate Life Through Chocolate"! Sounds like a winning motto to me. The combination of the Fireweed Honey in Dark Chocolate and Brie was like a match made in heaven. I offered it up to my husband and neighbors and they all agreed that I could serve this appetizer any time I wanted and to make sure to invite them over whenever I made it. (I'm doing my little happy dance here)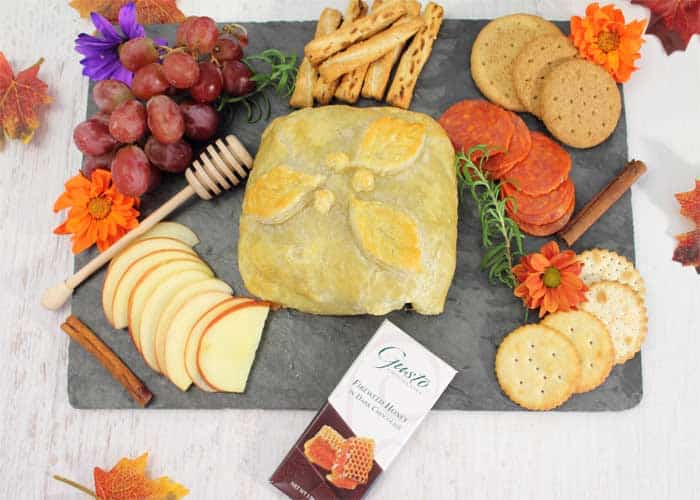 It's an easy appetizer to make and, except for the time it takes the puff pastry to thaw,  can be thrown together quickly. It's a great addition to a cheese tray or as a side with soup. We've even had it as a midnight snack! I like to serve it with apple slices and water crackers but you also eat it as is with the puff pastry as long as you let it cool down slightly first.
Check out the easy steps to bake up the perfect appetizer.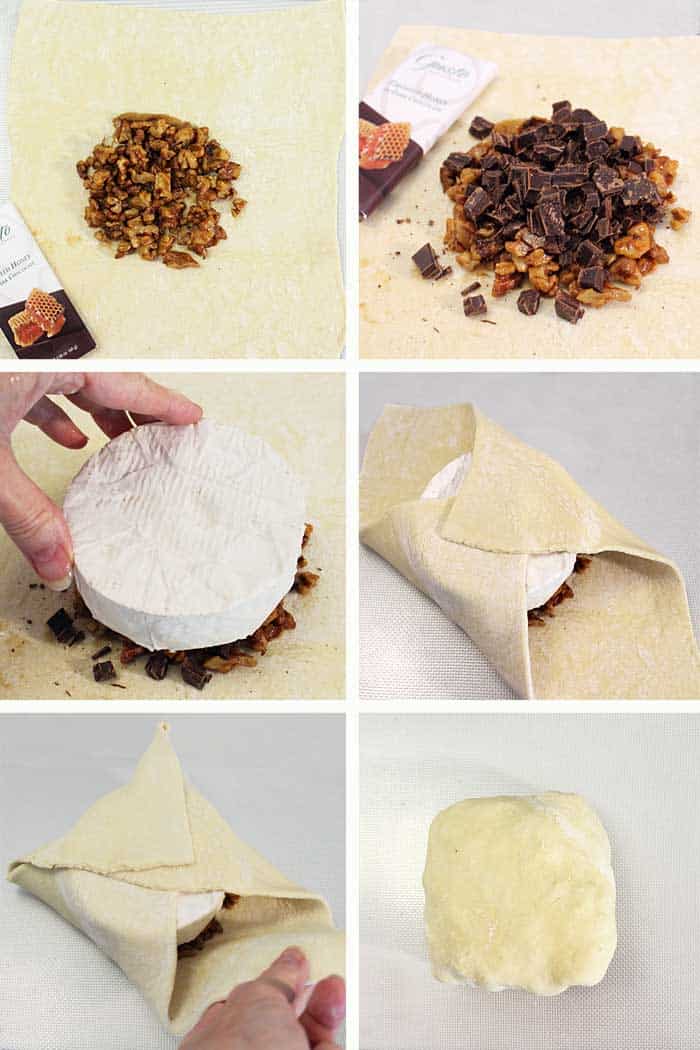 Prepare walnuts by toasting in small sauce pan for 5 minutes. Mix with maple syrup, cinnamon and salt.
Place walnuts in center of puff pastry sheet. Make a circle with them, the same size as your Brie round.
Top walnuts with Gusto Fireweed Honey in Dark Chocolate, chopped into pieces.
Place brie round on top of chocolate.
Fold corners of pastry over the top of brie.
Shape pastry to brie round. Make sure there are no holes where the cheese or chocolate could ooze out.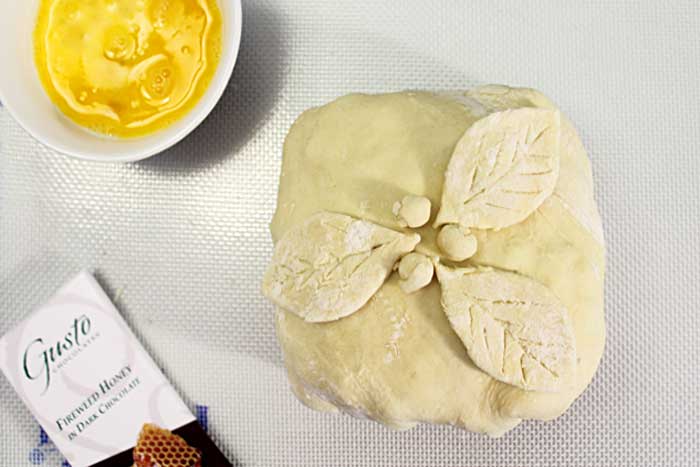 Totally optional, but I like to decorate the top of pastry with cut out leaves and small balls of dough using the second sheet of puff pastry dough. (And check at the end of this post to see what I did with the pastry dough I had left.)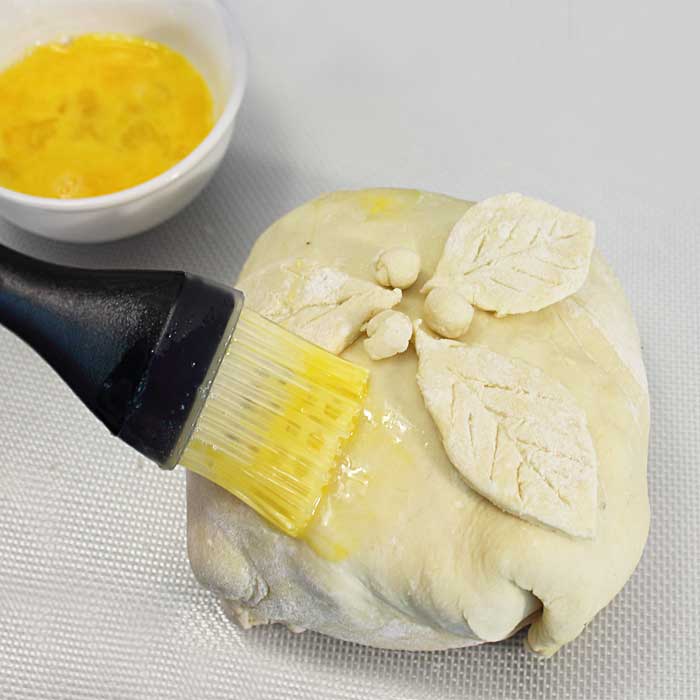 Brush the entire ball of puff pastry with an egg wash. This is done whether you decorate the puff pastry top or not. This will help it brown and hold it together better so that the brie and chocolate do not ooze out. Now bake for 20 minutes.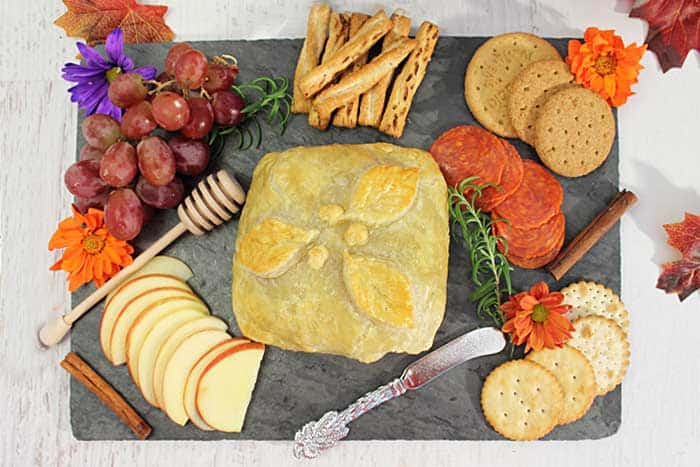 Serve on a cheese tray with your favorite fruits, crackers and meat.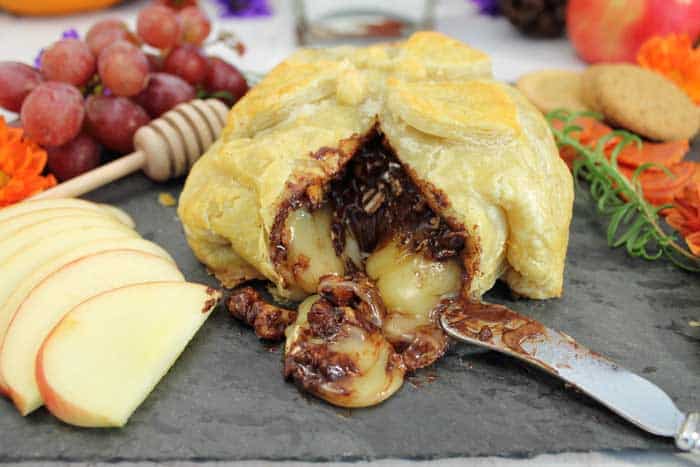 Wait for it to cool for about 10 minutes before cutting it. That is, if you can! And when you do cut into it, you'll be licking your lips. Oozing cheese and melted chocolate, all mixed with cinnamon walnuts, comes flowing out. (drool) The perfect appetizer for all those holiday parties that are just around the corner.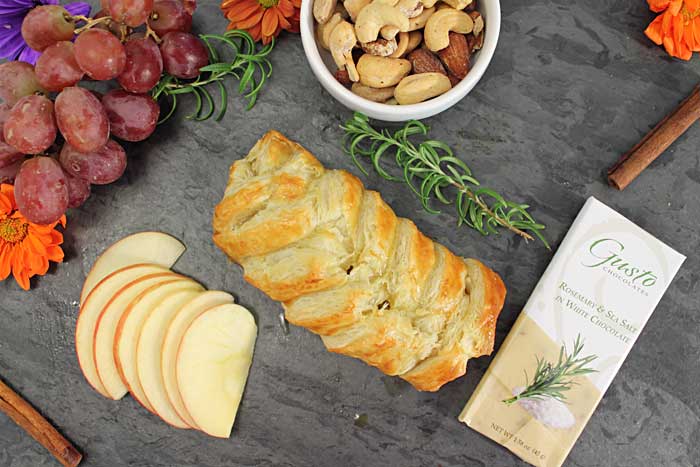 OK, I promised you that I'd show you what I did with the extra puff pastry that was leftover after I made a few decorations for the brie round. This is another easy savory party appetizer perfect for the holidays. All you need to do is place a bar of Gusto's Rosemary and Sea Salt in White Chocolate in the center of a rectangular piece of puff pastry and braid (see how to braid here) then bake for 20 minutes.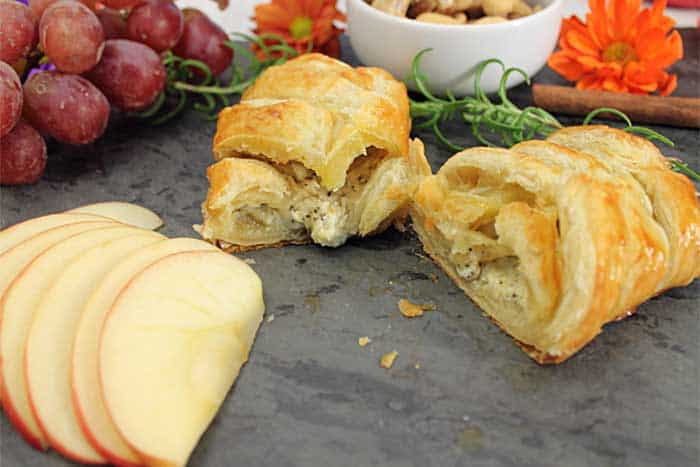 It's an amazing flavor and reminds me of a rosemary flavored soft cheese. If you serve this, don't tell your guests what it is and see if they can guess. Just making this makes me think this flavor of chocolate would be great in a sauce for chicken or fish.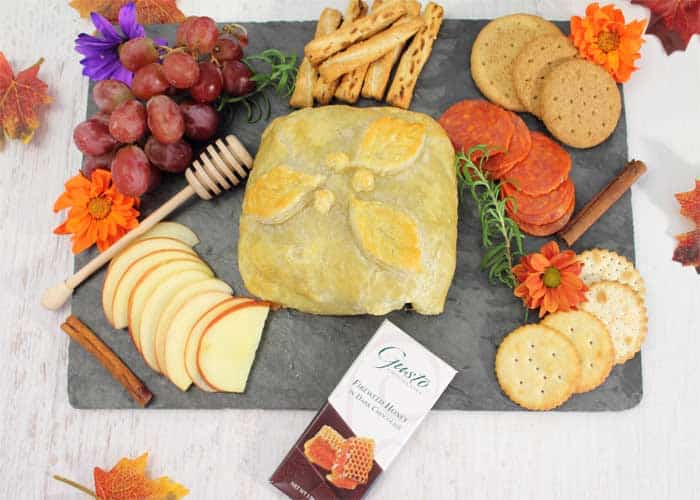 While you're sitting around and munching on this awesome appetizer, check out more scrumptious chocolate recipes like Healthy Chocolate Hummus, Molten Chocolate Cupcakes, Chocolate Cookie Shots, and Chocolate Brown Sugar Bundt Cake. Enjoy!
Love quick & easy recipes? Follow me on Instagram, Facebook, Pinterest & Twitter for all the latest recipe inspiration! Plus join my email list here and receive a free e-book.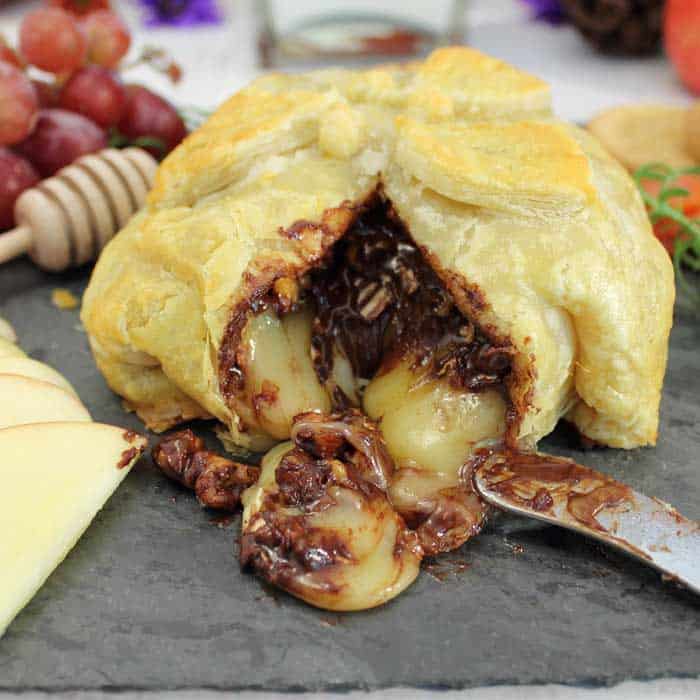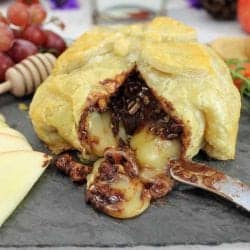 CHOCOLATE HONEY WALNUT BAKED BRIE IN PUFF PASTRY
Chocolate Honey Walnut Baked Brie in puff pastry makes a delicious addition to holiday cheese trays. Flaky pastry, oozing cheese & melted chocolate - yum!

Print
Rate
Ingredients
½

cup

walnuts

chopped

2

Tablespoons

maple syrup

¼

teaspoon

cinnamon

⅛

teaspoon

salt

1.58

oz

Forte Fireweed Honey in Dark Chocolate

1 bar, chopped

1

sheet

puff pastry

2 if making leaf designs for top, thawed

8

oz

brie round

leave on rind

1

egg
Instructions
Preheat oven to 400 degrees. Place parchment paper or a silicone mat on a baking sheet.

In a small saucepan, heat walnuts until they begin to emit an aroma.

Add ample syrup, cinnamon and salt and stir.

Lay one puff pastry sheet on prepared cookie sheet.

Spoon nuts into the center of the puff pastry, keeping them in a circle the same size as the brie round.

Place chopped chocolate on top of the nuts.

Place brie round on top of the chocolate.

Fold up 2 sides of puff pastry dough overlapping in center. Fold other two sides up and shape to the brie round. You don't want any holes where the chocolate and nuts can melt out.

Carefully lift and place seam side down on prepared baking sheet.

Decorate with cut out shapes at this time. This is an optional step.

Place egg in a small bowl and whisk well.

Brush entire puff pastry with egg wash.

Lift off with spatula to cheese plate or serving tray.

Serve while hot with crackers, pretzels, apples and other fruit.
Nutrition
Calories:
366
kcal
|
Carbohydrates:
20
g
|
Protein:
10
g
|
Fat:
27
g
|
Saturated Fat:
9
g
|
Cholesterol:
48
mg
|
Sodium:
300
mg
|
Potassium:
152
mg
|
Fiber:
1
g
|
Sugar:
4
g
|
Vitamin A:
200
IU
|
Calcium:
75
mg
|
Iron:
1.9
mg