Kids and grownups will love these easy-to-make air fryer fish sticks. Cod is covered with seasoned panko for a crispy, tender, flaky, and totally delicious dinner in 20-minutes.
These air fry fish sticks are a tastier version of this childhood favorite. The garlic and onion coating gives these juicy fish sticks a bit of zing that just pops in your mouth. Every bite leaves you wanting more! Great for an appetizer, snack, or a weeknight dinner.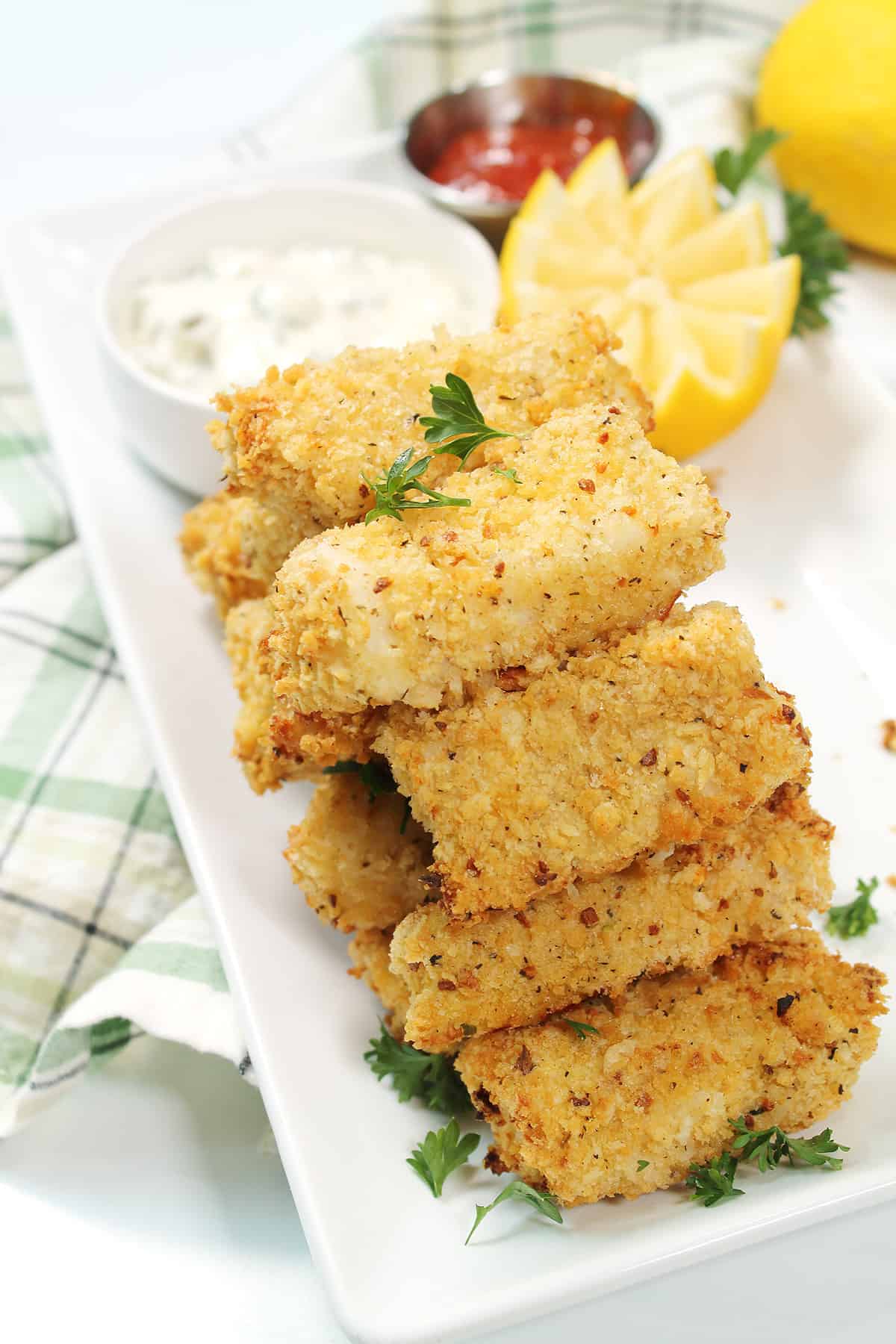 Breaded Fish Sticks in Air Fryer
You don't have to rely on processed frozen food, air frying fish sticks that you make yourself are just as easy as opening up a box. In fact, once you discover how easy it is to make air fried fish sticks from scratch, you'll want to add this to your regular lunch menu. It only takes 20 minutes from start to finish - including the time it takes to cut and bread the fish.
The best thing about the air fryer is that there is no messy grease to clean up after making them. It's so easy and much healthier to make your favorite dishes in the air fryer too. Favorites like coconut shrimp, zucchini fritters, and onion rings turn out just as crispy and delicious as these air fryer fish sticks.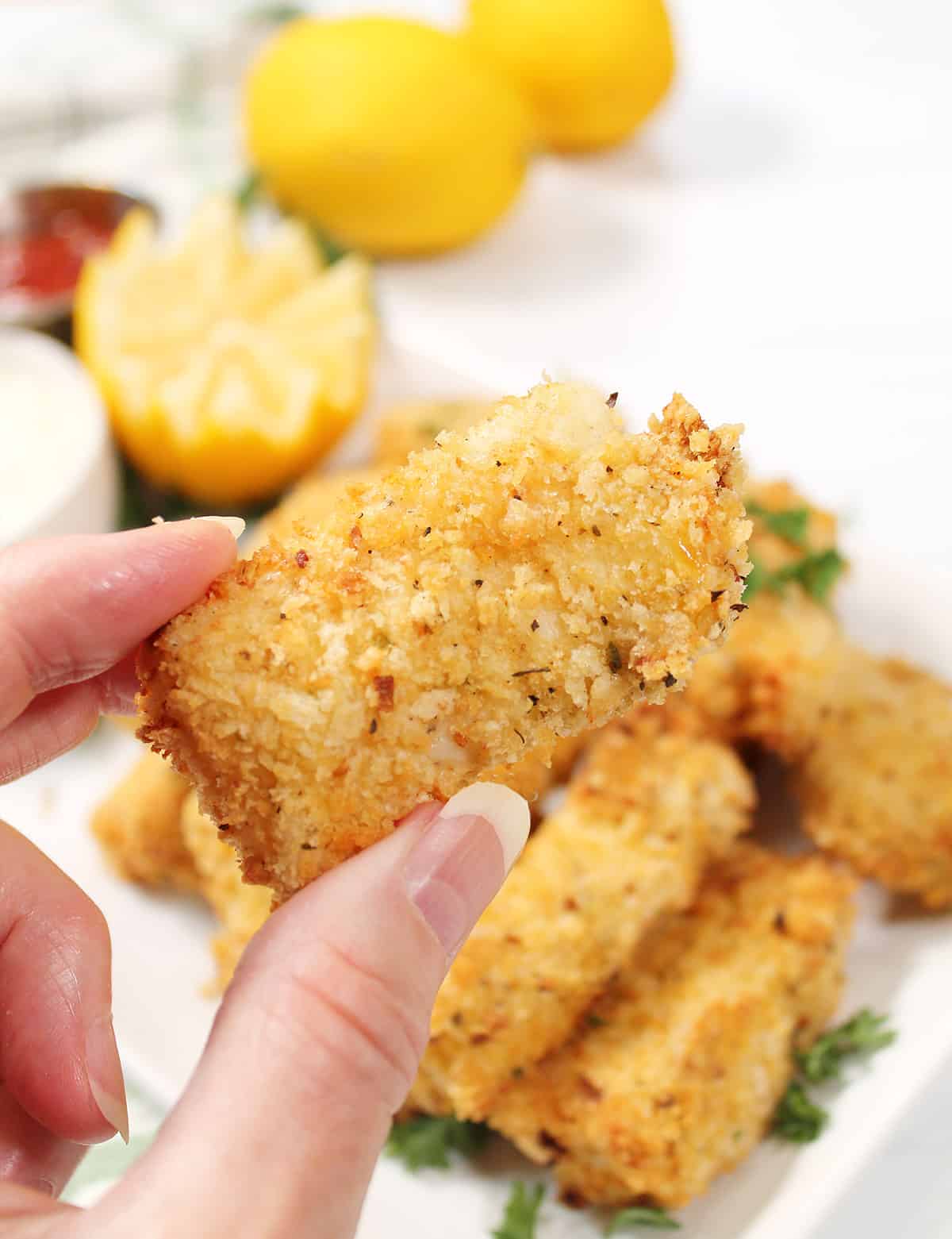 Can You Cook Fish Sticks in an Air Fryer?
Yes, absolutely! This recipe will teach you how to cut, coat, and air fry fish sticks in the air fryer. You can also air fry frozen fish sticks too. Most boxes have directions on them. If they don't, just follow the times and temperatures for how to bake fish sticks and check on them a minute before they are supposed to be done.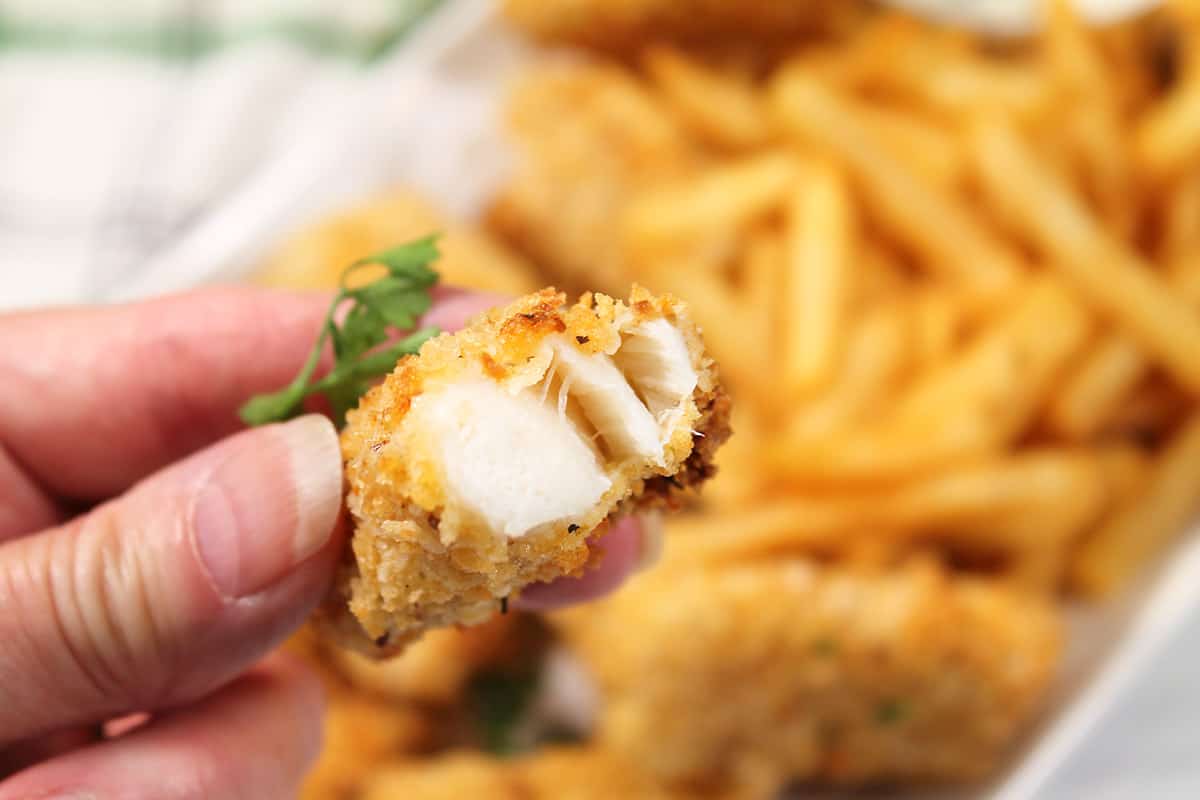 Why You'll Love This Recipe
Frozen fish sticks usually taste like a lot of tasteless breading with a little bit of fish. These homemade air fryer fish sticks have a garlic and onion coating that will make you hungry before you even take your first bite. Then, as you take your first bite, you'll notice how much fish there is! They are plump, juicy fish sticks that are full of lean protein. It's a simple lunch with minimal cleanup and maximum flavor.
Ingredients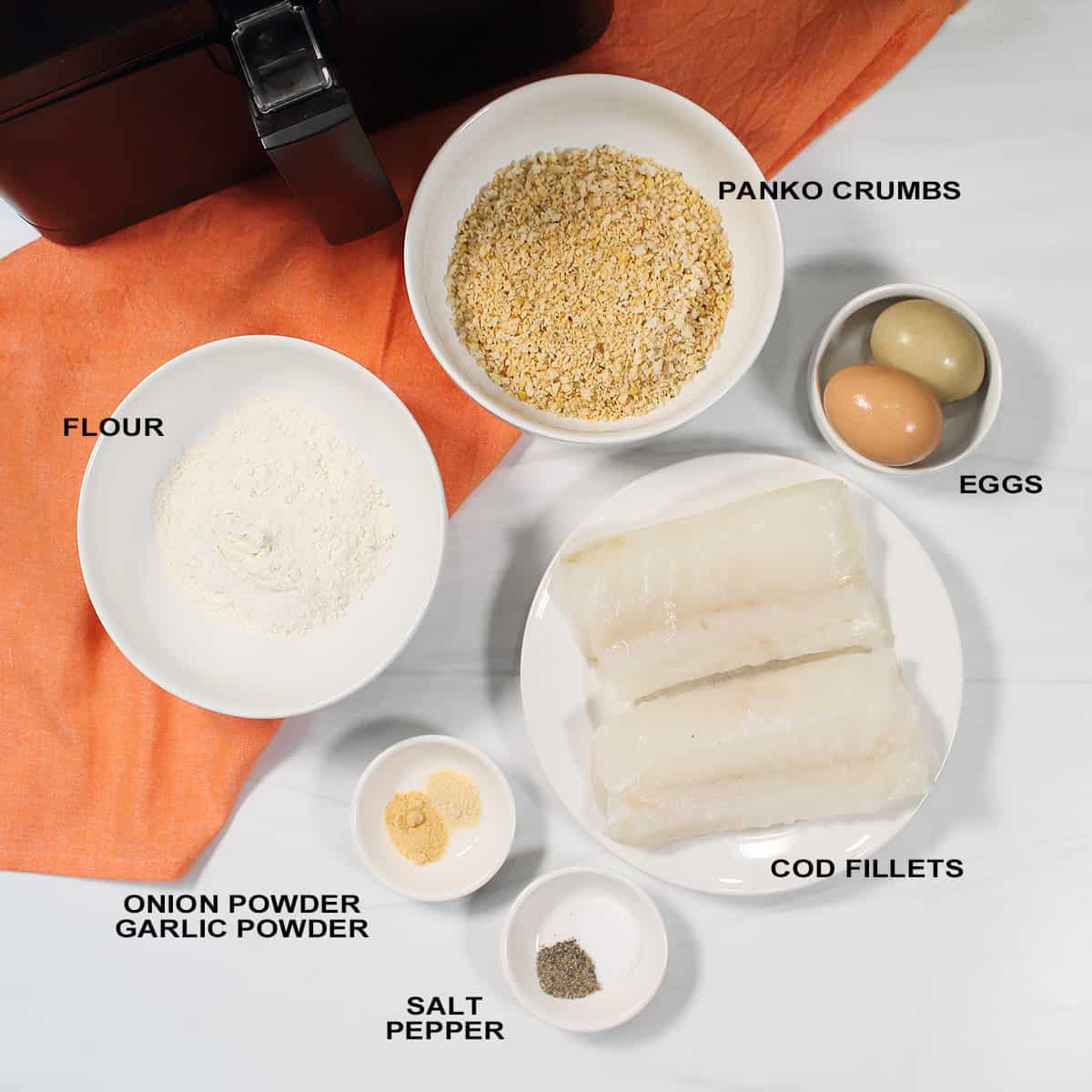 Fresh cod or haddock - any firm white fish will work
Salt & pepper
All-purpose flour - helps the breading stick and creates the crispy crunchy texture
Garlic Powder
Onion powder
Eggs - helps the panko stick to the fish stick
Seasoned panko bread crumbs - plain can also be substituted
Cooking oil spray such as avocado oil or vegetable oil
Best Fish for Fish Sticks
Cod, haddock, mahi mahi, pollock, or any firm white fish with a mild flavor is best for making fish sticks.
Can you use frozen fish?
Yes, but you will need to thaw it first. Thaw frozen fish according to the package instructions or in the refrigerator overnight.
Ingredient Substitutions and Recipe Variations
Different flavors - substitute the garlic powder and onion powder with cajun seasoning or paprika.
Less seasoning - use plain panko instead of seasoned panko and omit the garlic powder and onion powder.
Add cheese - Use ¾ cup plain panko mixed with ¼ cup parmesan.
How to Cook Fish Sticks in Air Fryer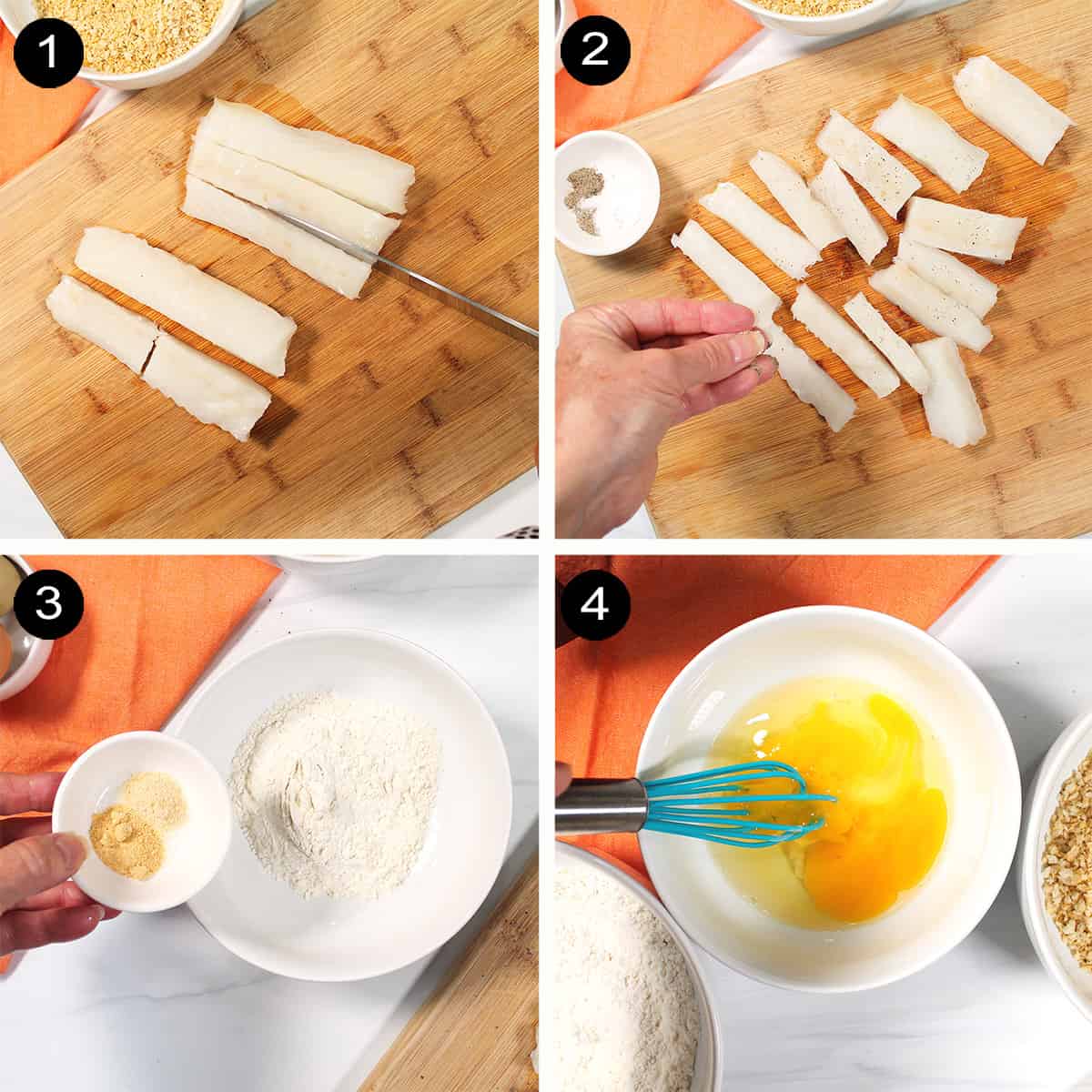 Pat fish dry then cut fish into 1" x 3" pieces. Usually, you can divide each fillet into 3 lengthwise pieces then halve them, creating 6 fish sticks with each fillet.
Sprinkle the fish pieces with salt and pepper. (This can be done either before or after slicing)
In a wide-mouthed bowl, mix flour with garlic and onion powder (or your preferred spices).
In a second bowl, whisk eggs.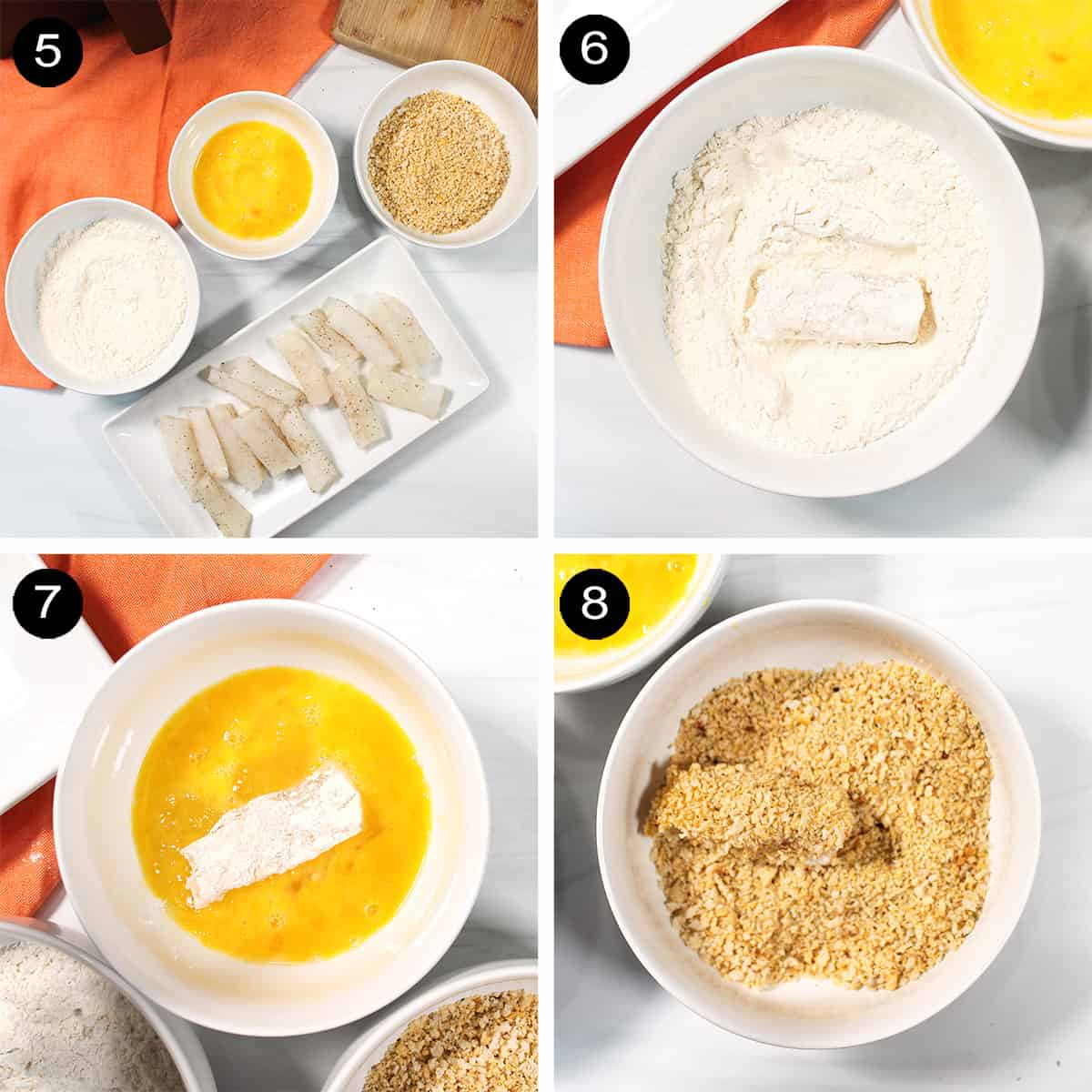 Pour panko crumbs into a third wide-mouthed bowl. Arrange them in an assembly line for easy breading.
Dredge fish stick in seasoned flour.
Dip into whisked eggs.
Coat with panko, patting lightly if needed to help it adhere.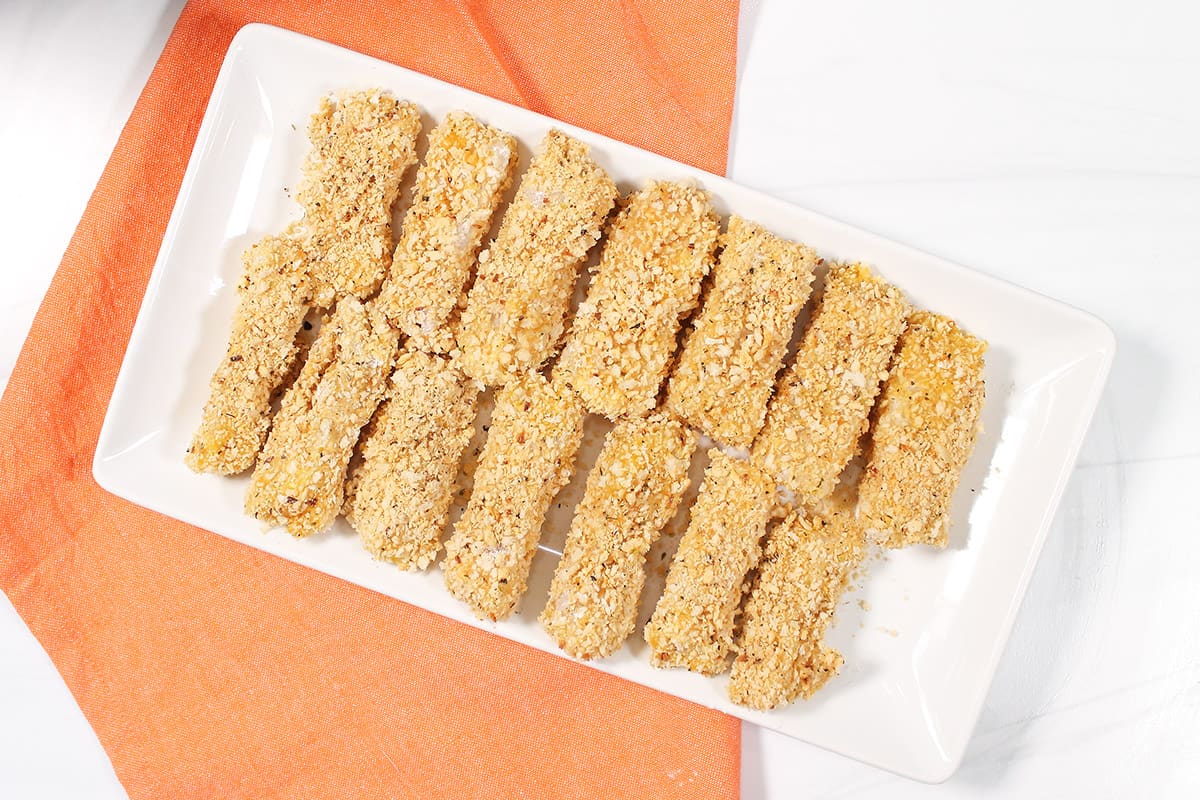 Repeat with all remaining fish sticks.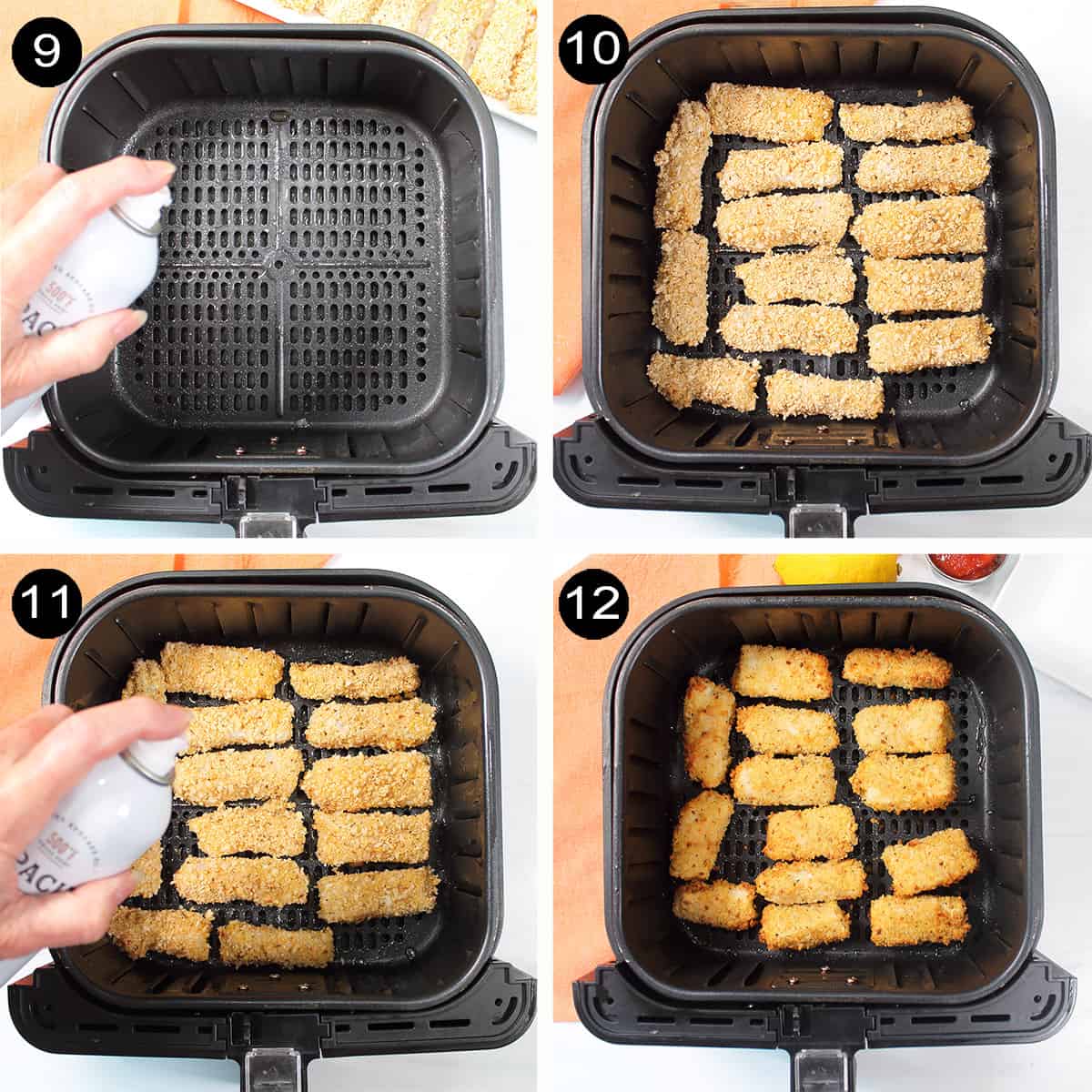 Spray air fryer basket with an oil spray. I like to use avocado oil.
Place fish sticks into basket making sure there is enough room in-between for the air to circulate.
Spray the tops of the fish sticks with oil.
Air fry fish sticks for 10 minutes, turning halfway though and spraying tops once turned.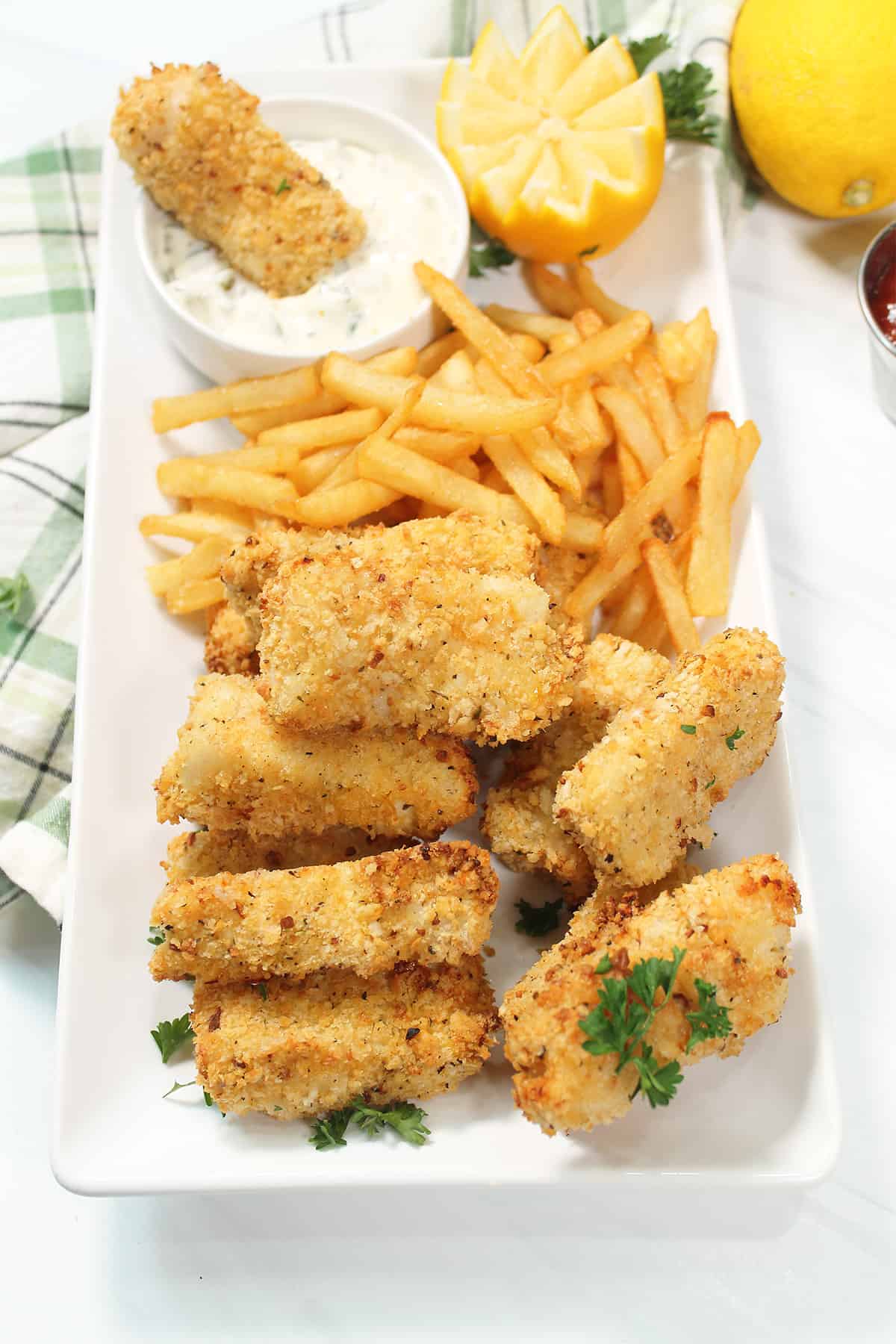 Crispy air fryer breaded shrimp is great as a healthy snack or as a quick and easy dinner. Serve with tartar sauce (see below for a homemade version) and a lemon wedge along with some French fries or coleslaw. Enjoy!
How Long to Air Fry Fish Sticks
Fish sticks air fryer time depends on the thickness of the sticks. It is usually between 7 and 10 minutes. Fish sticks are done when the internal temperature is 145°F.
Best Sauce for Fish Sticks
Tartar sauce is the most popular dipping sauce for fish sticks. It's easy to make and all you have to do is stir together these ingredients in a bowl:
½ cup mayonnaise
½ cup chopped dill pickles
½ teaspoon lemon juice
1 ½ teaspoons chopped fresh parsley
½ teaspoon sugar
⅛ teaspoon salt
⅛ teaspoon pepper.
Remoulade sauce, sriracha mayo, marinara, roasted garlic sauce, or ketchup are also great dipping sauces for fish sticks.
What to Serve with Fish Sticks
Coleslaw
French Fries for fish and chips
Garlic Bread made in the air fryer
Simple Green Salad
How to Store, Freeze, and Reheat Leftovers
To store: Place the leftovers in an airtight container in the refrigerator. They will keep for 3 days in the fridge.
To freeze: Place the cooked fish sticks on a cookie sheet. Freeze until frozen then place them in a freezer-safe bag or container. They will keep for 3 months.
To reheat: Simply place frozen fish sticks in the air fryer and reheat at 390°F for 7 to 10 minutes or until warmed through.
LOVE QUICK & EASY RECIPES? FOLLOW ME ON INSTAGRAM, FACEBOOK, & PINTEREST FOR ALL THE LATEST RECIPE INSPIRATION! PLUS JOIN MY EMAIL LIST AND RECEIVE A FREE E-BOOK.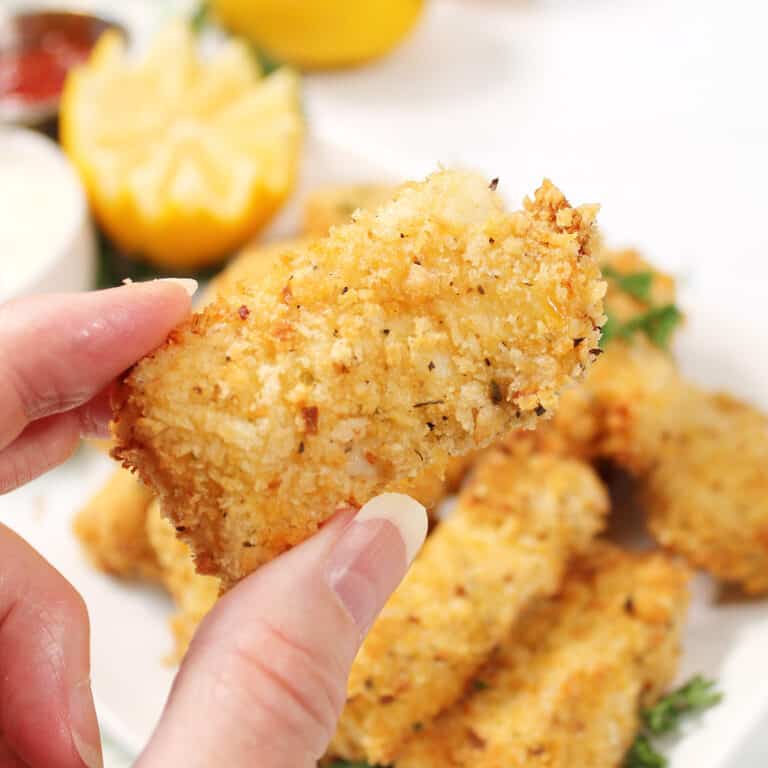 Air Fryer Fish Sticks
Kids and grownups will love these easy-to-make air fryer fish sticks. Cod is covered with seasoned panko for a crispy, light, delicious 20-minute dinner.
Print
Rate
Ingredients
1

lb

cod or haddock – usually about 2 fillets

½

teaspoon

salt

¼

teaspoon

black pepper

½

cup

flour

½

teaspoon

garlic powder can sub chili powder

cajun or paprika for both powders)

½

teaspoon

onion powder

2

eggs

1

cup

panko

I used seasoned panko(or you can mix ¾ cup panko with ¼ cup parmesan)

Cooking oil spray such as avocado oil or vegetable oil.
Instructions
Pat the fillets dry then season with salt and pepper. Cut the two fillets into 3 sections lengthwise then halve them so there are 12 pieces. Each piece should be about 1" wide x 3" long.

In a wide-mouthed bowl, mix flour with garlic and onion powder.

In another bowl, whisk the eggs.

Pour the panko crumbs into a 3rd wide-mouthed bowl.

Prepare an assembly line. First dredge the fish in flour then dip into whisked eggs. Finally lay in panko crumbs and cover the entire fish stick. You can lightly pat the panko into the sticks if necessary. NOTE: USE ONE HAND FOR THE DRY INGREDIENTS AND ONE FOR THE EGGS TO MAKE IT EASIER.

Spray the air fryer basket and place the fish sticks in the basket, making sure they do not overlap and there is room for the air to circulate.

Spray the tops of the fish sticks with oil.

Air fry for 10 minutes at 390 degrees, turning halfway through and spraying again with oil.

Sprinkle with parsley and serve with lemon wedges, tartar sauce and/or cocktail sauce.

Makes about 10-12 fish sticks enough for 3-4 servings.
Notes
FROZEN FISH STICKS: Store-bought frozen fish sticks can also be used. Cook them at the same temperature and for the same amount of time. No oil spray is needed.
BAKE: You can also bake these fish sticks at 450 degrees for 15 minutes, turning halfway through. Spray with oil prior to baking.
Nutrition
Calories:
243
kcal
|
Carbohydrates:
23
g
|
Protein:
27
g
|
Fat:
4
g
|
Saturated Fat:
1
g
|
Polyunsaturated Fat:
1
g
|
Monounsaturated Fat:
1
g
|
Trans Fat:
0.01
g
|
Cholesterol:
131
mg
|
Sodium:
494
mg
|
Potassium:
553
mg
|
Fiber:
1
g
|
Sugar:
1
g
|
Vitamin A:
165
IU
|
Vitamin C:
1
mg
|
Calcium:
62
mg
|
Iron:
2
mg