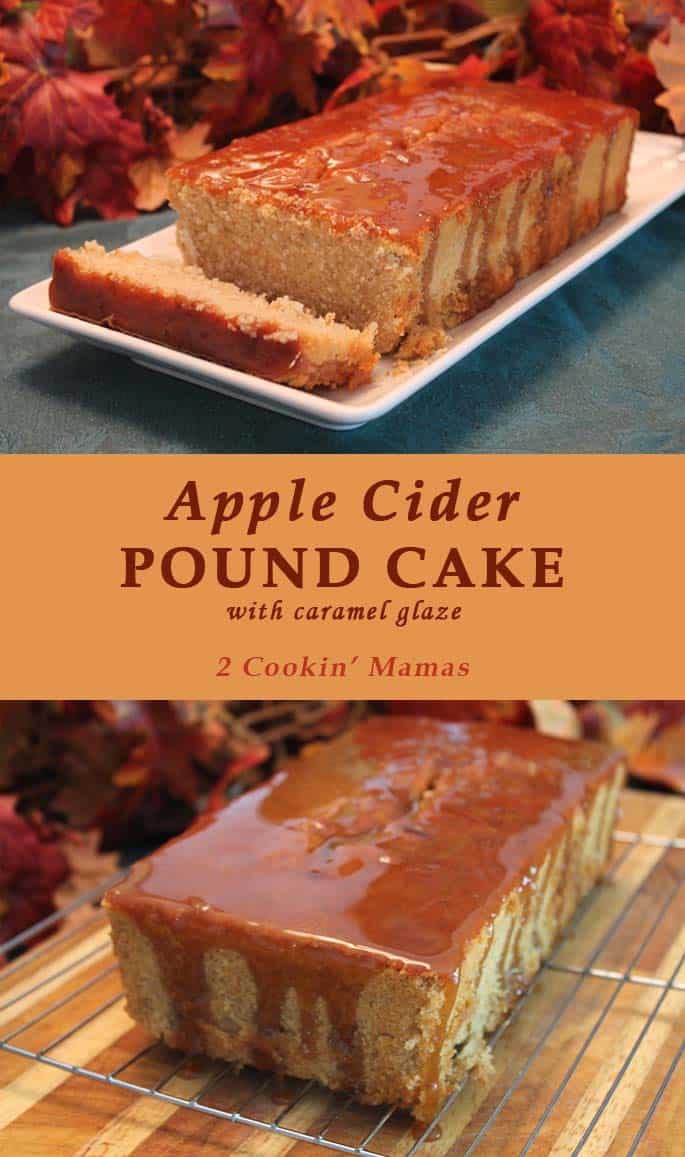 I can still remember my growing up years and our annual trek to old Cider Mill to get fresh apple cider. My Dad loved fresh apples and apple cider and I don't think we ever missed a season to visit. The aroma of apples in the crisp air was mouth-watering and watching the apples get pressed while seeing the cider fill up our gallon jug was so cool. (and they gave out free cups of cider to taste too 🙂 )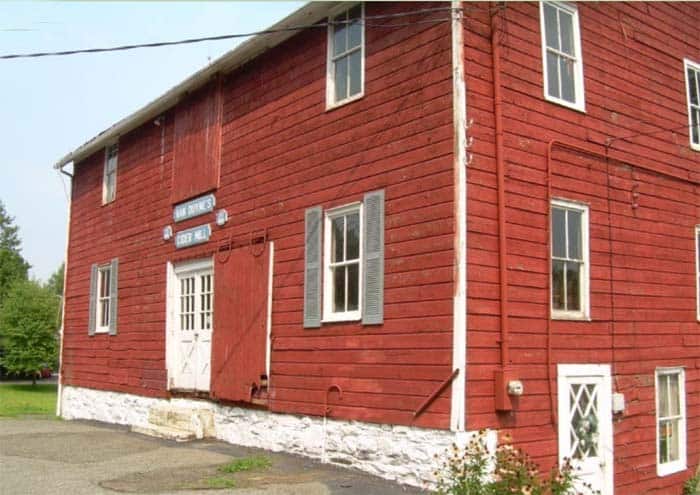 I miss being able to check out the cider mill or go pick apples now that I am in Florida but I somehow bake myself happy when the apples arrive in the store. However, when it comes to apple cider, Florida just doesn't get what real apple cider is as it tends to be more like apple juice than real cider. So when I bake I hunt through every store possible, or hope my relatives will come visit and bring a jug of the fresh cider with them, to find the real thing.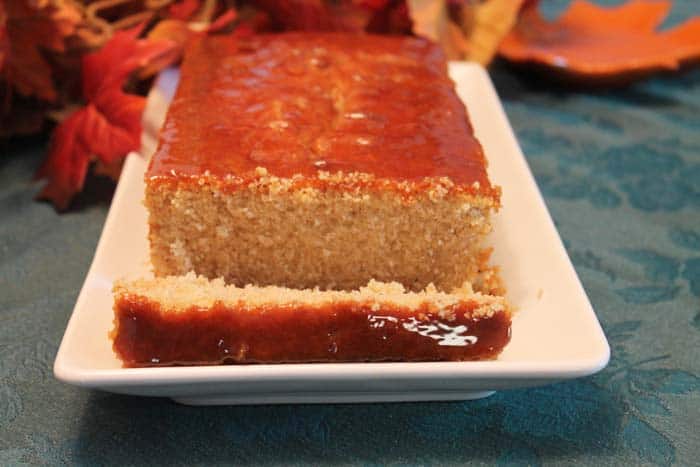 This apple cider pound cake, made with the real thing, is so moist it practically melts in your mouth. And to top it off, there is an oh so rich caramel glaze, that combined with the fresh apple taste, just might remind you of caramel apples. It really does make the perfect fall or winter treat! And the smell of apples baking, whether it's apple pie, caramel apple bar cookies, homemade applesauce or this delicious pound cake always reminds me of autumn days and the happy memories of childhood.
Apple Cider Pound Cake with Caramel Glaze
Ingredients:
1/2 cup butter, softened
1/4 cup shortening
1/4 cup unsweetened applesauce
1-1/4 cups sugar
3 eggs
1 teaspoon vanilla extract
1-1/2 cups unbleached flour
1/4 teaspoon salt
1/4 teaspoon baking powder
1/2 teaspoon cinnamon
1/4 teaspoon nutmeg
1/2 cup apple cider
Caramel topping (you can make your own or use a jarred variety)
Directions:
Preheat oven to 325 degrees. Grease a loaf pan (I love my nonstick Farberware Nonstick Bakeware 9-by-5-Inch Loaf Pan) then line bottom with parchment paper.
Cream butter and shortening together. Continue to mix while adding in applesauce then slowly incorporating sugar a little at a time. Mix at medium-high speed for 5 minutes to help aerate the batter and make the finished pound cake lighter.
Add eggs one at a time until the yellow just disappears then vanilla. Do not overmix!
In a large bowl, combine flour, salt, baking powder and spices. Add alternately with cider to batter and beat until incorporated. Pour into prepared pan and bake for 1-1/2 hours or until toothpick (I use wooden skewer) in center comes out clean.
Lest rest in pan 10 minutes then turn out on wire rack. While still warm, drizzle caramel topping over top and down sides. Let sit until completely cool then store. I place on serving plate and loosely wrap with aluminum foil so as not to disturb the glaze.
Makes 1 loaf cake.
DON'T MISS A RECIPE!