Bring a taste of the season into your home with these apple cider cookies with maple frosting. The cookies are soft & cakey with plenty of spiced apple flavor. They're easy to make & absolutely irresistible when spread with sweet maple frosting.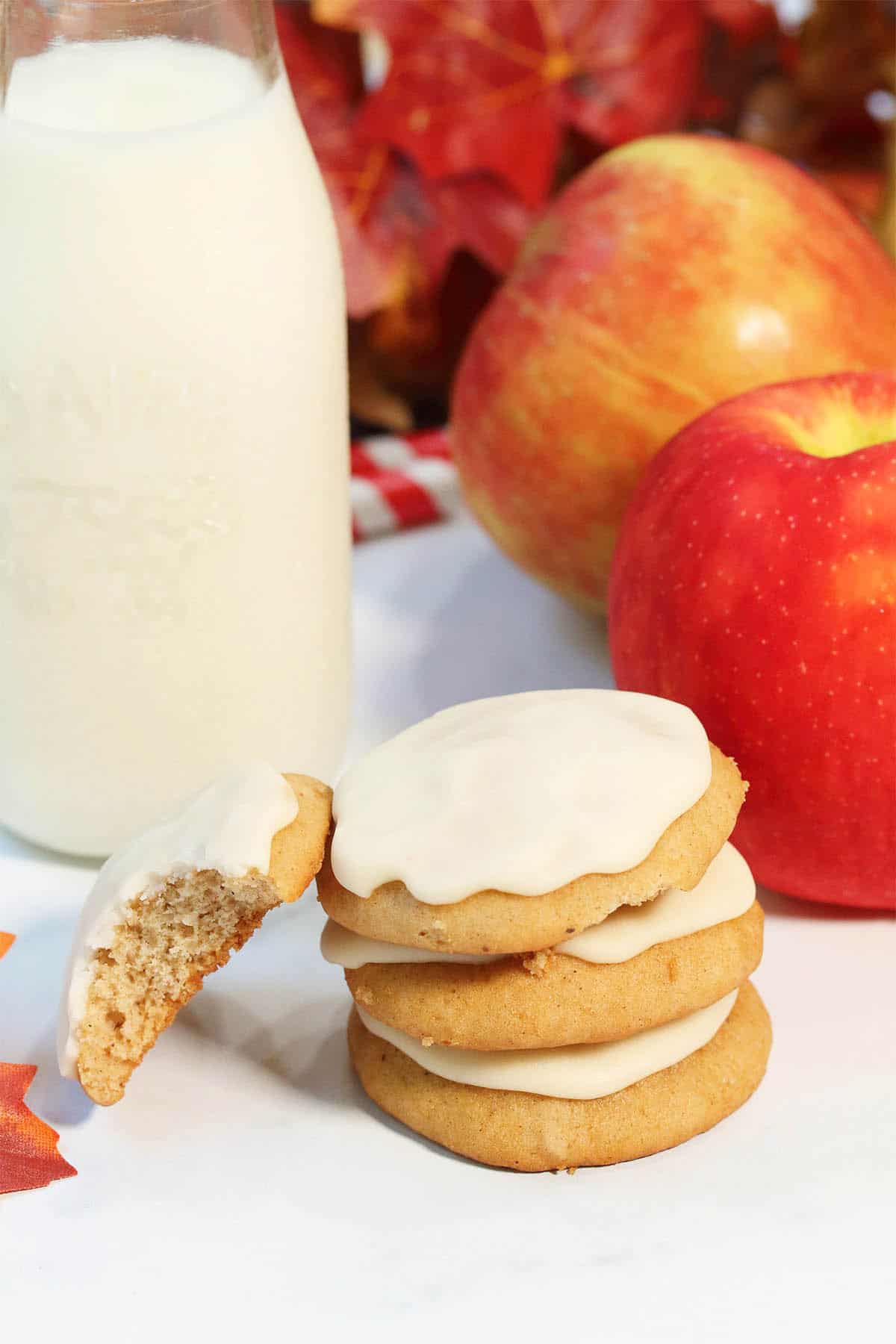 Is it getting cooler in your area yet? We're finally getting down into the 50s at night so I'm feeling the fall spirit and all the flavors that go with it.
What do you think of when fall rolls around with its cooler weather, changing leaves, and plethora of holidays? My first thought is apples and apple cider, and a close second (OK maybe it's a tie) is pumpkin.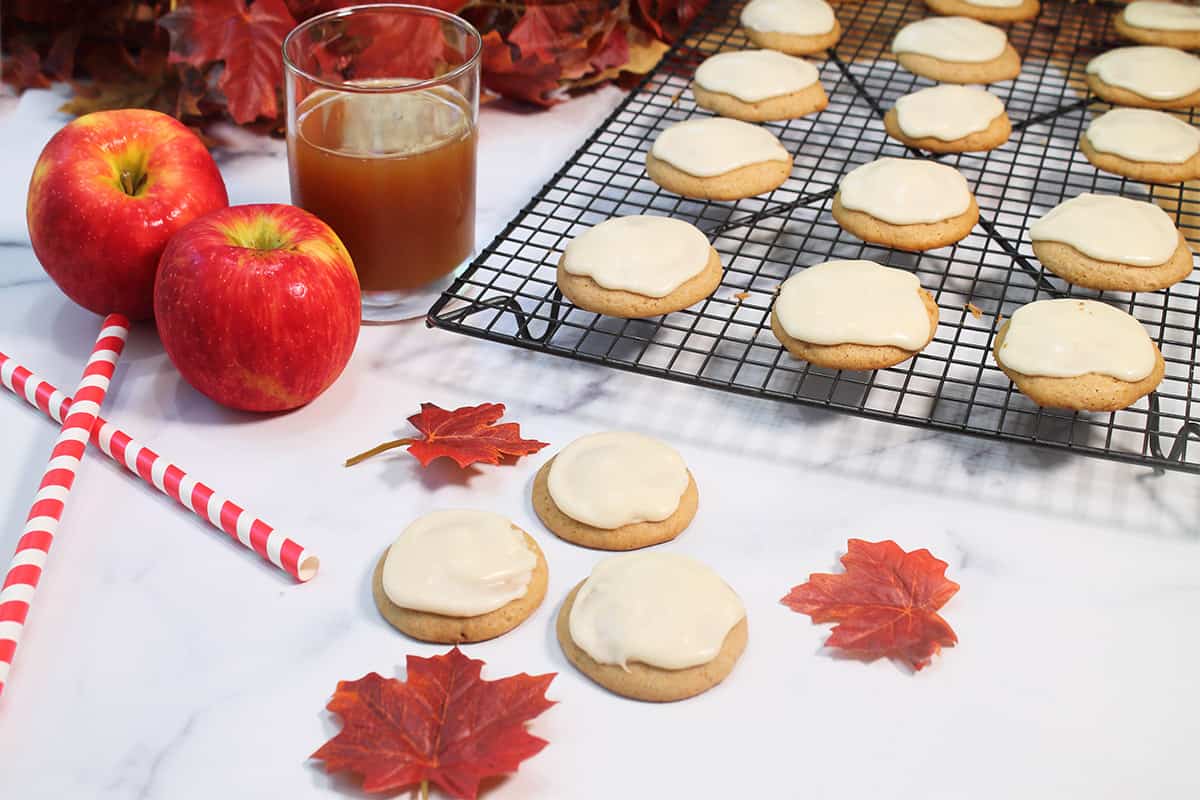 Apples and Baking Just Go Together
I'm looking forward to apple picking in a couple of weeks at our local apple festival and can't wait to fill my home with wonderful apple aromas. I've got a list a mile long but family favorites like Apple Cider Donuts and Apple Cider Pound Cake come first. Now I'm adding these Apple Cider Cookies to the list.
These deliciously soft, cakey apple cookies are easy to make with a strong spiced apple flavor that tastes great just as they are or covered with more autumness (is that a word?), a sweet and flavorful maple frosting.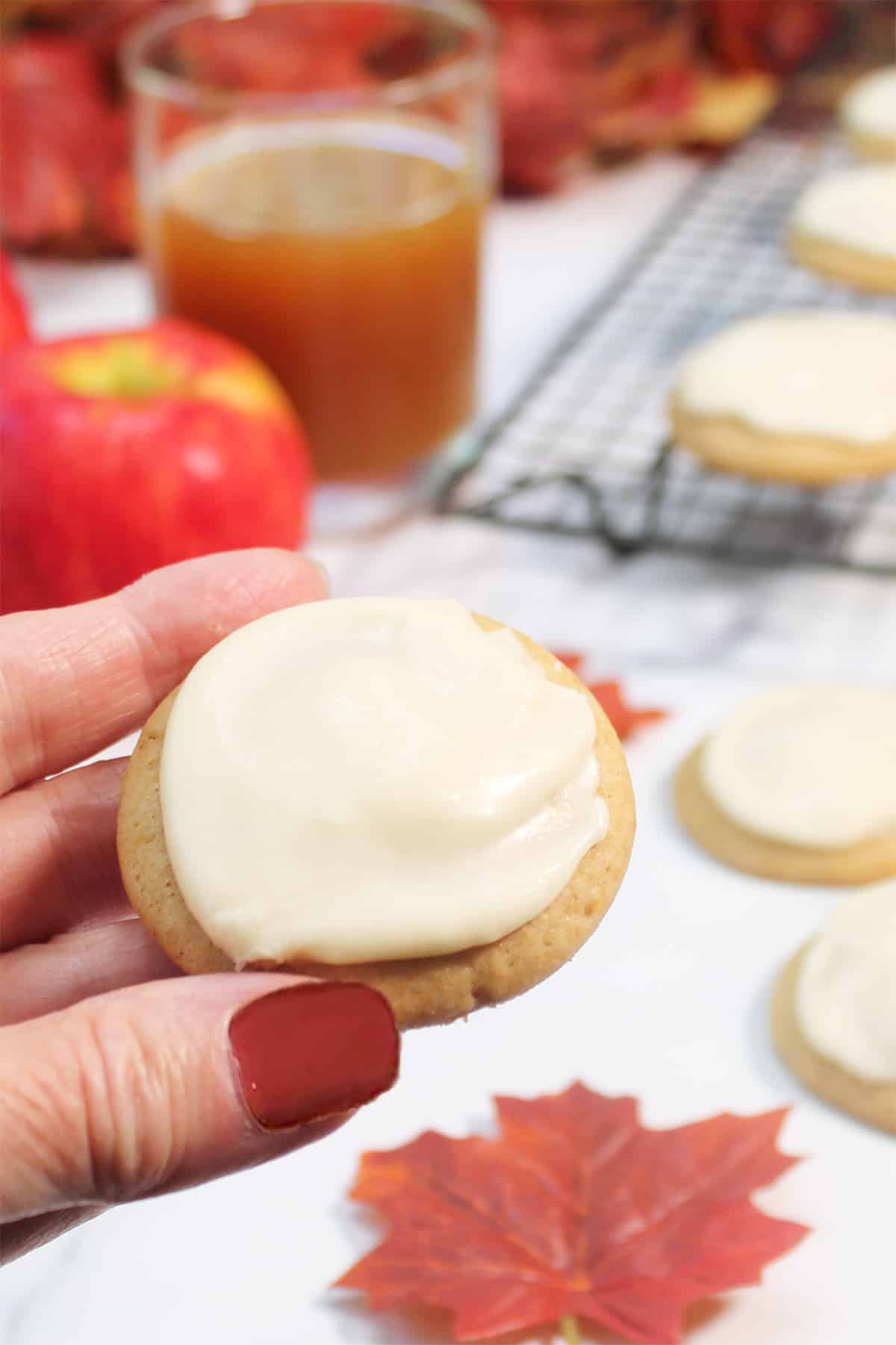 Why You'll Love These Cookies
Quick & Easy - if boiled apple cider is purchased these cookies take just 15 minutes to prep and only 10 minutes to bake. Total deliciousness in 25 minutes!
Perfect for Fall - nothing tastes like fall more than apple cider and warm spices. Cover these apple spice cookies with maple frosting and sweeten up your afternoon snack.
Wonderfully Soft - There are two types of cookies, crispy and soft and these move to the top of the soft category. They have a tender cakey and pillowy texture that will just melt in your mouth.
Cookies with Real Apple Cider
I wanted to make these apple cider cookies with real apple cider to give them more flavor. My first batch was made with regular apple cider and the flavor was good but very mild. So, I opted for using cider molasses or boiled cider. The apple cider is boiled down to a syrupy consistency and adds all the apple flavor you could ask for! It's like a little taste of fall in every bite!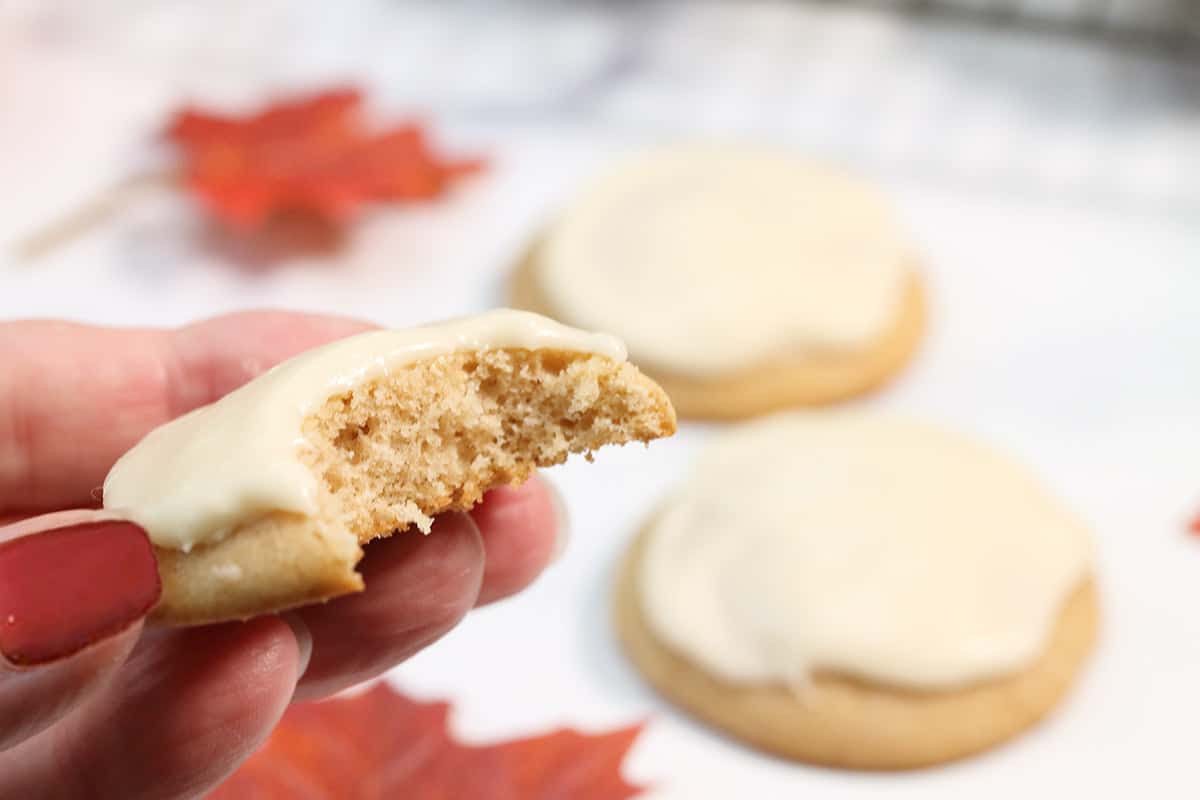 What is Boiled Cider Syrup
The best way to get the most apple flavor in a recipe is to reduce the apple cider to a molasses consistency. This enables a more intense apple flavor to baked goods without adding extra liquid. This tart and sweet syrup make these apple cookies and other baked goods taste absolutely 100% more appley (I'm making up words right & left today).
You can purchase Boiled Cider or Apple Cider Molasses from online or specialty stores, or if you want to make your own, check in the notes section of the recipe for the how-tos. The syrup can be used in many ways, as a drizzle for cake, oatmeal, or ice cream, as part of a glaze for baked goods, or reconstituted into apple cider.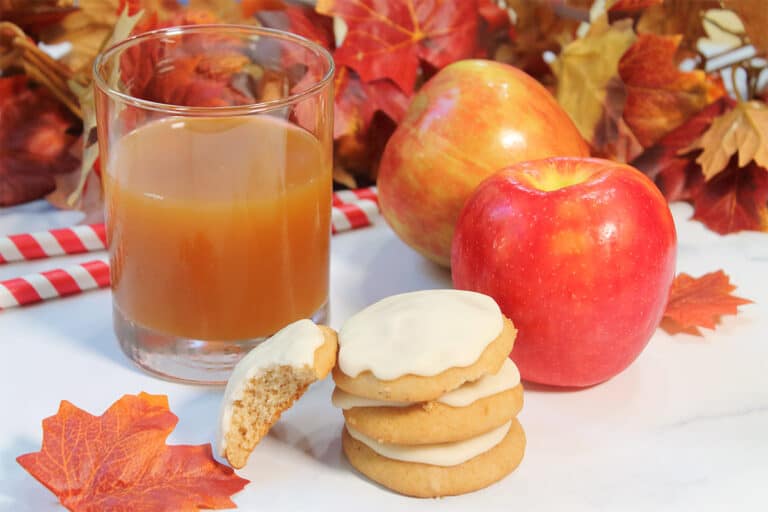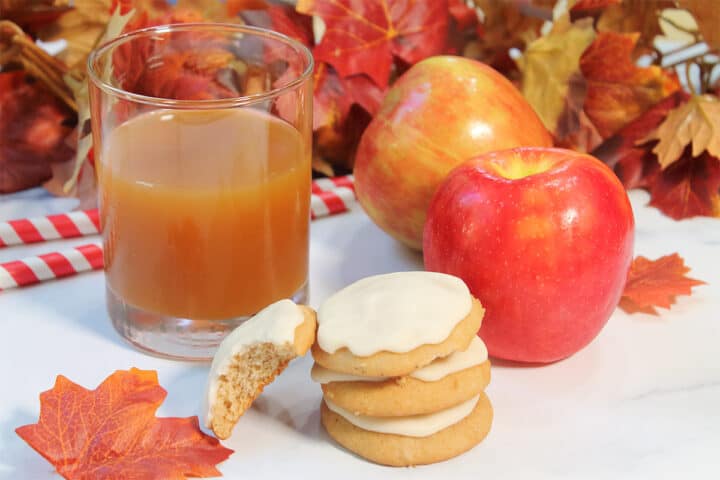 FAQs about Apple Cider Cookies
Do I need to use boiled apple cider?
No, it is not required but produces the most apple-flavored cookie in comparison to apple cider.
Can I use apple juice instead of apple cider?
I would advise against this as apple juice will add little flavor to the finished cookies.
Why did my cookies spread too much?
You might have overmixed the dough or not used room temperature butter or eggs. You can also try chilling the dough in the refrigerator for 30 minutes prior to scooping and baking.
Why are my cookies not soft, tender and cakey?
They are most likely overbaked. Check the temperature of your oven as it may be too high. Too much flour could also have been added. See how to measure flour correctly under the ingredients.
Can I freeze these apple cookies?
Yes, you can but do so prior to frosting. They can either be frozen after baking in an airtight ziplock bag for 3-6 months or freeze unbaked after scooping.

Freeze unbaked scooped cookie dough on cookie sheets then place in ziplock bag. When ready to bake, place frozen scoops on cookie sheets and bake for 1-3 minutes longer than stated in this recipe. Frost when cool.
How long will these cookies keep?
When placed in an airtight container on the counter, these easy apple cookies will keep soft and delicious for 3-5 days.
Variations
Add ½ cup caramel bits to the dough for caramel apple flavor.
Love crunchy? Add ½ cup chopped nuts to batter or sprinkle over warm frosting.
Want more apple flavor? Add ½ cup diced apple to the dough.
Change out the Maple Frosting for a Bourbon Glaze. Just mix 1 cup confectioners sugar with 1 Tablespoon of bourbon and 1 Tablespoon apple cider.
Ingredients
Brown Sugar - adds a wonderful hint of molasses flavor that pairs perfectly with cider as well as the slightly chewy, soft and moist texture
Granulated Sugar- adds the sweetness and moisture to this cakey cookie
Butter - adds rich flavor and richness. Either salted or unsalted can be used
Buttermilk - gives a slight tang to these cookies and helps tenderize gluten providing a softer, more tender texture to the finished cookies
Boiled Apple Cider - boiled down apple cider adds an extra strong apple flavor to the cookies without adding extra liquid. Regular apple cider, not apple juice, can also be used but the flavor will be very mild
Egg - will add the structure that binds the cookie dough together. Using a room temperature egg will help it mix into the batter more easily and avoid overmixing
All-Purpose Flour - provides the structure and texture to the cookie
Cinnamon & Nutmeg- give these cookies a classic fall flavor
Baking Powder & Baking Soda - are the leavening agents. Both are used to give the cookies a little lift
Salt - enhances the flavor of the ingredients and helps to balance out the sweetness
Recipe Tips
Before making these frosted apple cider cookies, check out the tips below for the softest, most delicious cookies.
Be sure to use room temperature butter. The butter should make a slight indent when pressed gently with your fingers. Usually, 30 minutes to one hour at room temperature should soften it sufficiently.
Use room temperture eggs as well. As they warm, the eggs form an emulsion which traps air. When baking, this trapped air expands and produces a fluffier cookie. Place the eggs on a counter for 30 minutes or place them in a bowl of warm water for 10 minutes.
Measure flour correctly! A must for all baked goods as the amount of flour can change the texture of the final product. Scoop flour into a measuring cup and level off with a straight edge.
Do not overmix! Overmixing will create a flatter, crisper cookie not the cakey, light cookie you want.
How to Make Frosted Apple Cider Cookies
Apple Cookies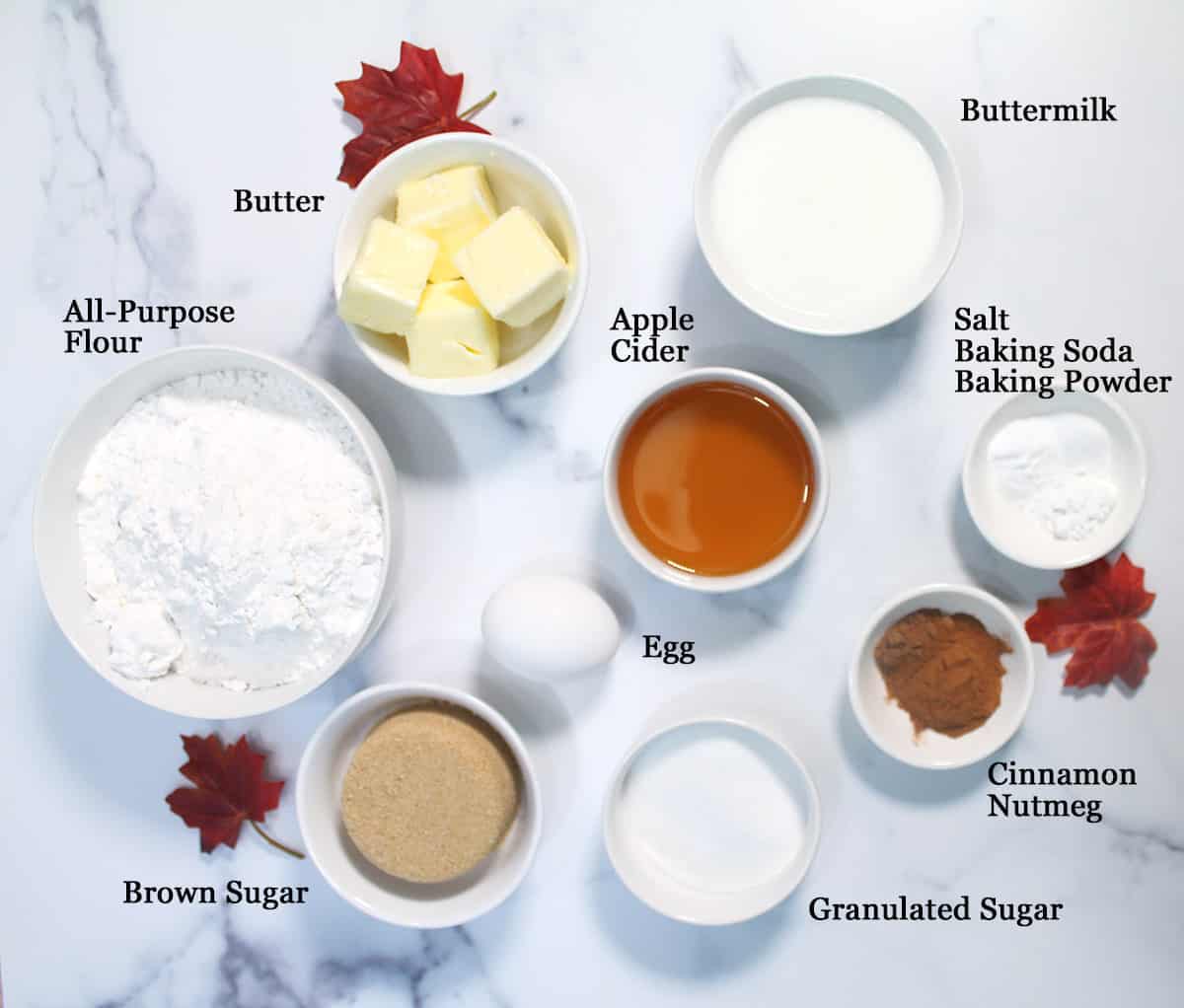 Gather the ingredients to make these delicious fall cookies. The only specialty ingredient needed is boiled apple cider although regular apple cider can be used.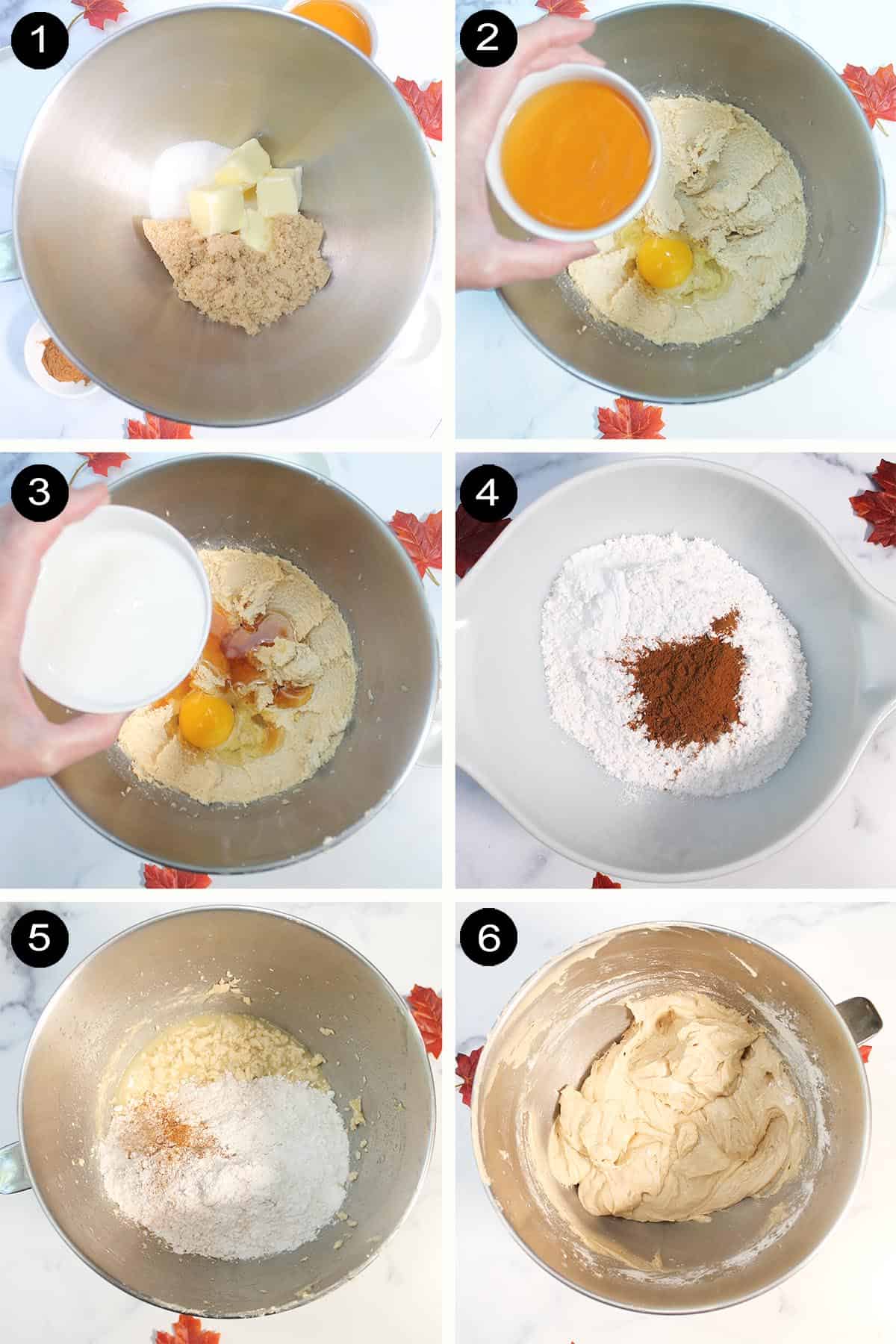 Combine butter and both kinds of sugar in a large mixing bowl. Cream until light and fluffy.
Add the egg and the boiled apple cider.
Pour in the buttermilk and blend well.
In a medium bowl, combine the flour, cinnamon, nutmeg, baking powder, baking soda and salt.
Slowly add to the wet ingredients, stirring until just incorporated.
Fluffy cookie dough ready for scooping onto cookie sheets.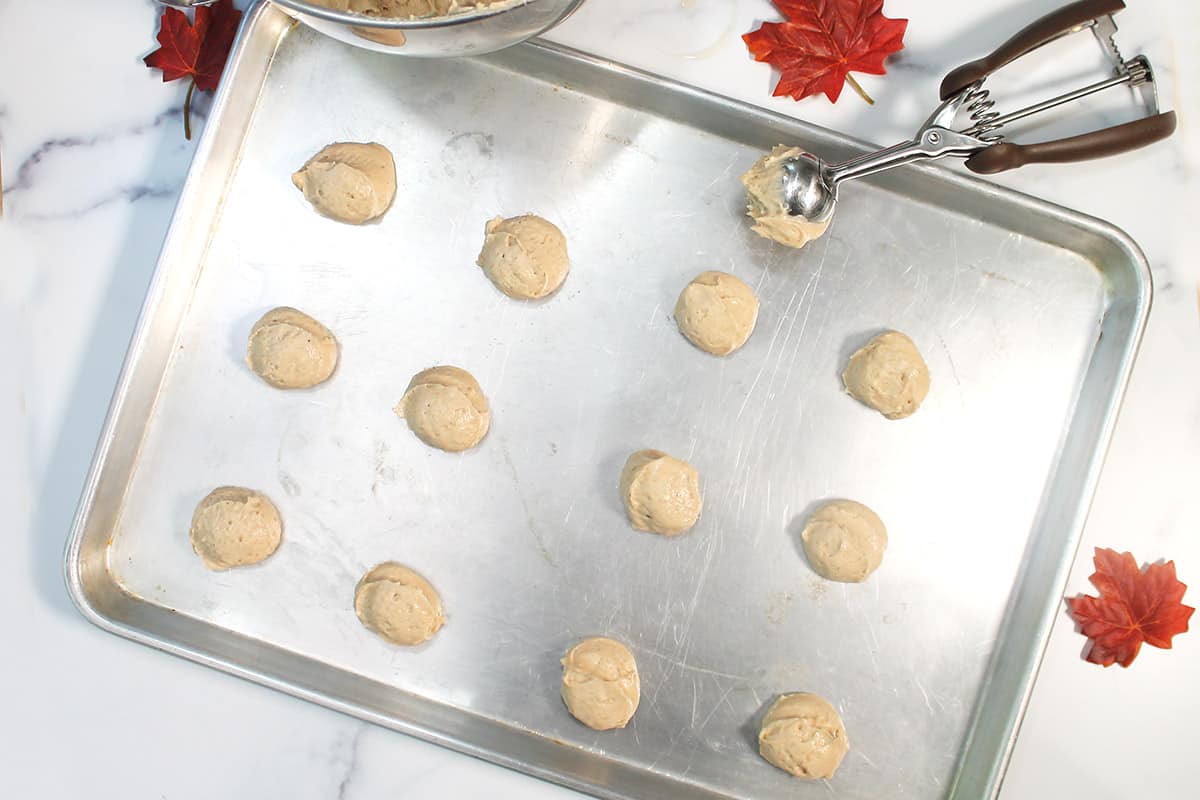 Using a small cookie scoop, scoop the dough onto an ungreased cookie sheet. Leave about 2" in-between each dough ball for spreading. Bake.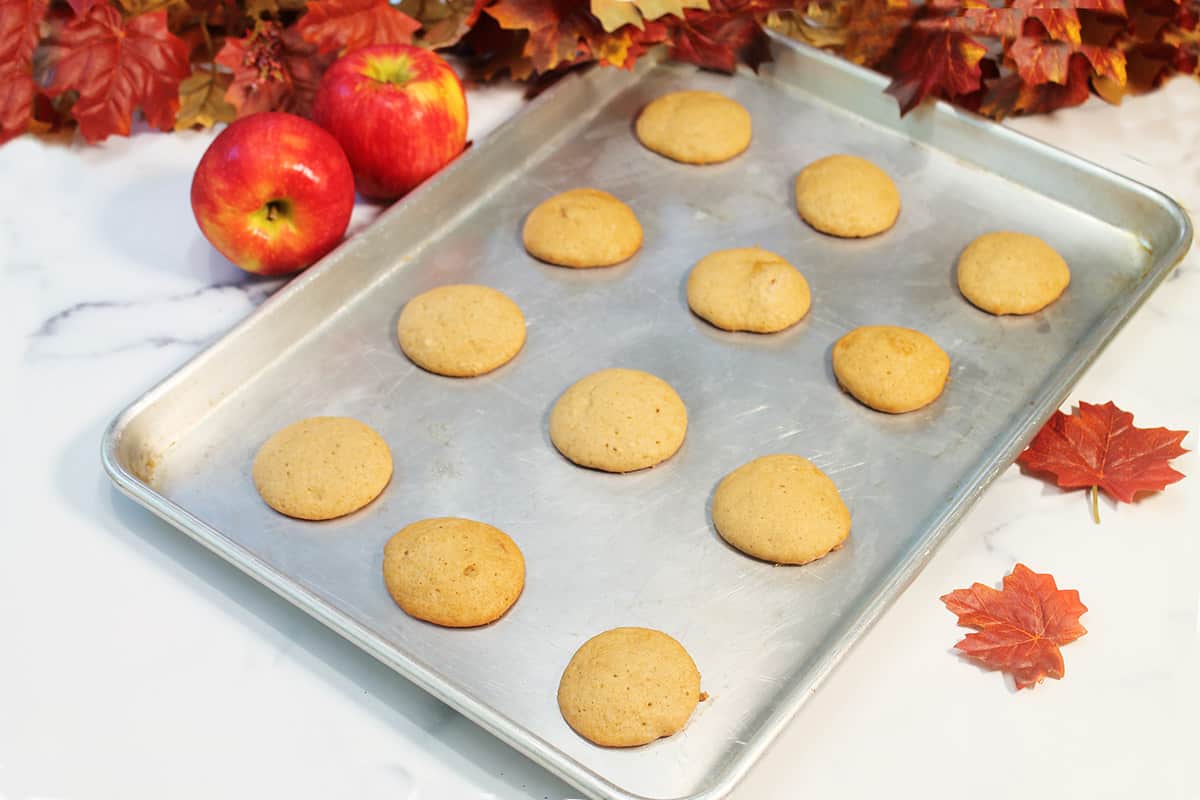 Nicely browned and raised baked cookies. While the cookies are baking and cooling make the easy maple frosting.
How to Make Maple Frosting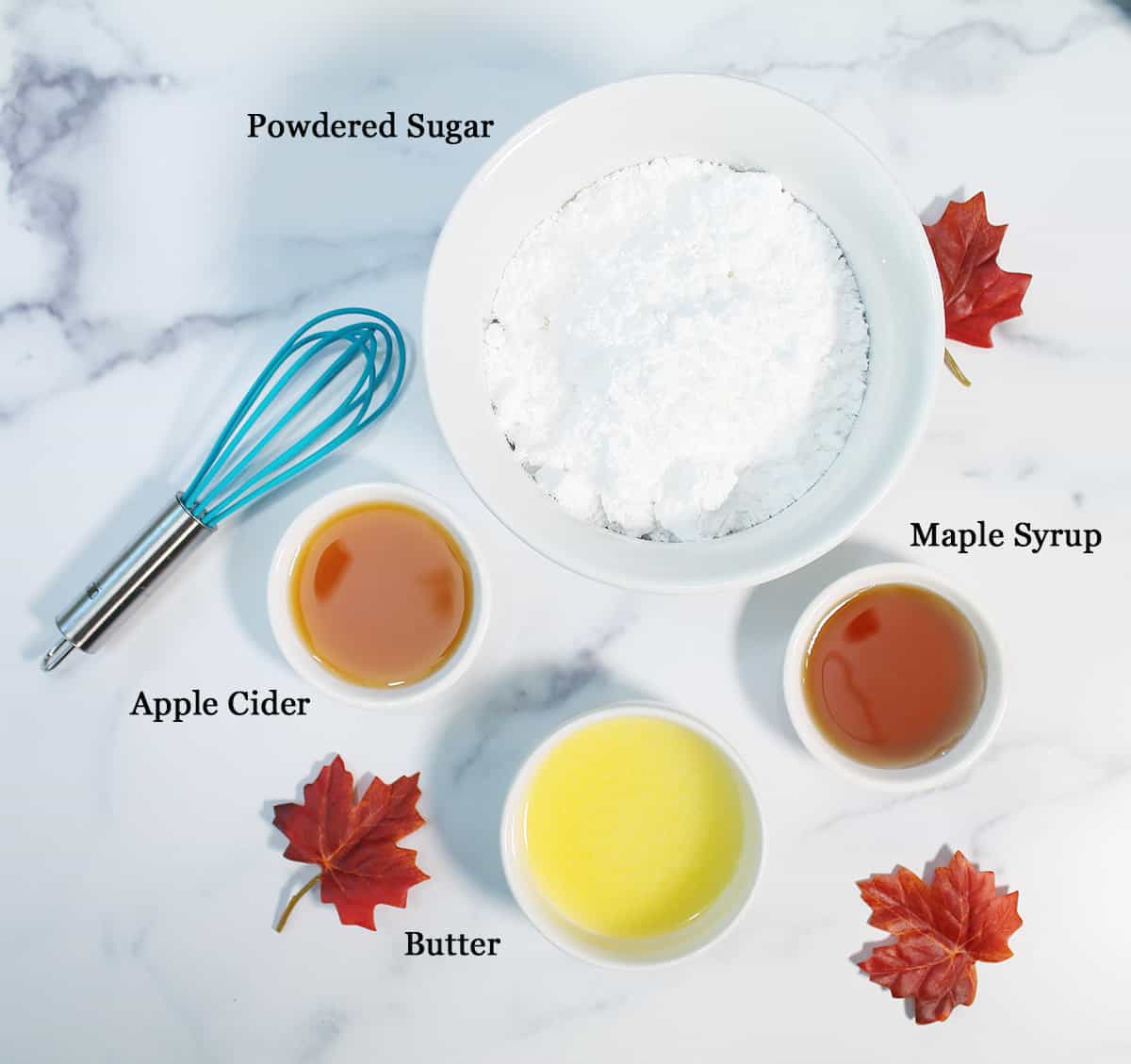 Simple ingredients are all it takes to whip up this frosting - confectioner's sugar, apple cider, maple syrup and butter.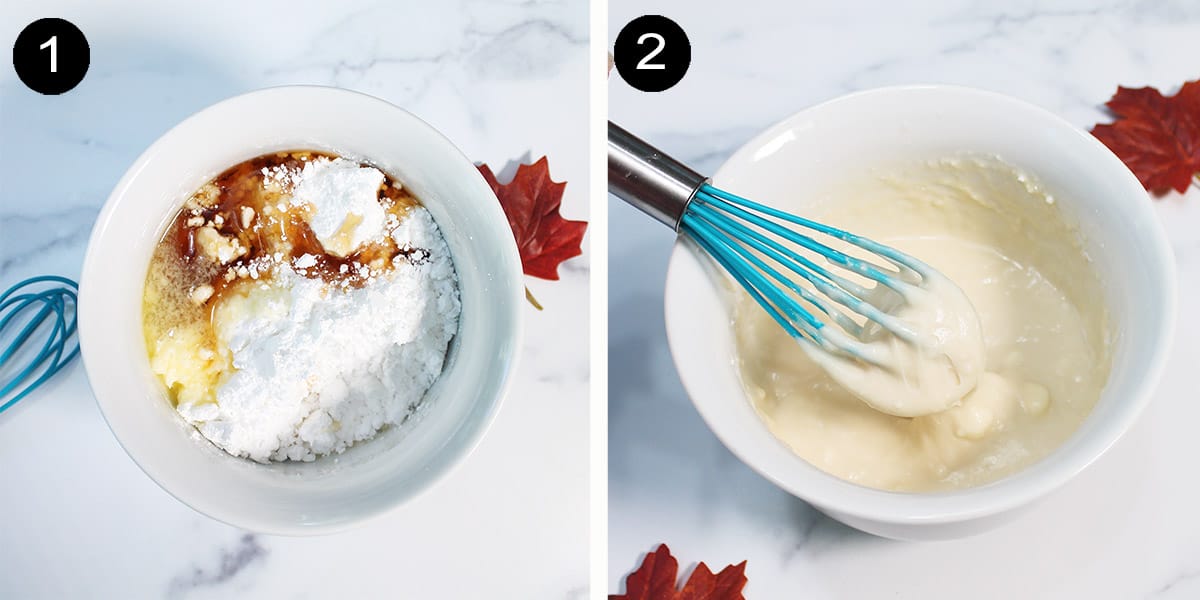 Combine all the frosting ingredients in a small bowl.
Whisk until well mixed. If the frosting seems to runny, add more confectioners sugar and if the frosting is too stiff, add more apple cider or maple syrup.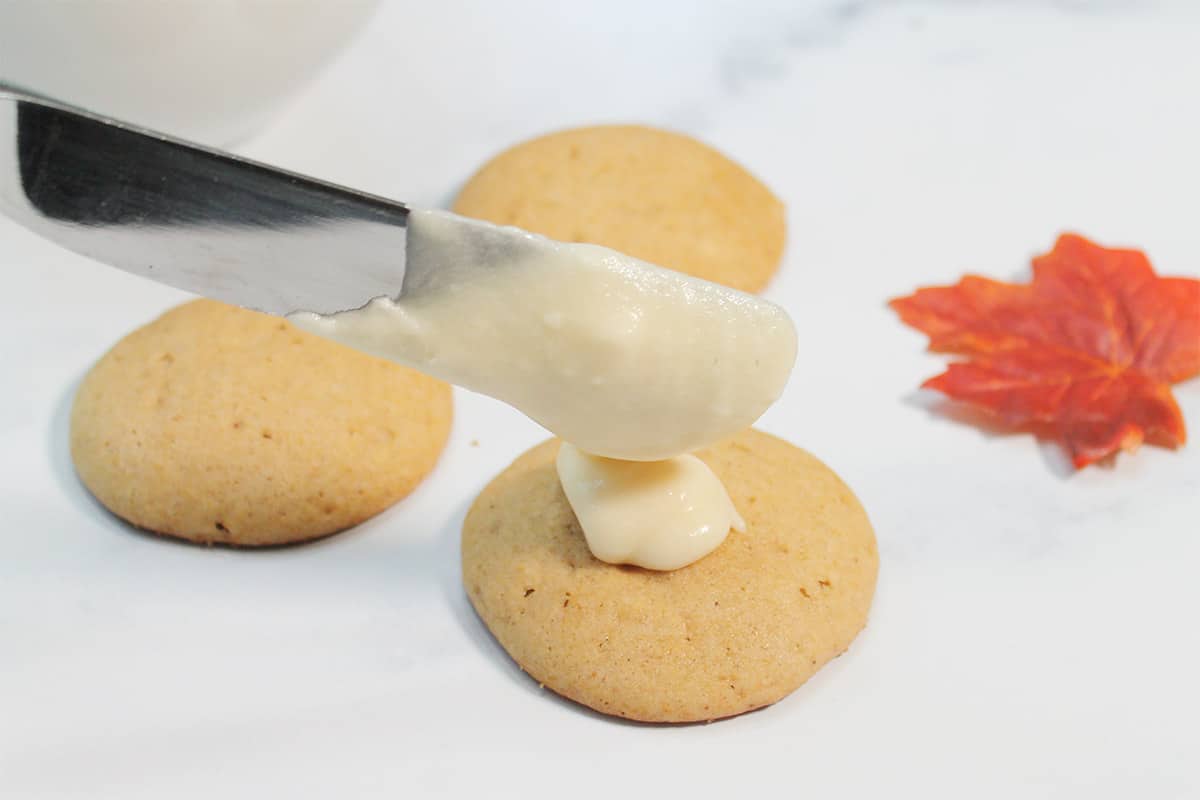 Spread the frosting on cooled cookies and let it set before storing in an airtight container. I like to place waxed paper or aluminum foil in-between my layers of cookies to keep each one looking its delectable best.
These Frosted Apple Cider Cookies are hard to resist. The sweet cakey texture is like eating apple cake that just melts in your mouth. And the maple frosting adds just the right finishing touch. Serve with a glass of milk or apple cider and enjoy! Happy Fall!
More Fall Recipes
Chocolate Pumpkin Swiss Roll is a lighter than air chocolate sponge cake rolled around a creamy extra fluffy pumpkin cheesecake filling. This is one irresistible fall, Halloween or Thanksgiving dessert.
Maple Pecan Sticky Buns are soft flaky buns, stuffed with cinnamon sugar & topped with sweet sticky caramel and nuts. They're finger-lickin' good!
Dutch Apple Pie has an easy-to-make flaky crust that is packed full of tasty cinnamon-flavored apples then covered with loads and loads of sugary crumbs.
Pumpkin Cheesecake Bars from Noshing with the Nolands have a buttery gingersnap crust that explodes with flavor matching perfectly with pumpkin pie spice flavors in the cheesecake swirl!
Easy Apple Dumplings combine a whole cinnamon sugar flavored apple with a homemade pie crust and baked to warm perfection. And a drizzle of sweet vanilla sauce is a must.
Find lots of fall recipes here on 2CM!
LOVE QUICK & EASY RECIPES? FOLLOW ME ON INSTAGRAM, FACEBOOK, & PINTEREST FOR ALL THE LATEST RECIPE INSPIRATION! PLUS JOIN MY EMAIL LIST AND RECEIVE A FREE E-BOOK.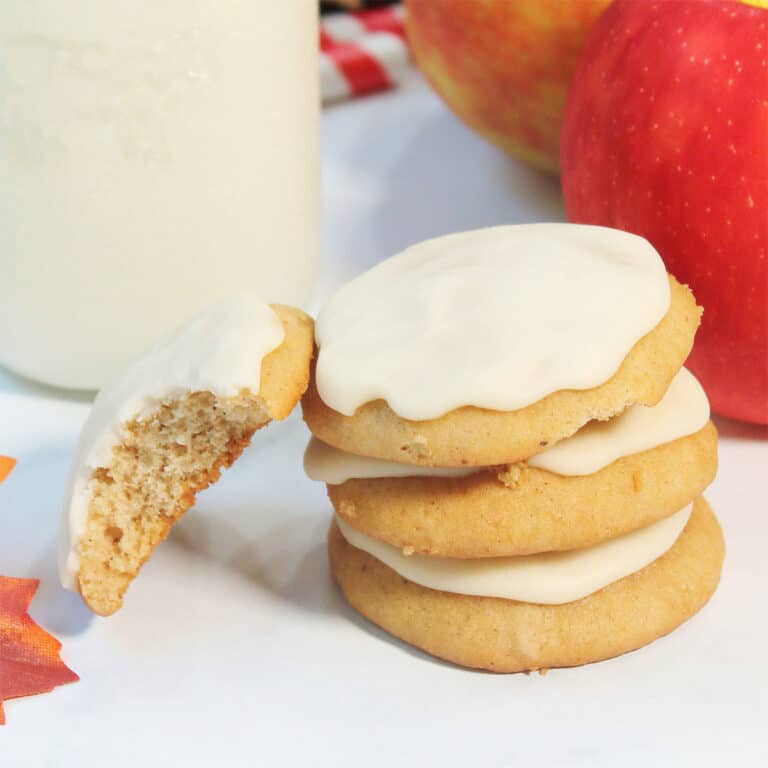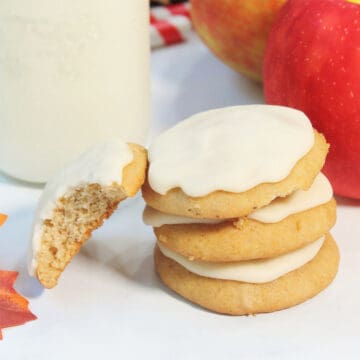 Apple Cider Cookies with Maple Frosting
Bring a taste of the season into your home with these apple cider cookies with maple frosting. The cookies are soft & cakey with plenty of spiced apple flavor. They're easy to make & absolutely irresistible when spread with sweet maple frosting.
Print
Rate
Ingredients
Cookies
½

cup

light brown sugar

¼

cup

granulated sugar

½

cup

butter (1 stick), room temperature

½

cup

buttermilk

⅓

cup

boiled apple cider

Apple cider can be used but the result will not be as appley.

1

egg

2 ¼

cups

all-purpose flour

1 ½

teaspoons

cinnamon

Or replace both the cinnamon and nutmeg with 2 teaspoons apple pie spice

½

teaspoon

nutmeg

½

teaspoon

baking powder

½

teaspoon

baking soda

¼

teaspoon

salt
Maple Frosting
2

cups

confectioner's sugar

2

Tablespoons

butter,

melted

2

Tablespoons

apple cider

2

Tablespoon

pure maple syrup

½

teaspoon

pure maple extract

optional
Instructions
Preheat oven to 375 degrees.
Cookies
In a large bowl of an electric mixer, cream butter and sugars together until light & fluffy.

Add buttermilk, cider & egg, blending well.

In a separate bowl combine remaining ingredients, stir well. Add slowly, mixing well after each addition.

Using a small cookie scoop, place on ungreased cookie sheets leaving about 2" in-between for spreading.

Bake for 10 minutes. Cookies should be a very light golden brown.

Let cool on wire racks.
Maple Frosting
In a small bowl, whisk together all ingredients.

Spread generously on cookies and allow to cool completely before storing in airtight container.
Notes
How to Make Boiled Apple Cider or Apple Cider Molasses
To reduce apple cider: Place 1-⅓ cups in a saucepan over medium heat. Bring to a low boil, cover and cook for about 2-½ hours, stirring every 30 minutes. When it is close to done it will start to look foamy. At this point turn heat down and watch carefully. When done, let cool and pour into jar & store in the refrigerator. You'll have approximately ⅓ cup. If you don't use it for this recipe, try it as a sauce over meats, oatmeal or even an ice cream sundae.
Nutrition
Calories:
108
kcal
|
Carbohydrates:
18
g
|
Protein:
1
g
|
Fat:
3
g
|
Saturated Fat:
2
g
|
Cholesterol:
13
mg
|
Sodium:
66
mg
|
Potassium:
28
mg
|
Sugar:
12
g
|
Vitamin A:
110
IU
|
Calcium:
13
mg
|
Iron:
0.4
mg
This post has been updated with step-by-step instructions and new photos. It was first published on October 18, 2016.