Our BLT Stack is an easy to make appetizer or dinner. Bacon, tomato & spinach is piled high on a slice of eggplant, zucchini or french bread then topped with cheese. Delicious any way you fix it!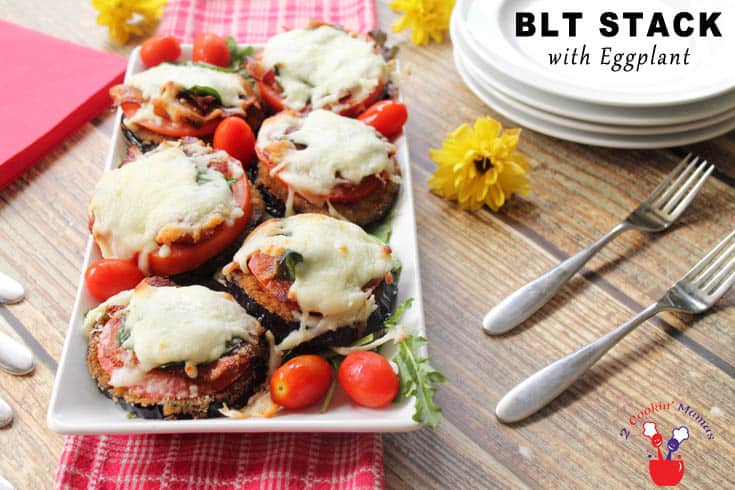 I'm a marketing person from way back and we always ran promotions for back-to-school time and called them BTS promos. Well, those 3 letters gave me a great idea that is perfect for an after school appetizer or school night dinner.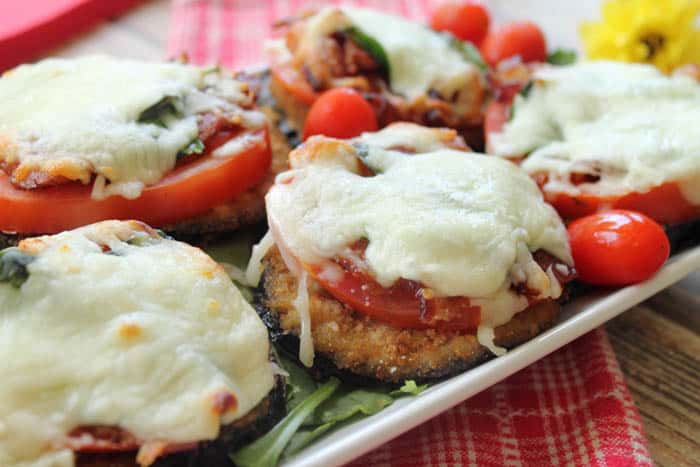 This is my take on the popular BLT with a few small tweaks that makes them just a bit healthier.  I like to call it my BTS Stack. So you are probably wondering what the BTS stands for, well, let me tell you. I am sure you guessed the B was for bacon but it can also stand for the basil I added (I know I cheated having two that start with B but hey it's my recipe) and yes, the T is for tomato. Now, here comes the change, I switched regular lettuce for healthier spinach, hence the S. We'll keep that as our little secret as kids seem to turn up their noses at the mention of anything green.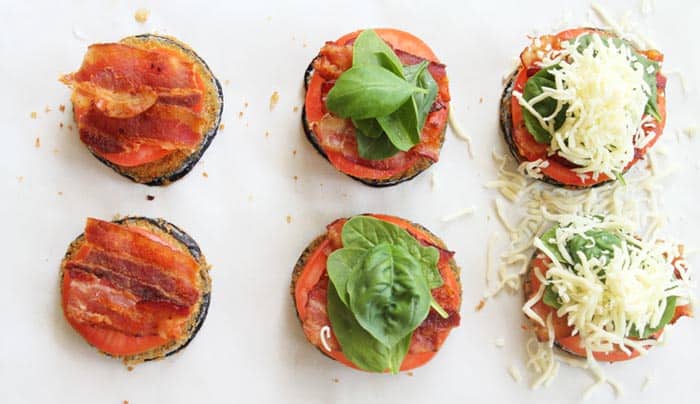 Today I stacked all these goodies on top of a frozen eggplant parm slice which saves tons of time but you can also make your own if you prefer. You can also use the same stack and place on zucchini rounds (for a small bite appetizer) or on French bread slices for a heartier appetizer. They're all so tasty that I'll have to leave it up to you to decide which you like best.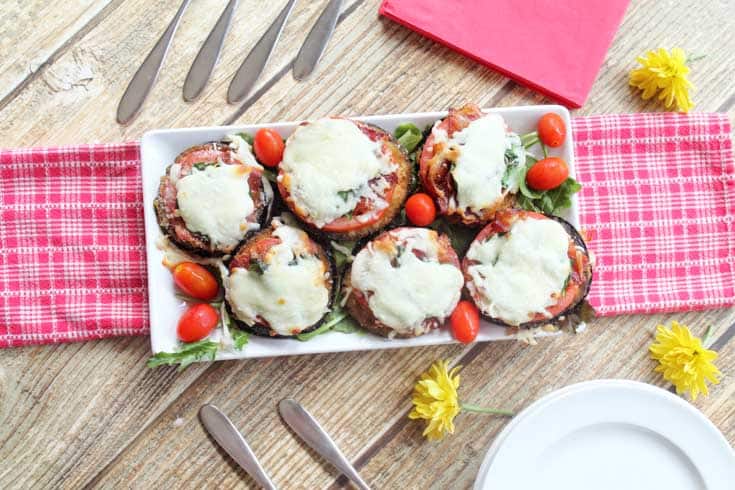 In fact, the eggplant version was so delicious that my husband, who is not a big eggplant fan by any stretch of the imagination, said it was the best eggplant he ever had. Yay!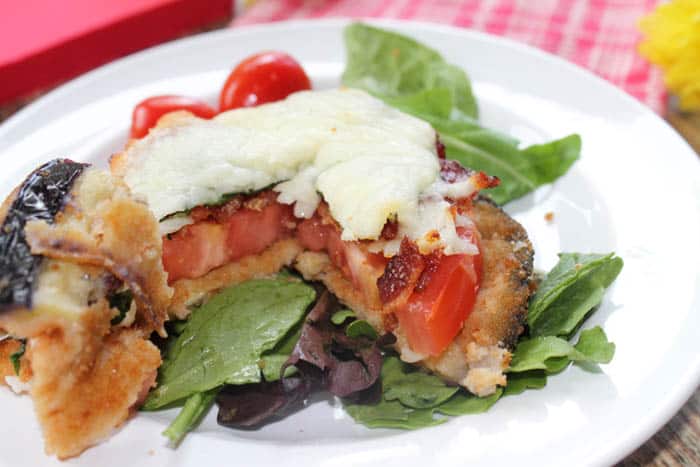 And with football season right around the corner, try any of the versions for the perfect fall football appetizer. They're so easy to make ahead of time and all you have to do is put them in the oven right before you need them.
Want more appetizer ideas? Check out our Appetizer Index where you'll find our Baked Jalapeno Poppers and Spinach & Cheese Balls for starters. Hope you enjoy!
BLT Stack with eggplant, zucchini or french bread
Ingredients:
Eggplant Base (serves 3-4)
1 eggplant, sliced into 8  1/2″ slices
1 recipe coating
Light extra virgin olive oil
12 pcs cooked bacon (1-1/2 pcs per eggplant slice)
2 tomatoes or 8 slices (more if your tomato is small, then top with 1-1/2 slices)
16 baby spinach leaves or more to suit your preference (2 per eggplant slice)
16 leaves basil (2 per eggplant slice)
1-1/2 to 2 cups shredded mozzarella
Zucchini Base (Makes 12 appetizers)
1 zucchini, sliced into 12  1/2″ slices
1 recipe coating
Light extra virgin olive oil
6 pcs cooked bacon (1/2 pcs per zucchini slice)
1 tomato, sliced and cut into fourths
12 baby spinach leaves
12 basil leaves
1 to 1-1/2 cups shredded mozzarella
French Bread Base (Makes 16  1/2″ slices)
Light extra virgin olive oil
1 loaf French bread, sliced into 16  1/2″ slices
24 pcs cooked bacon (1-1/2 slices per bread slice)
4 tomatoes or 16 slices
16-32 baby spinach leaves (2 per bread slice)
16 basil leaves (2 per bread slice)
1-1/2 to 2 cups shredded mozzarella
Italian seasoning
Coating:
1/4 cup flour
1/2 teaspoon salt
1/4 teaspoon black pepper
1 egg
2 teaspoons water
1 clove garlic, minced
1-1/4 cup panko crumbs
1/3 cup Parmesan or Pecorino Romano cheese, grated
1 teaspoon Italian seasoning
1/2 teaspoon lemon zest
Directions:
Preheat oven to 400 degrees. Line several large cookie sheets with parchment paper.
For eggplant & zucchini
To prepare the eggplant and zucchini, wash and slice each vegetable into 1/2″ slices. Make sure to purchase organic produce so that you can leave the skin on. This ensures that you get the most vitamins and fiber from the vegetable.
Place flour, salt & pepper on a flat plate. Mix egg, water and minced garlic in wide-mouthed bowl. On another plate, mix panko, Parmesan cheese, Italian seasoning and lemon zest.
Heat a large skillet with a small amount of light extra virgin olive oil.
Dredge each slice of eggplant and zucchini in flour mixture then dip into egg wash followed by another dredging in panko mixture. Immediately add to skillet and cook each side until golden brown. Place on prepared cookie sheet.
Top each eggplant slice with 1-1/2 pieces bacon, slice of tomato, spinach leaves and basil then top with shredded mozzarella.
If making zucchini, top each slice with 1/2 piece bacon, 1/4 of a slice of tomato, 1 spinach & basil leaf then top with small amount of shredded mozzarella.
For French bread
Heat broiler.
Place french bread slices on prepared cookie sheet. Drizzle a little olive oil on one side of bread. Place under broiler for 3-5 minutes or until bread gets slightly toasty on one side. Remove from oven and set temperature to 400 degrees.
Turn bread over and drizzle more olive oil on untoasted side of bread. Top with 1-1/2 pieces of bacon, 1 slice of tomato, 2 each of spinach and basil leaves then top with shredded mozzarella sprinkled with a little Italian seasoning.
For all variations above, cook in oven for 11-13 minutes or until cheese is melted and stack is heated through. If made ahead of time and refrigerated, bring stack to room temperature then cook as stated above.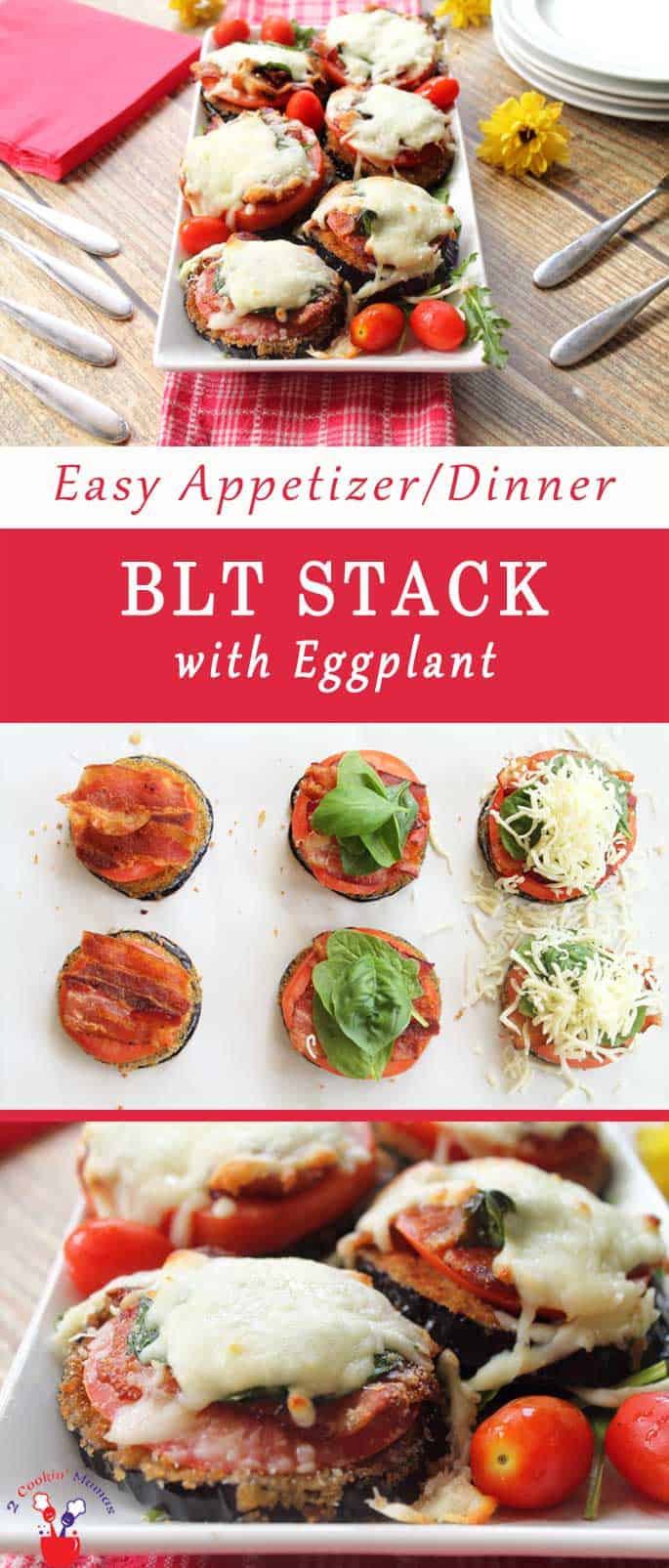 DON'T MISS A RECIPE!