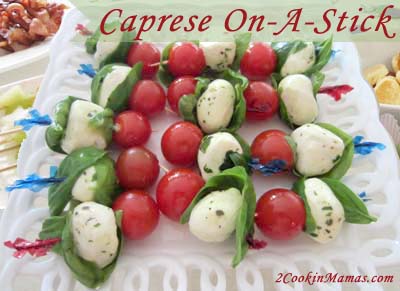 Everyone loves a caprese salad but when you want to serve it as an appetizer it can be a little messy. Imagine holding a glass of wine, a small plate with the normal caprese salad, a knife and fork and, well, you get the picture. Here is a novel way to serve the salad in bite size form and it looks great on the serving dish too!
Caprese Salad on a Stick
Ingredients:
Cherry Tomatoes
Fresh Mozzarella Balls (use Buffalo mozzarella for GMO-free option)
Large Basil Leaves
Olive Oil & Balsamic Vinegar
Toothpicks
Directions:
Take a basil leaf and push the toothpick through one end of the leaf, add the mozzarella ball then the tomato and finish by spearing the other end of the basil leaf. If the leaf is not large enough, try putting just the mozzarella ball in-between the leaf or just use two leaves – put one on first, then the mozzarella, another leaf and then the tomato. When finished assembling appetizer, sprinkle a little olive oil and balsamic vinegar over them.
Make at least 2 per person when determining quantities for a party.
Check out these other great appetizers: