Super Crispy Air Fryer Chicken Wings can't be beat! Healthier than deep-fat frying, these deliciously crispy air-fried wings have no breading and come out moist and flavorful. They're the perfect treat as a game-time appetizer or, cook a few more and, make them into a meal. Low carb, gluten-free & paleo.
Crispy Air Fryer Chicken Wings
I hope everyone had a wonderful New Years celebration. I'm just getting back into the swing of things and catching up on some delicious and healthier recipes to post about in the new year. I don't know about you but my body is ready to get off all the sweets and back into shape.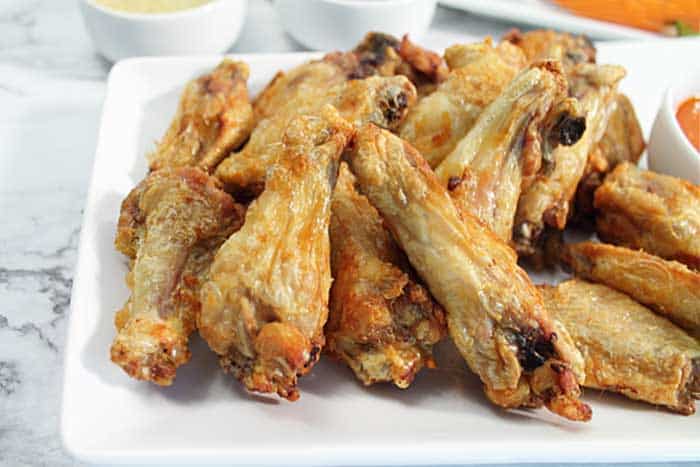 For Christmas, my husband bought me an air fryer. He had heard me talking about it and wondering just how good it was at frying food without oil and thought it sounded like a good way to kind of have your cake (namely wings in this case) and eat it too.
And, when I did a few trial runs, I was amazed at how super crispy and delicious the wings turned out to be. Of course, now you know that there will be more air fryer recipes in the future. I am sold on this gadget!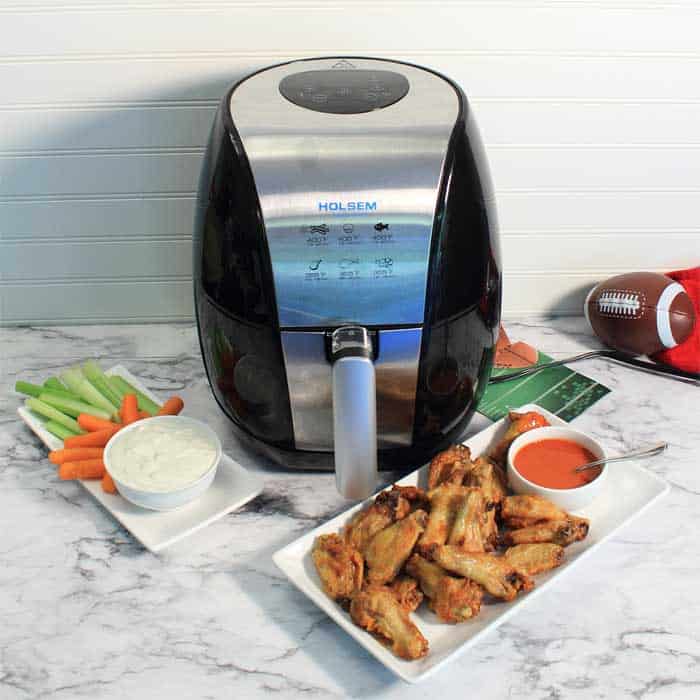 I'm making this recipe again to serve up for the big college football game on Monday night. I'm an SEC fan so I will probably root for Alabama. I'll probably never say this again but Roll Tide! lol I think Clemson is going to give Alabama a run for their money. It should be a fun game to watch.
No air fryer? These Asian Chicken Wings or Crispy Baked Chicken Wings are a great alternative.
How to cut wings into drummettes and wingettes.
The cheapest way to buy wings is uncut and dividing them into drummettes and wingettes is so easy you'll wonder why you paid the extra to get them already prepared.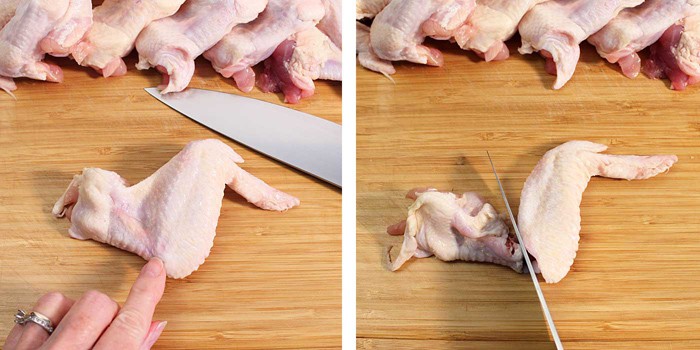 First, locate the joint between the bottom of the drummette and the wing. Cut through this with a sharp knife.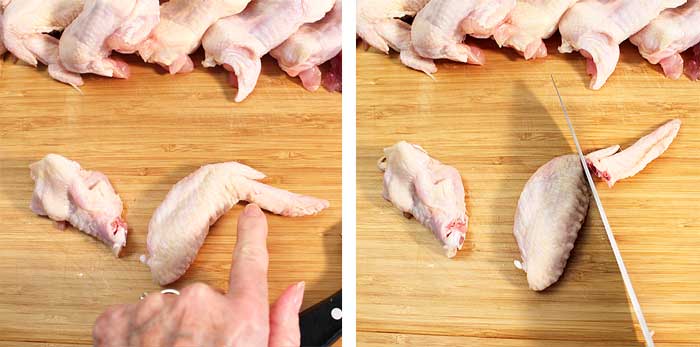 Now you have a drummette and flat, or wingette, you just want to get rid of the tip. There is a small joint between the flat and tip. Just cut through this. See how easy that was! Now they're ready for the fryer.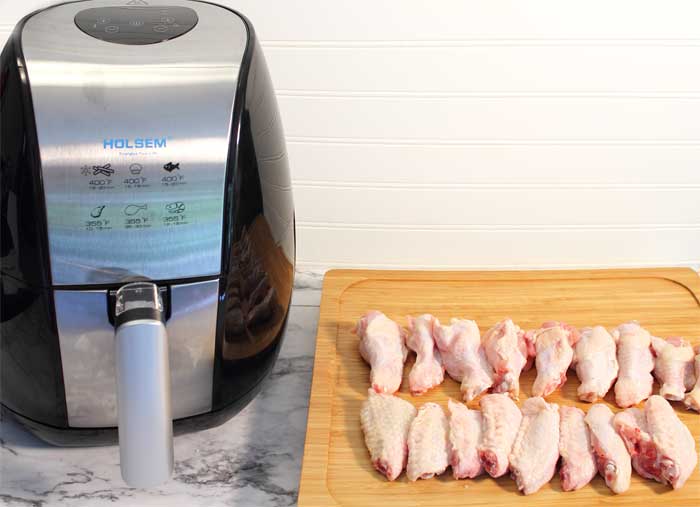 What is an Air Fryer
An air fryer appliance is like a mini convection oven.  It delivers a superheated flow of air all around the food and lets dry heat penetrate the food from the inside out.  It's a great way to cook foods to give them the taste and texture of deep-fried foods, minus the all the fat and extra calories.
I haven't tried much beyond these chicken wings yet but just this one recipe has sold me on the air fryer. The recipe book that comes with the fryer has everything from appetizers to main dishes to desserts. Next up, some sweet potato fries.
How to make Super Crispy Air Fryer Chicken Wings.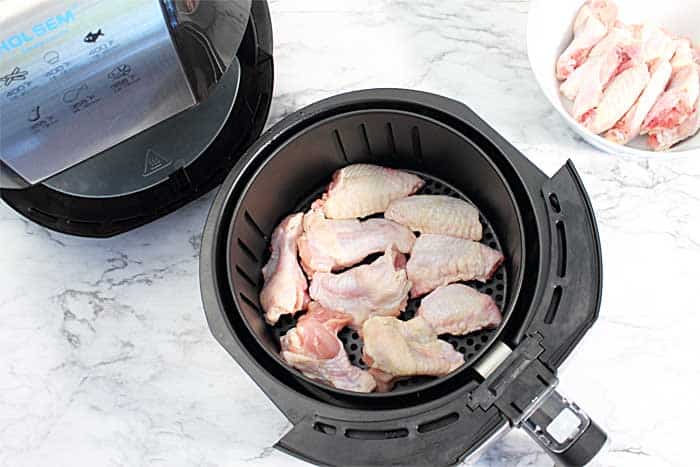 Place half of the prepared chicken wings in basket of air fryer. Place back into air fryer cavity.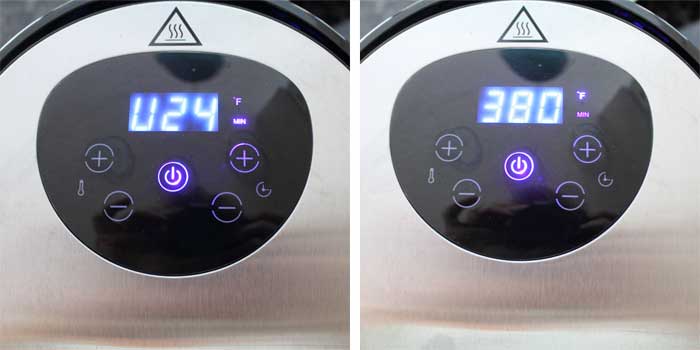 Turn time to 24 minutes and temperature to 380 degrees. (The recipe book for my air fryer said 20 minutes but they needed a little more time.)
Halfway through cooking time, remove basket from air fryer. Press on the button release to detach basket from bottom where grease is accumulating. Toss the wings. Replace back in air fryer and cook for another 12 minutes.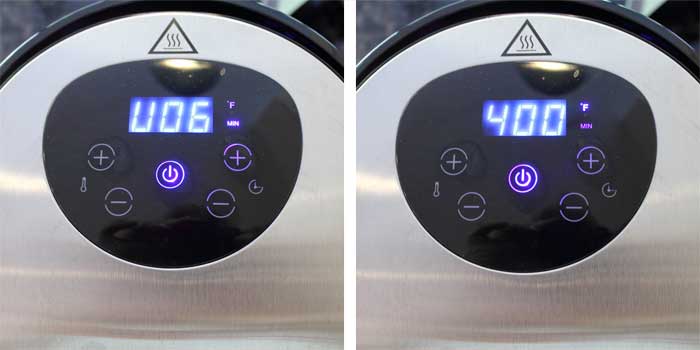 Without removing chicken wings from fryer, reset timer to 6 minutes and temperature to 400 degrees. This temperature is what allows the wings to really crisp up.
Remove from air fryer when they are done and take a look at all the crispy gorgeousness. When you pour them out, you'll hear the crackling of the crispy skin. Oh these are soooo good!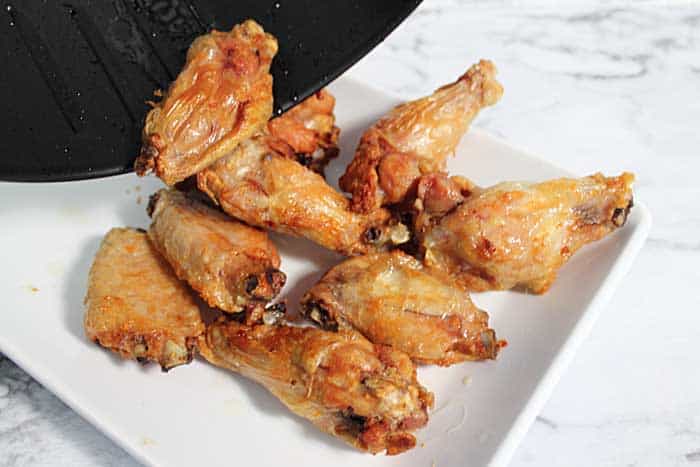 I serve my wings with 3 different sauces and let everyone choose which ones they want. I'm partial to the 5-Spice Hoisin Sauce but my husband loves the Buffalo Sauce. I also made a Garlic Parmesan Butter Sauce which is pretty darn tasty too.
Of course, I couldn't forget the blue cheese served with celery sticks and carrots. 'Cause what would wings be without that?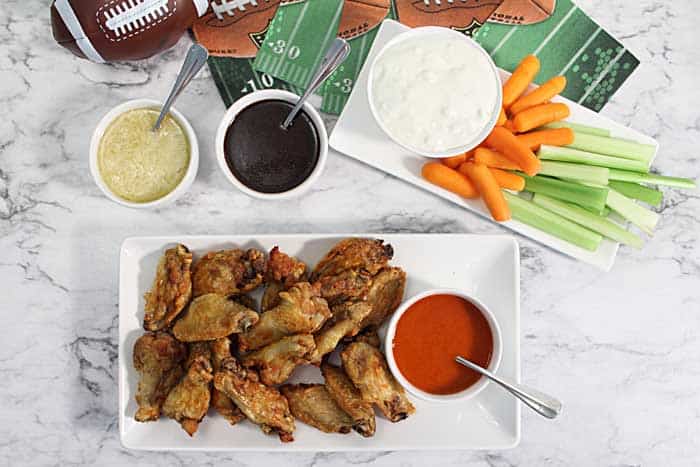 Now give it a dip and go watch your favorite game! Enjoy!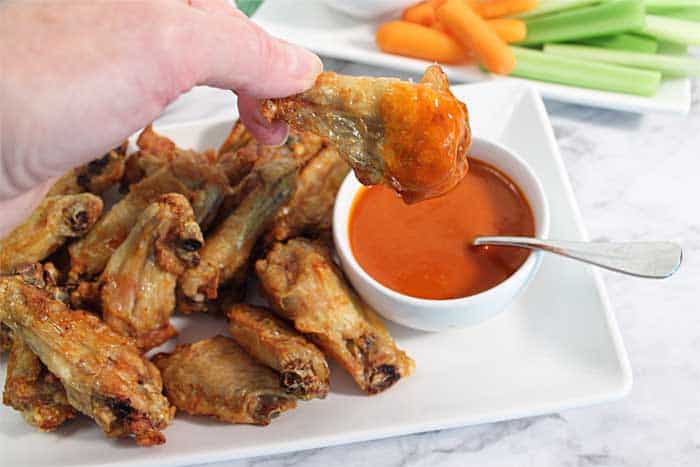 More Delicious Game Time Munchies
Air Fryer Spaghetti and Meatball Muffins from 2CM
Air Fryer Zucchini Fries from 2CM
Caprese Salad Skewers from 2CM
Jalapeno Cheese Wonton Poppers from Brooklyn Farm Girl
Apple Pie Twists from 2CM
Find lots of healthy air fryer recipes here on 2CM!
Love quick & easy recipes? Follow me on Instagram, Facebook, Pinterest & Twitter for all the latest recipe inspiration! Plus join my email list and receive a free e-book.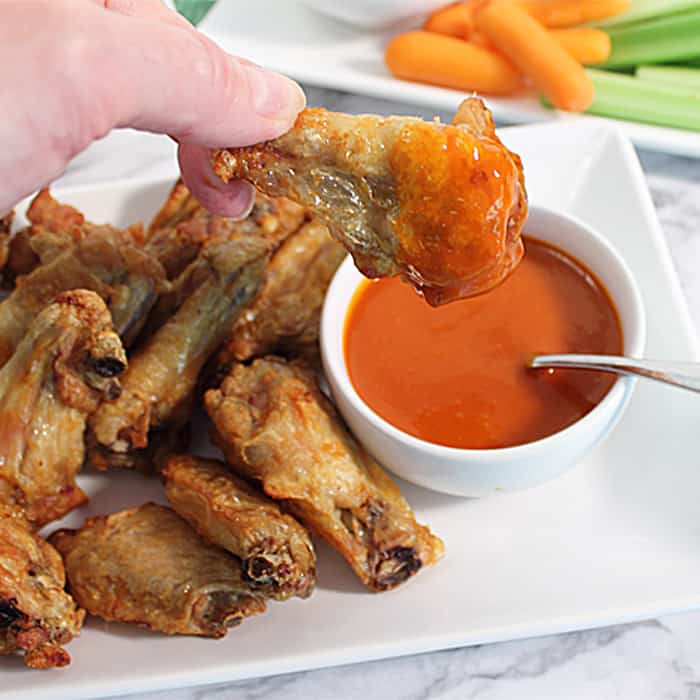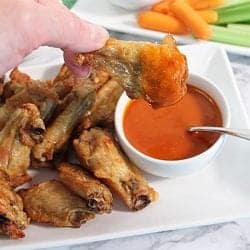 Crispy Air Fryer Chicken Wings with 3 Sauces
Super Crispy Air Fryer Chicken Wings are healthy & deliciously crispy with no breading & come out moist and flavorful. A great game day appetizer or dinner.
Print
Rate
Servings:
4
appetizer servings
Ingredients
2

lbs

chicken wings

separated into drumette and flats

Salt & pepper to taste
Optional Sauces
5-Spice Asian Wing Sauce

Your favorite Buffalo Wing Sauce

Garlic Parmesan Butter Wing Sauce
Instructions
Prepare chicken wings by cutting the drumette away from the flat and discarding the tip. See above for example.

Place half of chicken wings in air fryer basket. Place basket into air fryer and turn air fryer to 380 degrees.

Cook for 12 minutes then remove basket and detach from bottom where grease has fallen. Toss wings then place back in bottom and slide back into cooker. Cook 12 more minutes.

When timer goes off, raise temperature to 400 degrees and cook for another 5-6 minutes. This is the best way to create that crispy outer coating.

Remove basket, separate from bottom and place wings on a large plate. Cover to keep warm.

Repeat above directions with remaining wings.

While wings are cooking make the Asian Wing Sauce and the Garlic Butter Wing Sauce. (recipes in note section)

Serve wings with sauces on the side along with blue cheese, celery stalks and baby carrots.

Makes 4 appetizer servings or 2 main meals.
Notes
5-Spice Asian Wing Sauce (very sweet): ½ cup hoisin sauce, 2 Tablespoons honey, 2 Tablespoon soy sauce, 2 teaspoons sesame oil, 2 teaspoons Chinese 5-Spice, 1-2 teaspoon minced garlic. Mix all together and serve. Garlic Parmesan Butter Wing Sauce: Combine ½ cup butter, 2 Tablespoons olive oil, 2 teaspoons minced garlic, ½ teaspoon salt and ¼ teaspoon black pepper. Place in microwave and cook in 30-second increments, stirring in-between, until butter has melted. Stir and add in ½ cup grated parmesan cheese. Serve warm.
Nutrition
Calories:
271
kcal
|
Protein:
22
g
|
Fat:
19
g
|
Saturated Fat:
5
g
|
Cholesterol:
94
mg
|
Sodium:
89
mg
|
Potassium:
191
mg
|
Vitamin A:
180
IU
|
Vitamin C:
0.8
mg
|
Calcium:
15
mg
|
Iron:
1.2
mg