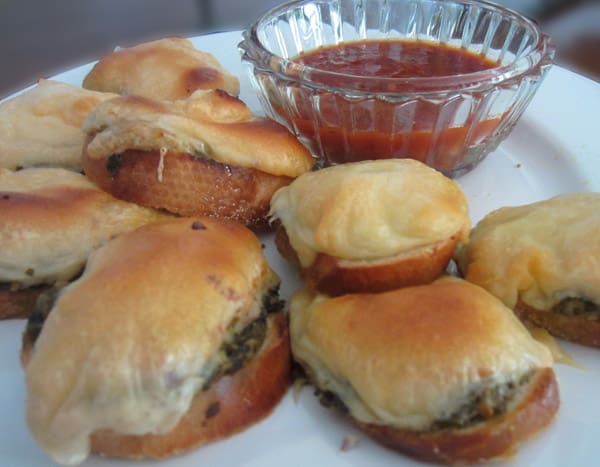 A great appetizer for fall football games or your next dinner party. Quick and easy to make with a bakery sourdough baguette, jarred basil pesto, shallots and smoked Gouda cheese. You'd better make a double batch as they go really quick!
Smoked Gouda Bruschetta
Ingredients:
1 sourdough baguette
1 10-oz jar basil pesto
6 shallots, chopped fine
1-2 cups Smoked Gouda, sliced
Garnish: basil (optional)
Directions:
Preheat broiler. Spray a cookie sheet with nonstick cooking spray.
Cut sourdough into 1/2″ diagonal slices. Place bread slices on prepared cookie sheet. Spread each slice with basil pesto. Sprinkle shallots on top of pesto then lay a slice of smoked Gouda cheese on each slice.
Place under broiler for 2-4 minutes. Watch carefully as it will go from brown to burnt very quickly. Garnish with chopped basil.
Serves 6.
Wine/Beer Pairing: For all the beer lovers out there, pair this cheesy appetizer with a Pale Ale, Brown Ale, Lager or Stout. For wine lovers try a Chardonnay, Sauvignon Blanc, Pinto Grigio or Champagne. Red wine lovers aren't left out either – try a Beaujolais.