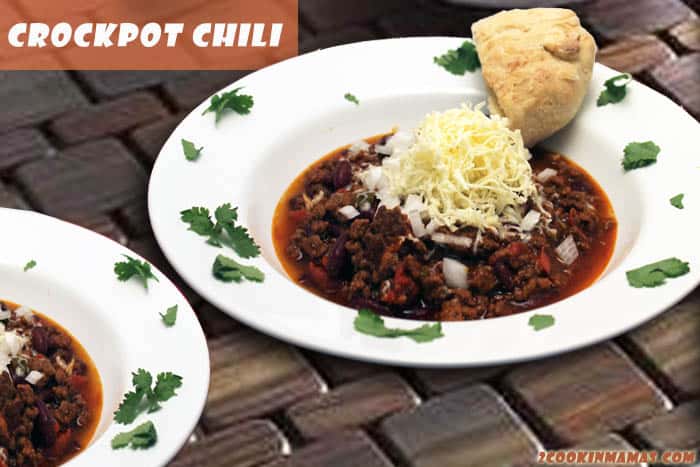 It's been cooler than usual here in South Florida this week and we needed some good ole comfort food to warm us up inside. I had to decide between a soup, stew or, wait here comes an idea, how about a meaty chili with some heat! Ta-da! Perfect choice! (here I pat myself on the back) I wanted to make it as easy as possible to make since I had so much to do over the weekend so I opted for my crockpot. I love this appliance when it comes to soups and chilis, it always makes the meat tender and the broth so full of flavor. I served the chili topped off with cheese and onions alongside some fresh french bread. It was perfect!
If you want to make your own chili seasoning, which is great for controlling salt and knowing exactly what went into the mixture, I have included a recipe below. You can make up a large batch as it keeps for quite a while.  And even better is the money it saves you over those small packets of chili seasoning you can purchase at the grocery store.
Hearty Crockpot Chili
Ingredients:
1-1/2 to 2 pounds lean ground beef
1 onion, chopped
5 garlic cloves, minced or 2-1/2 teaspoons minced garlic
4  14-1/2 oz cans diced tomatoes, undrained
1 10-oz pkg frozen corn kernels (optional)
1 cup water
1 cup Mr & Mrs T's Bloody Mary Mix
1/4 cup brewed coffee
1/3 cup chili seasoning (see recipe below)
1 15-oz can kidney beans or black beans, drained
2 15-oz cans ranch-style beans
1/4 teaspoon lemon juice
1/3 cup fresh cilantro, chopped
Chopped jalapenos or red chili peppers, to taste (optional)
Garnish: shredded cheddar cheese, chopped raw onions, sour cream, chopped tomato, crushed tortilla chips
Directions:
In a large skillet, cook beef and onion over medium heat until meat is cooked through. Add garlic; cook 1 minute longer. Drain. Transfer to crockpot and add remaining ingredients. Cover and cook on low for 6-8 hours or high for 3-4 hours.
Note: You can also cover and simmer on stove top for 3-4 hours over low heat.
Place chili in single serving bowls and top with your preferred garnishes. Garnishes can also be served on the side so everyone can fix it just the way they like it.
Makes 8-10 servings.
Chili Seasoning Mix 
1 Tablespoon chili powder
2 teaspoons ground cumin
1 teaspoon ground oregano
1 Tablespoon salt
2 teaspoons dried red pepper flakes
1 teaspoon instant minced onion
¼ teaspoon instant minced garlic
Mix all ingredients together and store in airtight container.
Makes 1/3 cup.
Wine Pairing: This crockpot chili, with its rich hearty taste, goes best with a beer but wine drinkers can also enjoy their favorite beverage.Red wine lovers should look for a Malbec, Shiraz or Tempranillo which strikes a nice balance between the wine's acidity and the meals heartier  meat, tomatoes and spice. If you are a white wine drinker, I would stay with a semi-dry Riesling or a dry Rose.
Cheers!