Healthy granola breakfast cookies are full of oats, dried blueberries, coconut & nuts & taste so good you'll think you're having dessert for breakfast!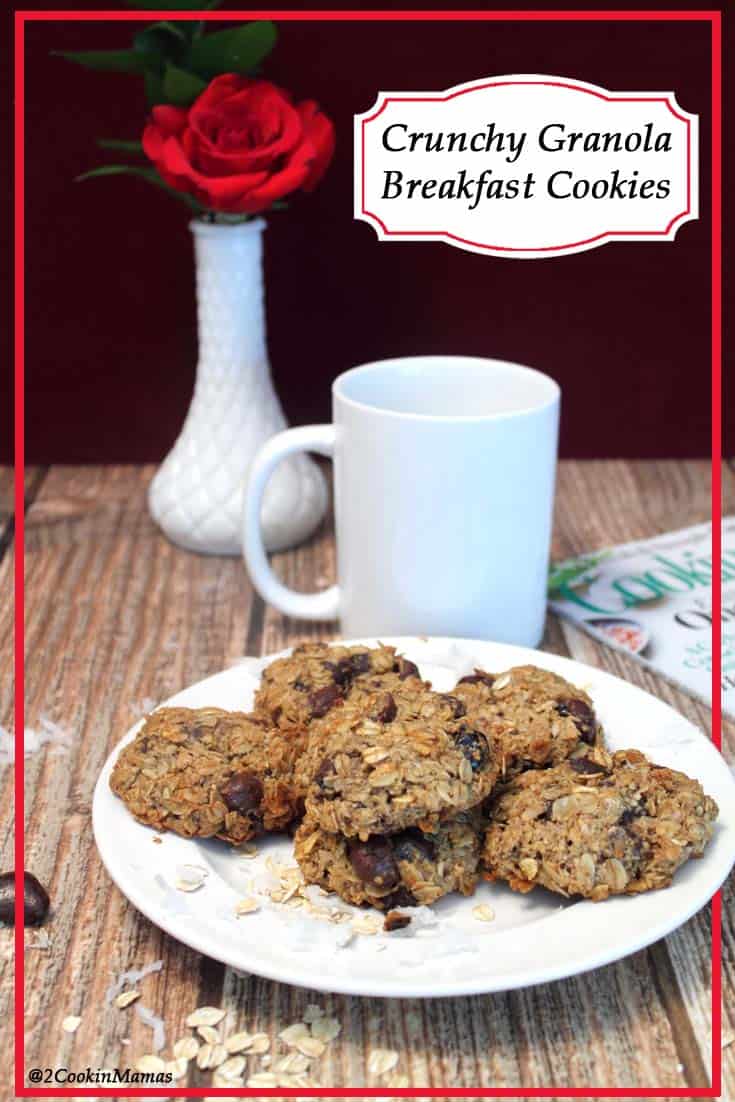 I can't believe a whole month has gone by since the last Secret Recipe Club reveal! If you haven't seen any of our monthly recipe roundups you are in for a treat. Every month we are assigned a blog in secret from which we can pick a recipe of our choosing.  It's a great way to find new food blogs we might not have known about and it's always fun to try out delicious new dishes.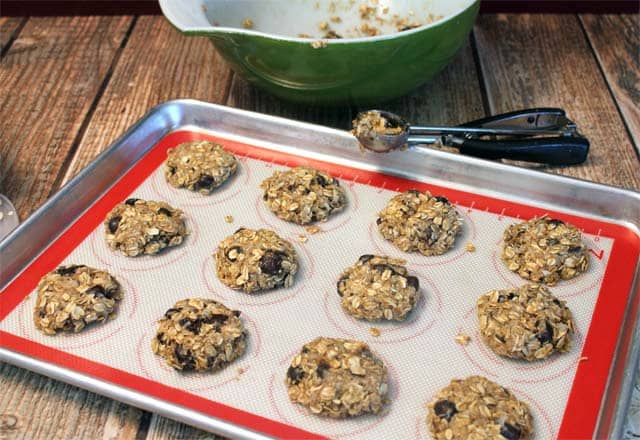 I've been reading Jessie Weaver's blog, the Vanderbillt Wife, for quite some time now and was so happy to finally get to do one of the recipes from her site. Why Vanderbilt Wife? Well, the name came about due to the fact that Jessie married her husband while he was finishing his studies at Vanderbilt. Makes sense. Now she works full time raising 3 kids and started her blog to support women who feel they, like her, are imperfect. Hey, aren't we all! She is also a freelance writer, when do you find the time Jessie?, a proofreader and social media manager and has been published in magazines and newspapers. I'd say she has an interesting and fulfilling life and her posts share her adventures in life. There are hilarious stories about her kids, reviews on books she has read and, of course, recipes that you just have to try.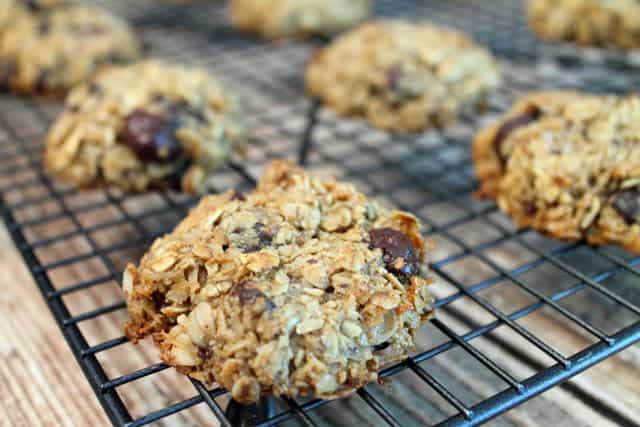 I had a hard time choosing between her Coconut Lime Cake, cause I am over-the-top in love with lime just like Jessie, Jalapeno Creamed Corn, spicy foods being another one of my weaknesses or her Poppy Seed Chicken in Havarti (one she made while trying to be like The Pioneer Woman) but finally decided on her Crunchy Granola Breakfast Cookies. I've been on a quick & easy breakfast baking kick for the last few months, trying to fix anything that would get my husband to eat a good breakfast in the morning. Luckily he's loved my Quick & Easy Breakfast Bowls and Banana Pancake Muffins, so I thought this recipe was similar and sounded especially appealing. We both love blueberries, nuts and coconut and I love oats, which I think he could take or leave, but the combination together turned out to be something we both loved. And just look at all that dark chocolate deliciousness!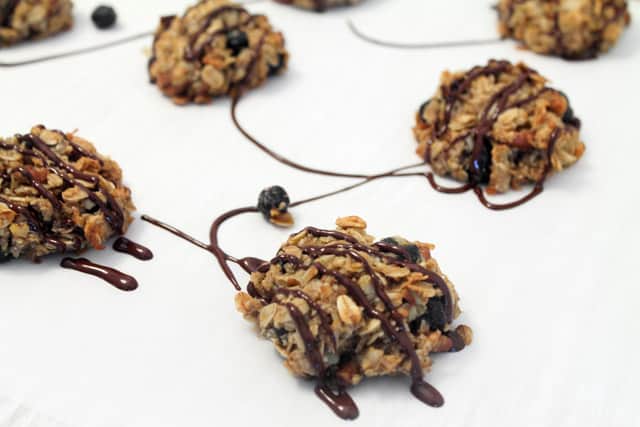 These little cookies are something kids would beg to have for breakfast because, you know, they think they are getting away with something (after all who gives their kids cookies for breakfast?) but we don't have to tell them how good they are for them. Not only are they good for breakfast but work as a great healthy afternoon snack too.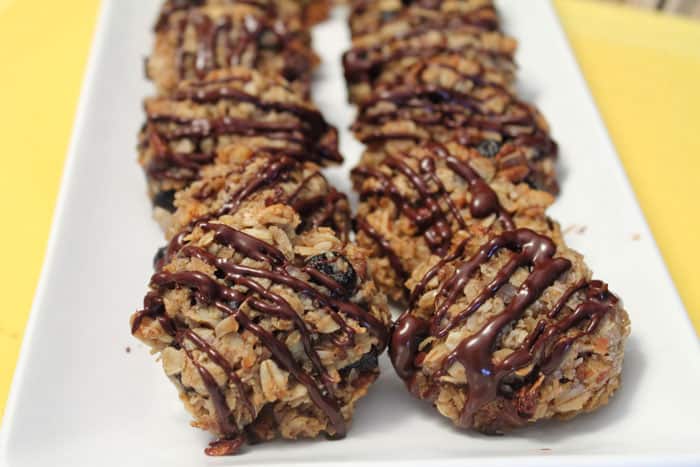 So go ahead and enjoy a cookie for breakfast and, while you're at it, check out all the other delicious recipes below that our Secret Recipe Club members have tackled this month.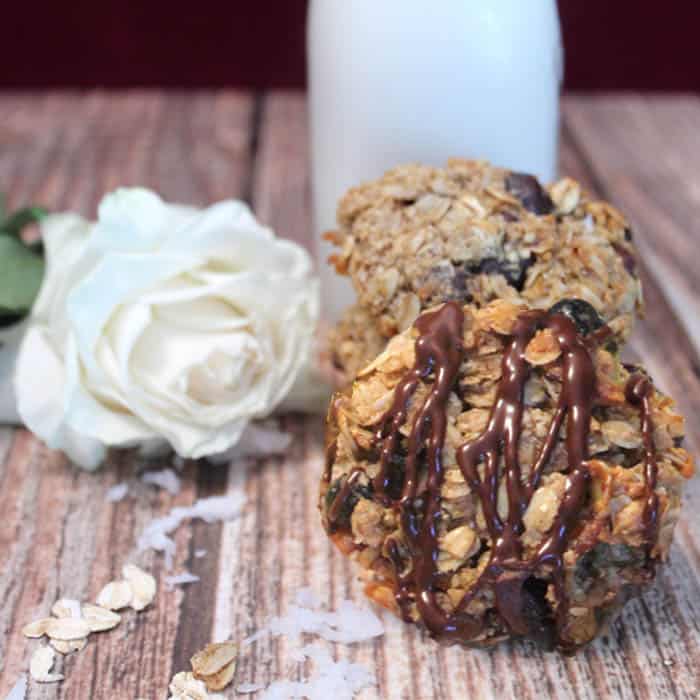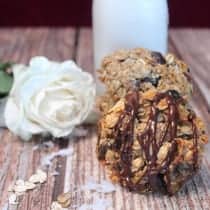 CRUNCHY GRANOLA BREAKFAST COOKIES
Healthy granola breakfast cookies are full of oats, dried blueberries, coconut & nuts & taste so good you'll think you're having dessert for breakfast!
Print
Rate
Ingredients
1-½

cups

old fashioned rolled oats

(use gluten-free if necessary)

1

cup

sweetened coconut flakes

½

teaspoon

salt

1

teaspoon

cinnamon

½

teaspoon

allspice

¼

cup

brown sugar

¼

cup

almond flour

½

cup

dried blueberries

½

cup

pecans,

chopped (walnuts work well here too)

2

eggs

¼

cup

coconut oil,

melted

1

teaspoon

vanilla extract

Dark chocolate,

melted (optional)
Instructions
Preheat oven to 350 degrees. Line cookie sheets with a silpat or parchment paper.

In a large bowl, mix together oats, coconuts, spices, sugar and almond flour. Add in dried fruit and nuts. Stir well.

In a small bowl, whisk together eggs, coconut oil and vanilla. Stir into dry ingredients.

Using a round cookie cutter, press about 2 Tablespoons dough into cutter. Press down to pack then life off cookie cutter. You can also just shape into balls and press firmly down onto cookie sheet, rounding to form a 2" circle. Just make sure they are pressed firmly together.

Bake for 18-20 minutes or until the edges are slightly browned. Place cookie sheets on wire racks to cool.

If using a chocolate drizzle, place in microwave safe dish and heat in microwave in 30 second increments, stirring in-between, until melted.

When cookies are cool, drizzle melted chocolate over the top. Let harden then place in tightly sealed container.

Loading InLinkz ...
DON'T MISS A RECIPE!