Popsicles for breakfast? Yep! These easy, healthy chocolate cherry breakfast popsicles pack one deliciously big nutritional punch. And they're not just for breakfast! Full of fresh cherries and flavored with chocolate & vanilla protein powder, they make a great snack any time of day.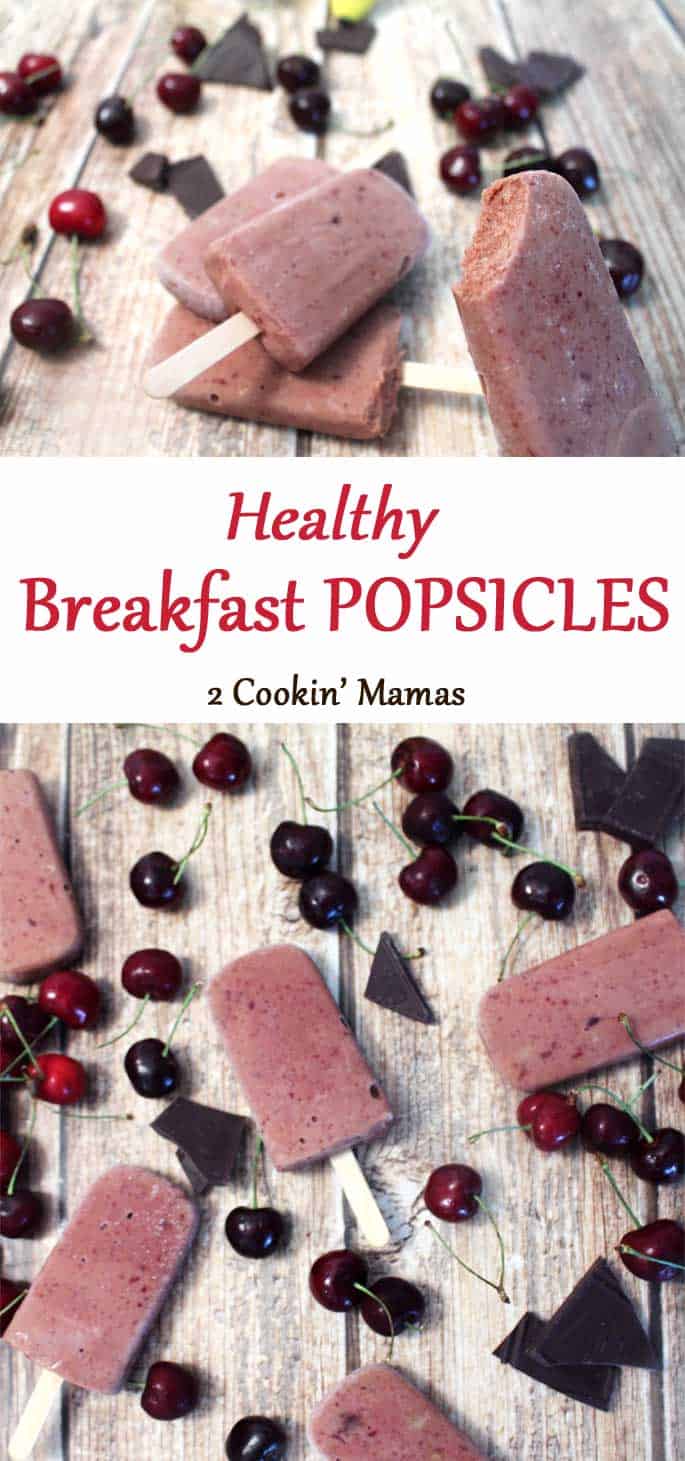 Whoever heard of having popsicles for breakfast? Would you believe they are healthy too?! Yep, these breakfast popsicles pack one big nutritional punch. But, even if they didn't, they are soooo delicious you will want them even when its not breakfast!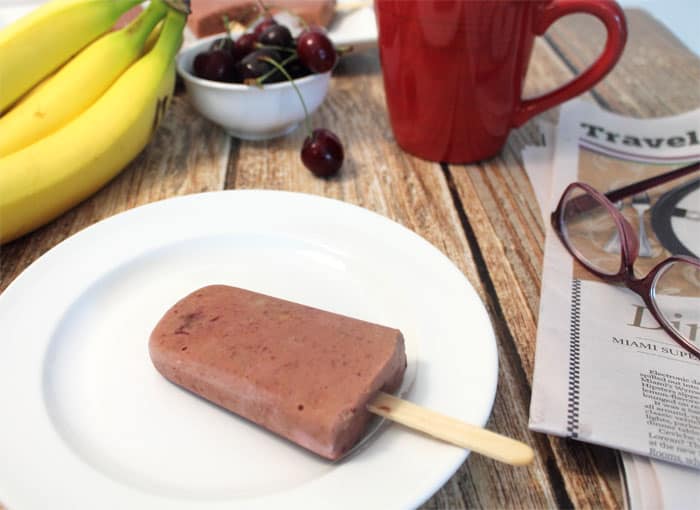 These "smoothie" popsicles, because it also makes a great smoothie bowl if you don't want to wait for the popsicles to harden, have so much that's good for you in them. In fact, you won't ever have to tell the kids no when they ask for one (well maybe you could make them promise to clean their room if you gave them one, just sayin'). Take a look at all the benefits these delightfully cooling pops provide then hurry into your kitchen to whip them up!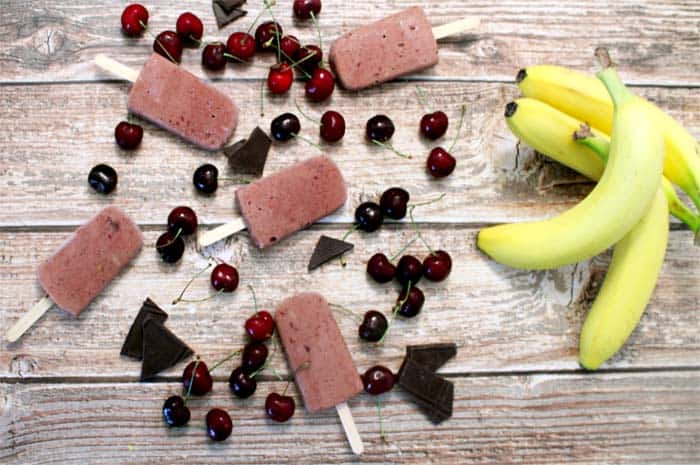 Cherries - contain powerful antioxidants as well as compounds that lessen the risk of cancer and stroke. They also help reduce inflammation and support healthy sleep.
Bananas - are rich in pectin & resistant starch fiber, which moderates sugar levels, improves digestion & reduces appetite, contains potassium & important antioxidants for heart health.
Greek yogurt - is high in protein, vital to cell growth, repairing tissue, muscle growth and healthy skin, high in probiotics which strengthen immune system & keep digestive system healthy, contains B12 for energy & brain health, iodine for proper thyroid function and calcium to aid in inhibiting fat production.
Almond milk - contains no cholesterol or saturated fat, is low in sodium and high in healthy fats which helps prevent high blood pressure and heart disease, Vitamin E for glowing skin, B vitamins such as iron and riboflavin, important for muscle growth and healing.
Always wondering why you should add protein powder to your breakfast pops or smoothies? We tend to skip protein in quick breakfasts and salad lunches but this additional protein can help develop lean muscle mass, encourage fat loss, increase satiety, deliver essential nutrients and improve metabolic activity. This is on top of the way these essential proteins can build and repair skin, blood, bones, muscles and cartilage. Those are a lot of pluses to getting enough protein in your diet.
Now why add a greens powder? Do you get your 5-9 servings of fresh vegetables and fruits a day? I bet you don't! Adding a small scoop of this powder is the easy way to supplement your diet and get all the health benefits associated with your greens. These fruits & vegetables, which are low in calories, high in vitamins, minerals, phytochemicals, and fiber, are fundamental for energy, fighting free-radical damage and providing loads of antioxidants.
See what I mean!! Nutrition in every delightful bite. Yum!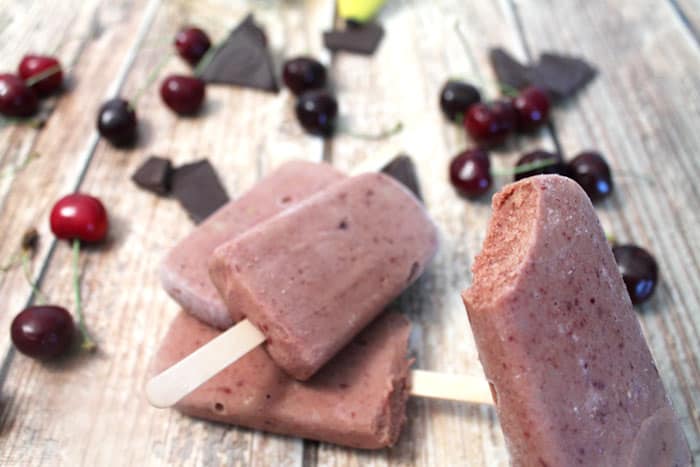 I don't know what could be more perfect for the hot summer days ahead than something cool for breakfast.  And when the kids are begging for a treat in the middle of the afternoon, these popsicles will make a great snack. Just don't tell them they're good for them (that will be our little secret).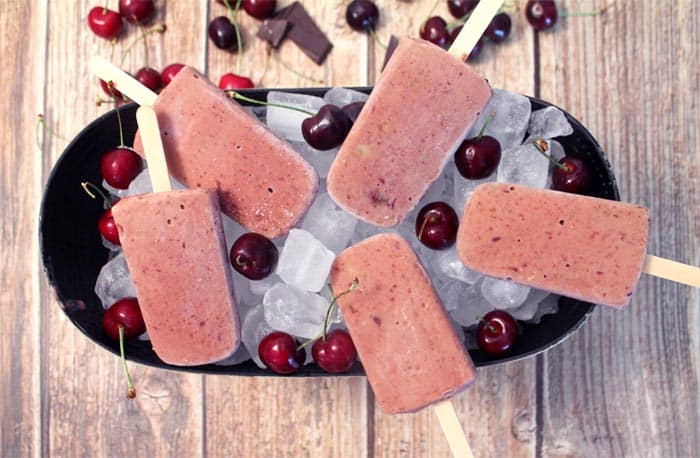 If you love healthy breakfasts and cool smoothies give our Coconut Mango Smoothie, Chocolate Caramel Smoothie Bowl and Key Lime Smoothie a try.
Enjoy & keep cool!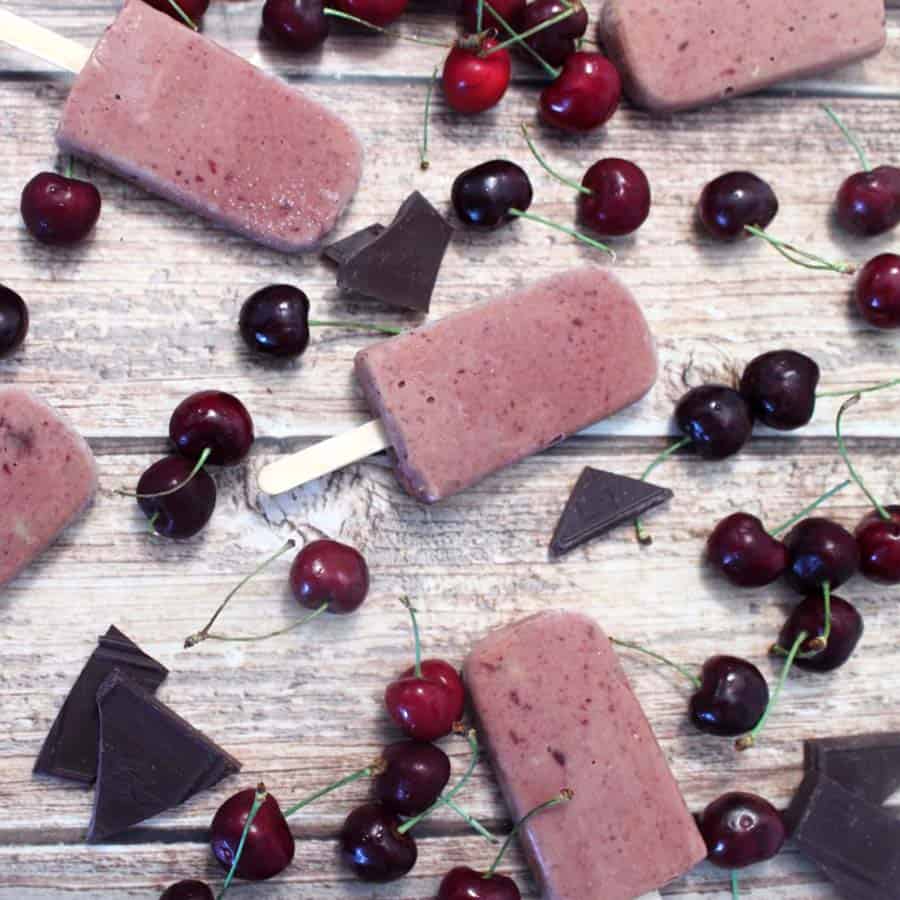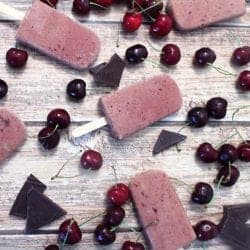 CHOCOLATE CHERRY BREAKFAST POPSICLES
Popsicles for breakfast? Yep, these easy, healthy breakfast popsicles pack one big nutritional punch. And they make a great snack any time of day.
Print
Rate
Ingredients
2

cups

frozen pitted cherries

1

frozen banana,

sliced

¾

cup

almond milk

or your favorite milk

6

oz

container cherry-flavored Greek yogurt

1

scoop vanilla protein powder

1

scoop chocolate greens powder

(I love Barleans Chocolate Greens)
Instructions
Place all ingredients in blender and blend until smooth.

Divide evenly between 6 popsicle molds.

Place in freezer until firm.
Notes
Total time does not include the time it takes the popsicles to freeze.
Check out more great recipes for summer on our Cool Refreshing Summer Recipes pin board.