What's better than a soft, chewy oatmeal cookie? These delicious fall-inspired Apple Oatmeal Cookies! Ready in just 30 minutes, these cookies are easy to make and on the healthy side with whole grain oats, apples, applesauce, and nuts! They're sweetened with maple syrup and have warm notes of salty bacon mixed in.
These Applesauce Oatmeal Cookies are sweet enough for snack time and healthy enough for breakfast! Better yet, they're delightfully dairy-free and gluten-free with no refined sugar.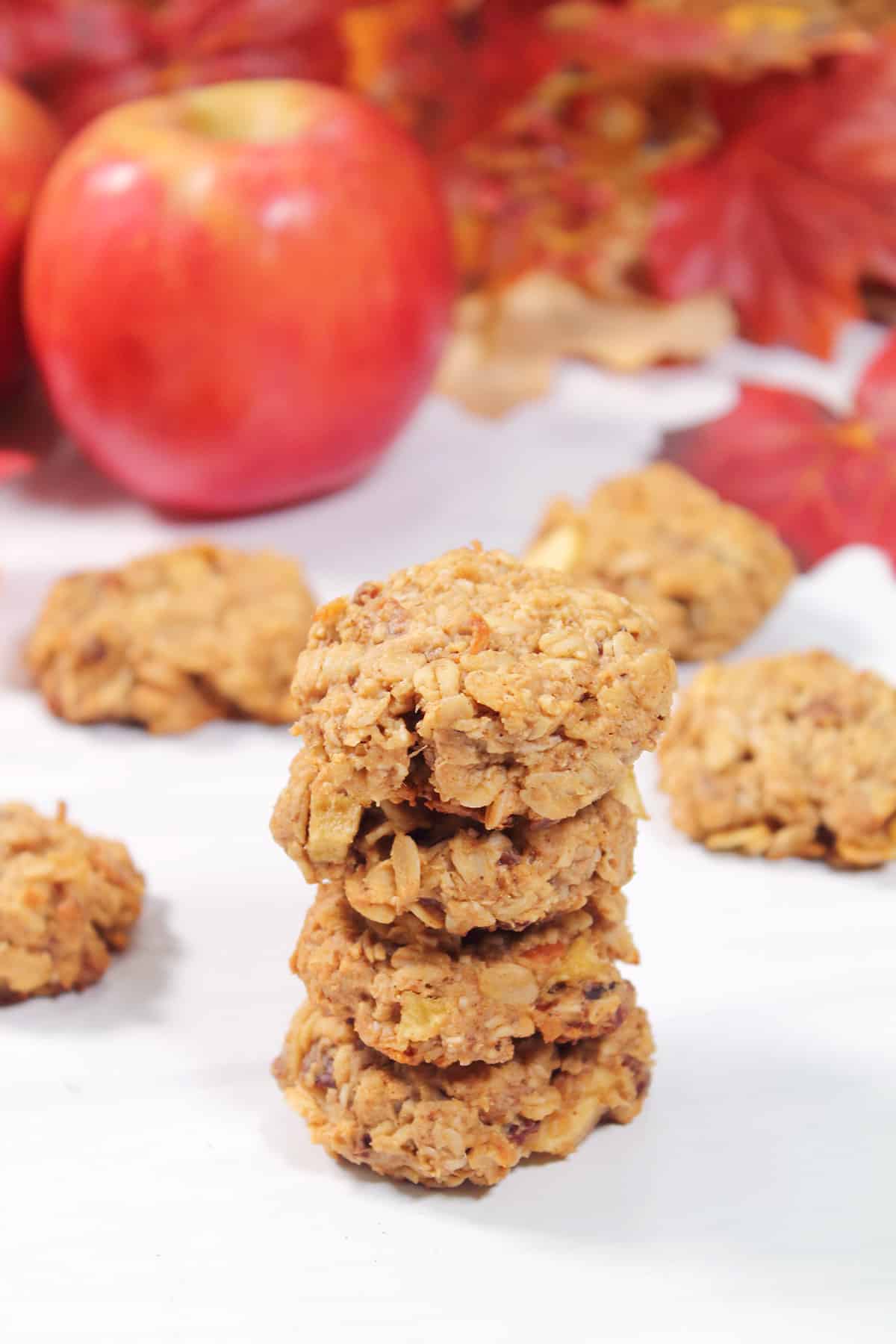 Applesauce Oatmeal Cookies
These are the best chewy oatmeal cookies because they are made with only the freshest and tastiest ingredients. Just look at them and you can see all the different textures that work together to produce unforgettable apple cinnamon oatmeal cookies.
Apples are a quintessential fall dessert and these oatmeal apple cookies stand out among the legions of other fall apple desserts. If you have a bunch of apples to use up, these cookies are my go-to along with other favorites like French apple pie or cinnamon apple Hello Dolly bars.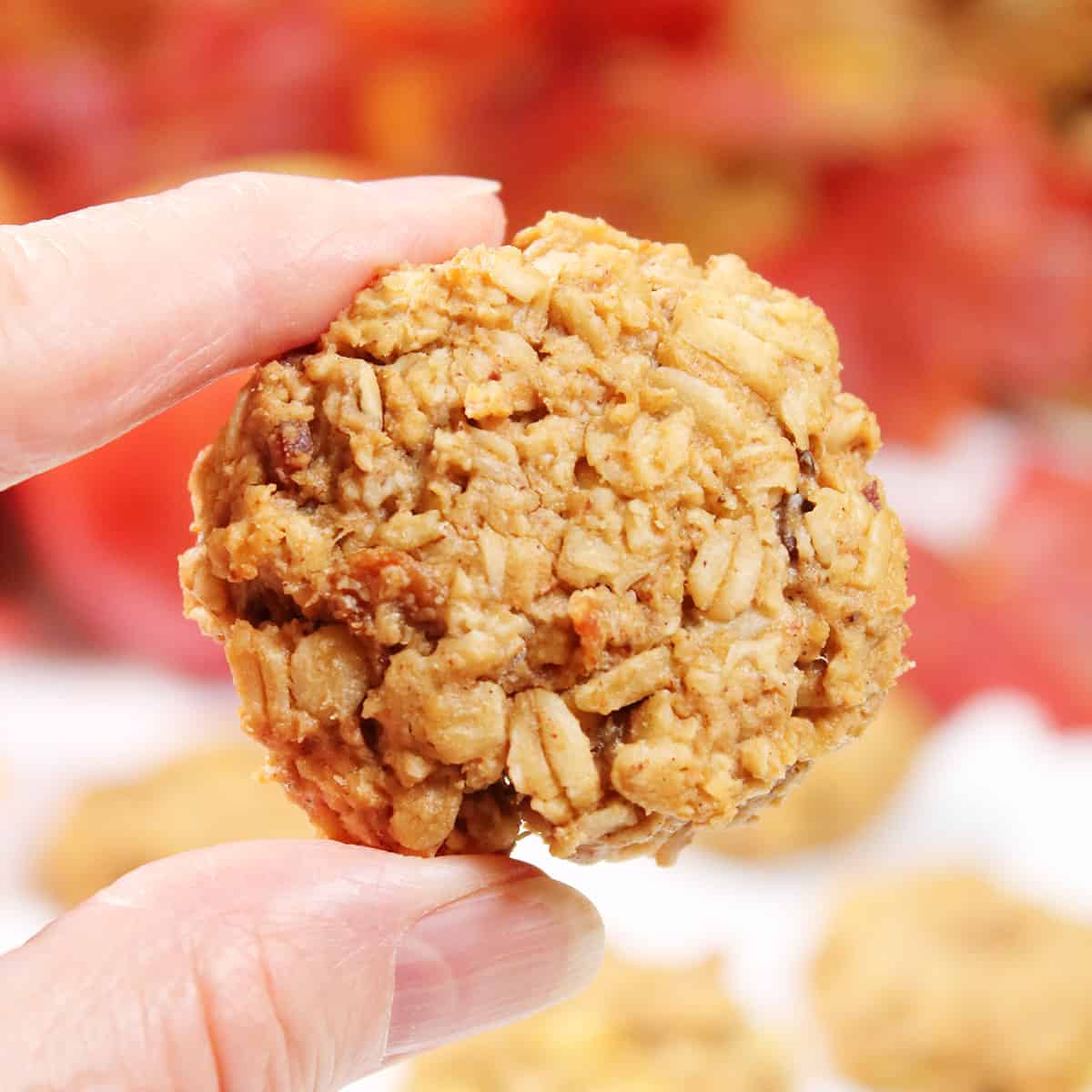 Why You'll Love These Healthy Apple Oatmeal Cookies
Rolled oats - give these apple cinnamon oatmeal cookies a boost of fiber.
Dairy-free - no milk in sight!
No eggs - the almond butter holds them together
No refined sugar - they are sweetened with pure maple syrup and unsweetened applesauce
Absolutely no flour - so they are naturally gluten-free when using gluten-free rolled oats
Ingredients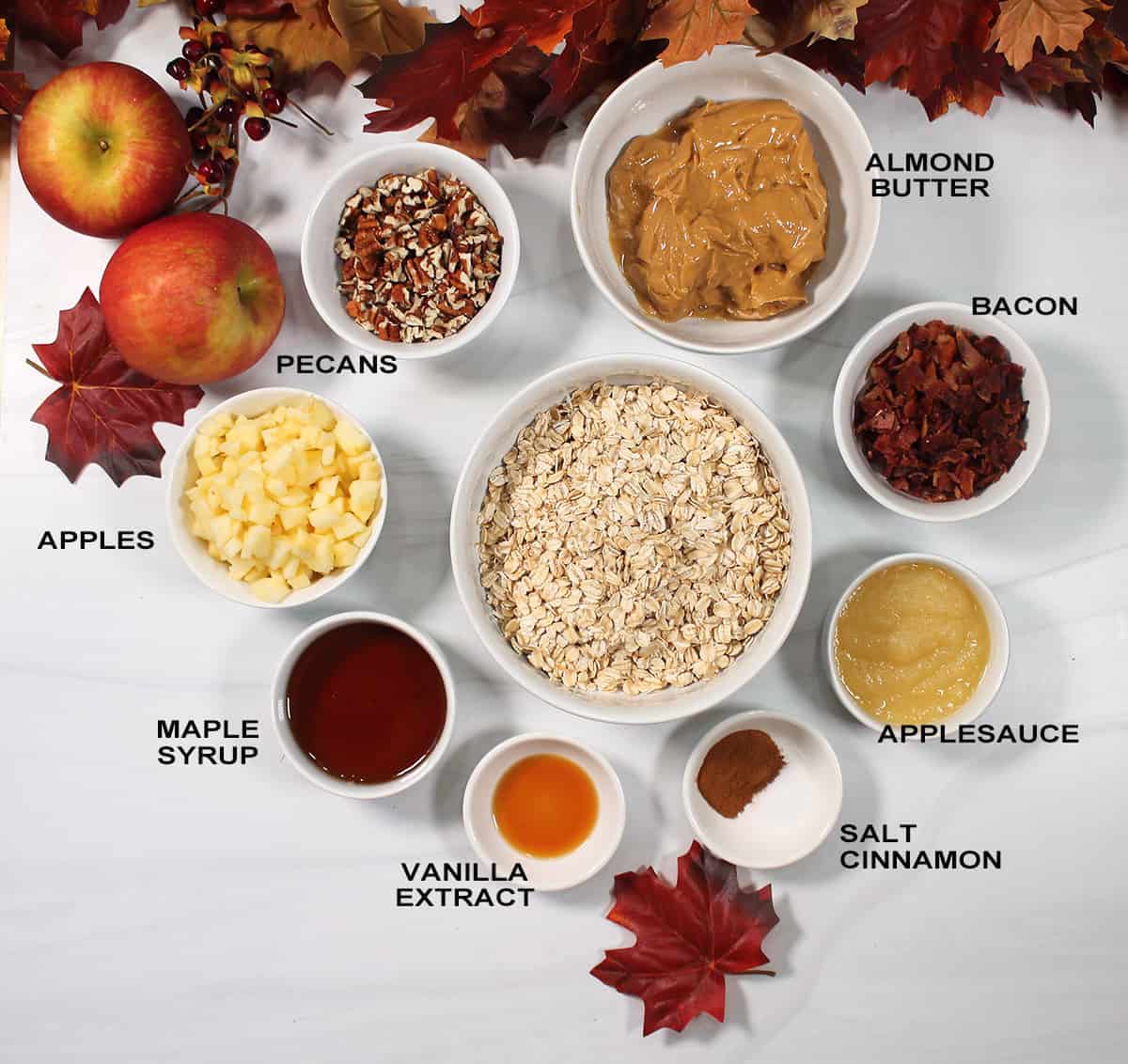 Here's what you'll need for these chewy and soft oatmeal apple cookies:
Almond butter
Pure maple syrup
Unsweetened applesauce
Pure vanilla extract
Apples
Ground cinnamon
Oats
Pecans or walnuts
Bacon
Salt
Best Oats for Cookies
Old-fashioned rolled oats are best for making oatmeal cookies.
Quick-cooking or instant oats will not give the same chewy, nutty texture because they are thinner and smaller in size.
Steel-cut oats have a crunchy texture of grain (like rice) and take much longer to soften so they are not good for cookies.
Best Apples for Cookies
Any baking apple is great for these cookies. Granny Smith, Honeycrisp, Fuji, Jonagold, or Pink Lady are good choices.
How to Make Apple Oatmeal Cookies
So how easy are these maple apple oatmeal cookies? Super easy, taking only 10 minutes from prepping to oven and no mixer needed. And since you use parchment paper to line the cookie sheets, cleanup is a breeze. That's a win-win in my book.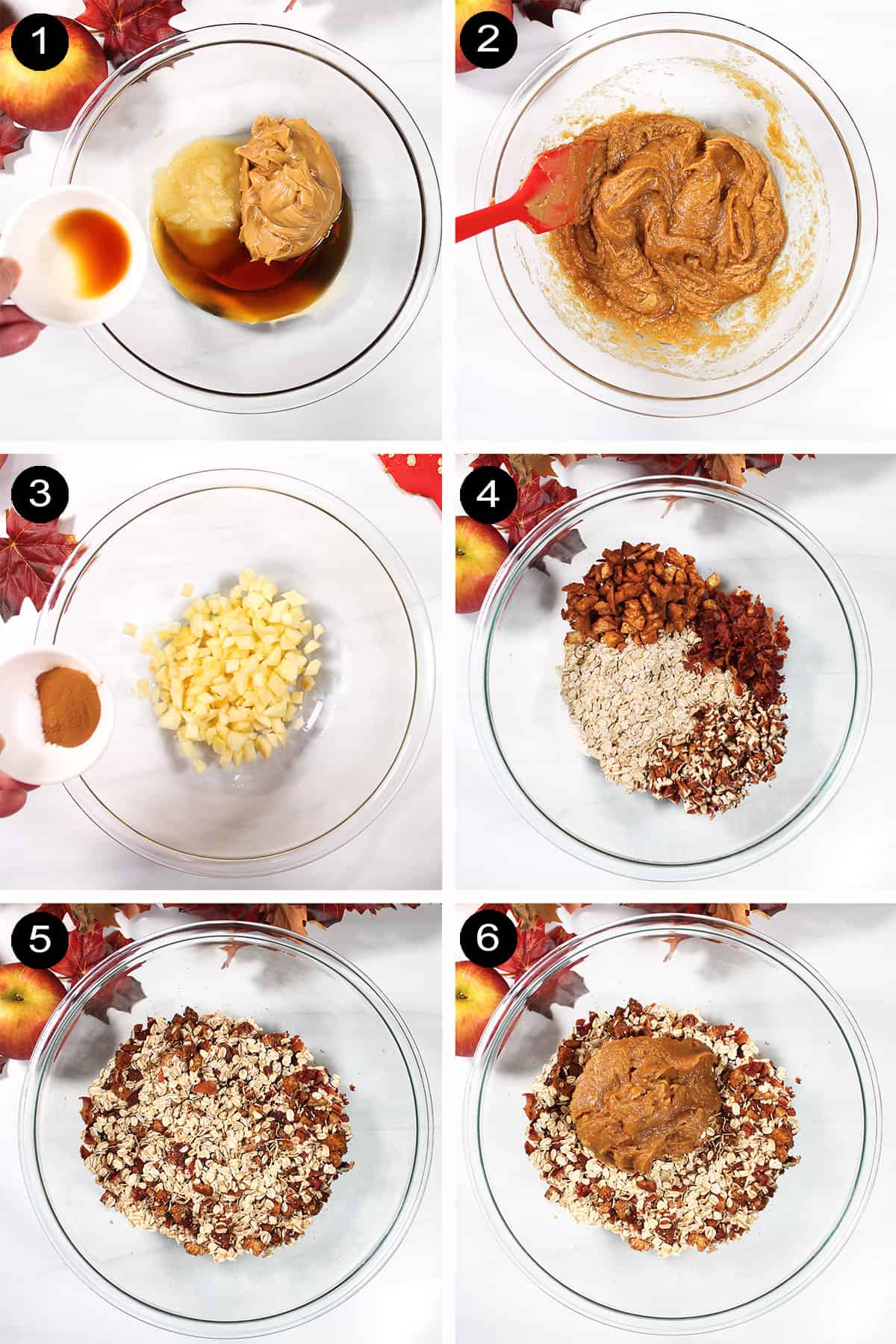 In a medium bowl, place almond butter, maple syrup, applesauce, and vanilla extract.
Stir until well combined.
Peel and seed an apple and dice into small pieces. Sprinkle with cinnamon and stir to coat.
In a large bowl, place oats, chopped bacon, pecans, and cinnamon apples.
Mix well.
Add the wet and dry ingredients together.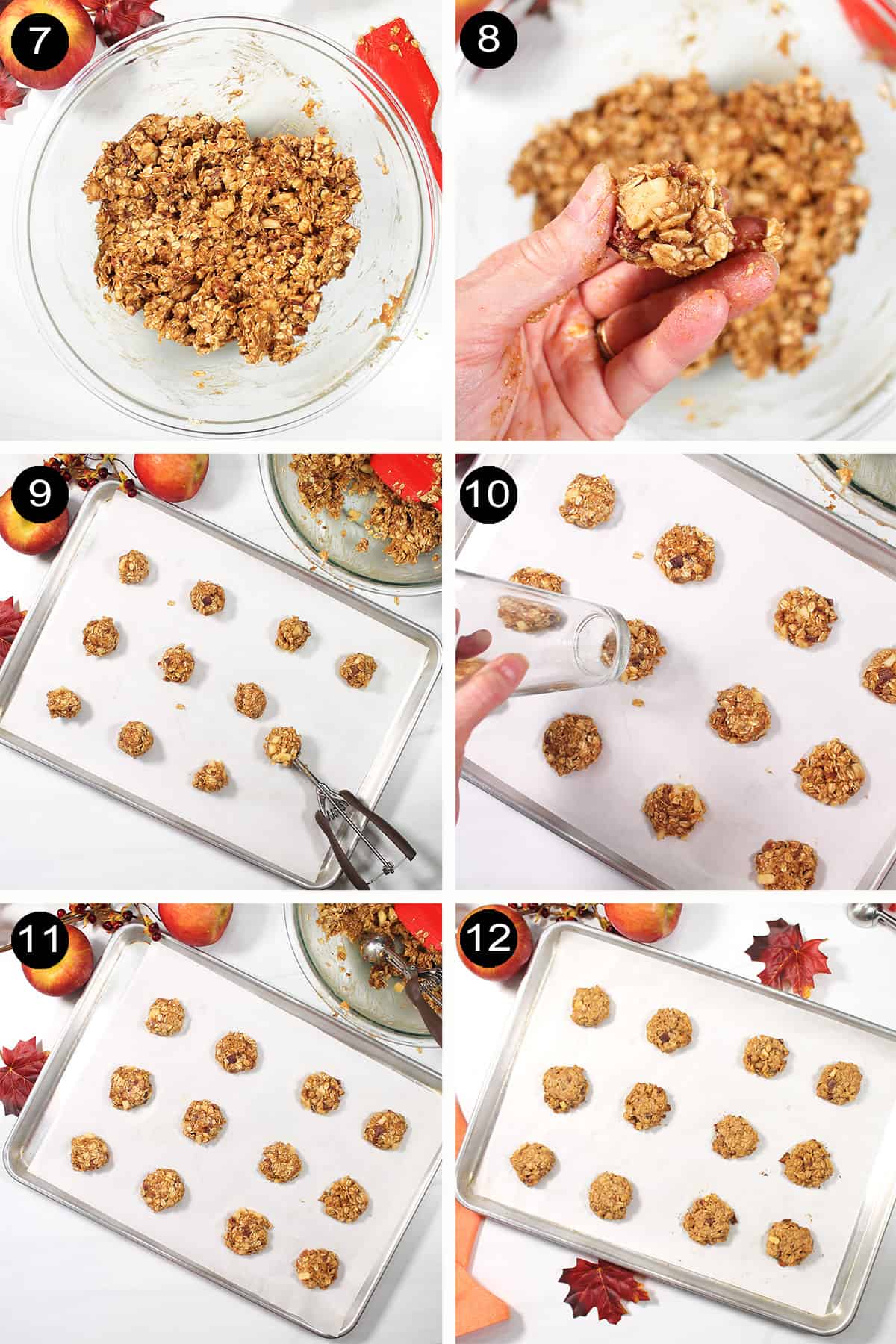 It will be a stiff mixture but stir until the ingredients are all moist and evenly distributed.
You should be able to form a ball with the dough and have it stick together.
Using a medium cookie scoop, drop balls of dough onto parchment-lined cookie sheets. (This makes cleanup a breeze!)
Flatten with the bottom of a glass, a measuring cup, or even easier, your fingers.
Once flattened they are ready to bake.
Bake at 350 degrees for 18 minutes. Let them cool completely on the cookie sheet.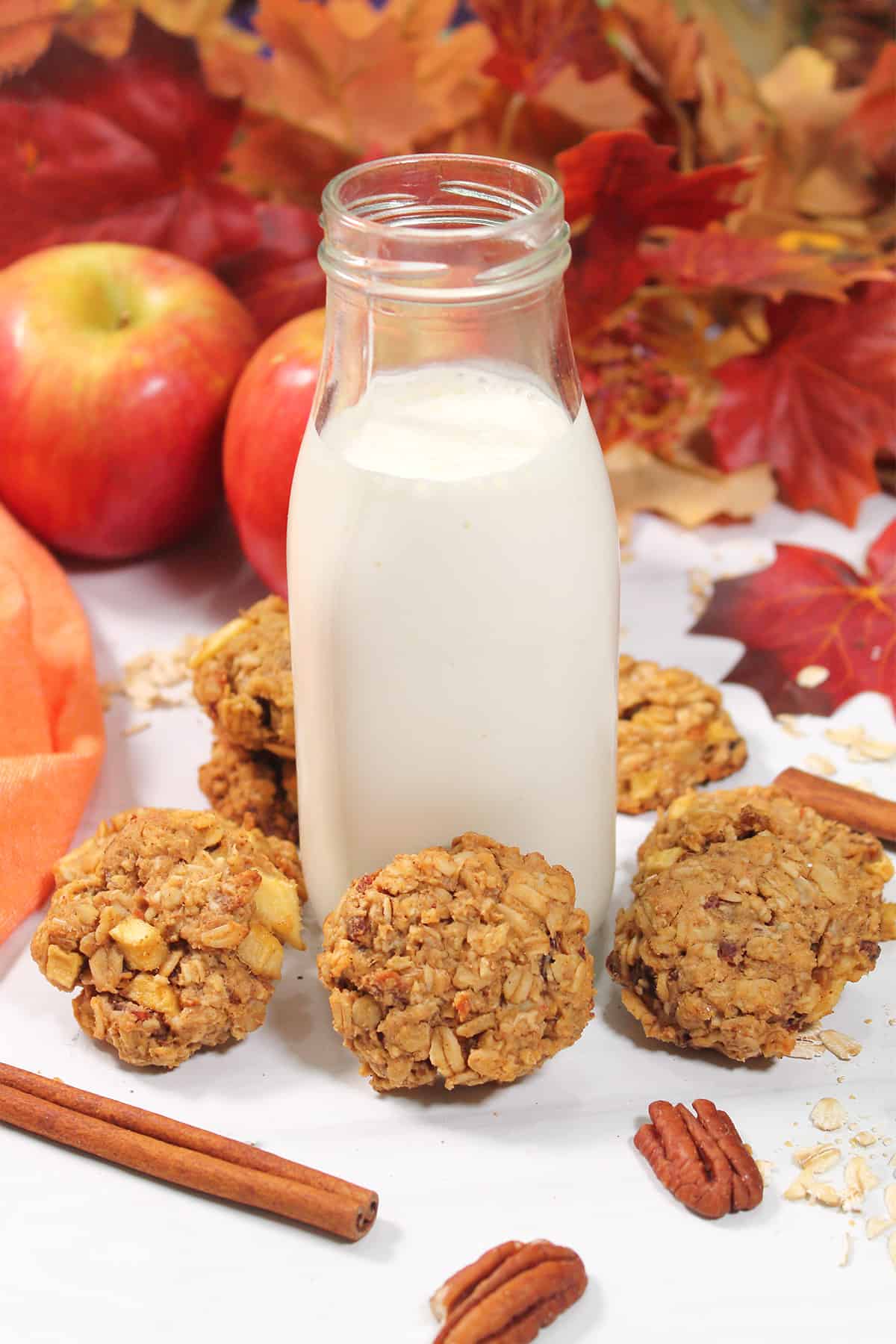 Once cool, enjoy these little healthy bites of deliciousness with milk, a cup of coffee, or even orange juice for a quick pick-me-up at breakfast, after a workout, or at snack time.
Recipe Tips
Chop the apples into tiny pieces to help evenly distribute them in the cookies.
Be sure to cook the bacon until crispy and chop it into small bits.
Use a cookie scoop to evenly portion out the cookie dough.
Recipe Variations
Apple Oatmeal Raisin Cookies - Substitute the pecans with raisins.
Maple Brown Sugar Oatmeal Cookies - Substitute half of the maple syrup with brown sugar.
Apple Peanut Butter Oatmeal Cookies - Substitute the almond butter with peanut butter.
Oatmeal Apple Chocolate Chip Cookies - Substitute the pecans with chocolate chips.
Vegan Apple Oatmeal Cookies - Omit the bacon.
How to Store These Oatmeal Cookies
Store the cookies in an airtight container or plastic zip-top bag.
Because the cookies contain bacon they need to be stored in the refrigerator. Bacon can go rancid at room temperature. They will last up to 5 days in the fridge. However, I have kept them on the counter in my house, which I keep cool, for 3 days and they've been fine.
How to Freeze Apple Oatmeal Cookie Dough
Prepare the cookies as directed all the way up to pressing the dough portions on baking sheets. Instead of baking, put them in the freezer.
Once the cookie dough portions are frozen, transfer them to a freezer bag or freezer-safe container. They will last in the freezer for up to 3 months.
When you're ready to bake the cookies, you can bake them from frozen. You'll need to add 1 to 2 extra minutes of baking time.
How to Freeze Baked Oatmeal Apple Cookies
Once the cookies have cooled completely, place them in a plastic freezer bag or freezer-safe airtight container with a piece of parchment paper between each layer of cookies.
To thaw, place them on the counter for a few hours or until they come to room temperature. You can also thaw them in the refrigerator overnight.
Frequently Asked Questions About Oatmeal Cookies
Are oatmeal cookies healthy?
Oatmeal cookies have more fiber, vitamins, and minerals than cookies without oats. Applesauce is also good for you because it contains vitamin C and antioxidants. They have healthy properties, but they should still be treated like the dessert that they are.
Are oatmeal cookies good for you?
While oatmeal cookies have some healthy aspects, they contain sugar (or sweeteners) and carbohydrates which should be consumed in moderation.
Are oatmeal cookies gluten free?
It depends on the ingredients in the cookies. This particular recipe is when using gluten-free oats. However, some cookies will not be gluten-free if they contain regular flour like all-purpose or whole wheat.
Are oatmeal cookies vegan?
It depends on the ingredients in the cookies. Oatmeal cookies with eggs, dairy products, or honey are not vegan.
LOVE QUICK & EASY RECIPES? FOLLOW ME ON INSTAGRAM, FACEBOOK, & PINTEREST FOR ALL THE LATEST RECIPE INSPIRATION! PLUS JOIN MY EMAIL LIST AND RECEIVE A FREE E-BOOK.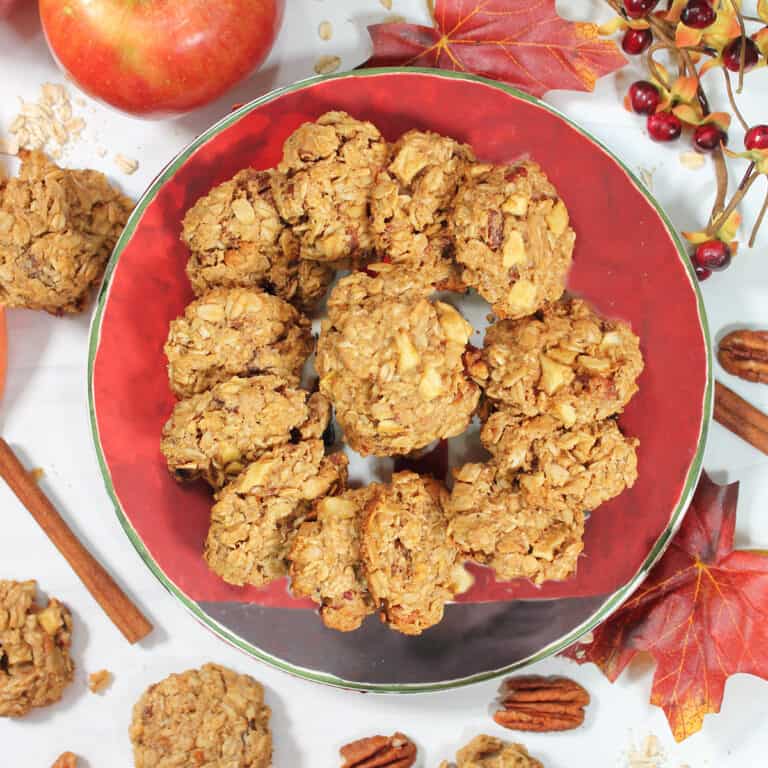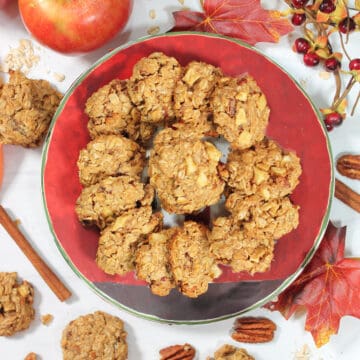 Apple Oatmeal Cookies
These deliciously soft and chewy Apple Oatmeal Cookies are made with oats, apples, nuts & bacon! Perfect for snack time and healthy enough for breakfast! 
Print
Rate
Ingredients
1

cup

almond butter

¼

cup

pure maple syrup

¼

cup

unsweetened applesauce

1

teaspoon

pure vanilla extract

½-3/4

cup

apples, peeled and diced small

1 ¼

teaspoons

cinnamon

2

cups

old-fashioned rolled oats

(use gluten-free oats if needed)

½

cup

pecans, chopped

(almonds can also be used)

½

cup

bacon, cooked & crumbled

(roughly 4 slices; you can also use turkey bacon)

¼

teaspoon

salt
Instructions
Preheat oven to 350 degrees. Line cookie sheets with parchment paper or silicone mats.

In a large bowl, combine first 4 ingredients, stirring well.

In a medium bowl, toss apples with cinnamon.

Add remaining ingredients with cinnamon apples and mix well.

Combine with liquid ingredients until mixture sticks together when squeezed into a ball.

Using a medium cookie scoop, scoop dough and place on prepared cookie sheets. Press down to flatten slightly. You want about a 2" round cookie.

Bake for 18 minutes. Remove from oven and cool on cookie sheets.

Store in an airtight container on the counter for 3 days (if your house is cool) or up to 5 days in the refrigerator.
Notes
RECIPE TIPS
Chop the apples into tiny pieces to help evenly distribute them in the cookies.
Be sure to cook the bacon until crispy and chop it into small bits.
Use a cookie scoop to evenly portion out the cookie dough.
Nutrition
Calories:
91
kcal
|
Carbohydrates:
7
g
|
Protein:
3
g
|
Fat:
6
g
|
Saturated Fat:
1
g
|
Cholesterol:
2
mg
|
Sodium:
39
mg
|
Potassium:
89
mg
|
Fiber:
1
g
|
Sugar:
2
g
|
Vitamin C:
1
mg
|
Calcium:
30
mg
|
Iron:
1
mg
This post has been updated with new photos and step-by-step directions. It was first published on February 11, 2018.