Trail Mix Granola Bars have everything you could want in a healthy snack. They're homemade with wholesome ingredients, no processed sugar and contain plenty of nutritious nuts, sunflower kernels and dried fruit.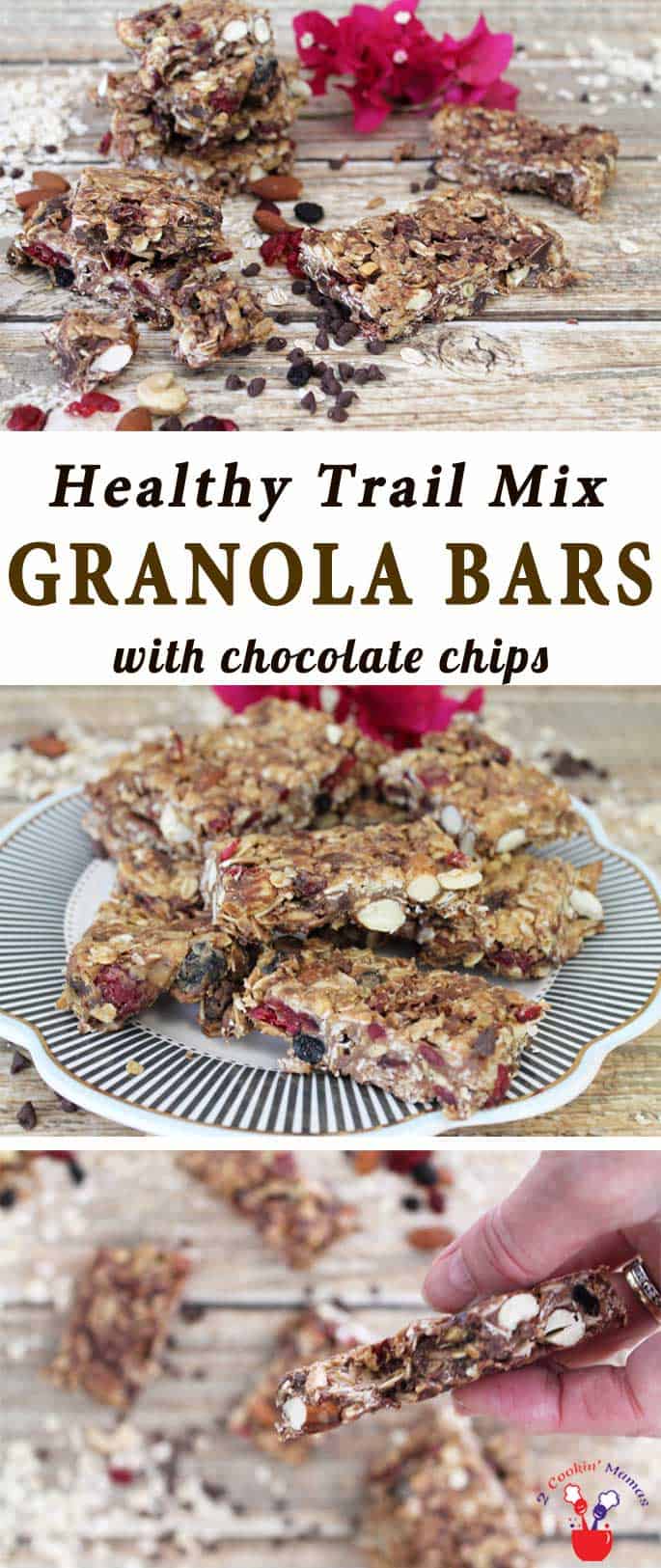 I am so excited! I finally got my new oven in and can't wait to read up on it and actually be able to use it. In the meantime, we were running out of our supply of granola bars which I like to have on hand for a healthy mid-afternoon snack.
Have you ever tried making homemade granola bars? They are really very easy and, when you make them yourself, you can be sure what is going into them. I like to avoid processed sugar, preservatives and other unknown ingredients that are listed on most packages so my solution is to make my own.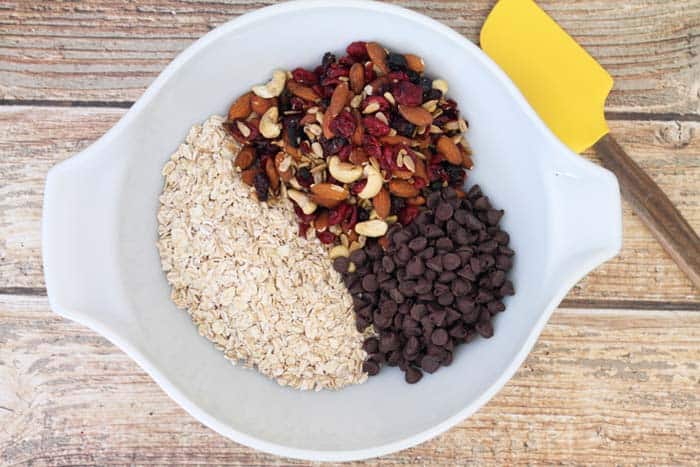 These granola bars were inspired by a trail mix made by Second Nature that I found in our organic food store. The mix contains nothing artificial and has raw almonds and cashews, sunflower kernels and dried blueberries and cranberries. It's a great base for a delicious recipe.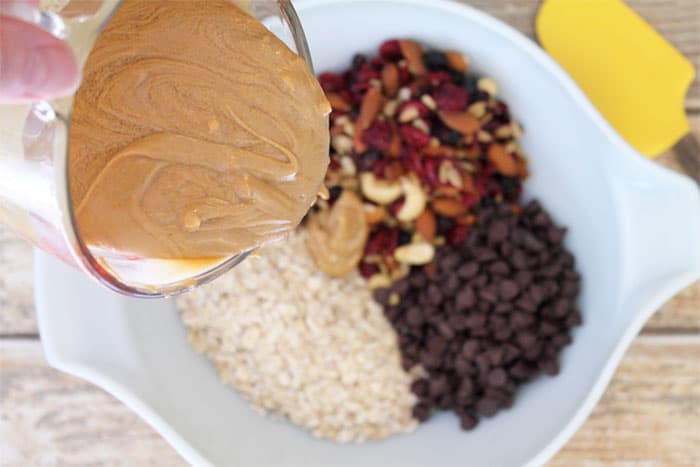 This recipe has only 5 ingredients including gluten-free oats and is held together with peanut butter and honey. Of course, I just had to add a little indulgence – dark chocolate chips!  I know, I know, I couldn't help myself. And, the best part for me right now, it doesn't need any baking! Just mix, pat into pan, making sure to do it firmly, then chill in the refrigerator.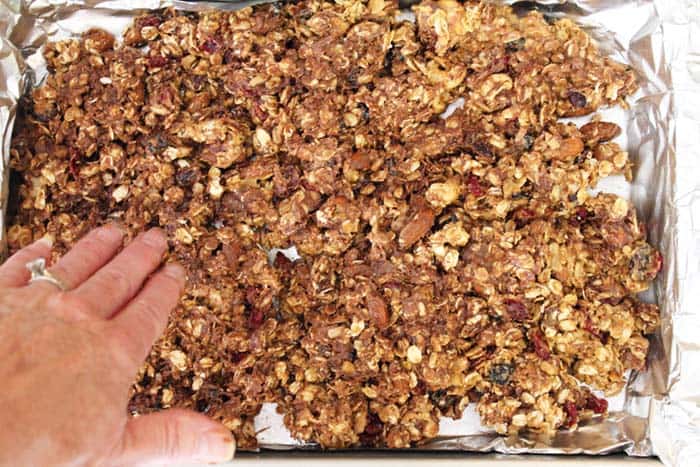 The first time I made these I sent them into the office with my husband. Now, if you've been following me, you'll know that the people in his office get a little turned off by anything that is gluten-free. Luckily, he didn't tell them these were gluten-free and they loved them. Hehe, and I know it works on kids too!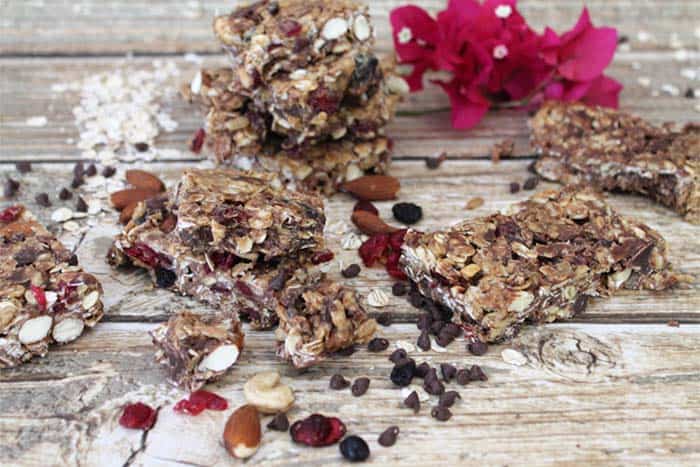 These are a great way to get a healthy snack without blowing your diet and they're a lot cheaper than buying the packaged ones. The recipe can be changed up to suit your likes. Leave out the chocolate chips and dip in chocolate instead, add a little spice, vanilla extract, coconut or maybe even some chia or flax seeds. Anything goes for these easy to make homemade granola bars.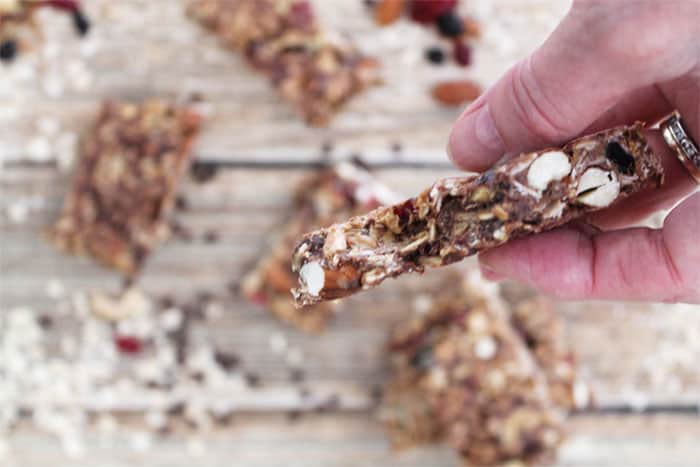 Enjoy!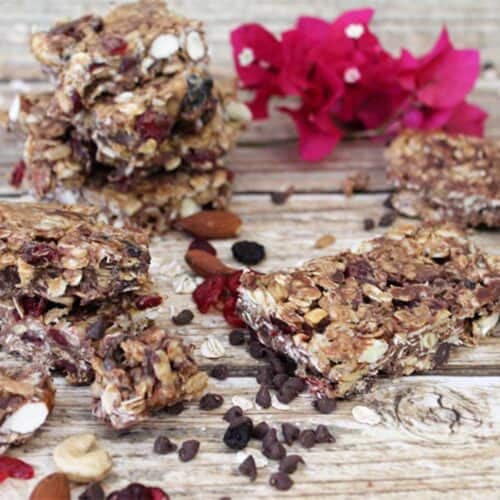 TRAIL MIX GRANOLA BARS with CHOCOLATE CHIPS
Trail Mix Granola Bars are a delicious, homemade & healthy snack. Sweetened with honey, flavored with peanut butter & packed with nuts, seeds & dried fruit.
Ingredients
1

cup

peanut butter

1/2

cup

honey or maple syrup

1-1/2

cups

oats

2

cups

healthy trail mix like Second Nature Simplicity Medley

(mine contained sodium-free dried cranberries, whole almonds, whole cashews, sunflower kernels & dried blueberries)

1

cup

dark chocolate chips

Sea salt

(optional)
Directions
Line a 9x11-inch pan with aluminum foil and spray with non-stick spray.

In a microwave-safe bowl, melt peanut butter and honey. It takes about 1 minute on high power.

In a large bowl, combine oats, trail mix and chocolate chips.

Pour melted peanut butter-honey mixture over oats & stir until well combined and sticks together.

Place in prepared pan and press evenly into bottom of pan. Sprinkle with a little sea salt.

Chill for about 2 hours then cut into 16 bars.

To store, wrap each bar separately and store in refrigerator. They can be stored at room temperature as well but may tend to be a little messier to eat.
Recipe Notes
To change up the recipe, you can leave out the chocolate chips from the mix. Instead, after pressing mixture in pan, melt the chips and pour over top of oat honey mixture then salt & chill.
DON'T MISS A RECIPE!
If you love eating healthy, check out our newest cookbook here. Over 60+ recipes that are free from gluten and GMOs as well as cow-dairy free.