Chocolate covered bananas are a healthy & delicious treat and so easy to make. Slice them, coat them with chocolate & roll in your favorite toppings. Freeze them & pop them in your mouth for a quick on-the-go snack.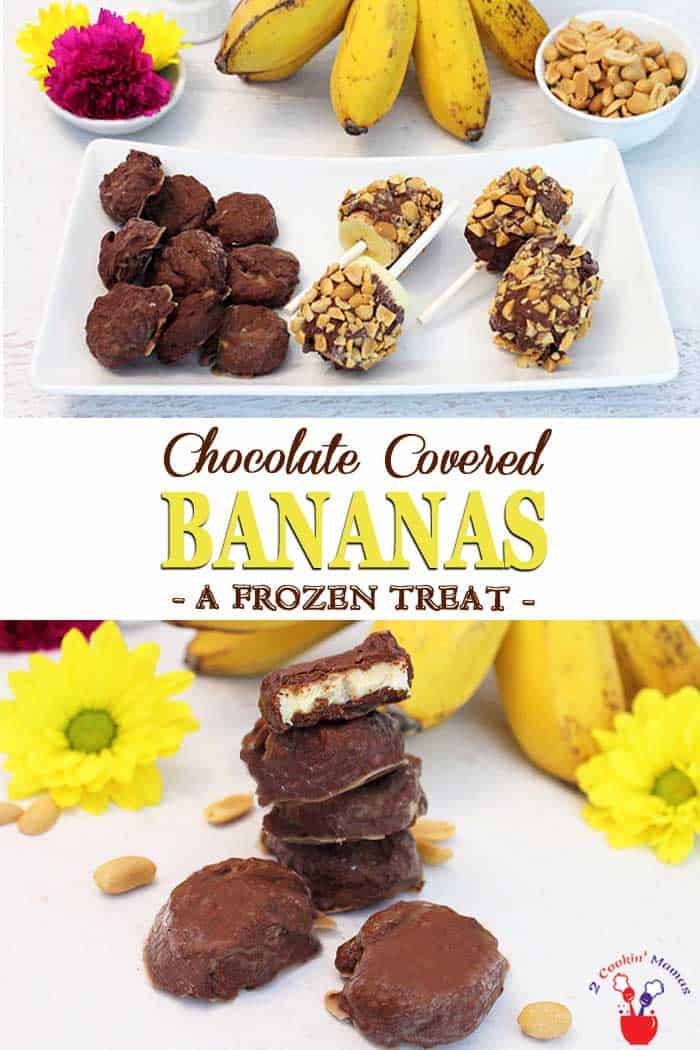 My banana trees in my backyard are going crazy producing so many hands I think it must be clapping for itself. Now my creativity is kicking in and I am up to my ears in mashed bananas, banana bread and banana smoothies. Help!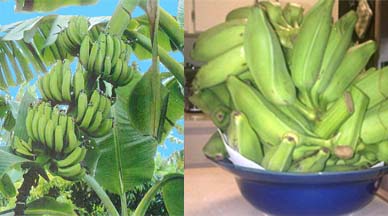 So today I am bringing you a recipe for frozen chocolate covered bananas. It's a healthy treat that still feels decadent and one that will cool you down once summer hits. But first, I had to clean out the rest of the bananas before they went bad. So I made my oh-so-delicious Tropical Banana Bread, flavored with pecans & coconut, whipped up a fabulous batch of Banana Oatmeal Muffins for grab-n-go breakfasts and a Banana Upside Down Cake for a Memorial Day dessert. See, I really am going bananas!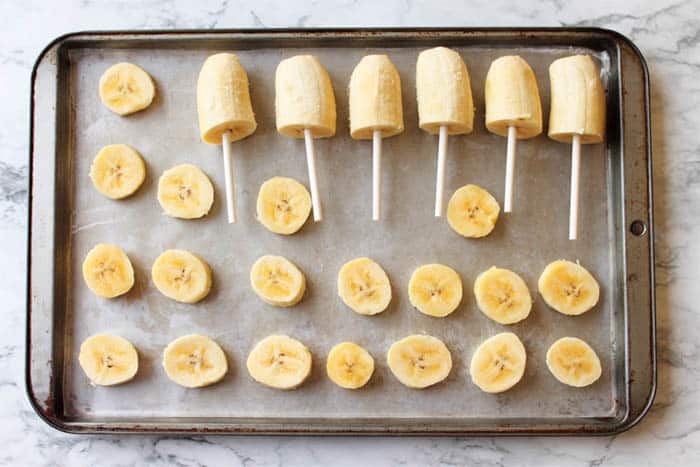 Now you're not going to believe how easy these chocolate covered bananas were to make. All you have to do is slice the bananas …
melt the chocolate with a little cream, dip then roll in your favorite toppings, freeze and go! I chose chopped nuts to roll them in but toasted coconut and granola are popular with adults and sprinkles are always a big hit with kids.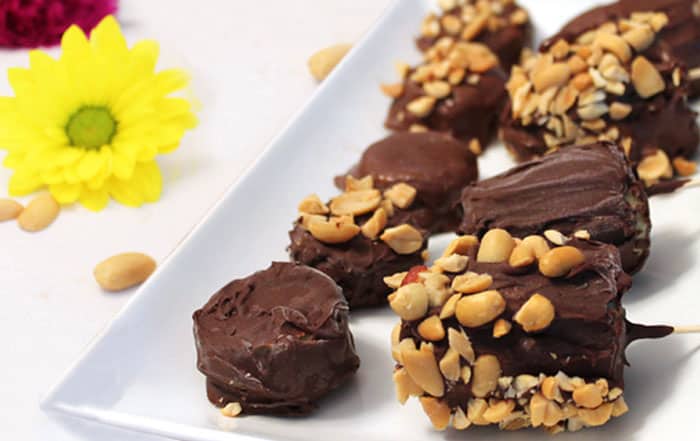 They are also a healthy and delicious snack for when you get the munchies. They contain much needed potassium, dietary fiber, Vitamin C & B6 and are low in saturated fat,  cholesterol and sodium. Maybe it should be a banana a day keeps the doc away? lol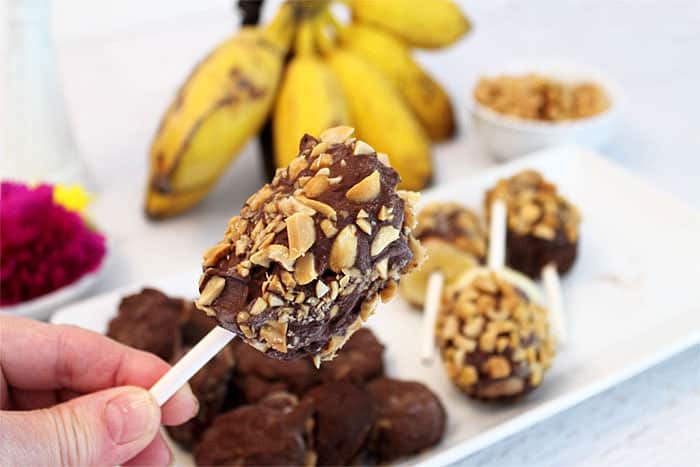 So, I know you're itching to make these, so what are you waiting for? And let me know what your favorite banana recipes are as I can use all the recipes I can get my hands on.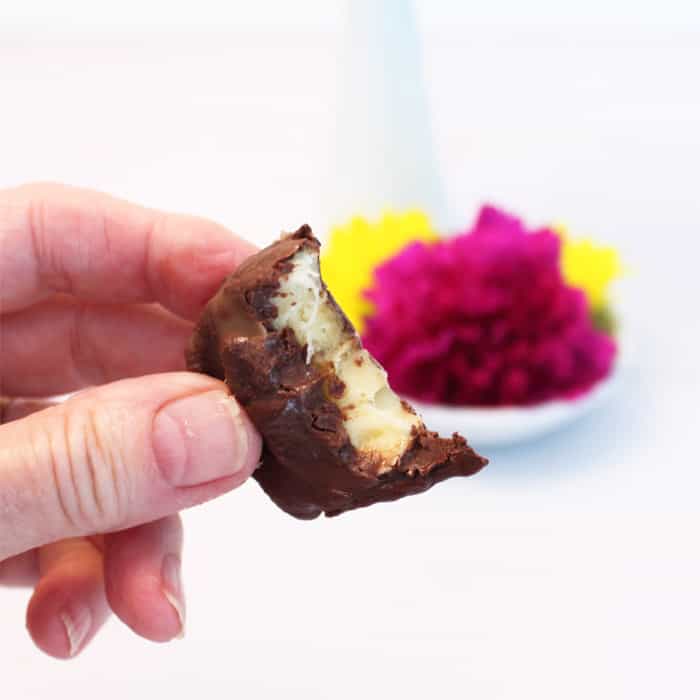 Enjoy!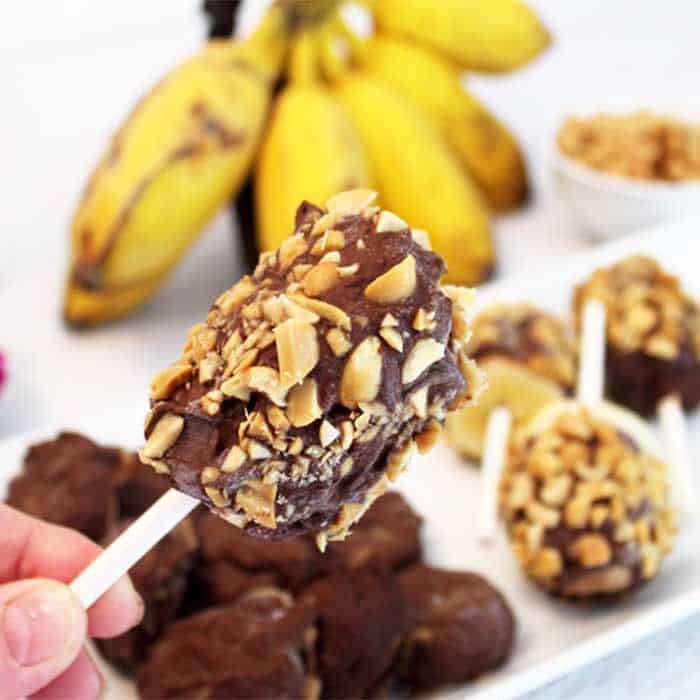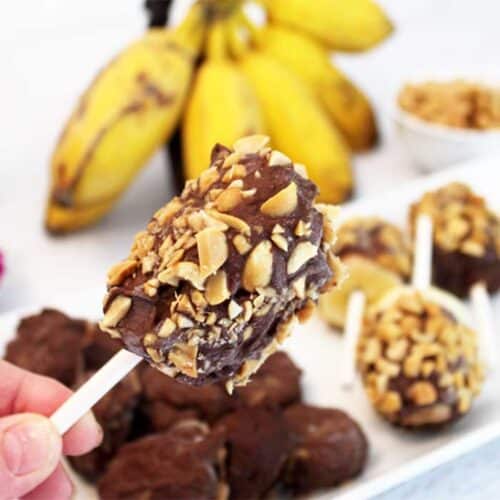 CHOCOLATE COVERED FROZEN BANANAS
Chocolate covered bananas are a healthy & delicious treat and so easy to make. Slice them, coat them with chocolate & roll in your favorite toppings. Freeze them & pop them in your mouth for a quick on-the-go snack.
Keywords:
bananas, chocolate, chocolate covered bananas, frozen treat, recipe, snack
Ingredients
3

bananas

sliced or halved

6

oz

Ghiradelli dark chocolate

about 12 squares (I used 72% cacao)(can also use 1 cup of dark chocolate chips)

4-6

Tablespoons

cream

enough to make a consistency you can dip bananas into

1

cup

chopped nuts

Nutella mixed with some cream to make it spreadable

(optional)
Directions
Prepare cookie sheet by lining with parchment of waxed paper. Make sure that it will fit into your freezer.

Cut one banana into round slices then cut the other two bananas in half and insert a popsicle stick or thick wooden skewer into each half.

Place all prepared bananas on cookie sheet and place in freezer for about 2 hours or until well frozen.

When ready to assemble, break dark chocolate into pieces and place in microwave-safe measuring cup with 4 Tablespoons of cream. Microwave for 15 seconds and stir to melt chocolate. If there are still chunks of unmelted chocolate place back in microwave for an additional 15 seconds. If chocolate looks too thick, add more cream until it reaches desired consistency.

Remove banana pieces from freezer. Using a fork or toothpick for the slices and the popsicle stick for the larger pieces, dip banana into chocolate and place back on cookie sheet. If it is easier for you, you can also spread the chocolate on them. If you prefer, you can then roll them in the chopped nuts, granola or sprinkles then place on cookie sheet. Repeat with remaining frozen bananas then refreeze for at least 3 hours.

If you want to try covering them with Nutella, which is really addictive, place desired amount of Nutella in microwave safe dish and heat for 10 seconds in microwave. Add a small amount of cream and mix until it is smooth and spreadable. You can also roll these in chopped nuts or sprinkles as well. Freeze as stated above.

Take out and eat frozen for a sublime treat.
Recipe Notes
Total time does not include the time they take to freeze.
Nutrition Facts
CHOCOLATE COVERED FROZEN BANANAS
Amount Per Serving
Calories 189
Calories from Fat 117
% Daily Value*
Fat 13g20%
Cholesterol 7mg2%
Sodium 3mg0%
Potassium 232mg7%
Carbohydrates 15g5%
Protein 2g4%
Vitamin A 100IU2%
Vitamin C 2.7mg3%
Calcium 23mg2%
Iron 1.3mg7%
* Percent Daily Values are based on a 2000 calorie diet.