This Flourless Chocolate Torte is a rich, dense, velvety smooth cake that was made for chocolate lovers. It's easy to make, requires no flour, so it is naturally gluten-free, and tastes like fudge in cake form. Serve topped with raspberries or with a side of raspberry sauce. This torte makes the perfect Valentine's Day or special occasion dessert.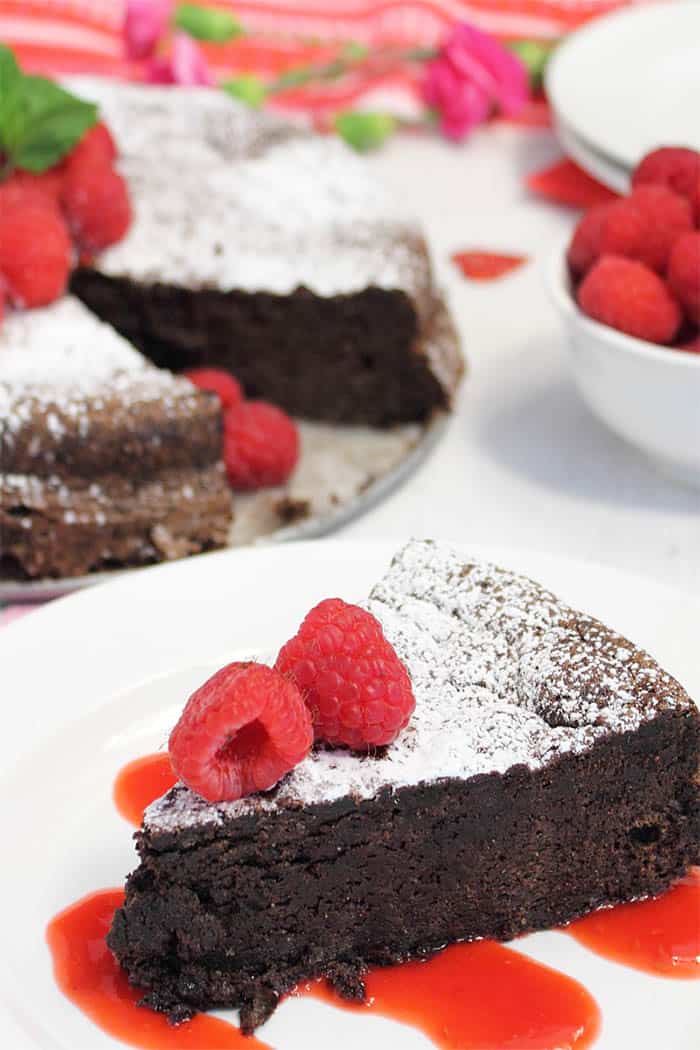 Flourless Chocolate Torte with Raspberry Sauce
Valentine's Day and chocolate just go together in my opinion. I mean what's Valentine's Day without a rich chocolaty dessert? Well, if you're wondering what to bake you can stop looking. This Flourless Chocolate Torte with Raspberry Sauce is the perfect, easy to make, decadent dessert.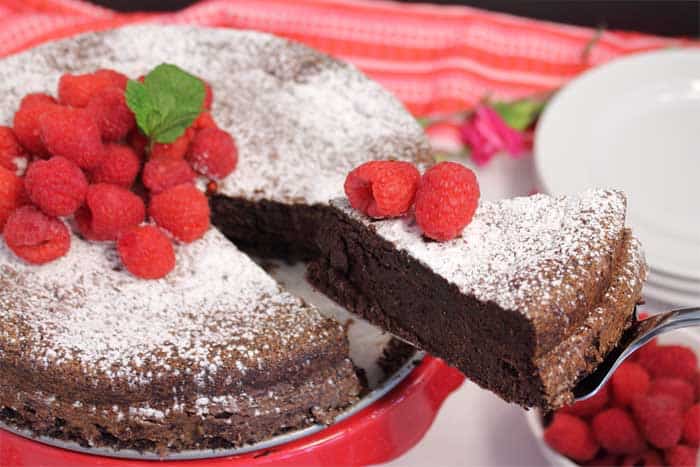 This simple chocolate torte is dense and fudgy and definitely every chocolate lovers' fantasy. There are only 5 ingredients and a few simple steps to whip up this delicious, naturally gluten-free, showstopping dessert. So what does it start with?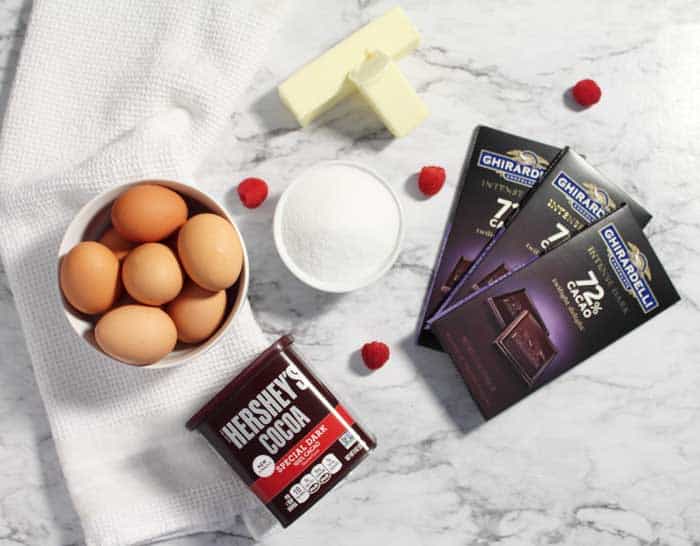 A great chocolate torte begins with quality chocolate
When a recipe calls for just a few ingredients, each ingredient becomes critical to the overall flavor of the finished product. In this case, the chocolate is the star. Make sure to use a premium brand of bittersweet chocolate, such as Ghiradelli, to make the most rich chocolaty cake. This rule also holds true for the unsweetened cocoa powder. I like to use the special dark from Hersheys.
What exactly is bittersweet chocolate?
Chocolate ranges from unsweetened to bittersweet to semisweet depending on the amount of cacao in the chocolate. The more cacao in the chocolate the more intense chocolate flavor and the less sweet. Bittersweet is used when an intense chocolate flavor is desired in the recipe. Usually when a recipe calls for bittersweet I like to use anything in the 60% to 72% cacao range. If you like something a little sweeter you could use a chocolate as low as 54% cacao.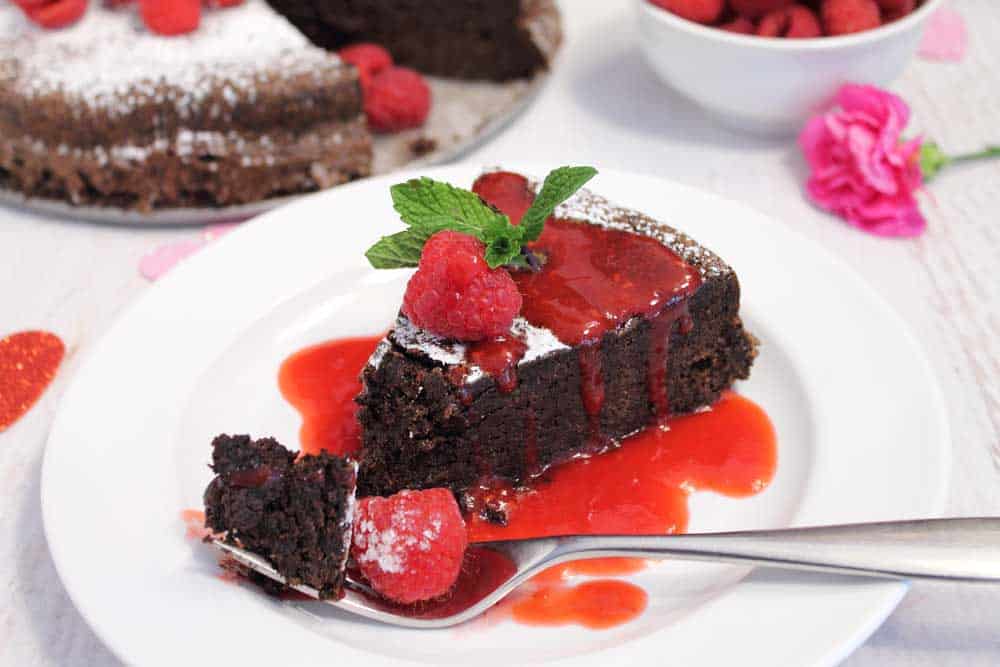 Now that all the details are out of the way, check out how easy this super star dessert is to make.
Easy steps for the perfect Flourless Chocolate Torte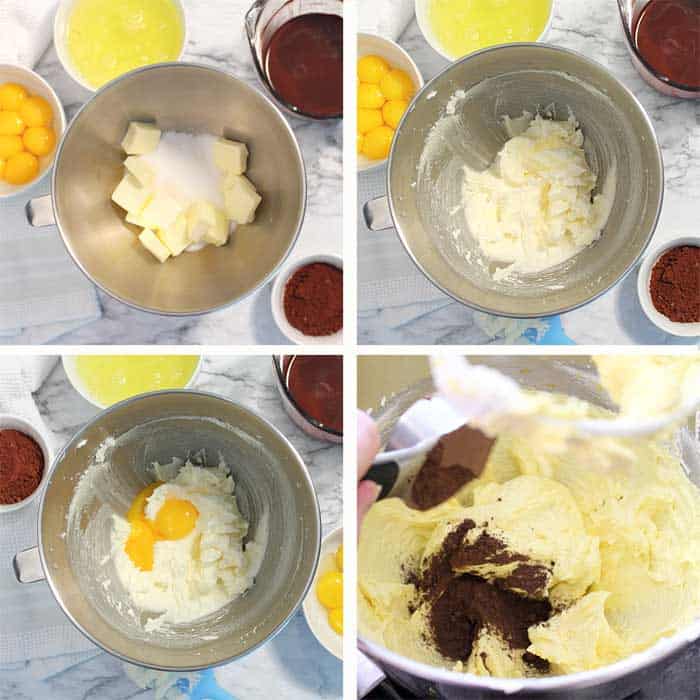 Add room temperature butter and sugar to mixing bowl.
Cream for 5 minutes. (see tips below for why this step is so important.)
Add eggs a couple at a time and continue to beat mixture.
Add cocoa powder and mix well.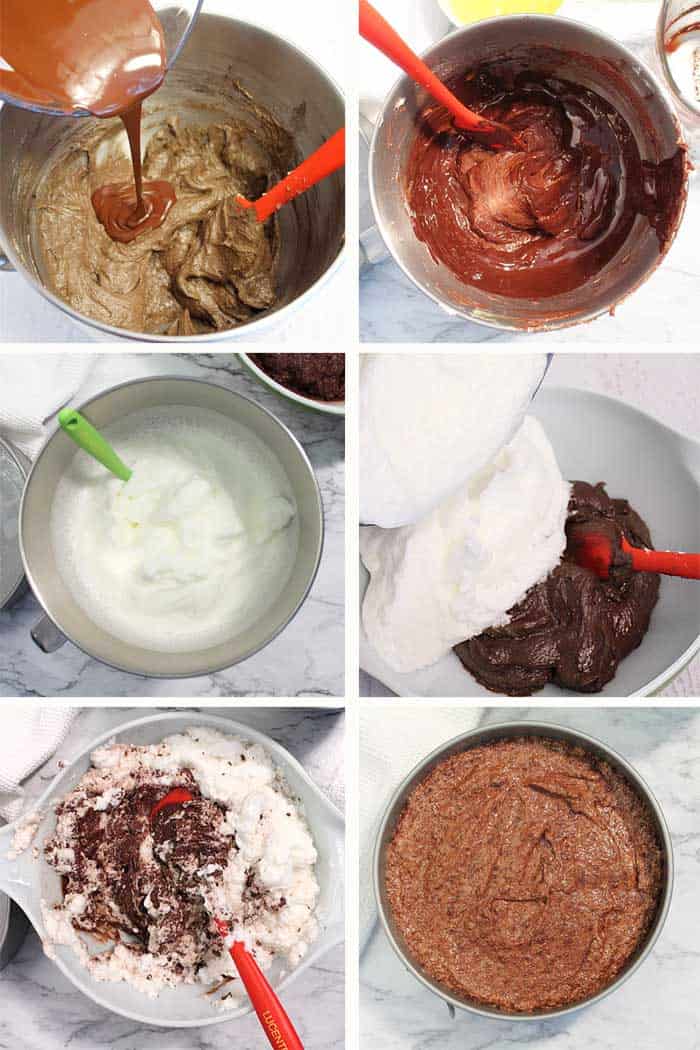 Melt chocolate in microwave in 30 second increments, stirring in-between, until melted. This usually takes about 1-½ minutes. Add to creamed mixture.
Stir well.
Beat egg whites until soft peaks form. (see below for tips on how to make the fluffiest egg whites.)
Fold egg whites into chocolate batter.
Only fold until no white shows.
Pour into a springform pan that has been sprayed with non-stick spray and cover the bottom with a piece of parchment paper. Spray parchment paper with non-stick spray as well. Bake.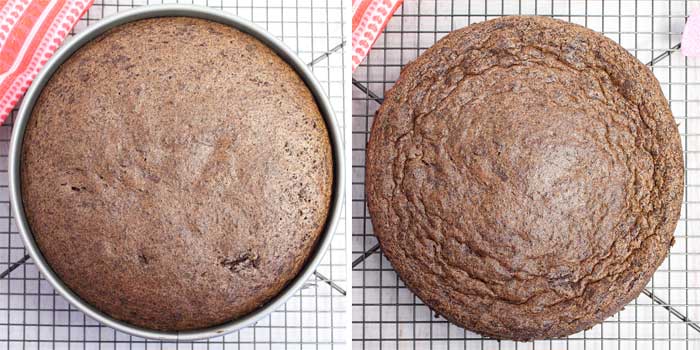 Remove from oven and let sit in springform pan for 30 minutes. Then turn out on wire rack to cool the rest of the way.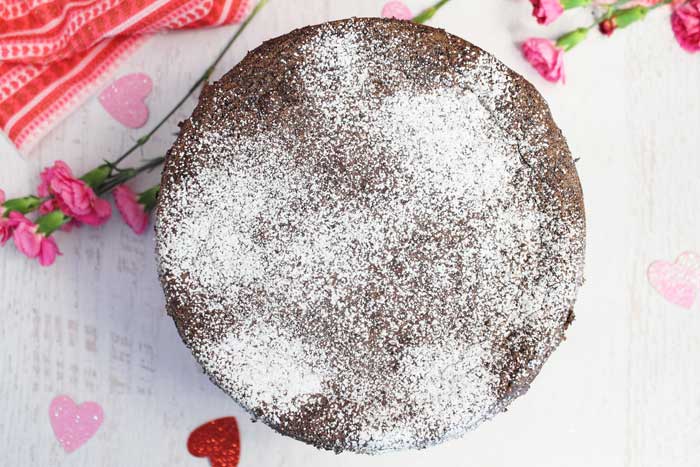 Dust with powdered sugar.
Just prior to serving add raspberries and make a raspberry sauce, if desired.
Here's a few tips & tricks to keep in mind.
Why cream butter and sugar until light and fluffy?
The process of creaming butter and sugar together is actually to aerate the batter. It creates tiny pockets of air, sugar crystals and fat. All it needs is the heat of the oven to puff up the cake like a hot air balloon.
How can you tell if you've creamed the butter and sugar enough?
The batter has been creamed sufficiently when it has doubled in mass and the color has lightened to a yellowish white.
How to whip egg whites.
First make sure that your mixing bowl and whisk is completely dry and free of all oils. Mixing in plastic bowls is not recommended since the plastic itself has a thin, oily residue.
Your eggs should be room temperature and fresh to achieve the fullest volume. Note: Make sure there is no yolk mixed in with the whites as this will prevent the whites from whipping.
Whip at low speed until the whites become frothy then increase speed until they meet the recipe requirements. In this case, they should be whipped until they form soft peaks. In other words, when the whisk is lifted from the bowl, the egg whites should come to a peak and then fold over slightly.
Slice a piece, drizzle a little raspberry sauce over it and then savor the rich chocolate taste with the sweetness of the raspberries with your first bite.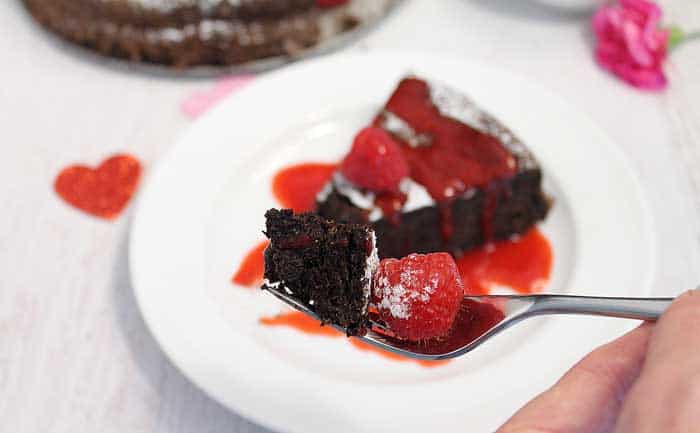 Valentine's Day is just around the corner, so surprise your special someone with this luscious, but oh so easy, (we can keep that our little secret) dessert!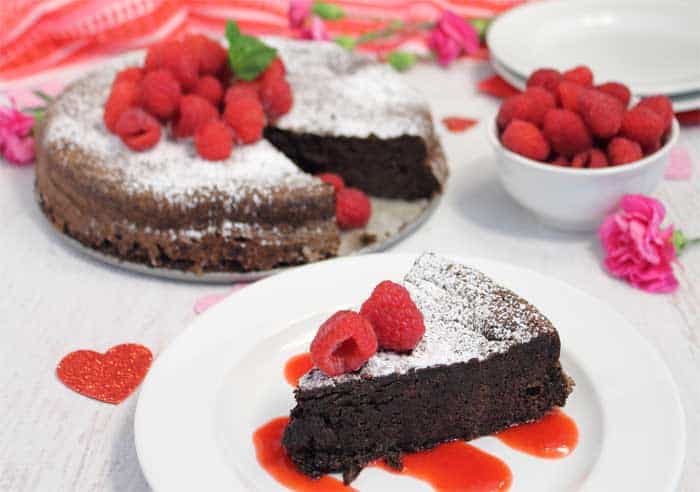 Tempt Your Chocolate Lover with These Desserts
Chocolate Lovers Cake & Cake Pops from 2CM
Molten Chocolate Cupcakes from 2CM
Chocolate Covered Strawberries from My Heavenly Recipes
No Bake Mocha Cheesecake Minis from 2CM
Love quick & easy recipes? Follow me on Instagram, Facebook, Pinterest & Twitter for all the latest recipe inspiration! Plus join my email list here and receive a free e-book.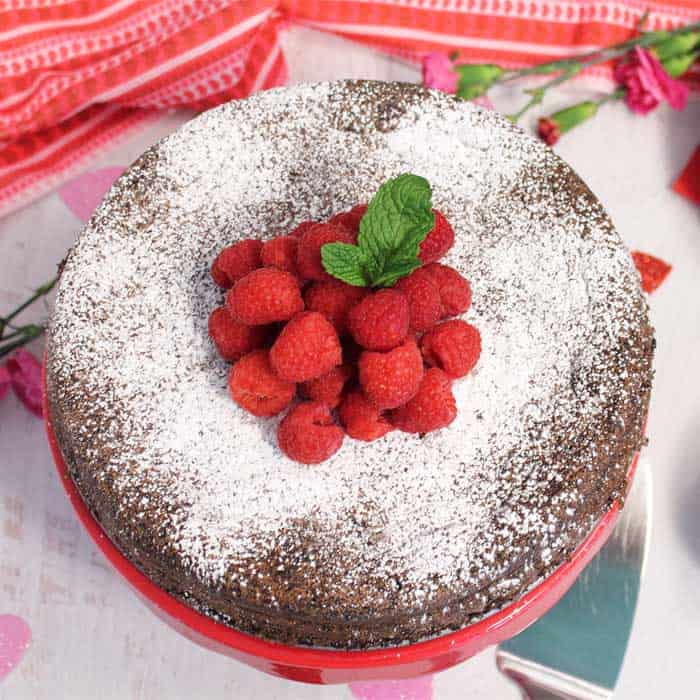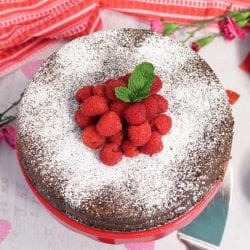 FLOURLESS CHOCOLATE TORTE
Calling all chocolate lovers! This chocolate torte is dense, rich & chocolaty. And amazingly it's gluten-free too! The perfect dessert for Valentine's Day or any special occasion.
Print
Rate
Ingredients
Chocolate Torte
10

oz

Ghiradelli bittersweet chocolate

chopped

9

eggs

¾

cup

butter

¾

cup

sugar

¼

cup

dark cocoa powder

1

cup

fresh raspberries

Confectioner's sugar
Raspberry Sauce
2

pints

fresh or frozen raspberries

½

cup

sugar

1-2

teaspoons

cornstarch

(optional)
Instructions
Chocolate Torte
Preheat oven to 350 degrees. Grease a springform pan and line the bottom with a piece of parchment paper.

Place chocolate in large measuring cup and melt in microwave oven in 30 second increments until almost melted. Stir until smooth.

Divide the egg yolks and egg whites.

Cream the butter and sugar for 5-7 minutes until the texture is very creamy and the color has lightened.

Add the egg yolks, a couple at a time, and continue mixing until well incorporated.

Add cocoa powder and mix thoroughly.

Fold in melted chocolate and set aside.

Whip egg whites until medium stiff peaks form.

Fold into chocolate batter until no white shows.

Pour into springform pan.

Place on center rack in oven and bake for 45 minutes.

Remove from oven and let cool on wire rack for half hour.

Remove sides of pan and sprinkle top with confectioner's sugar.

Garnish with 1 cup raspberries just prior to serving.
Raspberry Sauce
Place 2 pints raspberries and sugar in a small saucepan.

Heat over medium low heat until sugar is dissolved.

Strain through sieve or strainer to remove seed.

Wipe sauce pan clean and place strained berry mixture back into pan. Add small amount of cornstarch and bring to a low simmer for a few minutes, stirring often. Remove and let cool.

Drizzle a small amount on each serving plate and place a slice of chocolate torte on top. Garnish with raspberries and a mint leaf.
Nutrition
Calories:
417
kcal
|
Carbohydrates:
45
g
|
Protein:
7
g
|
Fat:
24
g
|
Saturated Fat:
13
g
|
Cholesterol:
154
mg
|
Sodium:
152
mg
|
Potassium:
344
mg
|
Fiber:
8
g
|
Sugar:
33
g
|
Vitamin A:
570
IU
|
Vitamin C:
23.3
mg
|
Calcium:
61
mg
|
Iron:
2.9
mg
This post was first published on February 10, 2014. Photos and content have been updated.