Start your day with easy & delicious, baked (not fried) lemon blueberry doughnuts. Soft, moist cake doughnuts, full of tasty blueberries and dipped into an oh-so-sweet lemon glaze. They come together in less than 20 minutes and are great for breakfast, an afternoon snack or a quick dessert.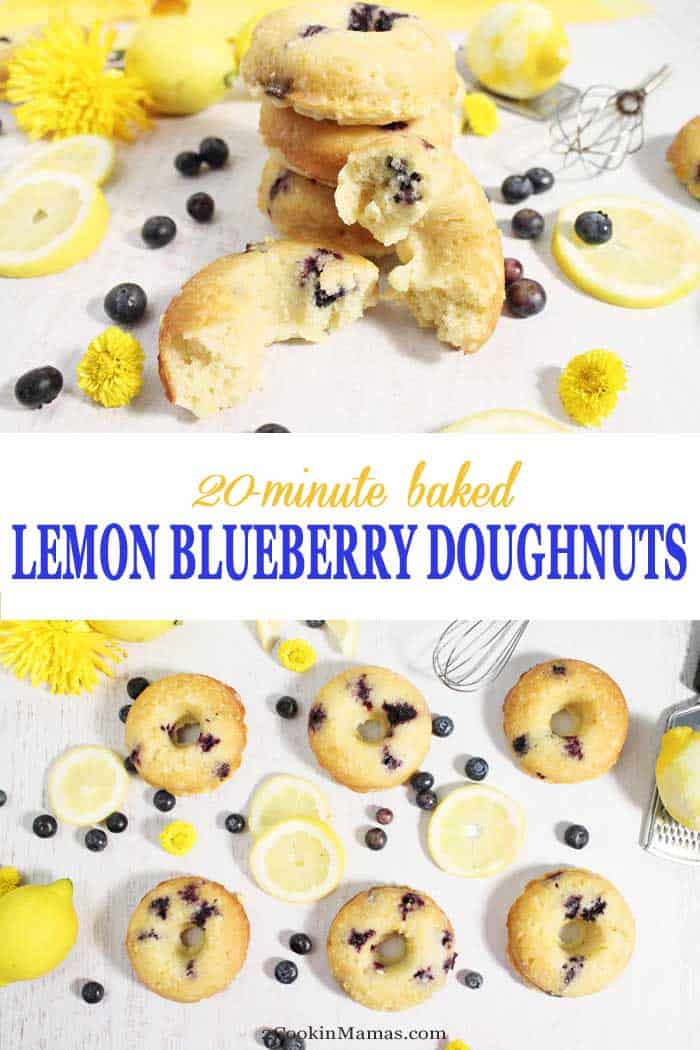 You know some days you just get a craving for a certain type of food and nothing else is going to do it for you? Well, I have been having a lot of those days lately and they all center around homemade doughnuts. Every time I glance through my Facebook posts I see another doughnut that I would love to make. I know I'm not suppose to have them but at least the baked ones are better for you than the fried ones, right? I'm sticking to that logic because nothing is going to stop me from making some doughnuts.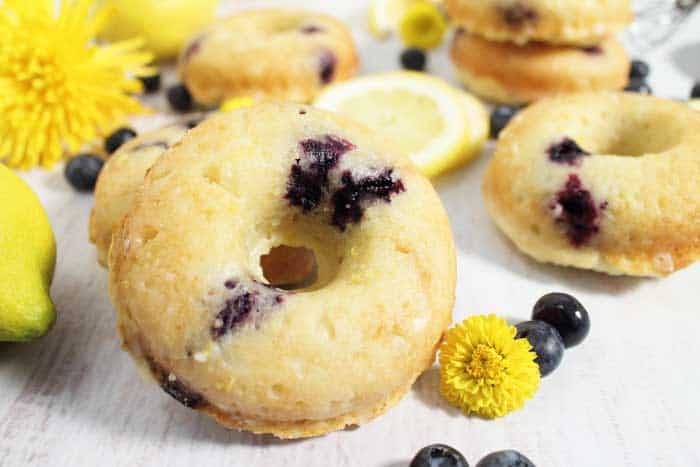 Well, OK, maybe not having a pan just might do that but I found one on sale when I went to HomeGoods the other day and said, yep, gotta have it! And tried the first recipe I came across for chocolate doughnuts – and you guessed it – epic fail! groan I had waited all that time and all I got was a pile of crumbs and had to scrape the rest out of the pan. So disappointed – no homemade doughnuts to satisfy my craving but I would persevere and find a better recipe to try next time around.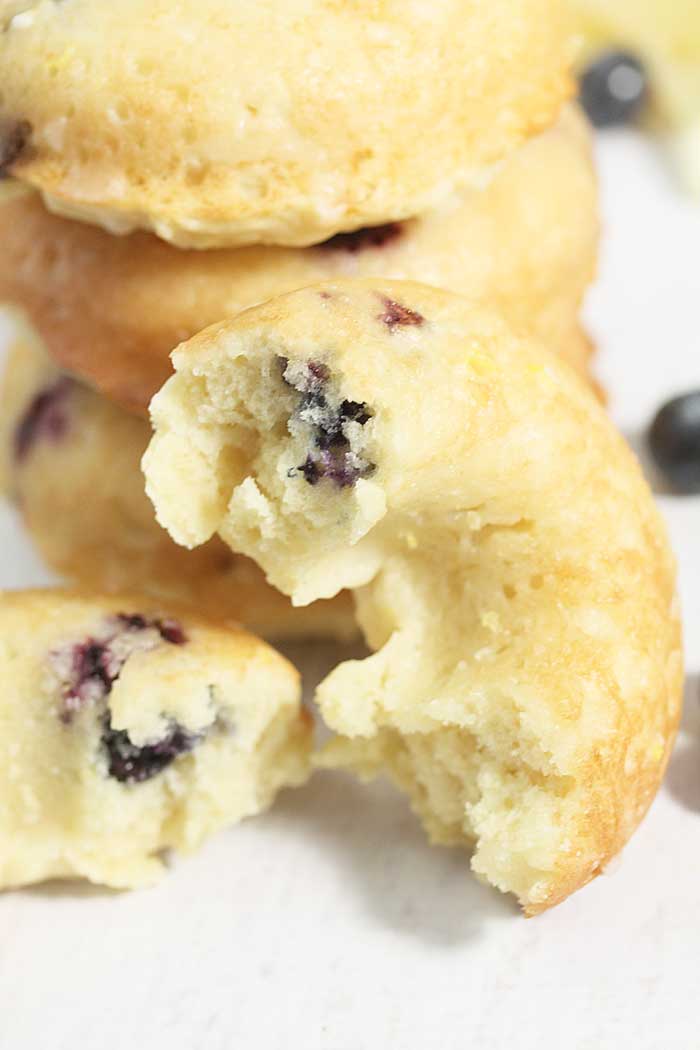 Then I saw this recipe for Lemon Blueberry Doughnuts from The Recipe Rebel and knew this was the one I just had to try. After all, I love all things lemon, Lemon Poppy Seed Cookies, Lemon Smoothies, Lemon Chia Seed Protein Bars and don't even get me started on blueberries, like Blueberry Streusel Muffins or Blueberry Bundt Cake. Anyway, I digress, back to the recipe. I was crossing my fingers the whole time they were baking and could hardly wait the 10 minutes before trying to turn them out. And guess what – this time is was an epic success – yippeee! Now I just had to wait until the glaze dried before popping a few bites into my mouth – oh stop me now – Deeeelicious!!!
Check out the easy steps to Lemon Blueberry Doughnuts in less than 20 minutes!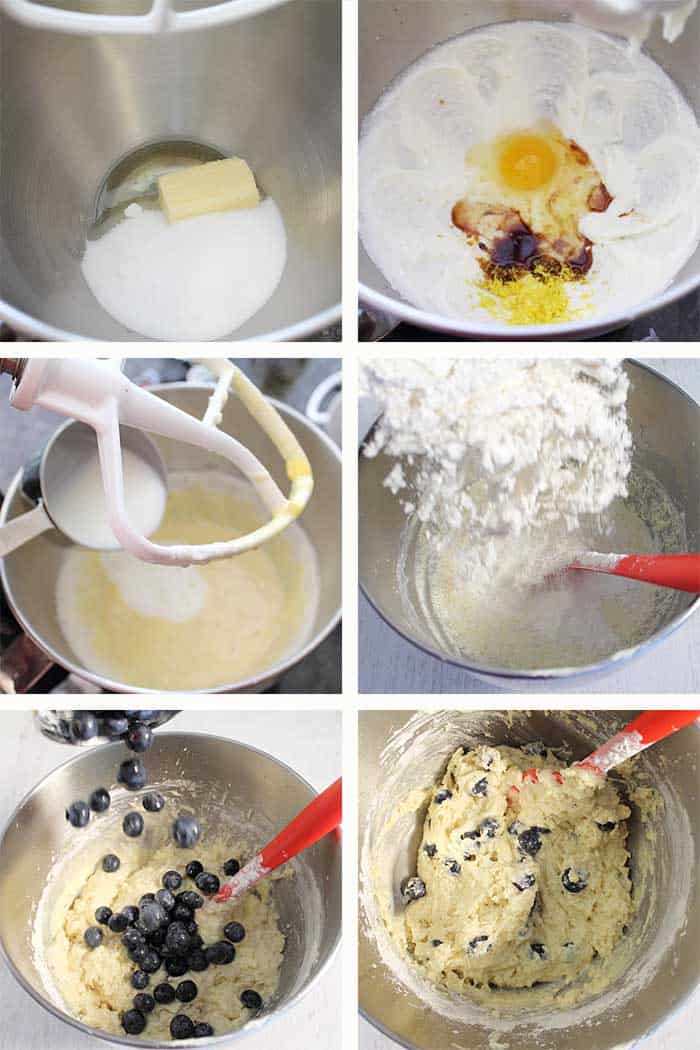 Place butter, oil & sugar in the bowl of an electric mixer, like my beloved KitchenAid, and beat until smooth & fluffy.
Add eggs, vanilla extract, lemon zest.
Add buttermilk and beat until smooth.
Combine dry ingredients and add to liquids and beat until just mixed.
Add blueberries and stir.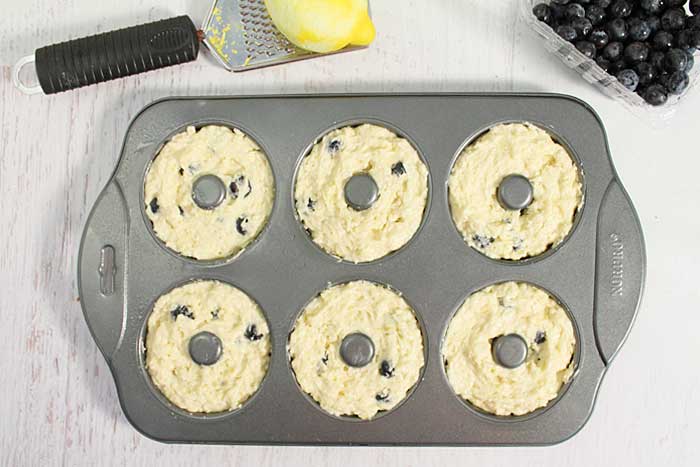 6. Spray doughnut pan. Spoon about 1/2 cup batter into each cavity. Bake.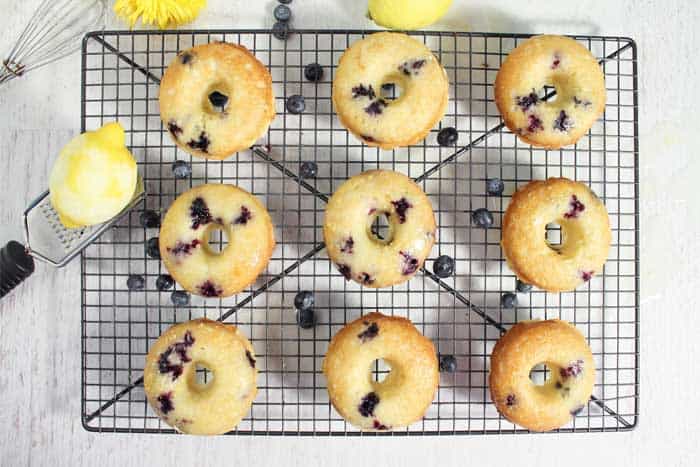 7. Allow to cool in pan on wire rack for 10 minutes then remove from pan and place on wire rack to cool completely.
Now the piece de resistance! The lemon glaze really makes these doughnuts. It's a little bit tart and a lot sweet and just coats them lightly and sinks right into the doughnuts to add just the right touch of lemon.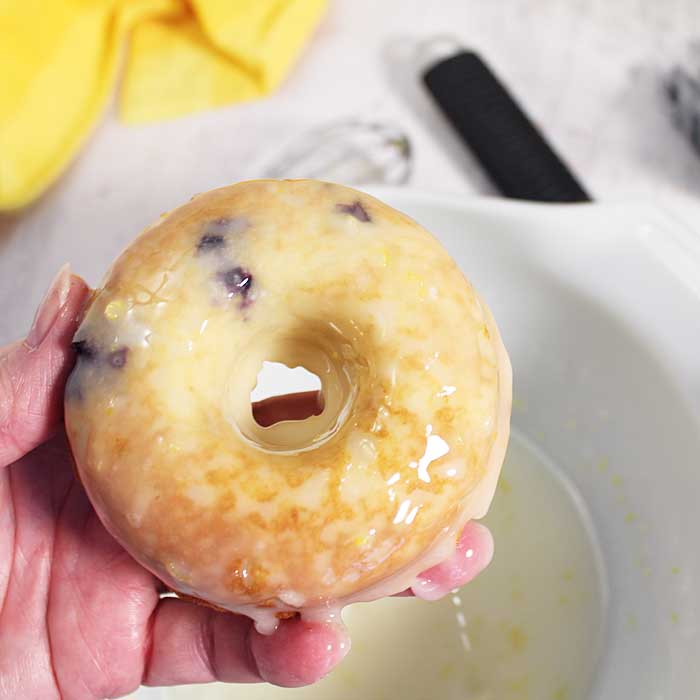 8. Mix lemon juice and zest with confectioner's sugar then dip the top of the doughnuts into the glaze. Set on racks again until cool or eat while they're still warm. 'Cause I know I can never wait! Take a bite – oh wow, they just melt in your mouth!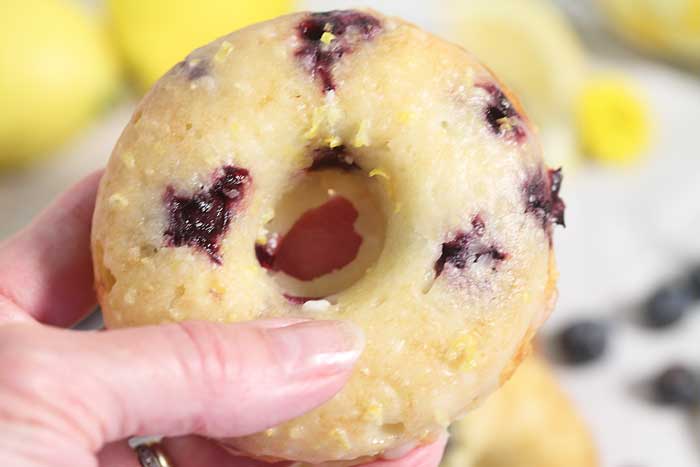 Needless to say, these didn't last long in our house! Since I first posted this, I've made some delicious doughnuts to share with y'all, like my Healthy Chocolate Mint Doughnuts, Banana Doughnuts and Dark Chocolate Doughnuts. And I'll be making plenty more versions in the future too. Can't wait to try making a Key Lime Doughnut with our key limes from the yard or maybe some pumpkin doughnuts for fall or … well if you have one you want me to try making I'll be glad to give it a go.
Hope you enjoy! These doughnuts are moist, light and super easy to make and so yummy you'll wish you doubled the recipe. Just sayin'!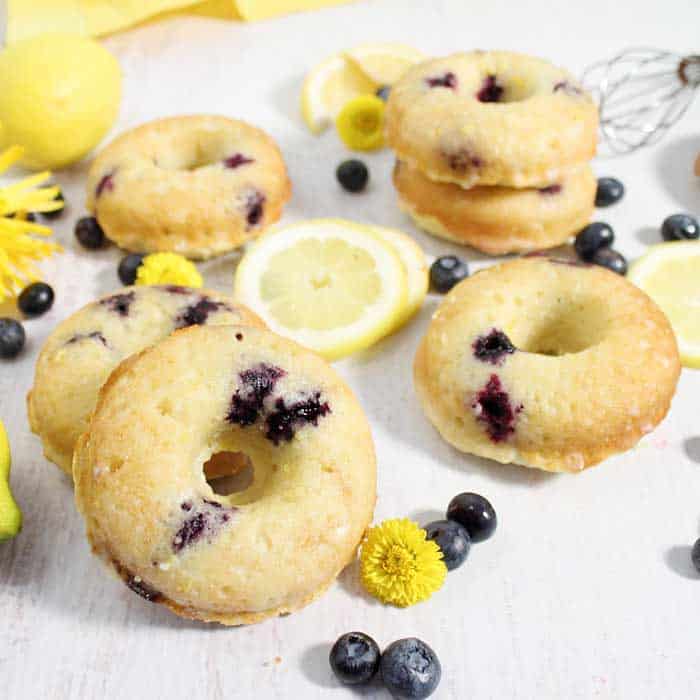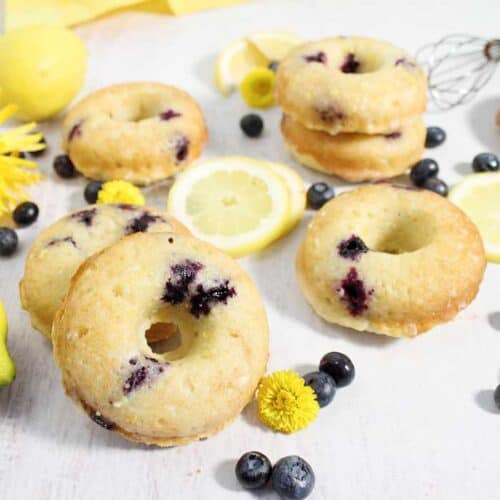 LEMON BLUEBERRY DOUGHNUTS
Start your day with easy & delicious, baked (not fried) lemon blueberry doughnuts. Moist & full of tasty blueberries then covered in sweet lemon glaze.
Keywords:
baked doughnuts, blueberry, breakfast, donuts, doughnuts, easy recipe, lemon, snack
Servings
:
12
-15 doughnuts
Ingredients
Doughnuts
1/4

cup

butter,

melted

1/4

cup

vegetable oil

3/4

cup

granulated sugar

2

large eggs

2

teaspoons

vanilla extract

1-2

teaspoons

lemon zest

1

cup

buttermilk

2 2/3

cups

all-purpose flour

1 1/2

teaspoons

baking powder

1/4

teaspoon

baking soda

1/2

teaspoon

salt

1

cup

fresh blueberries
Glaze
2

cups

confectioner's sugar

1-2

teaspoons

lemon zest

1/2

cup

fresh lemon juice
Directions
Preheat oven to 425 degrees. Spray doughnut pan with nonstick spray.

In the large bowl of your electric mixer, combine butter, oil and sugar and beat until smooth and fluffy. Add in eggs, one at a time, vanilla, lemon zest and buttermilk and beat until smooth.

In a small bowl, combine flour, baking powder, baking soda and salt. Add to liquid batter and beat until just mixed. Stir in blueberries.

Using a 1/2 cup measuring cup and a spoon, scoop batter into doughnut holes, not quite filling up cavity.

Bake approximately 8 minutes or until toothpick inserted in doughnut comes out clean.

Remove to wire rack and let cool 10 minutes before turning out of pan. Place back on wire rack and let cool completely.

While doughnuts are baking make glaze.

In a wide mouthed bowl, combine all ingredients. If glaze is too thin you can add a little more confectioners sugar. You want the glaze to be thin enough to coat doughnuts but thick enough to leave a glaze on top.

When doughnuts are cool, dip the tops in the glaze then return to wire racks until glaze has set.
Nutrition Facts
LEMON BLUEBERRY DOUGHNUTS
Amount Per Serving
Calories 335
Calories from Fat 90
% Daily Value*
Fat 10g15%
Cholesterol 39mg13%
Sodium 186mg8%
Potassium 137mg4%
Carbohydrates 57g19%
Protein 4g8%
Vitamin A 195IU4%
Vitamin C 5.5mg7%
Calcium 54mg5%
Iron 1.5mg8%
* Percent Daily Values are based on a 2000 calorie diet.
This post has been updated with new photos and content. Original post was first published on July 24, 2016.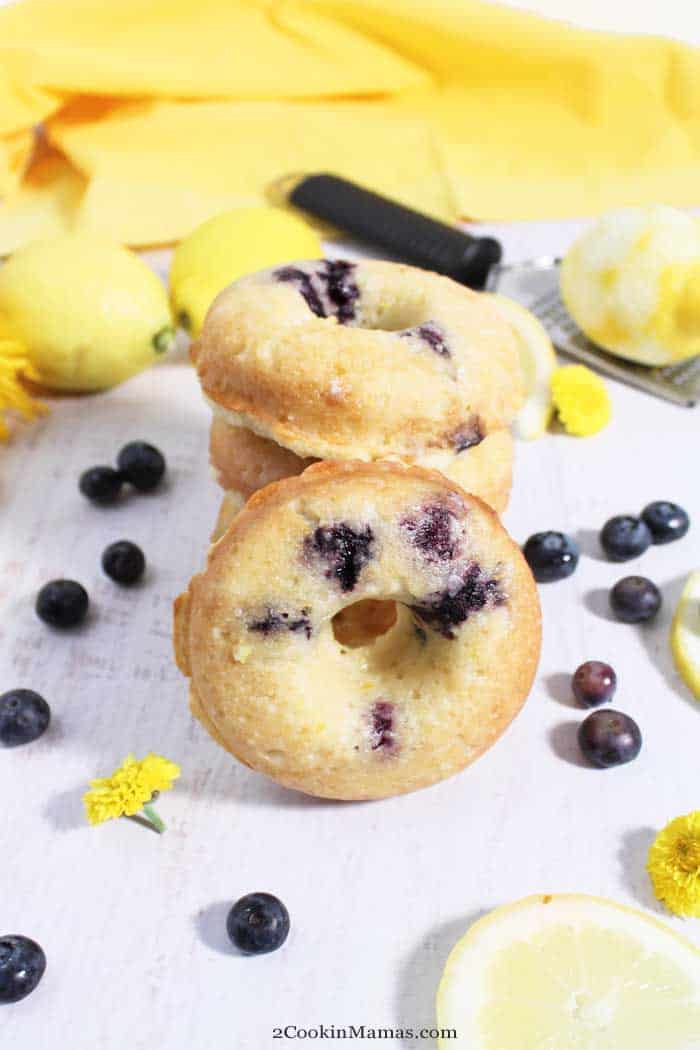 DON'T MISS A RECIPE!