If you're a chocolate lover, you'll love these dark chocolate doughnuts. They bake up so moist that you almost don't need the white chocolate glaze. But go ahead and do it anyway. And there's a gluten-free version too!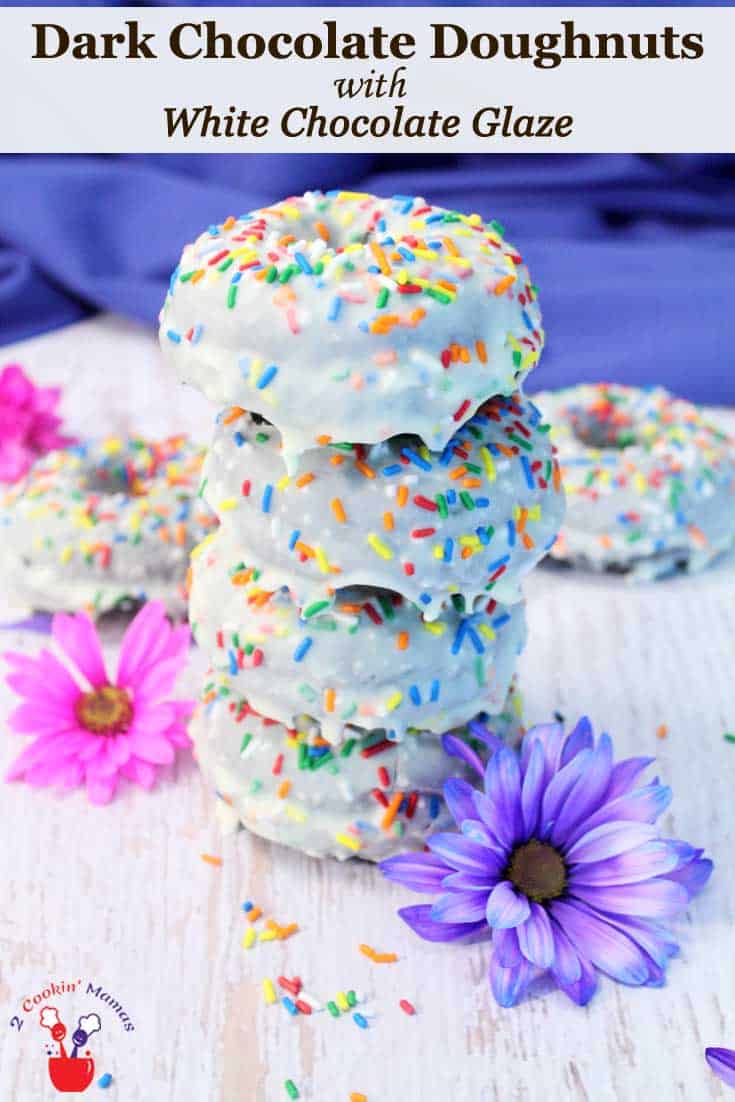 As promised, here is the recipe for my grandson's favorite doughnuts. If you're just joining me here at 2 Cookin Mamas, I had made up a batch of Vanilla Donuts with Chocolate Glaze and these Dark Chocolate Doughnuts for my daughter Christina's birthday.
I knew her favorite was the vanilla but my grandson adores chocolate, and especially white chocolate, so I had to make them too. After all, what are grandmothers for if not to spoil our grandkids. 🙂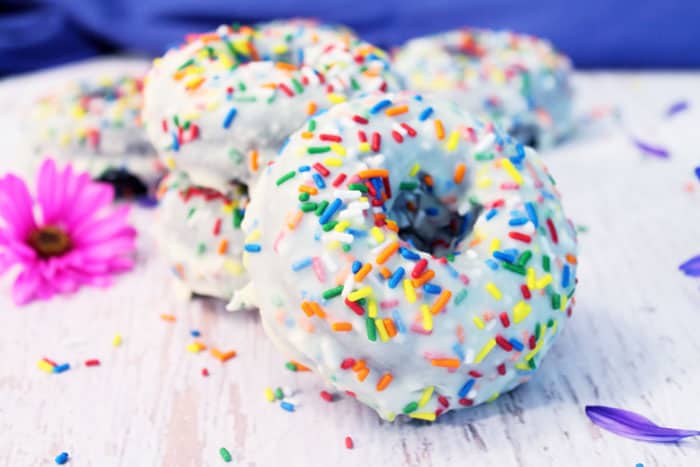 I started to get interested in making doughnuts when I found out you could actually bake doughnuts (yep, really) and there was a nonstick pan that made it all possible. When one went on sale I just had to buy it and see what the craze was all about.
My first attempt, well let's not talk about that, but my next attempt was just pure tasty bliss, Lemon Blueberry Donuts - yum! I haven't looked back since!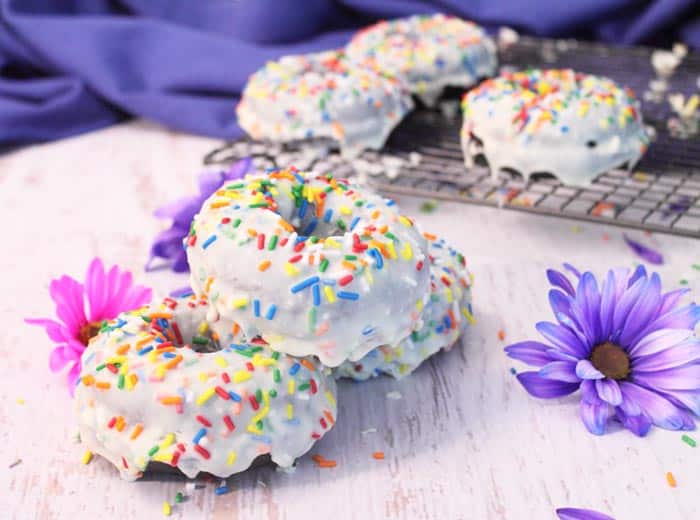 I made these dark chocolate donuts in both a gluten-free and a regular version since Christina is gluten-intolerant and my husband and friends would rather eat the regular version.  They were both given a thumbs up by their respective munchers.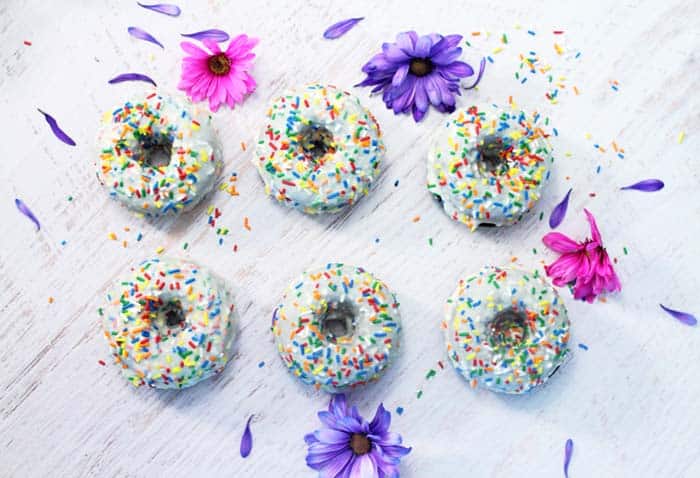 There are several ways to make doughnuts but I wanted to make these dense and rich so opted to use buttermilk. To get the intense chocolate flavor I used Hershey's dark cocoa powder.
I debated about the glaze because they really did turn out super chocolaty. I finally decided to just splurge and go for it with white chocolate.
And since I was going all out I decided to add lots of sprinkles too. Don't they look pretty? Of course, you know I basically did it for you know who and I got a big hug for it too!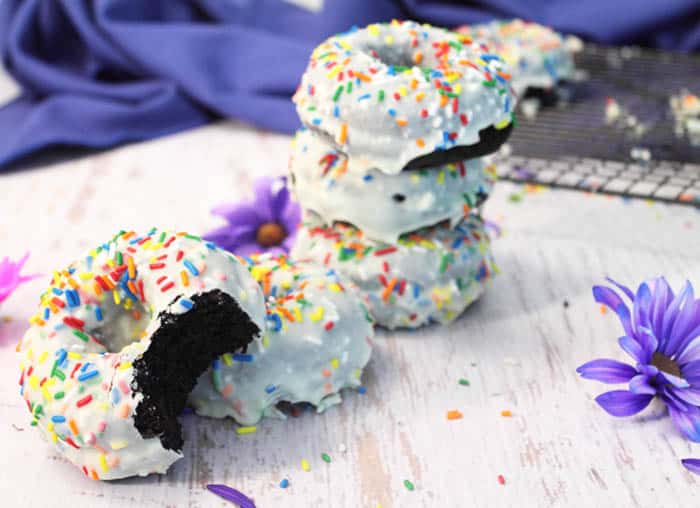 These donuts are any chocolate lover's dream - totally addictive and totally worth it! So hop on over to the kitchen and bake some up right now! Enjoy!
More Donut Recipes
Baked Apple Cider Donuts with cinnamon sugar.
Baked Banana Donuts taste like banana bread.
Pumpkin Spice Donuts with crumb topping are perfect for fall.
Find lots of healthy quick bread recipes here on 2CM!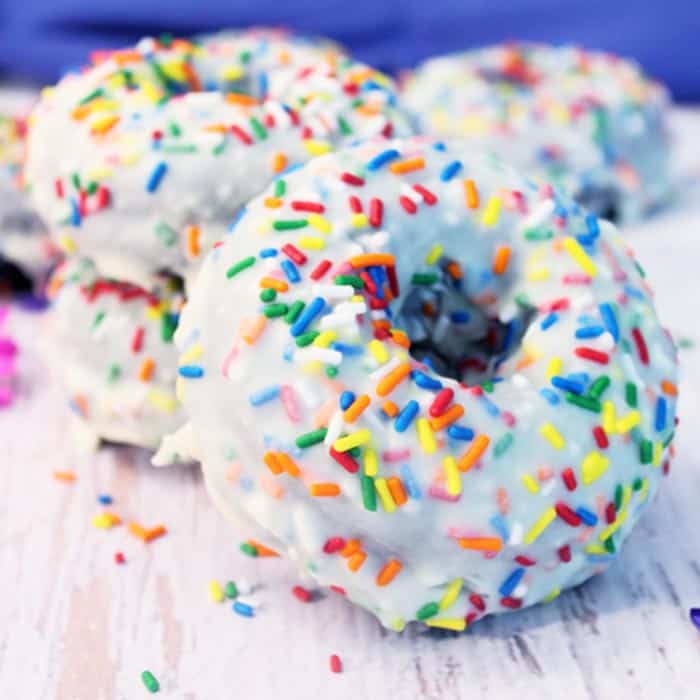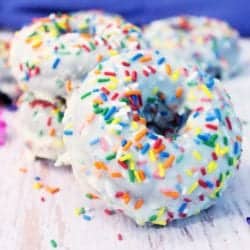 DARK CHOCOLATE DOUGHNUTS with WHITE CHOCOLATE GLAZE
If you're a chocolate lover, you'll love these dark chocolate doughnuts. They bake up so moist that you almost don't need the white chocolate glaze. But go ahead and do it anyway.
Print
Rate
Ingredients
Doughnuts
1

cup

all-purpose flour

¼

cup

unsweetened dark cocoa powder

½

teaspoon

baking soda

⅛

teaspoon

salt

½

cup

buttermilk

½

cup

sugar

1

large egg

2

Tablespoon

vegetable oil

1

teaspoon

vanilla extract
Glaze
¾

cup

powdered sugar

3

Tablespoons

half & half or cream

¼

teaspoon

vanilla extract

¾

cup

white chocolate chips
Instructions
Preheat oven to 350 degrees. Spray 6-cavity doughnut pan with non-stick spray.

In a medium bowl, combine flour, cocoa powder, baking soda and salt.

In another medium bowl, whisk together buttermilk, sugar, egg, oil and vanilla.

Pour wet ingredients into dry and stir until just combined.

Spoon batter into prepared pan filling about ⅔ to ¾ full.

Bake for 9-10 minutes. Remove from oven and immediately remove doughnuts from pan by turning upside-down over wire rack. Allow to cool for 5-10 minutes while you prepare the glaze.

To prepare glaze: Place white chocolate chips, half & half and vanilla extract in microwave proof bowl. Heat in 30-second increments, stirring in-between, until all chips are melted. Do not overheat. Stir in powdered sugar.

Dip tops of doughnuts into glaze then return to wire rack, top with sprinkles if desired, and allow to cool completely.
Notes
To make gluten-free, substitute 1 cup gluten-free flour & ½ teaspoon xanthan gum for the all-purpose flour.
FOLLOW US FOR QUICK & EASY RECIPES!
FACEBOOK | TWITTER | INSTAGRAM | PINTEREST
This post has been updated and was first published on September 18, 2016.