These easy to make lemon chia seed protein bars have plenty of delicious lemony taste minus the high fat and sugar. They taste like a moist & light cake but don't let that fool you - they're actually good for you! Have as a grab-n-go breakfast, a boost after your workout or a late afternoon pick-me-up.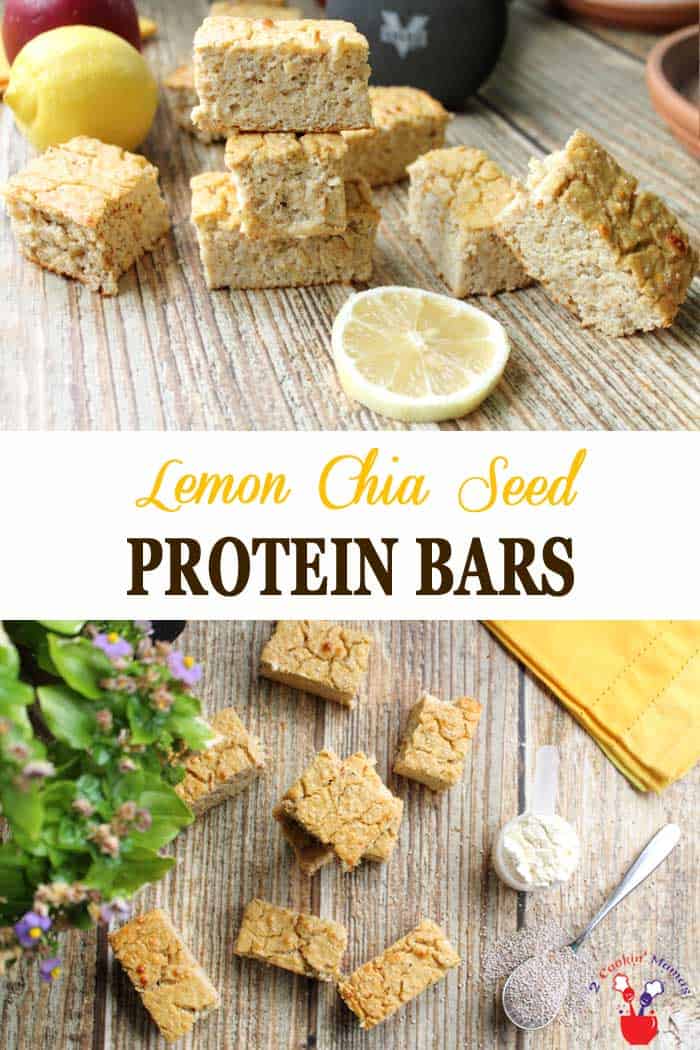 I don't know about you, but I get feeling a little sluggish and hungry in the middle of the afternoon and want something to eat. However, like most of us, I am watching what I eat and hate to blow my good eating habits by nibbling on something I know I shouldn't have. If I do cave, I feel guilty the rest of the day which is really a waste of a lot of good hours when I could be feeling positive and happy.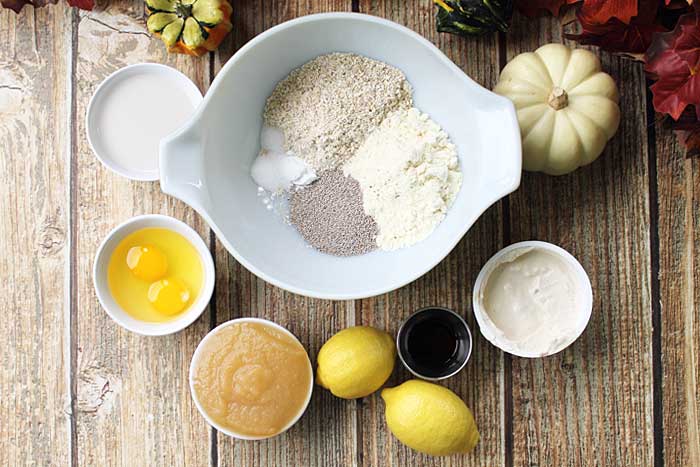 So I sometimes nibble on my healthy Chocolate Peanut Butter Energy Bites but I really wanted to experiment with some kind of protein bar. And boy was it an experiment! I must have thrown out 3-4 batches of just this one protein bar before I hit on just the right mix of ingredients so it came out moist, lemony and delicious. Oh, and healthy too!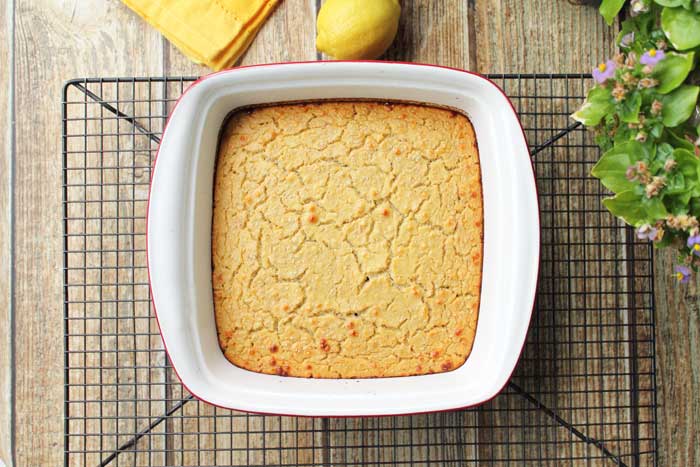 Just look at all the benefits I packed into these little snacks!
Oat Flour -  has a lower glycemic index and more fiber & protein than white all purpose flour.
Protein Powder - supplies protein that can help stem overeating, the primary cause of weight gain. It is also essential for the growth and repair of muscles after a workout.
Chia Seeds - are low in calories, high in fiber, which aids in lowering bad cholesterol and preventing fat absorption, are the richest plant-source of omega 3s, and are high in antioxidants, calcium, protein and other important minerals.
Stevia -  does not contain any sugar, so there are no calories and they do not affect blood sugar levels.
Eggs - are high in protein, have significant amount of omega 3s, which help reduce triglycerides, decent amounts of calcium, vitamins and choline.
Unsweetened Applesauce - replaces oil or butter (a fat) in the recipe and provides part of your serving of fruit.
Almond Milk - low in fat, but high in proteins and fiber. It helps provide envergy,  improve vision, maintain weight, and create stronger bones and a healthier heart.
Greek Yogurt - has an abundance of protein, which can help repair muscles damaged by exercise, probiotics, great for the digestive system, B12 for energy and healthy brain function, potassium, iodine to help with proper thyroid function and calcium, which keeps cortisol in check that can help with weight reduction (partially limits fat production in body)
Lemon Juice - has high amounts of vitamin C, vitamin B, phosphorous, proteins, and carbohydrates. The flavonoids contain antioxidant and cancer fighting properties that can help prevent diabetes and high blood pressure as well as improve the skin, hair, and teeth.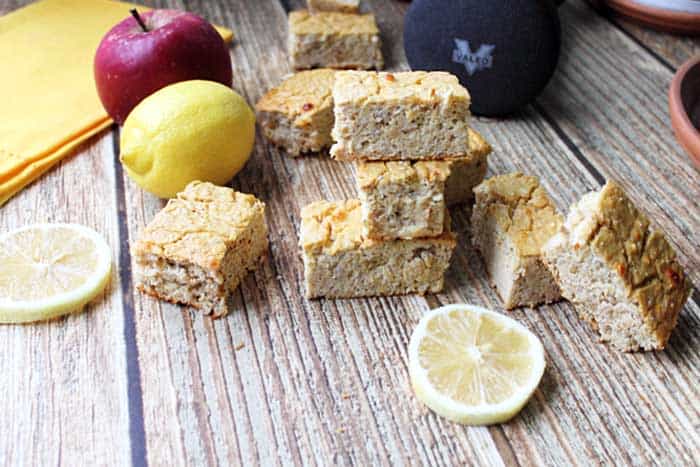 I'd love to know what your favorite afternoon snack is and if you have a favorite protein bar that is your go to.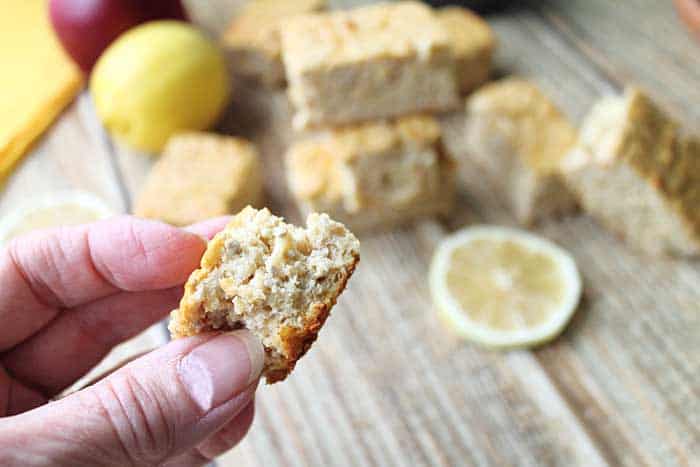 Hope you enjoy!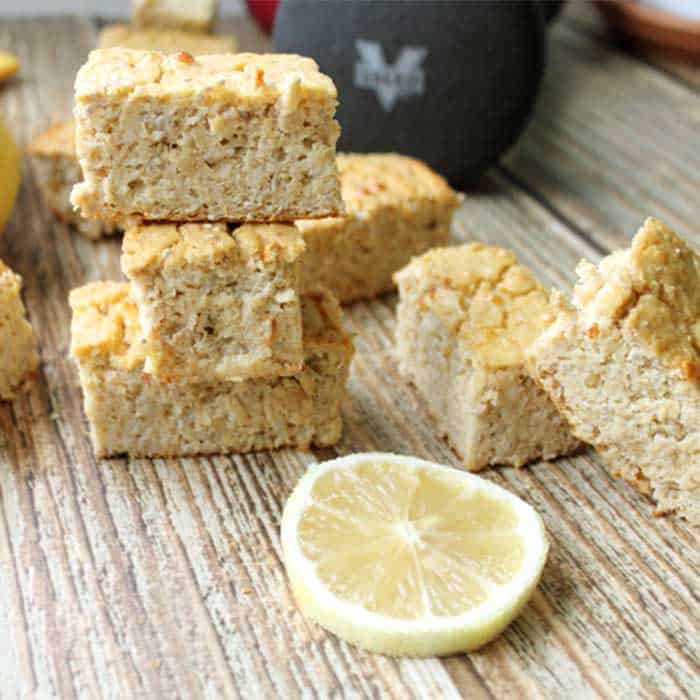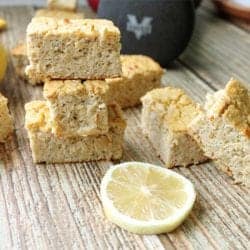 LEMON CHIA SEED PROTEIN BARS
Easy to make protein bars with plenty of delicious lemony taste minus the high fat and sugar. Great for a healthy breakfast or snack.
Print
Rate
Ingredients
¾

cup

oat flour,

about 1 cup rolled oats

3

scoops vanilla protein powder

for gluten-free use a brown rice or hemp protein powder

¼

teaspoon

salt

½

teaspoon

baking powder

2

Tablespoons

Chia seeds

¼

teaspoon

Stevia extract

2

whole eggs,

beaten

1

cup

unsweetened applesauce

½

cup

almond milk

½

cup

Greek nonfat vanilla yogurt

2

teaspoons

vanilla extract

¼

cup

lemon juice

(juice from about 2 lemons)

2

Tablespoons

lemon zest

(zest from 2 lemons)
Instructions
Preheat oven to 350 degrees. Grease a 9x9-inch baking dish with coconut oil.

Using a food processor or blender (I use my Ninja blender and it works great), pour in 1 cup rolled oats and blend until it looks like a flour. It will produce about ¾ cup oat flour.

In a large bowl, blend all dry ingredients: flour, protein powder, salt, baking powder, chia seeds and stevia.

In a medium bowl, combine remaining wet ingredients.

Blend wet ingredients into dry and mix well.

Pour into prepared baking dish and bake for 40 minutes. Cool then turn out on board and cut into bars.
Notes
When cool, I wrap each bar in plastic wrap and place in freezer. Whenever I want to bring one to work for an afternoon snack I just grab and go. This way they will keep for a few months.
DON'T MISS A RECIPE!