The most important meal of the day just got better! Microwave scrambled eggs is the breakfast dreams are made of. Only 4 minutes from start to finish and you have a hot breakfast that no one will believe you cooked in a microwave! And you'd make Mom proud!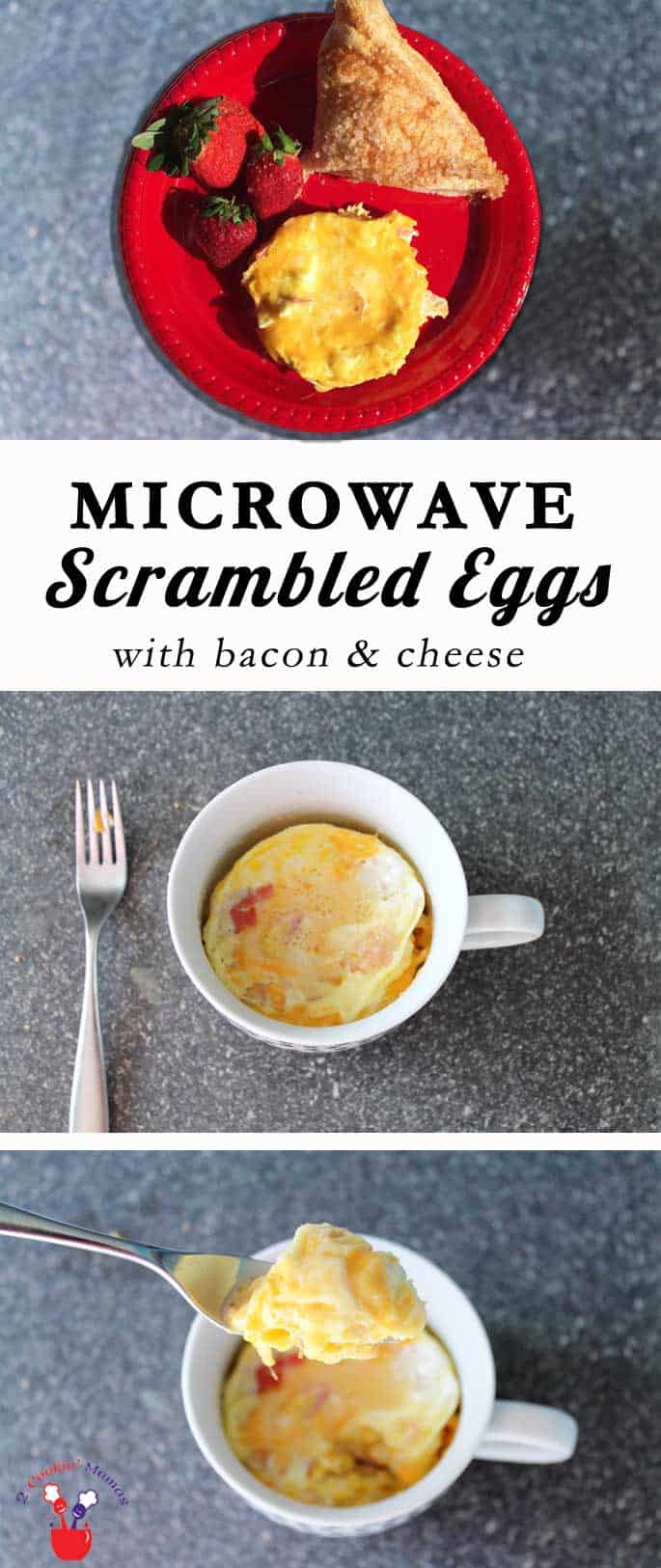 This recipe came about out of desperation. We have been without a stove now for almost a month and, having run out of my frozen Muffin Tin Eggs and Breakfast Bowls, we were getting pretty tired of cold cereal and toast. My husband and I really wanted some eggs and bacon for a nice Sunday breakfast and I was determined to find a way to give it to him.
I started by looking around the grocery store for precooked bacon and came upon, what I am sure most college students have already found, a package made by Boars Head, that all you had to do was reheat in the microwave for a minute. Genius!
https://www.facebook.com/2CookinMamas/videos/1349416438454688/
Next I needed to see how long scrambled eggs would take in the microwave without getting too dry. Which wound up being about a minute and a half. And to make things even easier I decided to combine the eggs and bacon in a mug, which would make it super easy to serve too.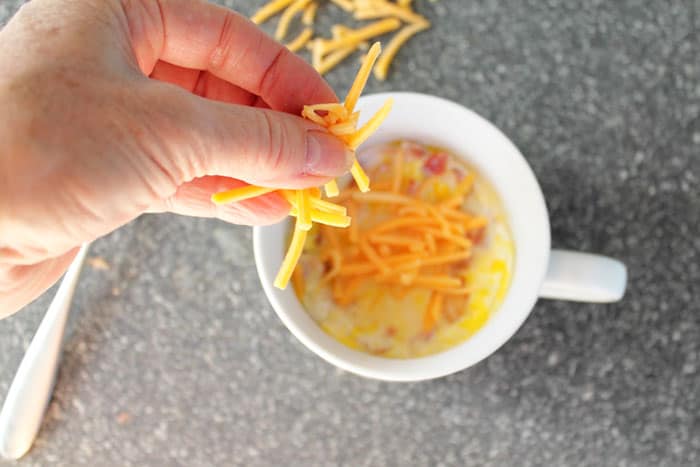 This recipe is super easy to adapt too. I added cheese one day, another I added onions and spinach and still another I added Canadian bacon. All of them came out deliciously moist and oh so tasty. You really can't tell they've been cooked in a microwave at all!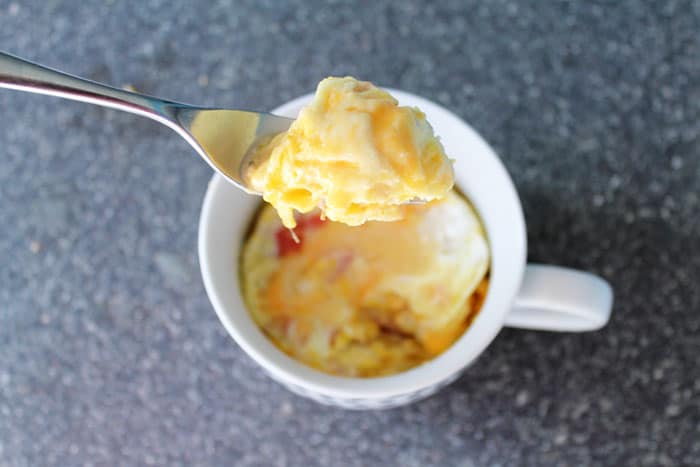 You can serve them in the mug or run a knife around the edge of the eggs once cooked and plate. I served mine with an apple turnover and some strawberries. To make it even better we got to eat on the back porch on a beautiful sunshiny day. Sorry, didn't mean to make all you northerners jealous but you can reciprocate in the summer. 🙂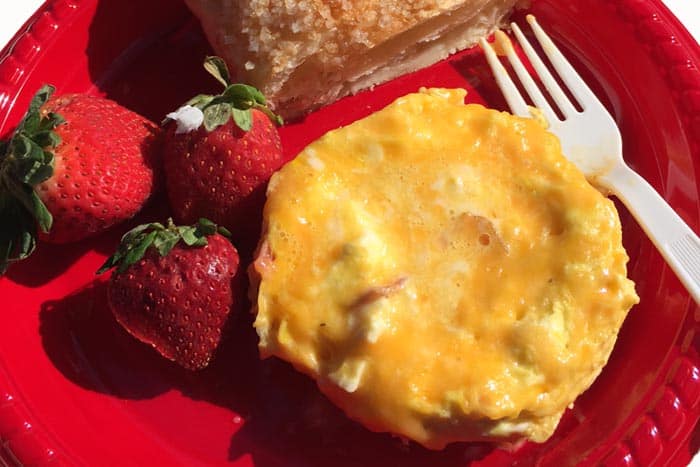 Oh, and I almost forgot, I even made breakfast burritos on day by just cooking the eggs without additions, putting on a tortilla, adding precooked heated bacon, some cheese and salsa then wrapping it up. Oh, was that ever good!
Hope you enjoy whatever way you fix them!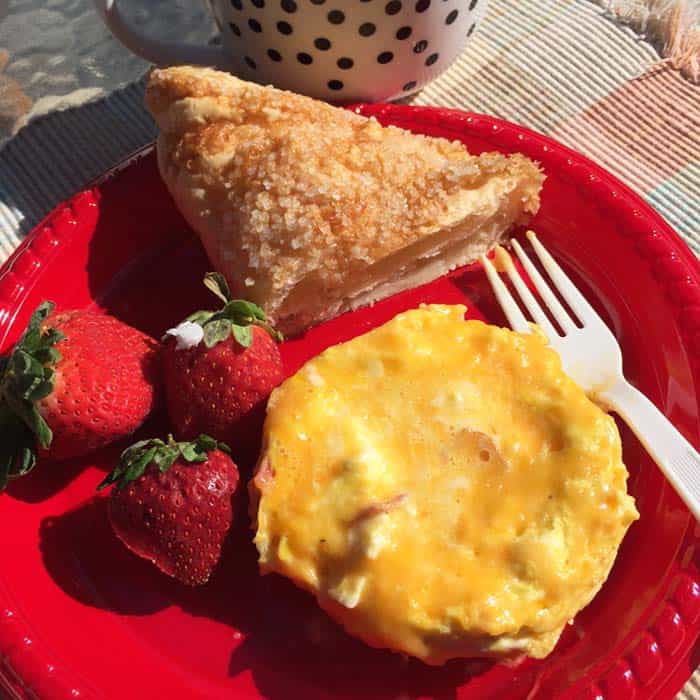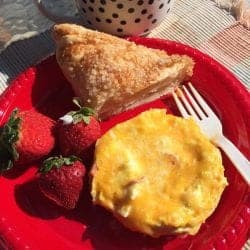 QUICK & EASY MICROWAVE SCRAMBLED EGGS
The most important meal of the day just got better! Microwave scrambled eggs only take 4 minutes from start to finish & they taste awesomely delicious!
Print
Rate
Ingredients
2

eggs

2

Tablespoons

your favorite milk,

almond or cashew milk works great too

Salt & pepper

2

pieces

fully cooked bacon,

chopped (I like the Boar's Head brand)

Sprinkle of your favorite cheese

(I used cheddar)
Instructions
Spray a large wide mug with nonstick spray.

Break the eggs into the mug & whisk with milk and seasoning.

Stir in chopped bacon.

Microwave on high for 45 seconds.

Stir and add cheese. Mix well.

Microwave for 45-50 seconds.

Either eat from the mug or use a knife to run around edge and take out carefully to plate.