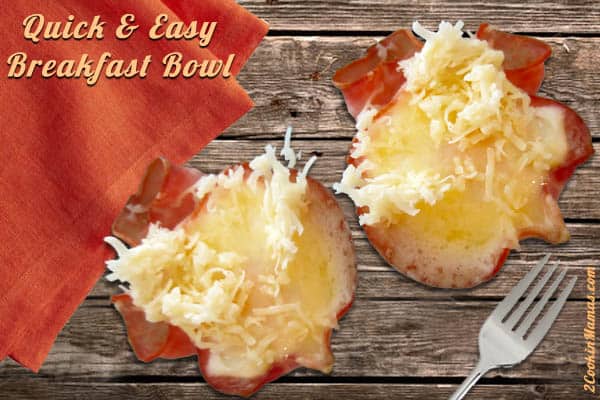 I can't believe that tomorrow is Thanksgiving! This year is going to be a little different than it has been as my daughter, Christina (some of you know as the other Cookin' Mama) and her family moved to Atlanta and that leaves my husband and I alone for the holiday.
But I know from many years of past experience that Thanksgiving morning is a busy time. Not only with getting the turkey stuffed and ready for the oven but getting the house in order for the influx of family and friends. We also have a tradition in the house to watch the Macy's Thanksgiving Day Parade together so I try not to be too distracted with chores in the kitchen and especially not for breakfast. So I usually try to make something that is quick and easy so I enjoy the day with family and store up those precious memories.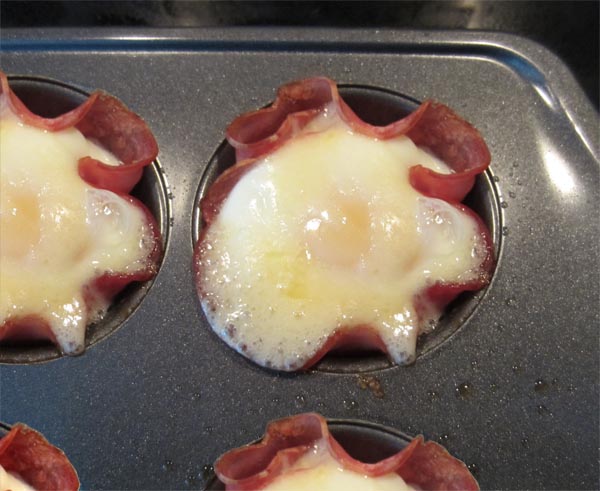 This breakfast bake can be ready in less than 20 minutes, kids love it, and it's nutritious too!
We would like to wish everyone a very Happy Thanksgiving! We are so thankful for all of our followers that allow us to share our love of cooking, our families that encourage us and wait patiently for meals while we get all our photos taken and for the blessings that we enjoy everyday! Happy Thanksgiving everyone!
Quick & Easy Breakfast Bake
Ingredients:
4 eggs
4 slices of deli ham
Cheddar cheese, shredded (actually any cheese that melts easily would work)
Salt & pepper to taste
Green onion or scallions, chopped (optional)
Directions:
Preheat oven to 425 degrees. Spray a small non-stick muffin pan with Pam or other non-stick spray.
Push one slice of ham into each muffin cup making a nice bowl for the egg. Crack one egg into each ham bowl. Sprinkle with a little salt and pepper then add shredded cheese.
Pop into oven for 12-15 minutes depending on how done you like your yolks.
Lift out carefully by grabbing edges of ham and place on plate. Sprinkle with green onions or scallions and serve. There you have it! It is that easy!
Serves 4.
Enjoy!