Muffin Tin Eggs are a quick & healthy breakfast for hectic mornings. Mix & bake a dozen at a time in a muffin tin, adding all your favorite ingredients, freeze them, brown bag it, then reheat 1 minute & voila – a hot breakfast!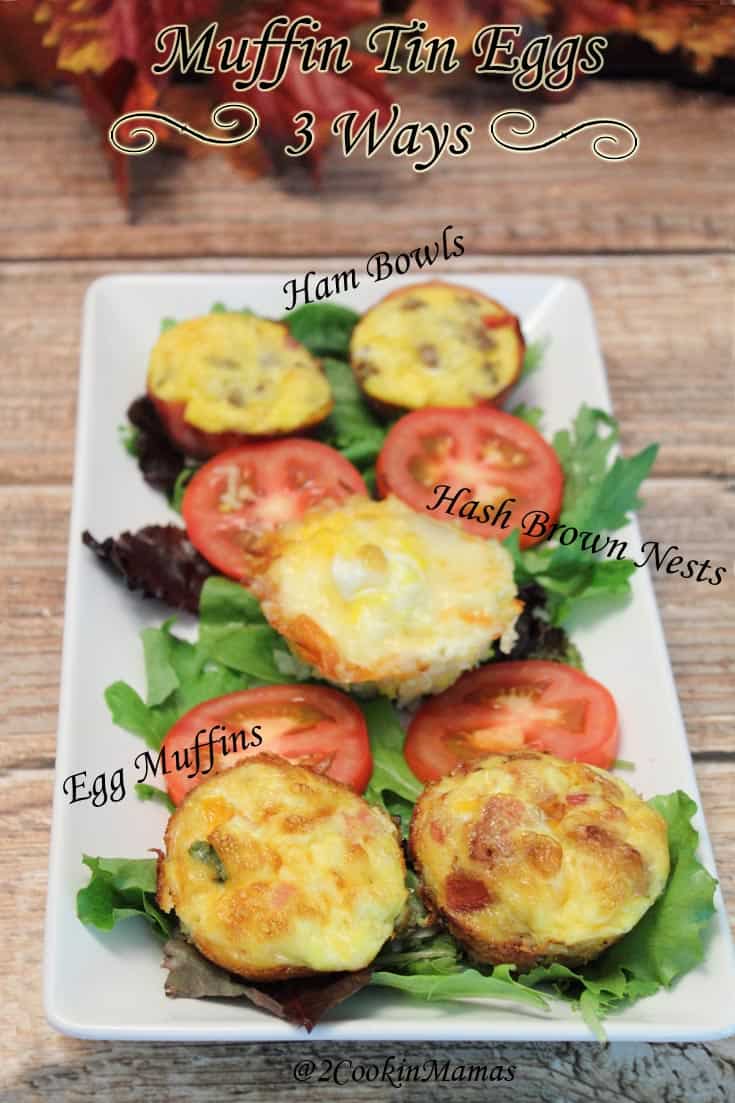 Is breakfast a challenge at your house on weekday mornings? If you have a husband that likes to sleep late or teenagers, who never seem to want to get up early in the morning, then you have the same problem I do. My husband is always working late into the night so getting up in time for work is really hard for him. And me, being a health enthusiast and a big believer in a good breakfast, hate to see him starting his day without the proper nutrition. That is why I put on my thinking cap to come up with something he could bring to work and eat there.  I wanted the breakfast to not only be delicious but provide him with much needed protein and some carbs to help get his brain going in high gear.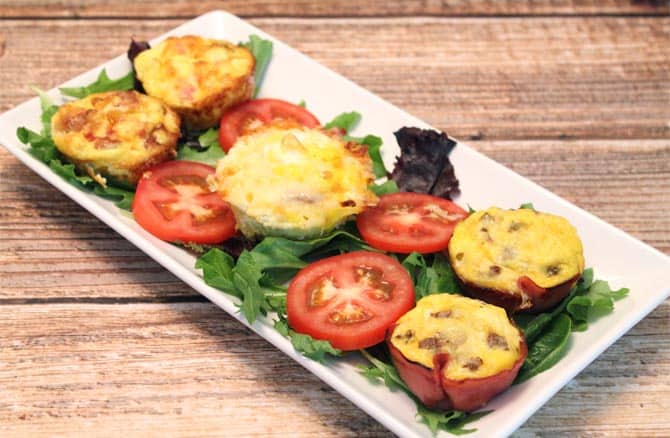 Now, this isn't the first time that I've made a brown bag breakfast item for him. I've whipped together Breakfast Kolaches (which are one of his favorites), Breakfast Cookies and Lemon Chia Seed Protein Bars (which he likes for his afternoon snack too) but this time I wanted something a bit more on the egg side. And since I couldn't decide on which version I liked more, I am giving you 3 different variations to choose from. If you give them a try, let me know what your favorite is.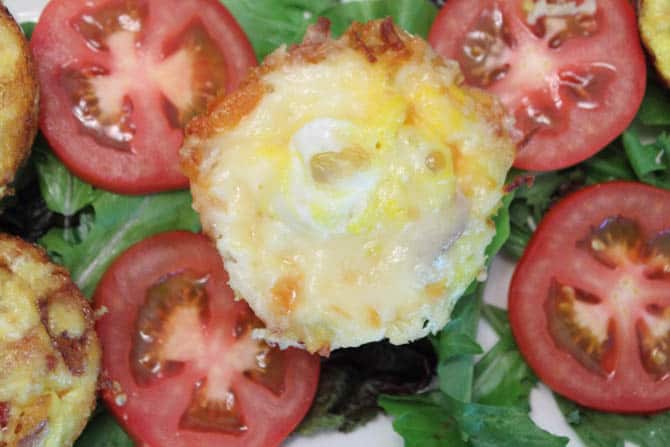 By the way, you can also interchange any of the meats, such as sausage for bacon or bacon for ham, or opt for a vegetarian option by substituting spinach for the meat. Get really wild and try out different cheeses in place of the cheddar too. I have used Gruyere, Swiss and Pepper Jack (for a little kick) and they are all oh so tasty.
Enjoy!
Muffin Tin Eggs – 3 Ways
Version 1 – Hash Brown Nests 
1 pkg refrigerated hash browns (I like Simply Potatoes Southwest Style) or see below for

healthier spaghetti squash option

1/4 cup butter, melted
1/2 lb. cooked bacon, crumbled or 1 pkg frozen spinach, thawed & squeezed dry
6 large eggs
3/4 cup cheddar cheese, shredded
Directions:
Preheat oven to 350 degrees. Spray a 6-cup jumbo muffin tin with non-stick cooking spray.
Mix hash browns with melted butter and press into bottom and up sides of muffin cups. Bake 35-40 minutes or until potatoes are browned.
When potatoes are done, remove from oven and divide bacon (and/or spinach) between the 6 cups. Crack an egg into each potato nest and return to oven for 8-10 minutes or until yolk is done. Remove & top with shredded cheese.
Set oven to broil and place muffin tin 5″-6″ from heat and cook until cheese is melted and slightly browned, about 1-2 minutes.
Serves 6.
Spaghetti Squash option: Cut 1 2-lb. spaghetti squash in half. Place on parchment paper-covered cookie sheet in 350 degree oven and cook 20-25 minutes. Let cool slightly then shred with tines of fork. Mix squash with 1/2 clove garlic and salt & pepper to taste. Take 2 tablespoons or so of squash mixture and line bottom and sides of prepared muffin tin. Press tightly with spoon so it will adhere together. Proceed to fill with bacon/spinach and eggs as directed above. Cook for 10-12 minutes. Sprinkle with cheese and place under broiler for 1-2 minutes. Let cool for a few minutes then loosen with knife and set out to cool.
______________________________________
Version 2 – Ham Bowl (similar to our Quick & Easy Breakfast Bowls)
12 slices deli ham (look for organic & natural lunch meats with no added nitrates)
6 oz. breakfast sausage, cooked & crumbled
10 large eggs
4-6 oz. cheddar cheese, shredded
Directions:
Preheat oven to 425 degrees. Spray a 12-cup muffin tin with non-stick spray.
Push a slice of ham into each of the muffin cups, forming a bowl.
Mix eggs with cooked sausage. Pour into ham bowl. Sprinkle with cheese.
Bake for 12-15 minutes or until cheese is melted.
Makes 12 ham bowls.
________________________________________
Version 3 – Egg Muffins
10-12 large eggs
1/2 cup onion, chopped
1/2 cup red bell pepper, chopped
1/2 lb. ham, chopped or 1 pkg frozen spinach (thawed and squeezed dry)
1/2 cup cheddar cheese, shredded
salt & pepper to taste
Directions:
Preheat oven to 350 degrees. Spray a 12-cup muffin tin with non-stick spray.
In a large bowl, whisk eggs then add remaining ingredients. Divide evenly between muffin cups.
Bake for 20-25 minutes.
Makes 12 egg muffins.
Note for all versions: To freeze, wait until cool, then wrap each individually in plastic wrap. Store in freezer. When ready to brown bag it for breakfast, take 1 or 2 out of freezer, unwrap, place on plate and heat in microwave for 45-60 seconds or until hot.