Nothing says fall like these chocolate chip pumpkin muffins! They are moist, delicious and full of pumpkin flavor with loads of crumbs sprinkled on top. They are even a bit healthier than the norm with less sugar less oil and the addition of dark chocolate chips, nuts and Greek yogurt.
It's fall, and what's better than the smell and taste of pumpkin to remind us of how much we love this season. Living in Florida now, I don't get the chance to enjoy the changing of the leaves, which I loved growing up in the north, but I can still bake up a storm and make my house smell like the fall I remember.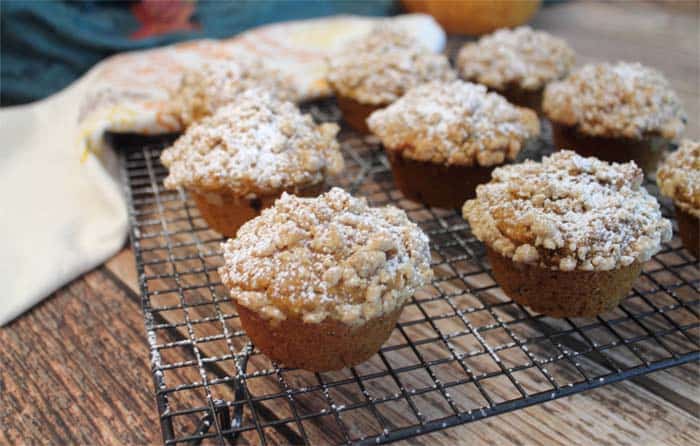 You ask, what's that wonderful aroma coming from my house lately? It might have something to do with the Pumpkin Spice Cookies, Self Frosting Pumpkin Nutella Muffins and Pumpkin Caramel Corn that I whipped up. And if that wasn't enough, I just had to remake these chocolate chip pumpkin muffins. It's been a few years since I last posted the recipe and it seemed time to update it and add some yummy photos. (not to mention the fact we get to eat them too 🙂 )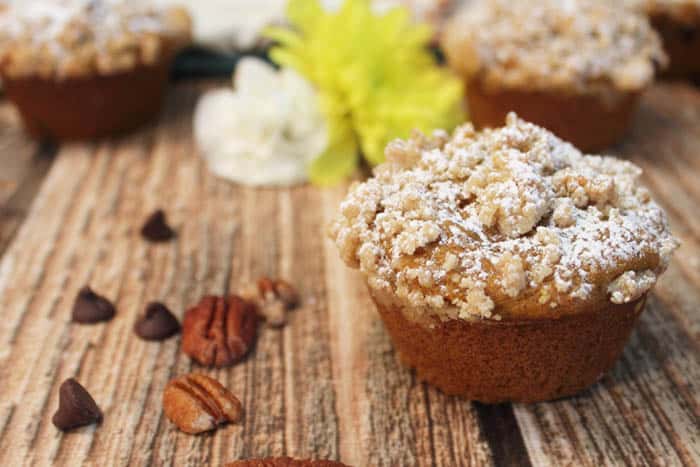 These chocolate chip pumpkin muffins are really moist, delicious and just a tiny bit healthier than the normal pumpkin muffin. I took out a lot of the sugar, subbed in unsweetened applesauce for the oil and avoided too much of the over-processed white flour by subbing in some wheat flour. Add in a little low-fat yogurt for a protein boost, nuts for a healthy fat, pumpkin for its antioxidant properties and you have a breakfast you can feed your family and feel pretty good about it.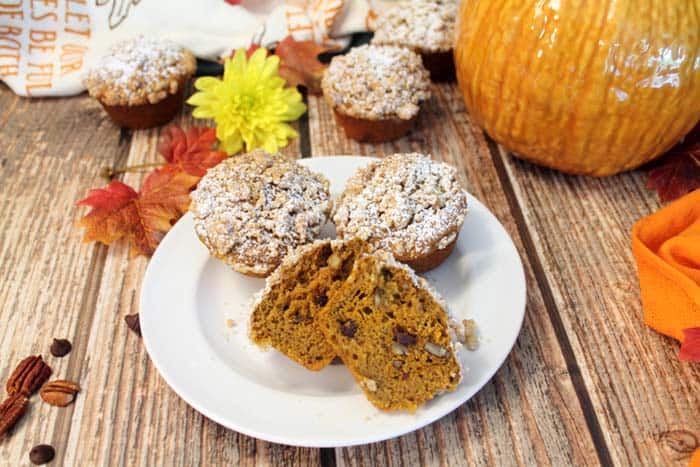 Of course I did go a little overboard with the crumbs but it's hard to give up my crumb fixation. Ever since I was little, my Dad and I would go to Dugan's Bakery in town and pick up the best crumb buns. Those crumb buns had a top of crumbs that seemed like they were a mile high. And all covered in powdered sugar too! Oh, my mouth is so watering! When we arrived home, my sister and I would take out the crumb buns and go for the big crumbs that were left in the bottom of the bag. Ah, sweet memories!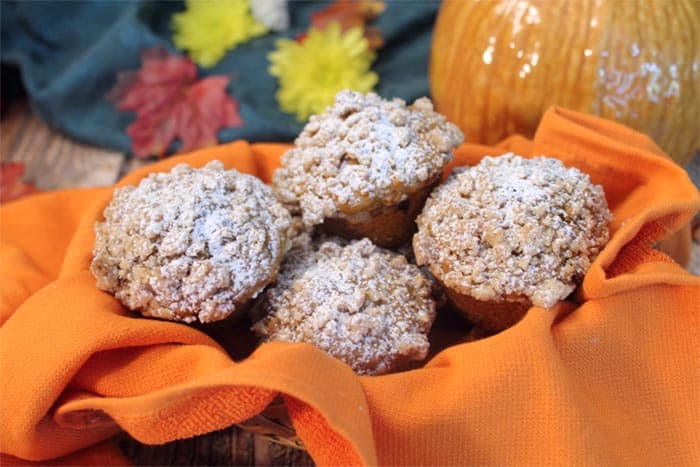 I believe these muffins will help me get over the disappointment of no crumb buns. Try them for yourself and see if you agree. They make a perfect afternoon snack too. Hope you enjoy!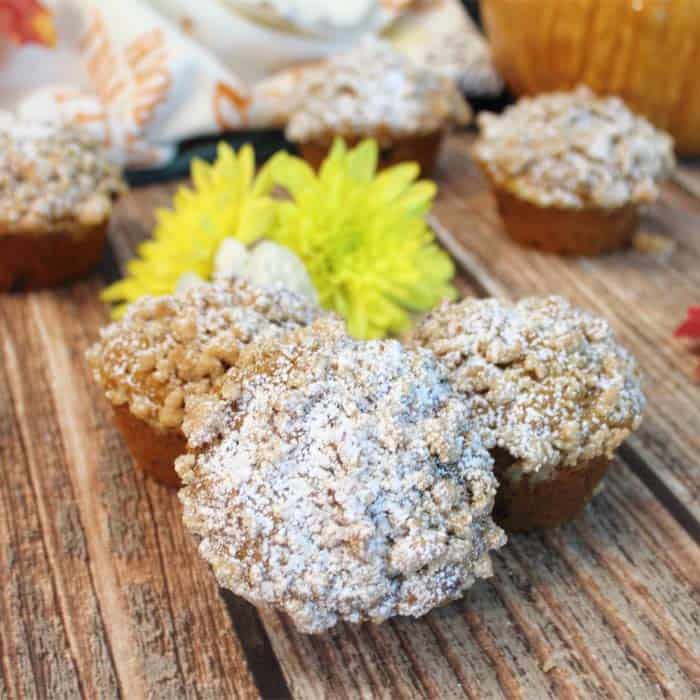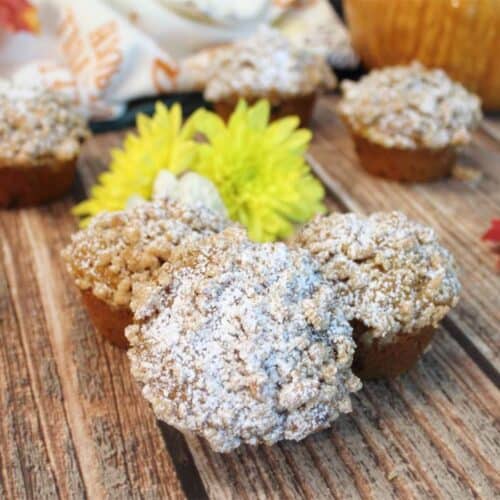 CHOCOLATE CHIP PUMPKIN MUFFINS WITH STREUSEL TOPPING
Nothing says fall like these muffins! They are moist, delicious and full of pumpkin flavor with loads of crumbs sprinkled on top. They are even a bit healthier than the norm with less sugar and less oil.
Ingredients
Muffins
2

eggs

1/2

cup

plain Greek yogurt

1-1/2

cups

pumpkin puree

1/2

cup

light brown sugar, packed firmly

1/4

cup

sugar

1/2

cup

unsweetened applesauce or 1/2 cup butter, melted

1

cup

wheat flour

1-1/4

cup

unbleached flour

1

Tablespoon

baking powder

1/2

teaspoon

baking soda

1/2

teaspoon

salt

4

teaspoons

cinnamon

1

teaspoons

ginger

1

teaspoon

nutmeg

1/2

teaspoon

ground cloves

3/4

cup

dark chocolate chips

1/2

cup

pecans

(optional)
Crumbs (double if love crumbs)
3/4

cup

flour

1/4

cup

brown sugar

3/8

teaspoon

cinnamon

1/4

cup

butter

melted
Directions
Preheat oven to 375 degrees. Spray muffins tins with a nonstick spray.

In large bowl, whisk together eggs, yogurt, pumpkin, sugars and butter.

In medium bowl, combine flours, baking powder, baking soda, salt and spices. Mix into dry ingredients in small increments until fully incorporated. Fold in chocolate chips and nuts, if desired.

For crumb topping, using a fork, mix all ingredients for topping together in small bowl until it resembles coarse crumbs.

Fill each muffin cup almost full. Sprinkle with crumb topping.

Bake for 20-25 minutes or until toothpick inserted in center comes out clean. Remove from oven and let cool on wire racks for 10 minutes then lift out of pan carefully. Return to wire racks to cool completely.
Recipe Notes
Note: The best muffins tins on the market today are non-stick and work extremely well. I love using this Wilton Non-Stick 12-cup Muffin Pan and it's a great money saver as it eliminates the need for paper cup inserts.
DON'T MISS A RECIPE!