Start your day off with healthy high protein pancakes. They are packed full of protein, calcium, useful carbs & only a little sugar. Make the dry mix ahead of time & add liquid ingredients when you're ready for a fast start in the morning.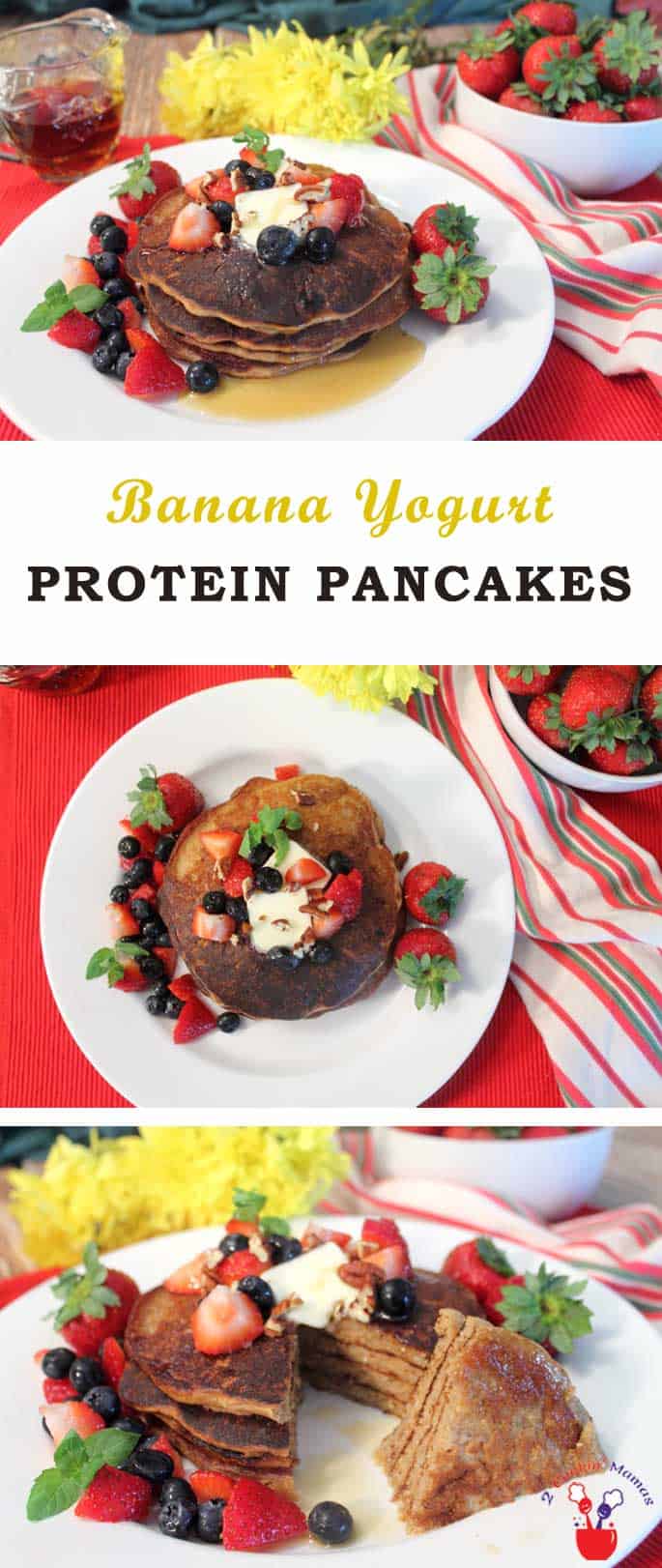 It's a new year with new goals and one of mine is keeping up my exercise regime while eating a more healthy diet. As my Mom always told me, breakfast is the most important meal of the day which still holds true today, hence these really tasty and healthy protein pancakes.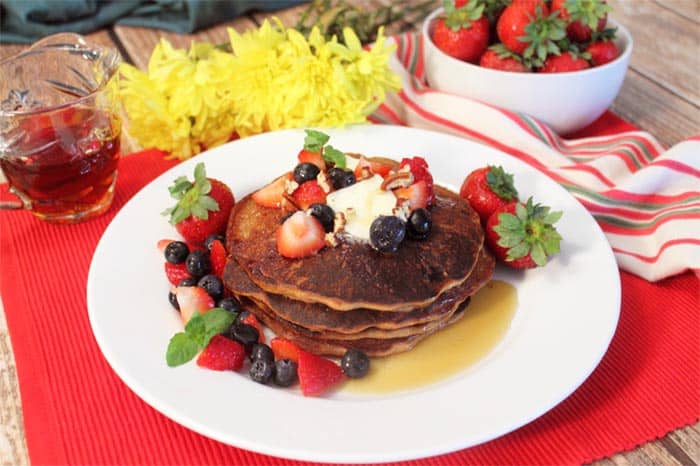 Who ever thought pancakes could be healthy! These happen to have plenty of protein (from the protein powder, egg & chia seeds), little sugar (and I opted for the purer palm sugar), calcium, some useful carbs (especially the flour derived from nuts) and a serving of fruit (2 if you add blueberries or other fruit on top).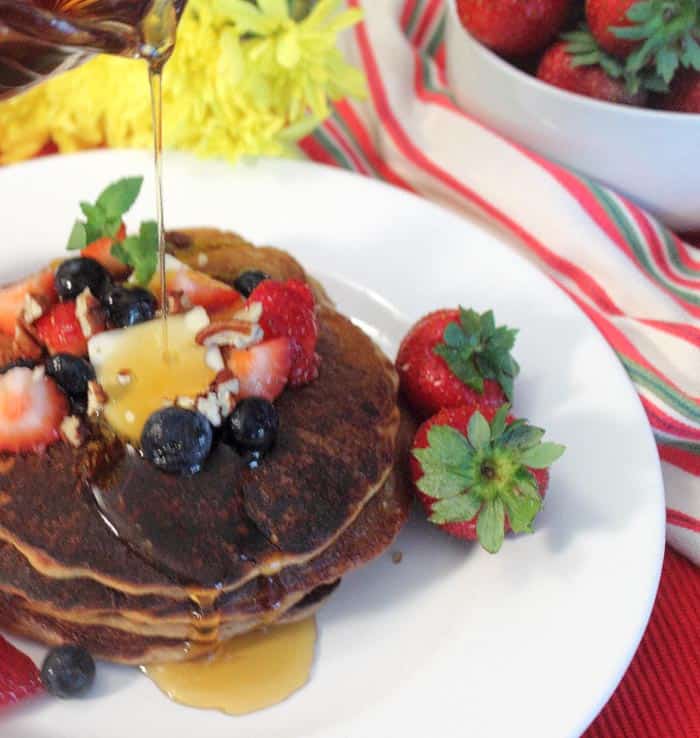 This recipe is really nice and convenient because you can mix all the dry ingredients ahead of time and just keep it in a sealed jar on the shelf until you are ready to mix in the wet ingredients. Makes for a quick breakfast when everyone is trying to get out of the house on time.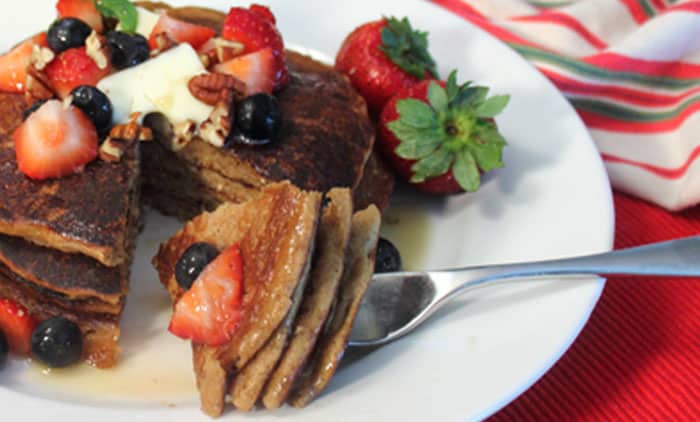 The true test came when my husband gave them a try. He is very picky about his pancakes and waffles so I felt super good when he gave them an enthusiastic thumbs up. He's also become a big fan of my Healthy Banana Pancakes and Quinoa Waffles. I think I'm on a roll!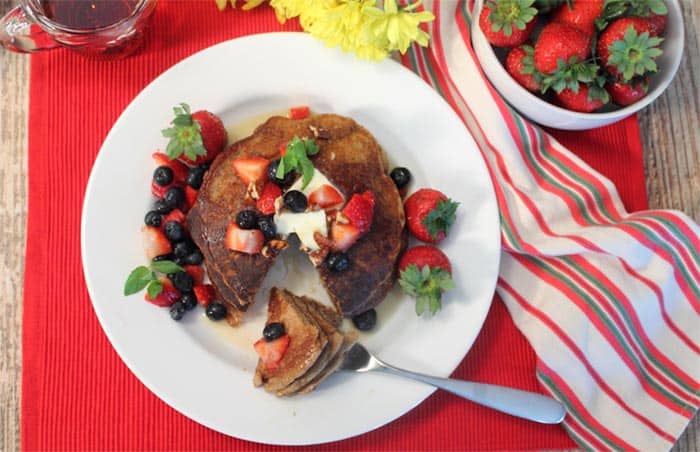 It's also fun to play around with different flavors to change up your pancake routine. Try using a chocolate protein powder and adding some chocolate chips or change up the flavor of the yogurt to one that would complement the banana and vanilla, kind of like a tropical pancake. Or maybe even add coconut. Just go crazy and make them something you enjoy eating because, after all, that's what will keep you eating healthy in the long run.
Enjoy!
Protein Pancakes
Ingredients:
Dry Ingredients
3/4 cup whole wheat flour (or gluten-free flour)
1/2 cup almond flour
1 scoop vanilla whey protein powder
2 Tablespoons palm sugar
1-1/2 teaspoons baking powder
1/2 teaspoon baking soda
1 teaspoon cinnamon
1/4 teaspoon salt
1 Tablespoon chia seeds
Wet Ingredients
1 cup almond milk
1/2 cup Greek vanilla yogurt
1 egg
2 Tablespoons vegetable or coconut oil
2 teaspoons vanilla
1 ripe banana, mashed
Directions:
Combine all dry ingredients in large bowl. At this point you can store the mixture in the pantry until you are ready to use.
When ready to make pancakes, mix all wet ingredients and banana together. Add to dry mixture and stir well to combine.
Heat griddle pan on medium heat. Coat with little butter or coconut oil. When drop of batter dropped onto pan sizzles and begins to cook immediately it is hot enough to start the pancakes.
Pour a little at a time on the hot griddle until you have the size pancake you want. Smaller pancakes are easier to turn and cook slightly faster. Wait until you see bubbles across the entire top surface before flipping. Cook until bottom is brown, usually about 2 minutes.
Remove to plate and serve with butter, maple syrup or fresh fruit such as blueberries, strawberries or raspberries.
Makes about 16 pancakes depending on size.

These pancakes (4) served with 1 cup of berries give you of 12g protein and 2 servings of fruit. A really complete breakfast meal.
FOLLOW US & DON'T MISS A RECIPE!