Spinach has never tasted so good! Our Spinach Pie is sauteed with garlic, onions and nutmeg and combined with plenty of ricotta and Parmesan cheese then nestled into a crunchy quinoa crust. It's a cheesy gluten-free side dish that even your non gluten-free friends will love!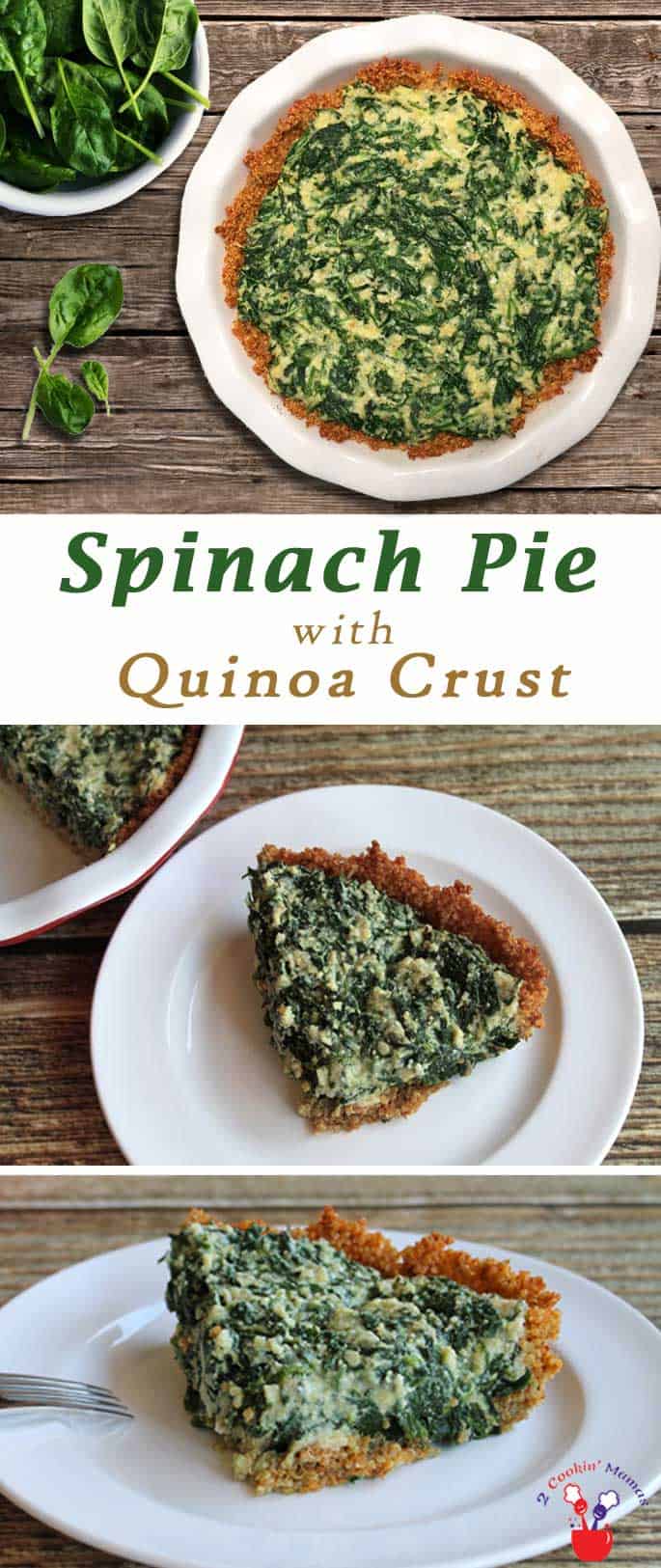 I began experimenting with some gluten-free vegetable dishes prior to Easter dinner so I would have a delicious side dish to bring to our friends for the big day. One of our friends has celiac disease and I wanted to make sure to help provide a dish she could enjoy.
Having the other Cookin' Mama, Christina, with the same problem, gluten-free recipes are always something that I am on the lookout for. After perusing the internet (what would we do without this wonderful tool) I found a quinoa crust I thought might be delicious with some minor changes in the spices. Add that to my old standby of spinach pie and I think we have a winner.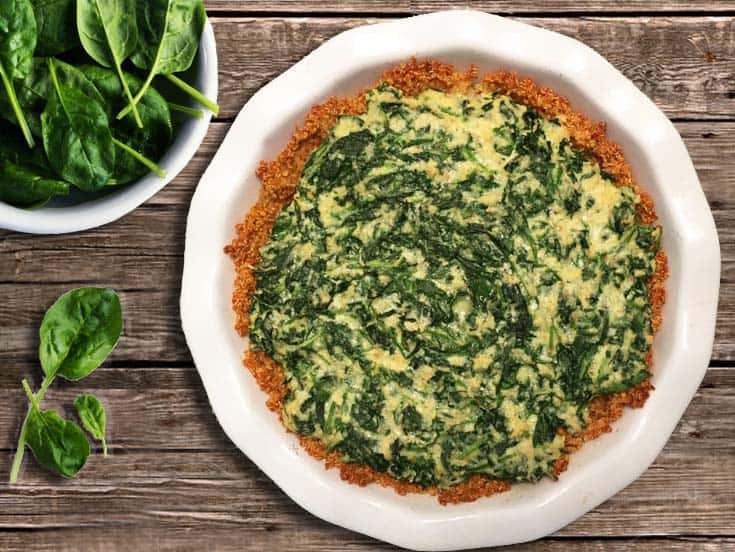 The quinoa crust is so easy to make, comes out nice and crunchy, and even better, holds its shape very well. Just look at that beautiful crust! I am definitely using this same crust for the next quiche I make! And quinoa is so good for you – none of those high fats and non-nutritious white flours to destroy your good intentions. Take a look at all its terrific properties here.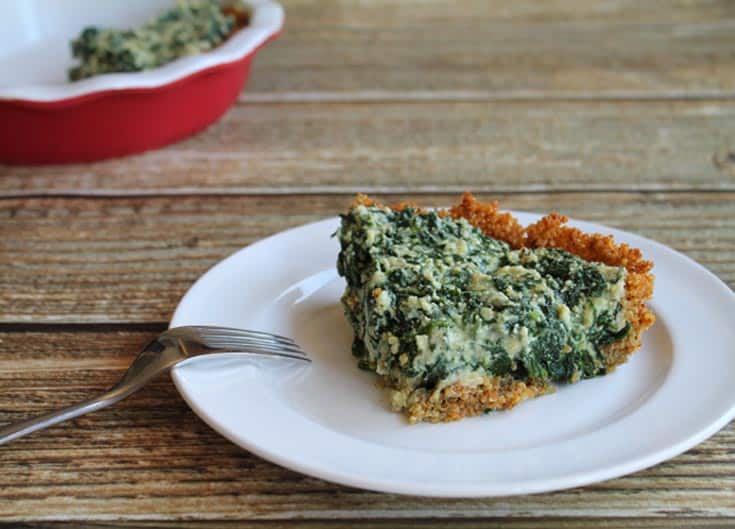 The spinach pie has ricotta cheese to make it moist, Pecorino Romano for a little bite, and fresh spinach that is only slightly wilted to provide plenty of vitamins and minerals to the meal. My husband tried it the other night and gave it a thumbs up. Yay!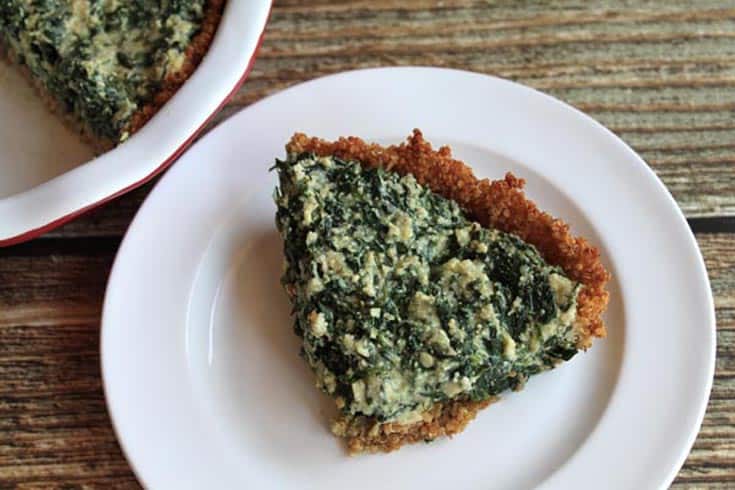 So enjoy this delicious pie that will go with just about any meal – Pina Colada Grilled Pork Chops, Italian Salmon Skewers, London Broil and Chicken with Avocado Salsa. Or make it a meal by itself for a nutritious meatless dinner!
Have a safe and happy Easter! Enjoy!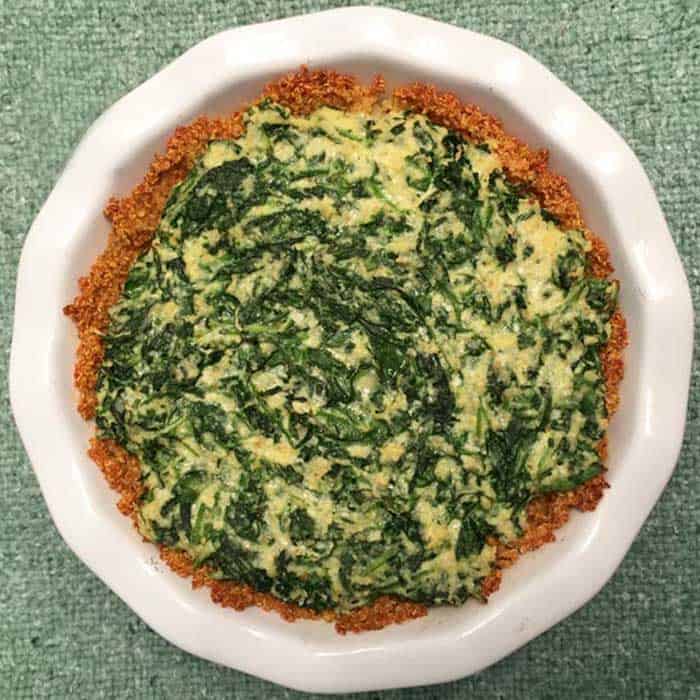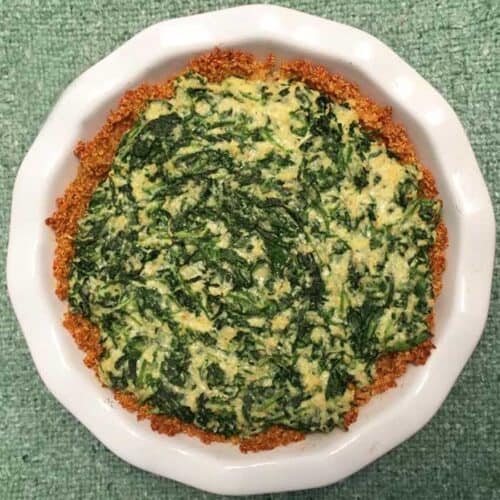 SPINACH PIE with QUINOA CRUST
A delicious gluten-free cheesy spinach pie that even your non gluten-free friends will love! It's a healthy side dish set into a tasty, crunchy quinoa crust.
Ingredients
Crust
1

cup

Earthly Choice quinoa

1

teaspoon

salt

3/4

teaspoon

chili powder

1/4

teaspoon

smoked paprika

1

egg
Spinach Pie
2

Tablespoons

olive oil

1/4

cup

onions,

chopped

1-2

cloves

garlic,

chopped

18-

oz

fresh spinach

Salt & pepper

to taste

2

eggs

8-

oz

ricotta cheese

3-

oz

Pecorino Romano,

grated (Parmesan can also be used)

2

Tablespoons

olive oil

3

Tablespoons

gluten-free breadcrumbs

Pinch of nutmeg
Directions
Preheat oven to 375 degrees. Spray a deep dish pie plate with nonstick spray.

In a medium saucepan, place 2 cups water, salt and seasonings. Bring to a boil. Add 1 cup quinoa and cook, covered for 15 minutes. Remove from heat and let cool at least 15 minutes. You can also cook the quinoa the day before and have it ready to go.

Add 1 egg to quinoa, stir, then press into bottom and up sides of pie plate. Place in oven and bake for 20 minutes. Let cool slightly

While crust is cooking prepare spinach mixture.

Heat olive oil in large skillet over medium-high heat. Add onions and garlic and sauté for 3-5 minutes. Remove half of onion garlic mixture and set aside.

Turn heat down to medium and place half the spinach in skillet with onion and garlic mixture, season with salt & pepper. Sprinkle 2 tablespoons water over spinach. Let spinach steam, stirring often, until it wilts, about 3-5 minutes. Place spinach in colander to drain and cool.

Place remaining onion-garlic mixture back into skillet with remaining half of spinach. Sprinkle 2 tablespoons water over spinach and steam until wilted. Add to colander. Let cool slightly.

%https://2cookinmamas.com/wp-content/uploads/2017/03/Quinoa-Crust-and-Spinach.jpg

Lower temperature of oven to 350 degrees.

Take cooled spinach and squeeze out excess moisture. Place on cutting board and chop. Place in medium bowl and mix with remaining ingredients. Pour into quinoa pie shell.

Bake in oven for 30 minutes. Let rest 5 minutes before cutting.
Recipe Notes
Cook time includes cooking the quinoa. Cooking ahead of time and storing in refrigerator can cut 15 minutes from dinner prep.
DON'T MISS A RECIPE!