Learn the tips and important how-tos to make the best Grilled London Broil every time! The secret is marinating, correct grill temperature, and allowing the meat to rest for a few minutes. This tender, grilled steak is great for family barbecues and delicious enough for company.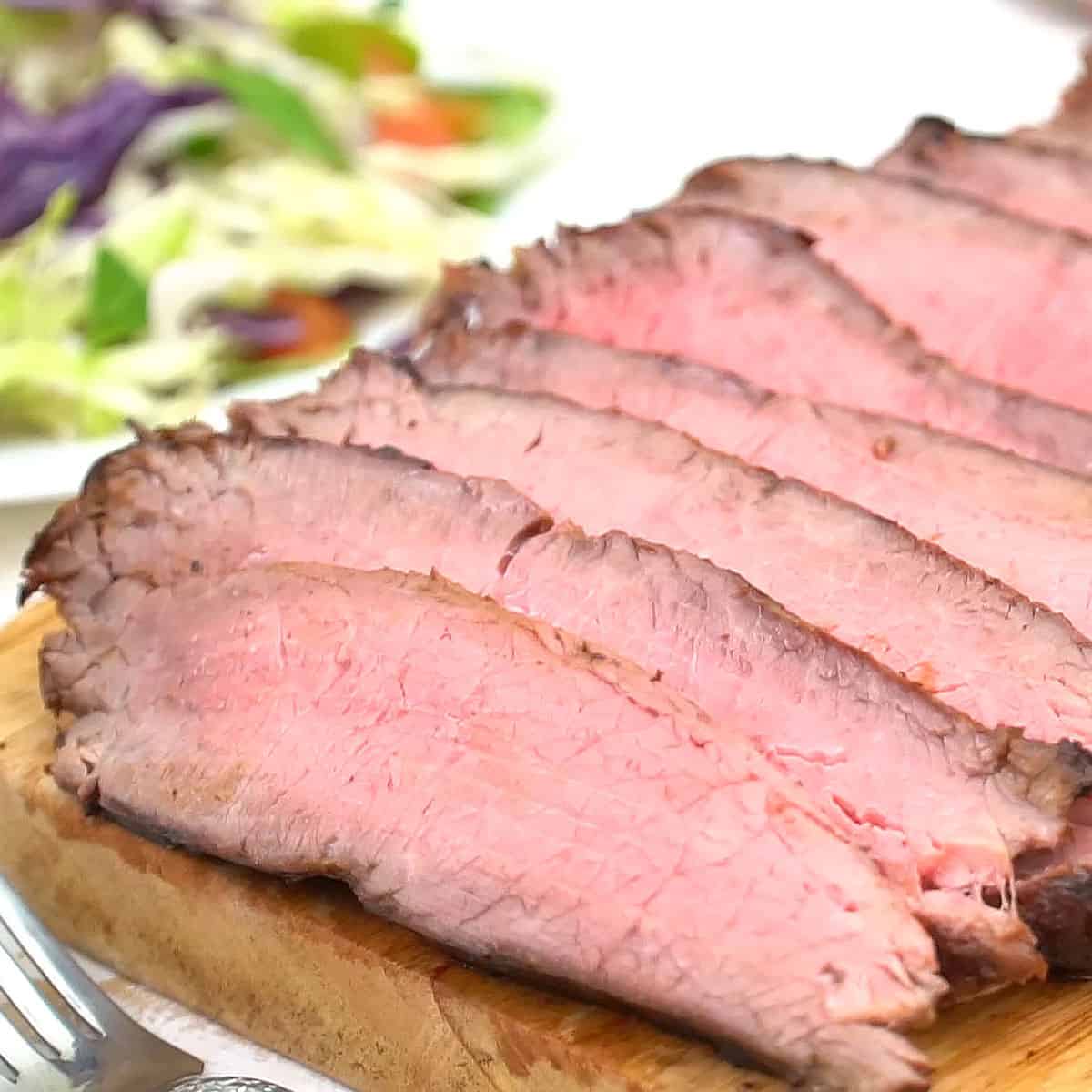 Our family loves London broil! And the only secret to a great-tasting London Broil is the way the steak is marinated and cooked. In my opinion, grilling is the best way to achieve the tenderest, most juicy London Broil.
Suggested Cuts of Meat
I have always used flank steak whenever anyone is in the mood for one of my Grilled London Broil dinners. Now you may see other cuts of meat labeled London Broil in the meat case, such as top round steak or roast, but flank steak is the traditional cut used and the one I would recommend above all the others.
When a flank steak is prepared perfectly, it comes out so moist, tender, and flavorful that I can't imagine using any other cut of meat.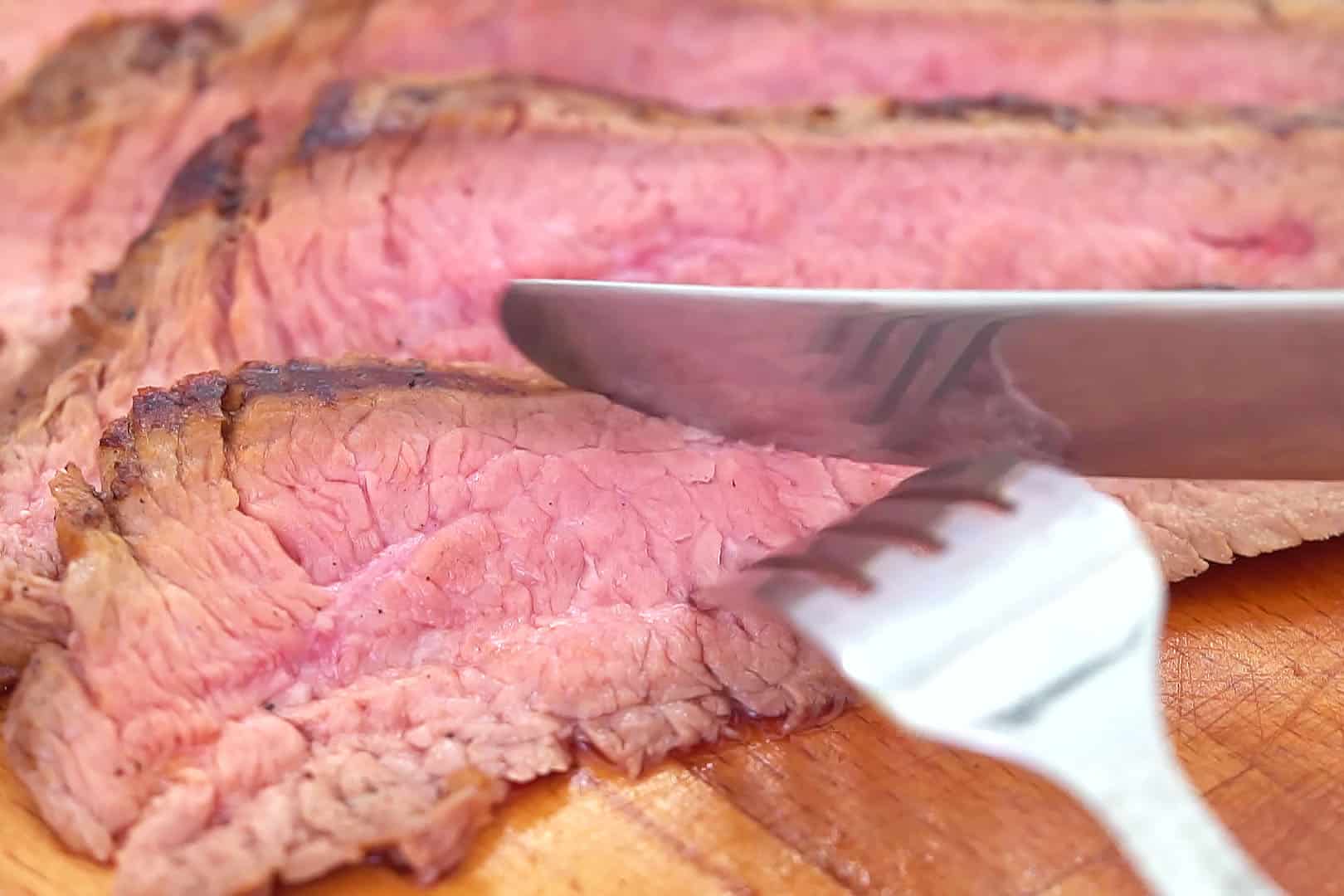 What is London Broil
Well, it is not any particular cut of beef but the way it is prepared. Technically, it is a grilled or broiled marinated piece of beef that is then cut across the grain in thin strips. And the funny thing is, the city of London doesn't even know what it is! Go figure!
Since I seem to be on a roll here, I might as well tell you exactly what a flank steak is too? (You're learning a lot today aren't you? :-))
Flank steak is a long, flat cut of beef from the abdominal muscles or butt of a cow. It is usually used in dishes such as this London broil, as an alternative to a chuck roast in our Ropa Vieja or in Chinese stir-frys such as Mongolian Beef.
I think it's best grilled but, as you can see, it can also be pan-fried, broiled or braised.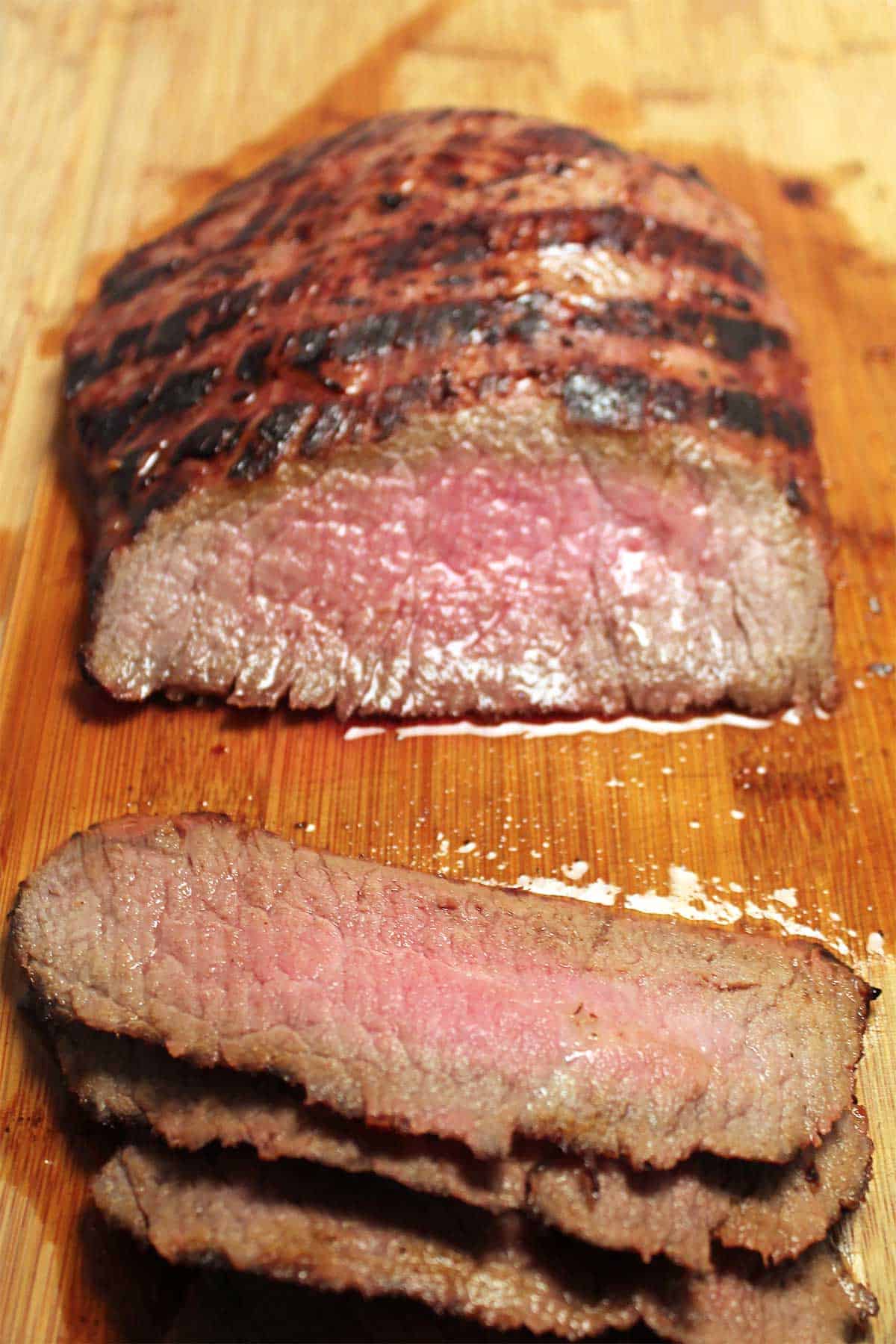 Best Marinades for London Broil
Marinating the beef prior to grilling is an important step to tenderize this tougher cut of meat. This step will ensure the best flavor and the most tender result. Try to marinate it overnight, if at all possible, to achieve the best results however, anything over four hours will suffice.
Quick & Easy Lover - Just use your favorite bottled Italian dressing
Savory Lover - Mix ¼ cup each of balsamic vinegar, soy sauce, and olive oil with 2 tablespoons Worcestershire, 2-3 teaspoons Italian seasoning, and 1 teaspoon minced garlic.
Sweet Lover - Add 2 tablespoons maple syrup, brown sugar or honey to the savory mix.
Herb Lover - Add more chopped herbs such as basil, oregano, thyme or rosemary to either bottled dressing or savory mix.
Garlic Lover - Add an extra clove of garlic to either the bottled Italian dressing or the savory mix.
Spice Lover - Sprinkle in a drop or two of sriracha, hot sauce or crushed red pepper flakes to the savory mix.
How to Grill London Broil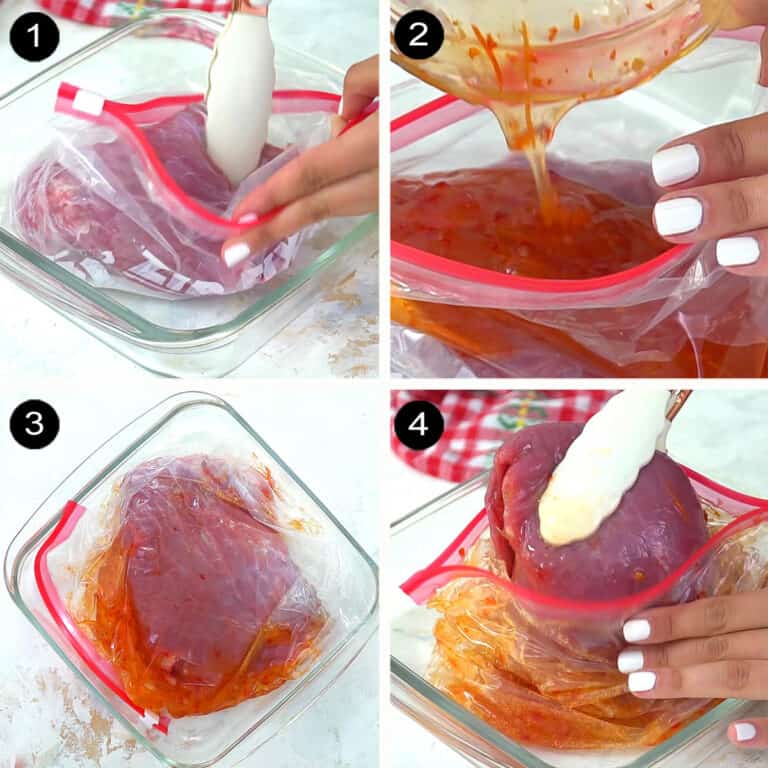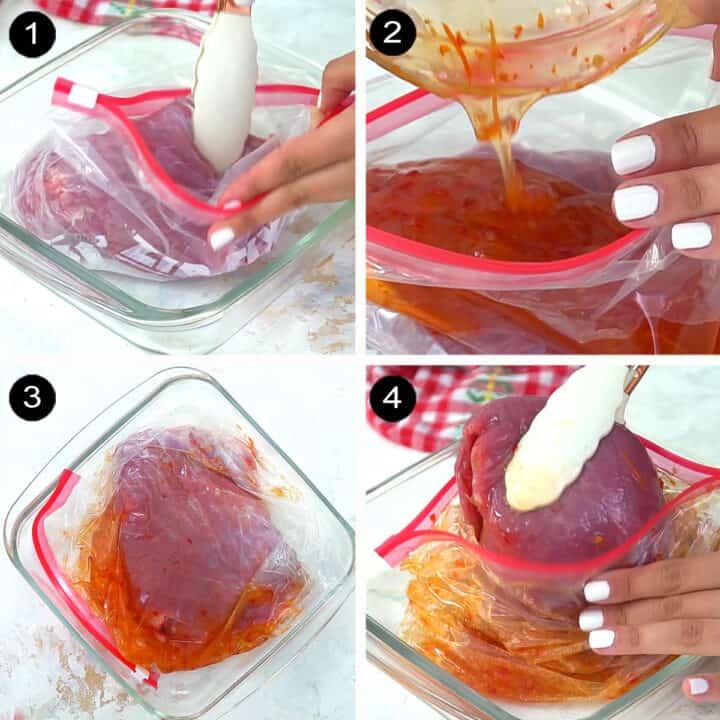 Place flank steak into a resealable gallon-size plastic bag. (photo 1)
Pour in Italian dressing or one of the marinades listed above. (photo 2)
Seal and place in refrigerator. For the best, most tender meat, let the beef marinate overnight. If time is short, marinate at least 4 hours. (photo 3)
Remove steak from marinade when ready to grill. Discard used marinade. (photo 4)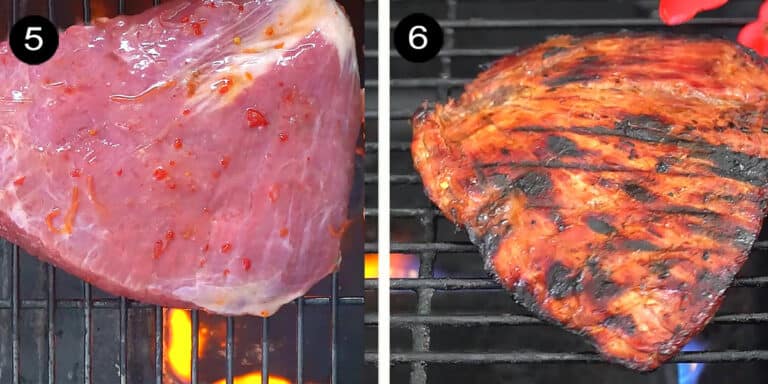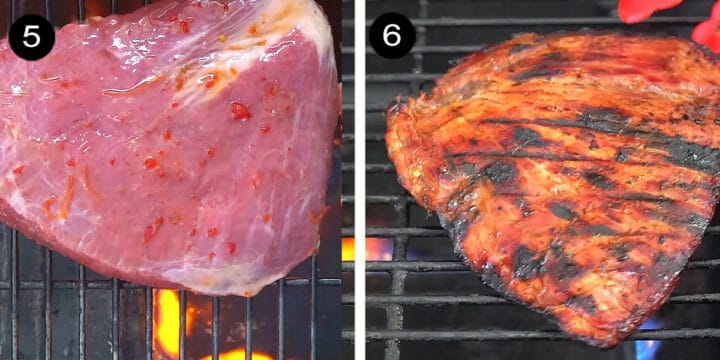 Preheat the grill to high heat. Place flank steak directly on grill and sear each side for a minute or two. Then allow to grill another 6 minutes per side. (photo 5)
Remove the London Broil from heat when internal temperature reaches 135 for medium-rare or until your desired doneness is achieved. Let rest 5-10 minutes before slicing. (photo 6)
Steak Temperatures
Grilling the steak to the correct temperature will also ensure the juiciest results. Try to stay away from medium-well to well done to avoid drying the meat out. Medium-rare is the suggested temperature for this recipe.
Use a digital meat thermometer for the most accurate internal temperature. Remove the steak from the grill when the temperature reaches 5 degrees less than the desired temperature. Let the steak rest on a cutting board for 5-10 minutes. The temperature will continue to rise until it reaches the appropriate temperature.
Rare: 125-130 degrees - cool, red center
Medium-rare: 135 degrees - warm red center
Medium: 145 - warm pink center
Medium-well: 150 degrees - slightly pink center
Well done: 160 degrees - no pink
How to Slice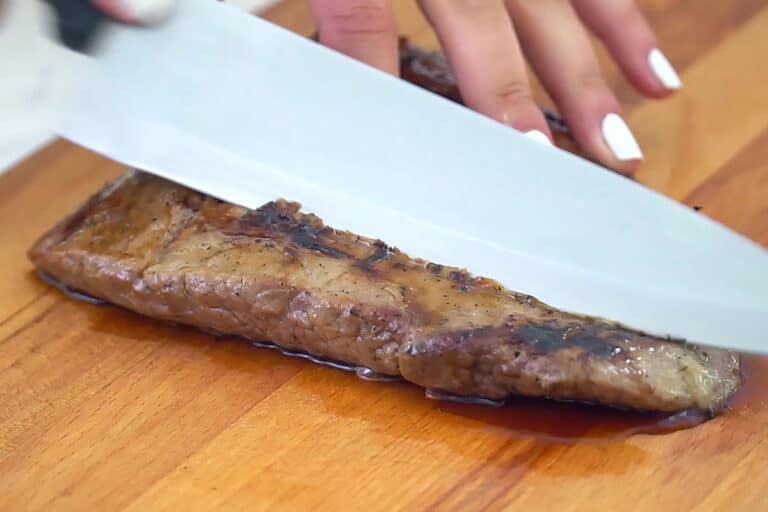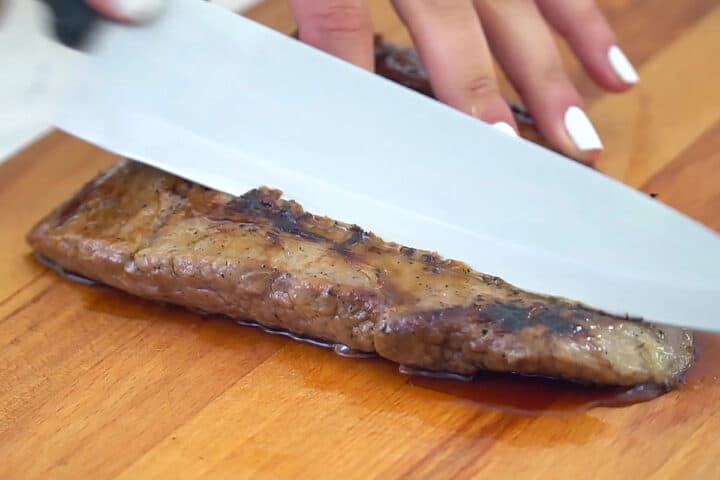 OK, choosing the right cut of meat is important but, just as important, is how you slice the meat in order to render it the most tender.
The first order of business is determining how the grain runs in the meat. You will see the fibers fairly clearly in a flank steak.
In this case, you can see them running the long length of the steak.
Place your knife across these fibers and at a 45-degree angle and cut ⅛" to ¼" thick slices. This shortens the fibers in each slice and makes the meat more tender and easier to chew.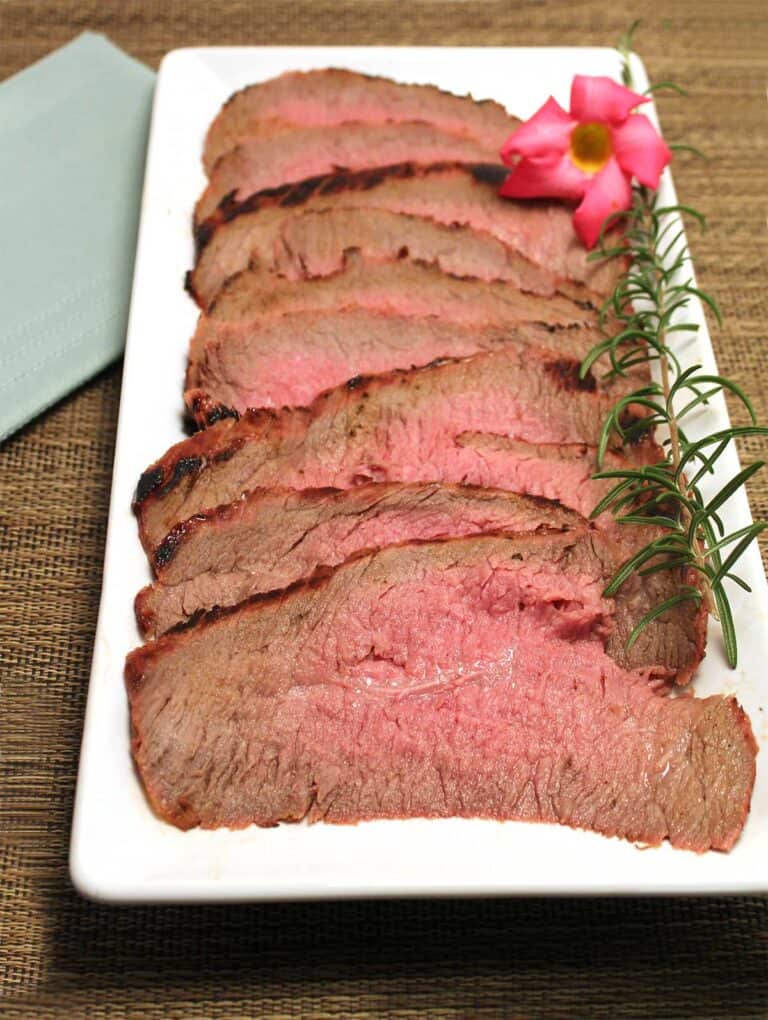 This is such an easy London Broil recipe that's perfect for a family dinner and delicious enough for a special occasion. And it always turns out awesome! Plus, if you marinate the steak the night before it's a quick and easy weeknight dinner too. And bonus, clean-up is a breeze! Enjoy!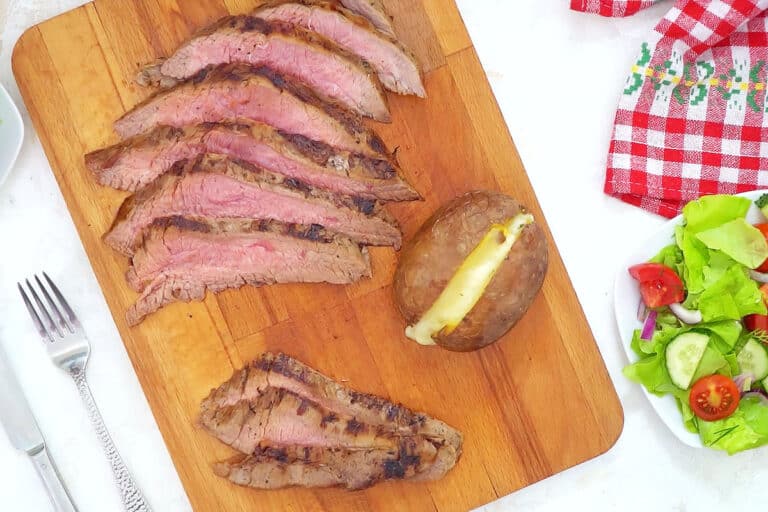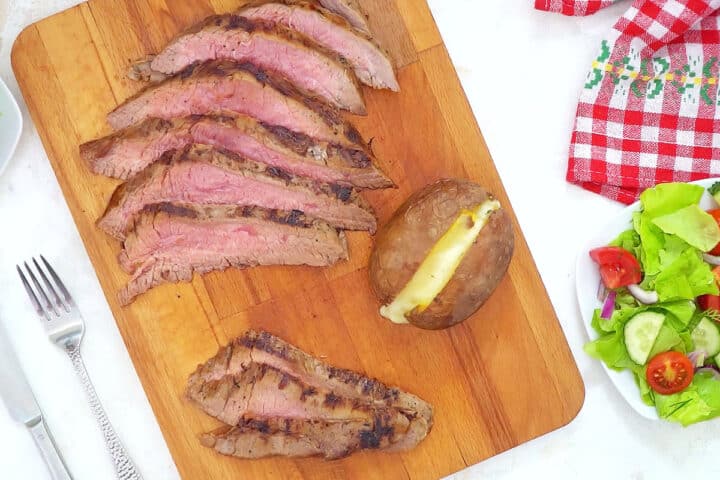 What to Serve with London Broil
The best meal is always a simple meal with just a few basic sides. I like to serve this steak with a baked sweet or white potato and a side salad such as a tossed salad or a cool Cucumber Mint Watermelon Salad.
When looking for a wine to pair with London Broil choose a bold red with low tannin levels to compliment this lean steak. Varietals such as a Pinot Noir, Sangiovese, Tempranillo, or Spanish Rioja work well. If you are not a red wine lover, an oaky Chardonnay would work quite well.
More Grilled Meat Recipes
Grilled Filet Mignon with herb butter.
Grilled Lamb Chops flavored with fresh basil and rosemary.
Steak Fajitas from The Anthony Kitchen
Grilled Pork Tenderloin with tomato corn salsa.
Find lots of grilling recipes here on 2CM!
LOVE QUICK & EASY RECIPES? FOLLOW ME ON INSTAGRAM, FACEBOOK, & PINTEREST FOR ALL THE LATEST RECIPE INSPIRATION! PLUS JOIN MY EMAIL LIST AND RECEIVE A FREE E-BOOK.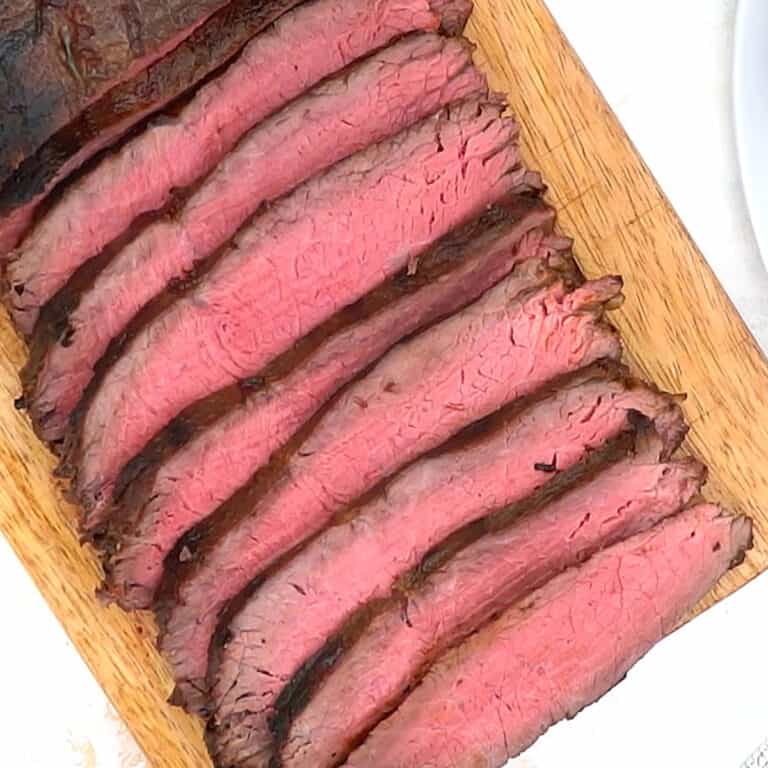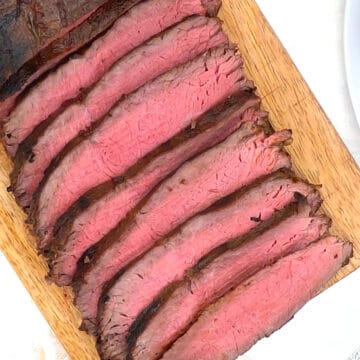 Best Grilled London Broil
Learn how to grill the best and most tender London Broil you have ever had! Just a few simple steps and tips will make your next BBQ a huge success!
Print
Rate
Ingredients
2-3

lbs.

flank steak

8

oz

bottle of your favorite Italian dressing
Instructions
Place steak in a large gallon-sized resealable bag. Pour enough Italian dressing in the bag to cover steak. Seal and place in rectangular baking dish. Place in refrigerator and marinate at least 4 hours but it is best if left overnight. Turn occasionally.

When ready to grill the meat, preheat the grill to high.

Sear well on each side, about 1-2 minutes, then cook until desired doneness, a total of about 6 minutes per side for rare and 7 minutes per side for medium-rare (perfect in my opinion).

Remove to cutting board and let rest 5 minutes before cutting.

When carving, cut thin diagonal slices across the grain.
Notes
HOW TO SLICE
Determine how the grain runs in the meat. You will see the fibers fairly clearly in a flank steak running the length of the steak.
Place your knife across these fibers and at a 45-degree angle and cut ⅛" to ¼" thick slices. This shortens the fibers in each slice and makes the meat more tender, maximizing tenderness, and making it easier to chew.
Nutrition
Calories:
344
kcal
|
Carbohydrates:
1
g
|
Protein:
48
g
|
Fat:
14
g
|
Saturated Fat:
5
g
|
Cholesterol:
136
mg
|
Sodium:
260
mg
|
Potassium:
785
mg
|
Sugar:
1
g
|
Calcium:
48
mg
|
Iron:
3.5
mg
This post has been updated with a video, new photos and more tips and how-tos. It was first published on August 28, 2015.