Turn up the heat, on your grill that is! These delicious salmon skewers are like a complete meal on a stick. Healthy, quick & with little to no cleanup.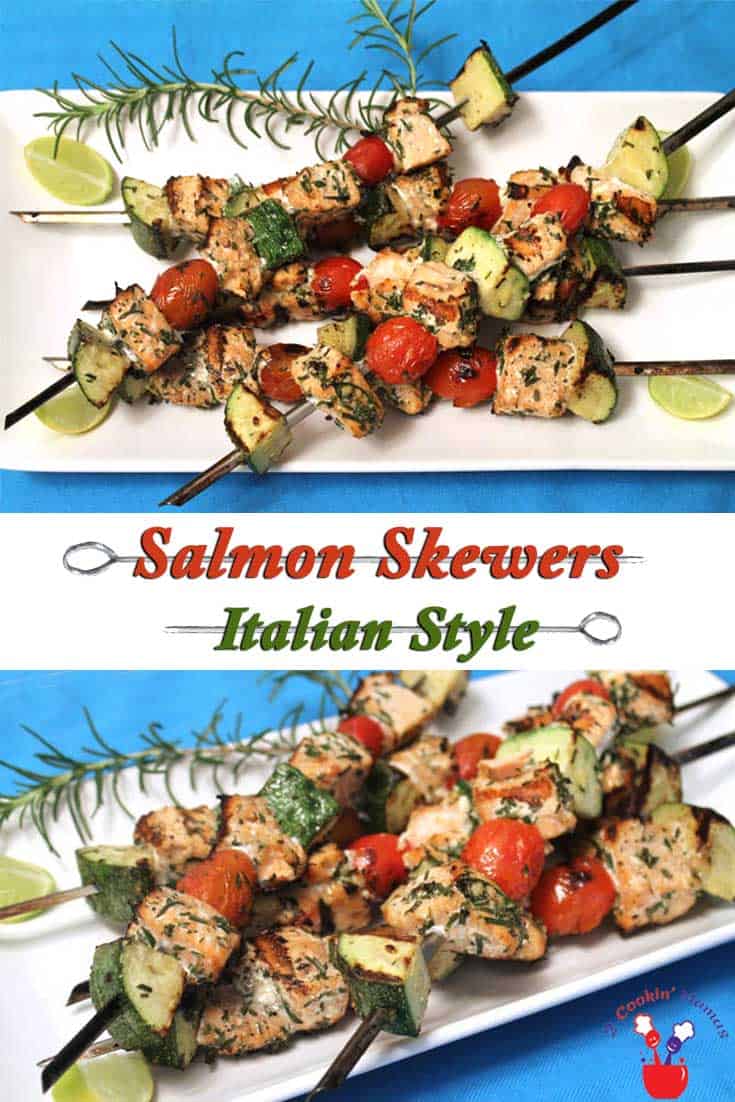 Tonight was one of those nights when I couldn't figure out what to make for dinner. We had already had chicken, lamb and shrimp this week, and I was planning hamburgers for tomorrow night, so beef was out of the question, so what should I have? I also had some garlic rolls frozen from our favorite Italian restaurant and all I had to do was think of something that would complement them.
Bingo! I know just what I'll fix – SALMON! Salmon is always on hand at our house, not only because it is so good for you but it is so versatile too. You can grill it, bake it, pan fry it or give it a Mexican, Asian, Italian, Caribbean or good ole American twist . I don't think we'll ever get tired of it!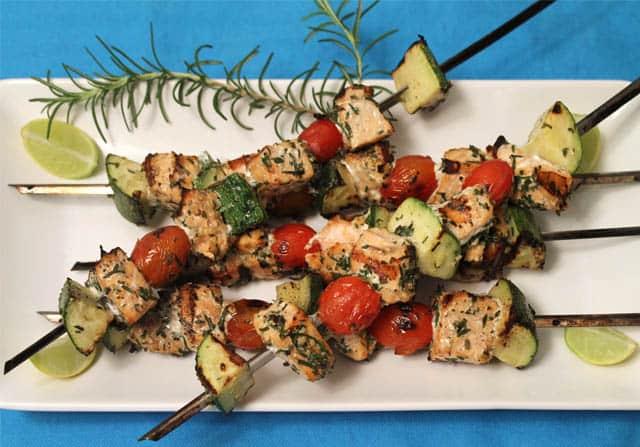 Tonight I decided to dress it up with some Italian spices, add some zucchini and tomatoes and put it on the grill for an easy dinner. And this is the perfect season to grill no matter where you live, right? Even my sister in Michigan is grilling now but then her husband cooks in the snow too. lol  All I know is that nothing tastes better than something off the grill. We do if often at our house because, here in Florida, it is grilling season all year long. Which is fine by us because it's such a healthy way to cook and it's awesome when your hubs does the majority of cooking. And you can't beat the clean up!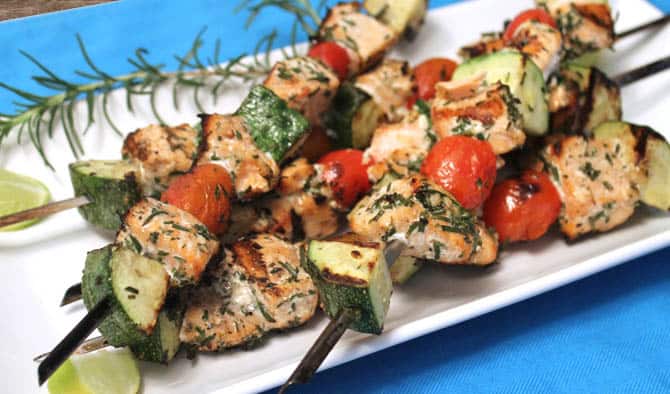 My hubby's verdict after dinner was a resounding "this was unbelievable, I'll grill this any time you want!". Score!
Hope you enjoy and have a great weekend!
Italian Salmon Skewers
Ingredients:
1 large salmon steak or 2 small 4-oz steaks, cut into 1″ cubes
3 Tablespoons light olive oil
1 teaspoon minced garlic
2 Tablespoons fresh thyme, minced
2 Tablespoons fresh rosemary, minced
salt & pepper to taste
cherry tomatoes (I used 10)
2/3 zucchini, cut into 1″ pieces then quartered
1 lime, cut in quarters
Directions:
Preheat grill to medium heat. Spray with a nonstick cooking spray.
In a medium bowl, combine oil, garlic, thyme, rosemary, salt & pepper.
Place salmon, tomatoes and zucchini into oil-seasoning mixture and toss to coat.
Using metal skewers, or wooden skewers that have been soaked in water for 30 minutes, alternately thread zucchini, salmon and tomatoes onto skewers.
Place on preheated grill and cook 6 minutes, turning half way through. Squeeze lime over skewers or serve lime wedges on the side.
Serves 2.

What's your favorite way to fix salmon?
DON'T MISS A RECIPE!