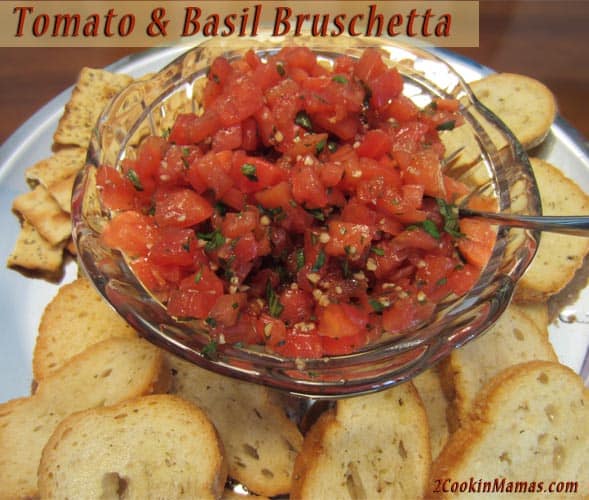 A deliciously fresh appetizer for year round but I especially love it during football season. It seems there are always wings, pizza and dips on the menu for any given game and this adds a nice healthy alternative to the mix. And it's quick and easy to make too!
Tomato and Basil Bruschetta
Ingredients:
6 or 7 ripe plum tomatoes (about 1 1/2 lbs), skins & seed removed
1 teaspoon minced garlic
1 Tablespoon extra virgin olive oil
1 teaspoon balsamic vinegar
8 fresh basil leaves, chopped
Salt and freshly ground black pepper to taste
Bread Chips (see recipe below) or Crispy Crackers (if gluten-free try Crunchmaster Multi-Grain Crackers Gluten Free available on Amazon.com)
Directions:
Prepare tomatoes: Bring a pot of water to boil. Remove from heat and drop tomatoes into hot water for 1 minute. Remove from water and, with sharp knife, peel skin off tomato. It should peel off very easily. Once the tomatoes are peeled, cut them in quarters and remove the seeds and  juice from their centers.
In medium bowl, finely chop tomatoes and mix with garlic, olive oil and vinegar. Add the chopped basil and salt and pepper to taste.
Chill prior to serving.
Crispy Bread Chips
Ingredients:
1 loaf french bread
1/4 cup light olive oil
1 teaspoon Italian Seasoning or 1/2 teaspoon garlic powder
Directions:
Preheat oven to 425 degrees.
Slice bread on the diagonal into 1/2″ thick slices. In a small bowl, combine olive oil and seasoning of your choice. Brush both sides of bread with oil mixture and lay in a single layer on cookie sheet. Bake in oven for 6-8 minutes turning halfway through cooking time. Set on wire rack to cool.
Makes approximately 16 bread chips.
To serve: Place bread chips on dish and drizzle some olive oil over the top of the chips right before serving. Place crackers on dish as an alternative to the bread. (I used the new Keebler Flat Bread Crisps) Set bruschetta mixture in center with a spoon so guests can place the bruschetta on the bread themselves (this way the bread will not get soggy).
Serves 6-8.
Wine Pairings: Choose a medium to strong bodied white wine such as Simi Chardonnay, Chateau Ste Jean Chardonnay or for a fruitier white, a Chenin Blanc. More into reds? Both a Chianti and Sangiovese will also compliment this appetizer.
DON'T MISS A RECIPE!