Super Bowl Sunday is just made for appetizers. And our simple but delicious cheesy Prosciutto Cups are the perfect addition to the lineup. It's a mix of cheese and your favorite spinach dip nestled in a crispy prosciutto cup. They're super easy to make ahead & pop in the oven for 15 minutes just as the football fans arrive.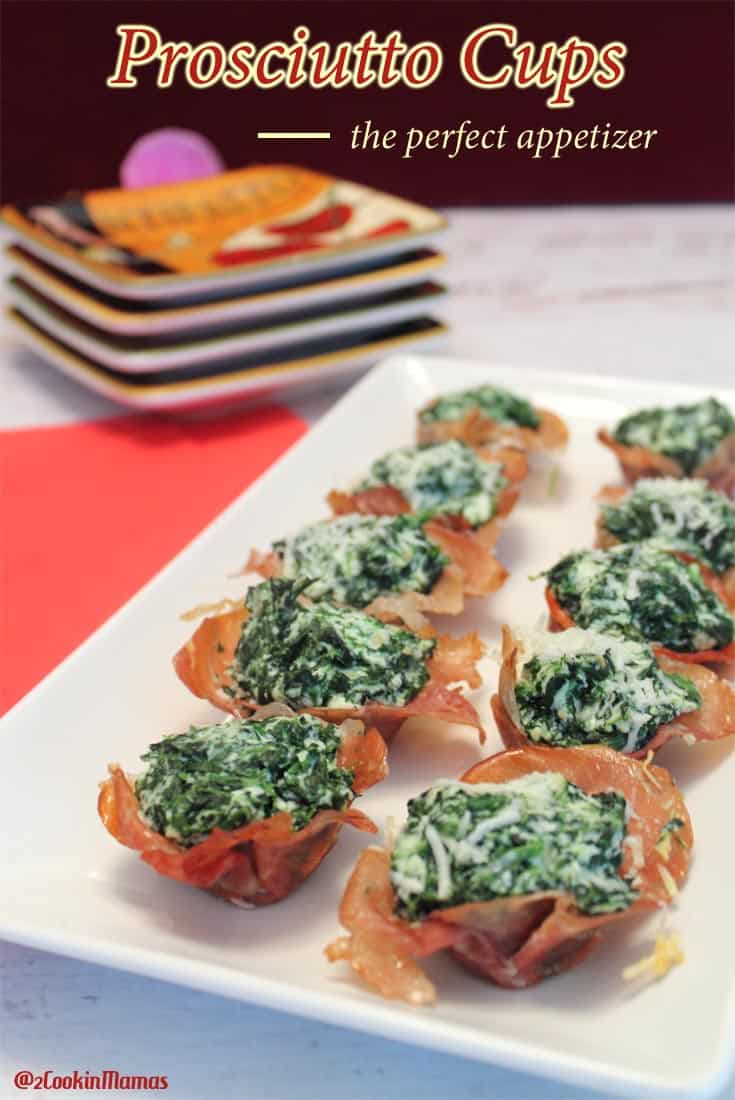 It's almost here! Super Bowl Sunday with all the excitement of the big game, the hype about new commercials and, of course, football munchies or appetizers to keep friends satisfied.
The best type of appetizers I've found to serve for the game are ones that are easy to just pick up and pop in your mouth like our cheesy Prosciutto Cups. I don't know about you but I've seen people throw their food across the room when an exciting play happens.
If they would have popped the appetizer into their mouth they would have had their hands free to wave and help the player make the play (you know that little sideways lean & hip swivel to get around the tackle :-)).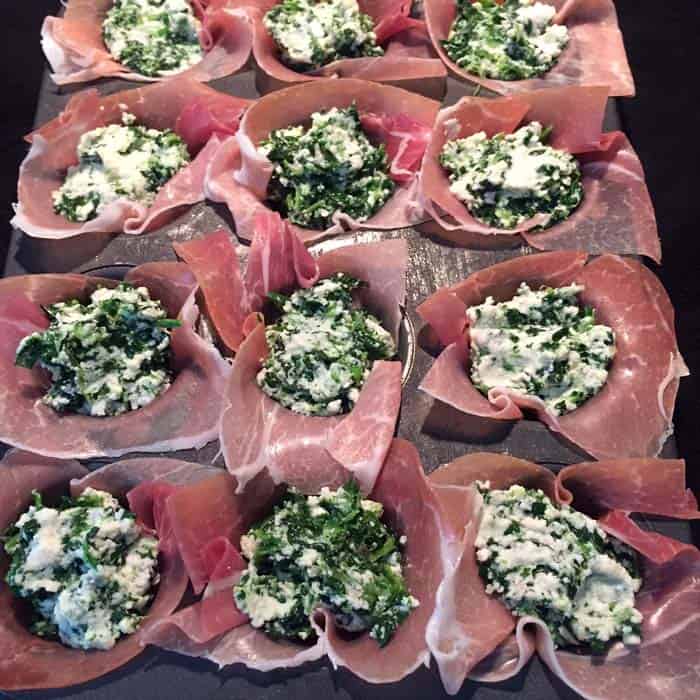 What is it you like best about Super Bowl Sunday? Are you a football fan or just an "I love a party" person? I don't think it matters which you are when it comes to the food. It has to be good, appetizing, and hopefully noteworthy enough to have even have the staunchest football fanatic pausing a moment to say "Wow, these are great!".
With that end in mind, I want to serve the tastiest and easy to fix (because I do like to watch the game) finger foods so everyone has a good time at the party, win or lose.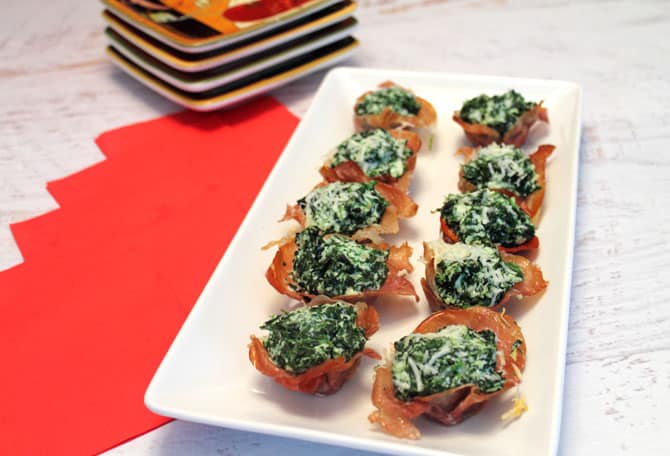 Just like these Prosciutto Cups! There are just 4 ingredients, well 5 if you top with more cheese, and they can easily be made ahead of time. Just mix up the filling the day before to save time on game day and put them together an hour or two prior to the party.
Just a warning, I would make sure to have an extra cupcake tin ready to go because these will get scarfed up as fast as you can say "touchdown"! Enjoy and may the best team win!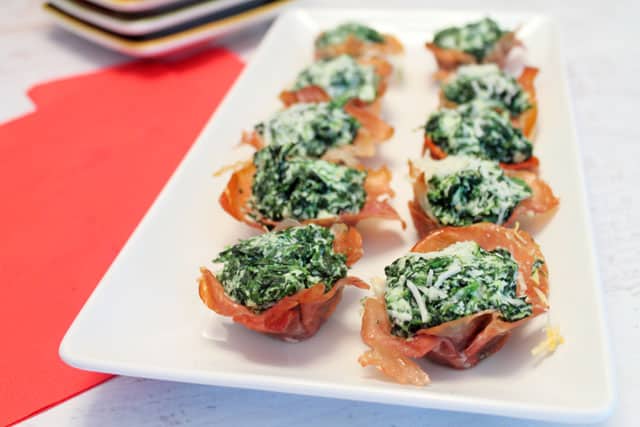 More Delicious Appetizers
Simple Beef Empanadas with chorizo for extra flavor.
Easy Tomato Bruschetta with garlic and fresh basil is an Italian classic everyone will love.
Caprese Empanadas are a perfect combination of Italian and Spanish flavor.
Bourbon Chicken Skewers with bacon and bourbon barbecue sauce.
Find even more easy appetizer recipes right here on 2CM!
Love quick & easy recipes? Follow me on Instagram, Facebook, Pinterest & Twitter for all the latest recipe inspiration! Plus join my email list here and receive a free e-book.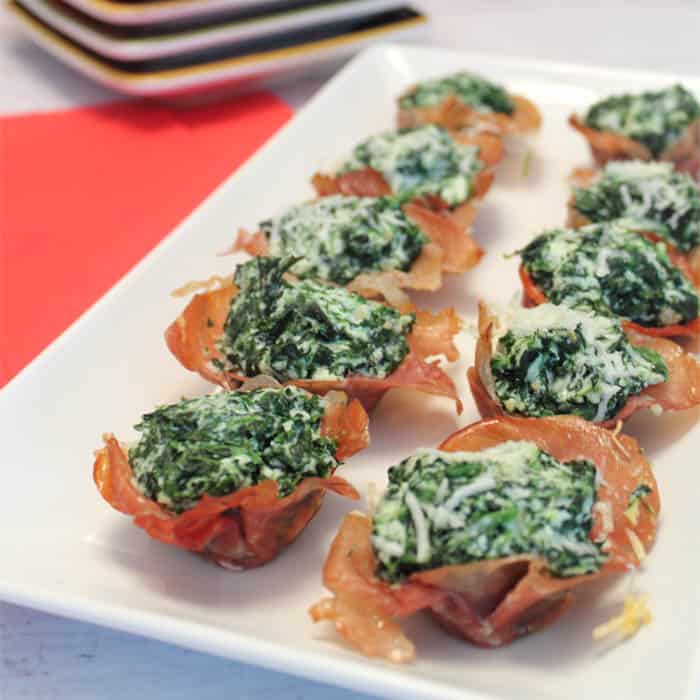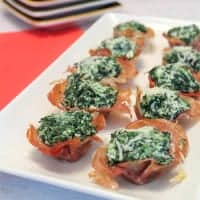 Ingredients
1

cup

ricotta cheese

1

pkg frozen spinach,

thawed and squeezed dry

1-½

teaspoons

minced garlic

6 

prosciutto slices,

thinly sliced & halved

Parmesan or Pecorino Romano cheese,

grated (optional)
Instructions
Preheat oven to 350 degrees. Spray a mini muffin pan with non-stick spray.

In a small bowl, mix ricotta cheese, spinach and garlic.

Place each piece of prosciutto in a muffin cup and push down so it makes a little cup. The edges will stick above the rim.

Fill each muffin cup with ricotta mixture, evenly distributing between the 12 cups. Sprinkle with grated Parmesan, if using.

Bake for 12-15 minutes or until prosciutto has browned and crisped up. Let cool for just a few minutes then remove from pan (they will hold their shape) and set on plate to serve.
Notes
Adapted slightly from allrecipes.
This post has been updated and was first published on February 5, 2016.