This easy, classic, creamy green bean casserole is a Thanksgiving favorite. It goes together in minutes using canned green beans, mushroom soup and loads of crunchy fried onions. Creamy, salty, crunchy deliciousness that pairs perfectly with turkey and all the fixins'. Of course, it's a tasty side dish for dinner any time of year too.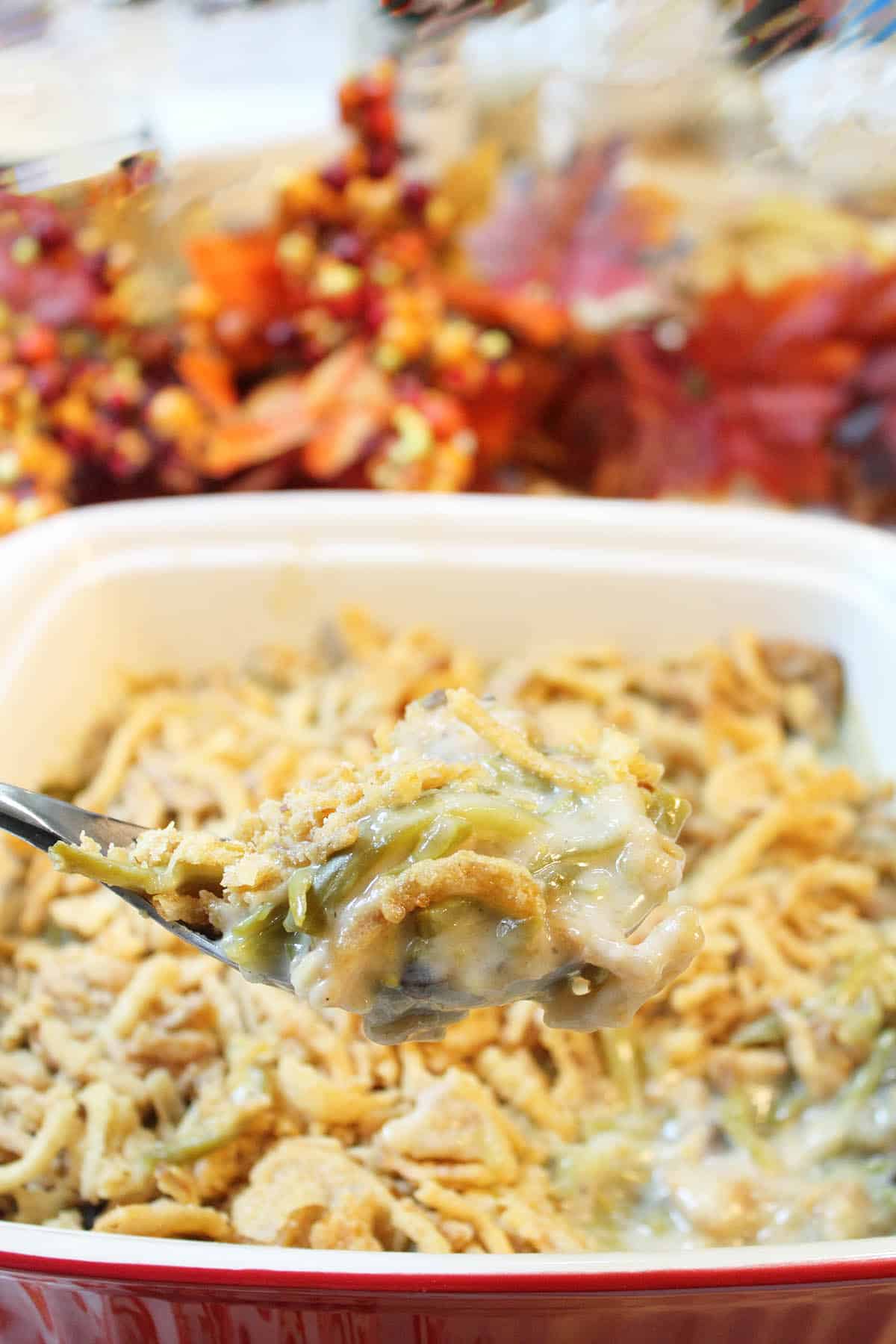 Thanksgiving wouldn't be complete without the classic green bean casserole. And now that we've got the roasted turkey, stuffing, mashed potatoes and my favorite sweet potato casserole out of the way, it's time for the vegetable dish to take center stage.
This creamy Green Bean Casserole is so easy to prepare and has been a tradition in our home for longer than I can remember. I don't think I could ever leave it off the Thanksgiving table or I would feel that something was missing.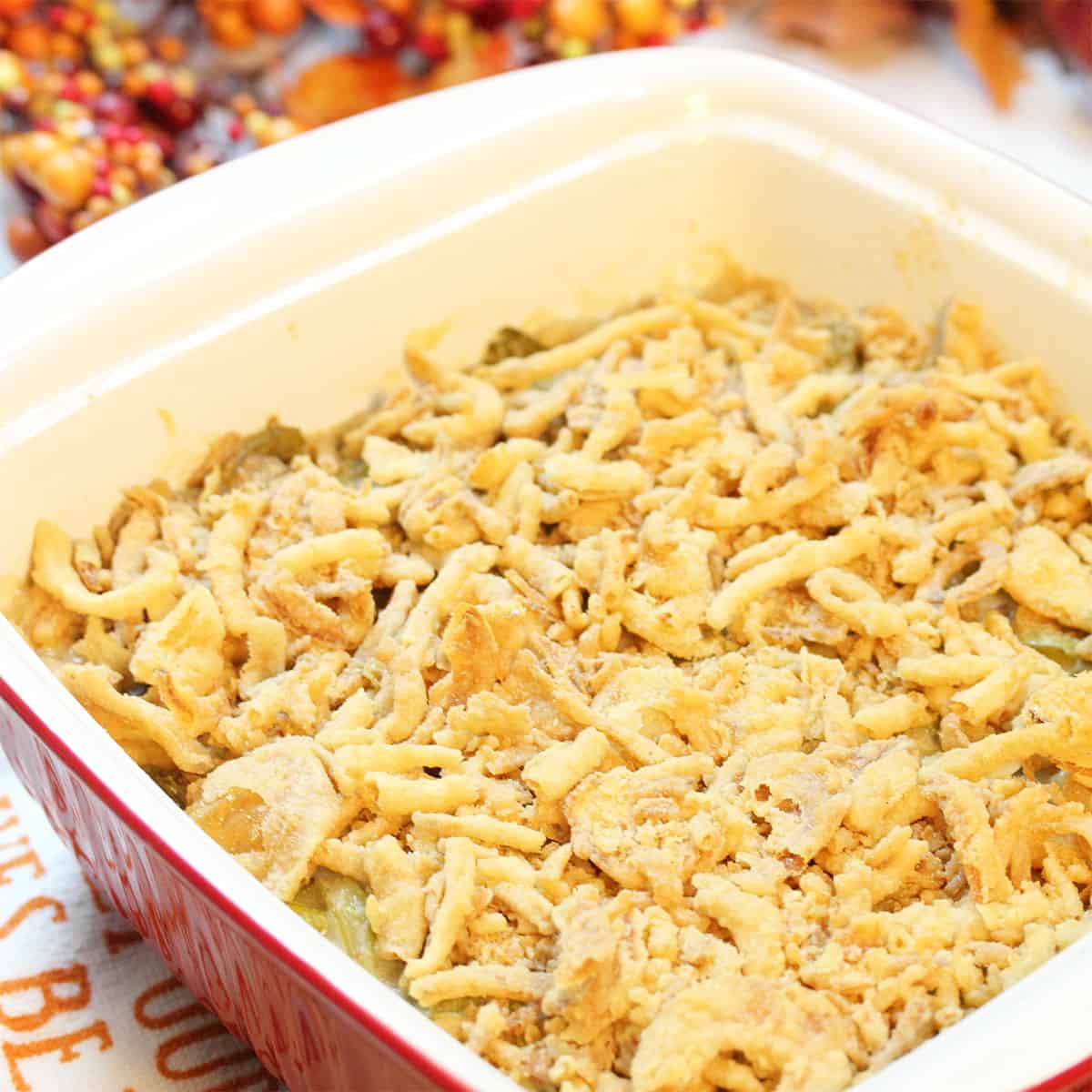 Yes, you can make this casserole from scratch with homemade soup and fried onions but, with all the other Thanksgiving dishes to get on the table. But making this simple casserole can take a lot of stress out of the preparation.
This classic version, using premade off-the-shelf ingredients, is easy and the taste is just as yummy as mama used to make.
Of course, there's always a way to make it your own, like using fresh green beans, changing up the soup flavor or using a new flavor of fried onions. Check out the variations I've shared below that are still easy but let's you put your own spin on this side dish.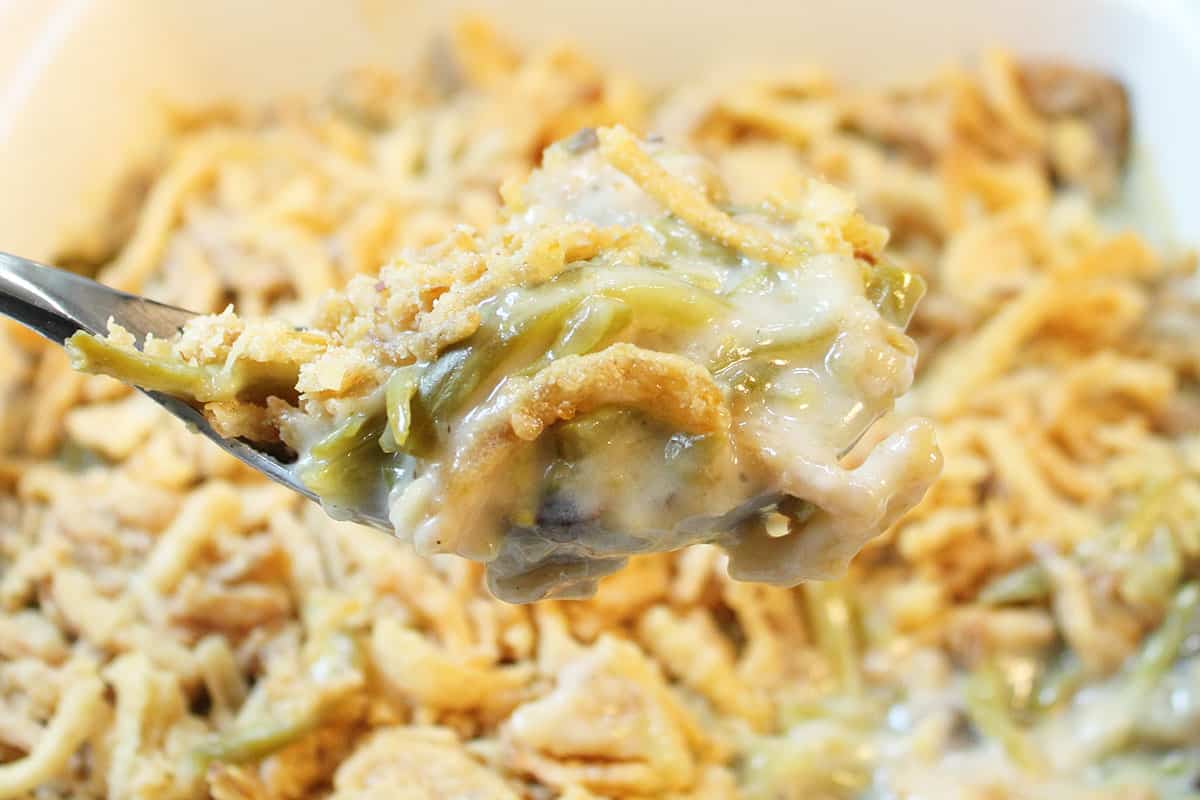 Green Bean Casserole Recipe Tips & Variations
Fresh Green Beans - Using fresh green beans is always an option. Just trim the beans, wash and place in a bowl with one tablespoon of water. Place in microwave, cover with paper towel, and cook 5-7 minutes to blanch. Drain and pat dry then add to casserole as you would canned green beans. By the way, the thinner french green beans work best. If using frozen, microwave just long enough to thaw, open package, drain and pat the beans dry.
Soup flavors - Tired of the same old, same old, mushroom soup? Try making it with cream of celery, cream of chicken, cream of potato or even cream of bacon.
Cheese lovers - Like cheesier casseroles? Just add 1 cup of cheddar cheese to the green bean mixture.
Flavored fried onions - Something I tried this year, change up the flavor of the fried onions. I used the new white cheddar version and it was awesome! They also have a jalapeno, red pepper and a caramelized onions versions too.
Meat lovers - If you're a meat lover, try adding a half cup of cooked crumbled bacon to the green bean mixture. Why? 'Cause everything's better with bacon!
Make it spicy - Add a dash of heat by flavoring the green bean mixture with a teaspoon or two of cajun seasoning or just add a touch to the top of the casserole by sprinkling it with some crushed red pepper or diced jalapenos.
Gluten-free version - use Sprouts or Aldi's Simply Nature gluten-free fried onions, a gluten-free mushroom soup or make your own sauce with directions in recipe notes.
Make ahead - Want to make ahead of time? Up to two days ahead, put the casserole together up to the baking stage, cover with plastic wrap and store in refrigerator. Take out about 30 minutes before cooking and bake as directed, adding the remaining fried onions on top when indicated.
How to Make Creamy Green Bean Casserole

Gather the four simple ingredients - canned green beans, either French style or cut, cream of mushroom soup, milk and fried onion. OK, and if you want to count it, some black pepper.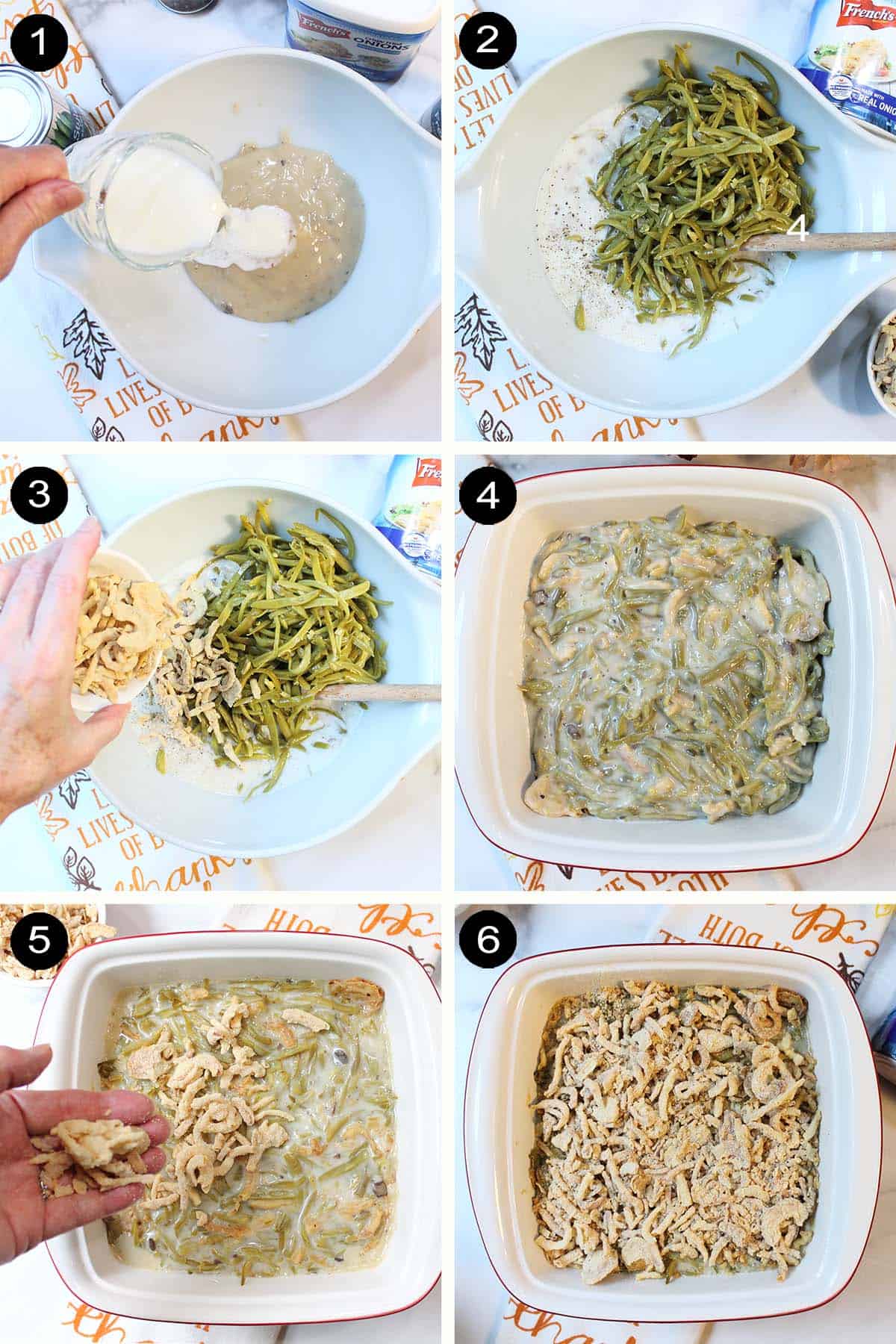 In a large bowl, combine mushroom soup with milk and stir. (photo 1)
Add green beans. (photo 2)
Sprinkle in fried onions and mix well. This is the point where you can add some cheese or bacon pieces for a punch of extra flavor. (photo 3)
Pour into casserole dish and bake. (photo 4)
After 30 minutes, remove from oven and top with another cup of fried onions. (photo 5)
Nothing is better than a crispy topped, creamy casserole! Serve hot. (photo 6)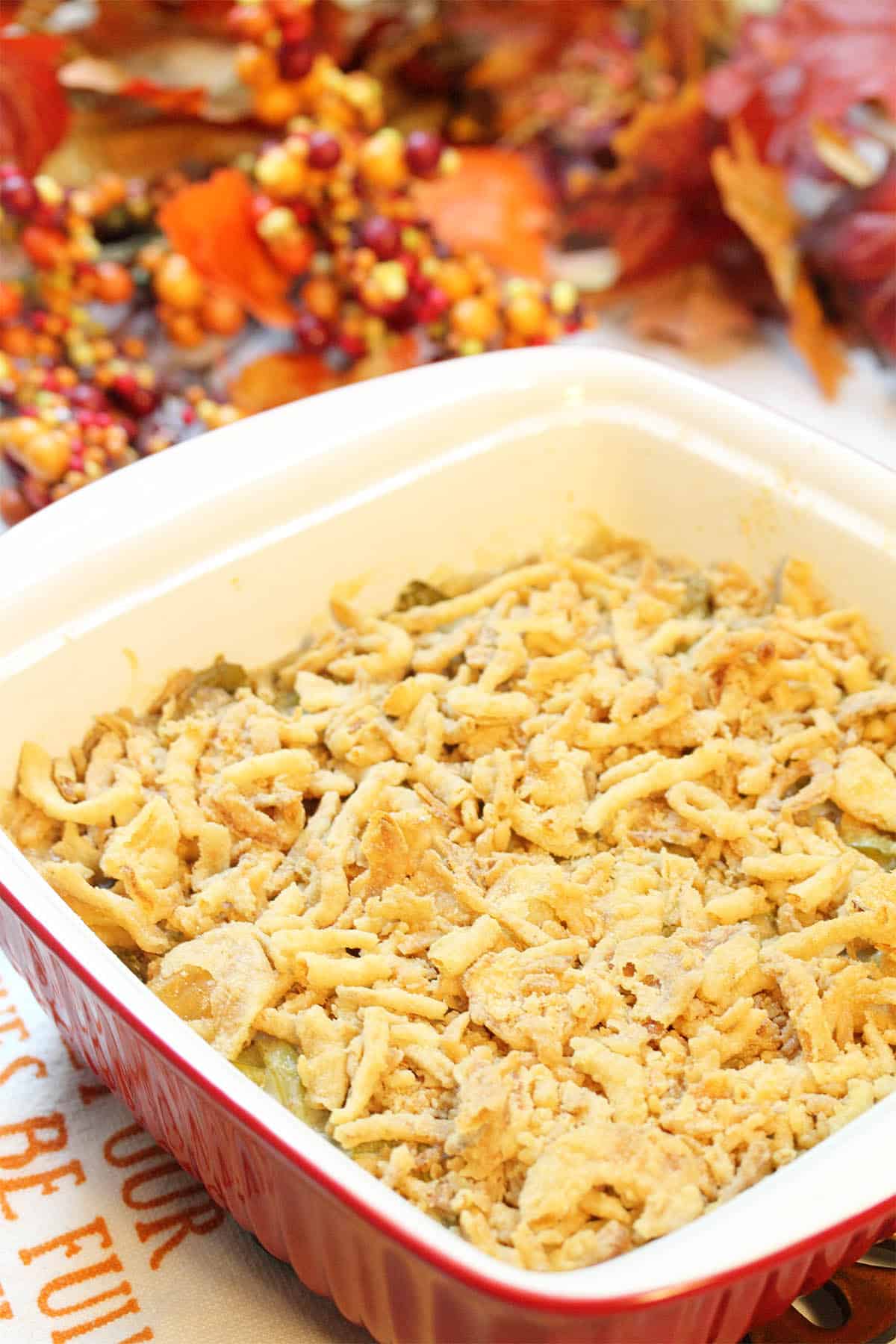 I know this creamy green bean casserole will become a holiday favorite if it isn't already. The rich and creamy taste belies how light it is. Light enough to squeeze in with all the turkey and stuffing for sure.
And, if you are getting nervous about pulling off the big feast, print out my handy dandy No Stress Thanksgiving planner to make it all come together with ease. Enjoy and, whether your Thanksgiving is big or small,  have a happy one!
More recipes for a stress-free Thanksgiving
Check out all the healthy Thanksgiving recipes in my recipe index.
Love quick & easy recipes? Follow me on Instagram, Facebook, Pinterest & Twitter for all the latest recipe inspiration! Plus join my email list and receive a free e-book.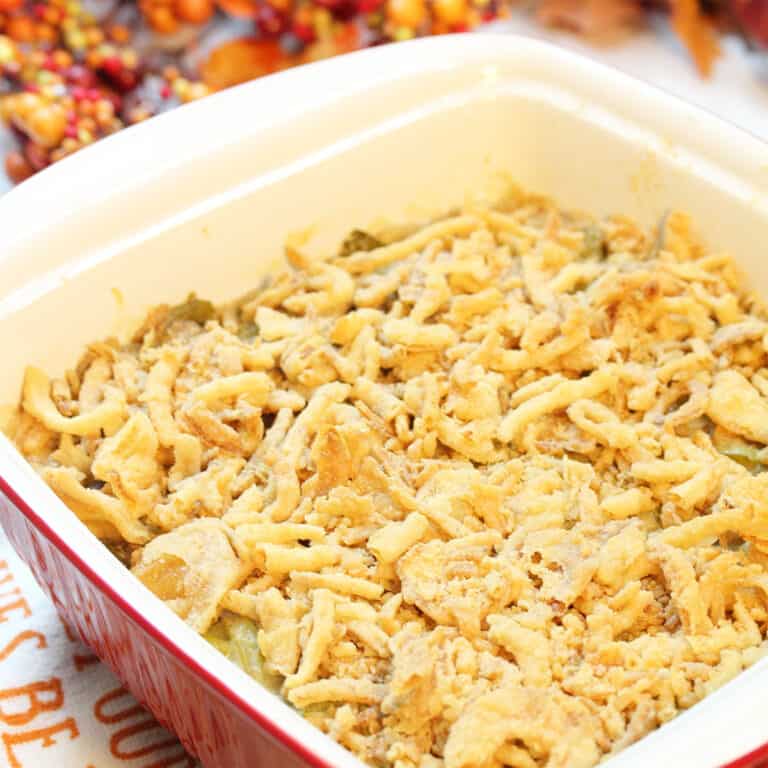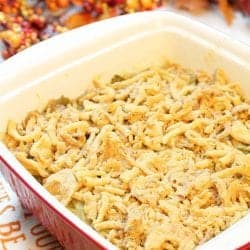 Creamy Green Bean Casserole
This easy, classic green bean casserole combines mushroom soup with loads of crunchy fried onions for a favorite Thanksgiving side.
Print
Rate
Ingredients
10 ¾

oz.

can Cream of Mushroom Soup

¾

cup

milk

⅛

teaspoon

black pepper

1 ⅔

cups

canned French Fried Onions

29

oz

French style green beans

drained (2 14.5 oz cans)
Instructions
Preheat oven to 350 degrees. Prepare a 1-½ quart casserole dish by spraying with a nonstick spray or wipe with butter.

In a large bowl, combine soup, milk, black pepper, beans and ⅔ cup fried onions and pour into prepared casserole.

Top with remaining onions and bake for 5 more minutes.
Notes
Gluten-Free/Dairy-Free Green Bean Casserole option
--------------------------------------------------------------------------------------------
To make your own fried onions instead of canned, slice a large onion into thin slices and toss with rice flour. Shake off excess. Place ½" vegetable oil in skillet, heat over medium-high heat and, when the tip of an onion ring sizzles, place a handle full of onion slices in oil and crisp up. Repeat with all remaining onion slices then set on paper towel to drain off excess fat. Let cool and use in place of canned fried onions.
----------------------------------------------------------------------------------------
To make your own mushroom soup and leave out the condensed soup and milk in the recipe above, combine 2 T. olive oil, 1 small chopped onion and ½ teaspoon minced garlic in a skillet and saute for 5-6 minutes. Add in 8-oz. chopped white mushrooms and a little more olive oil as needed. Cook another 3 minutes then stir in 1-¾ cup of plain almond or coconut milk and a pinch of thyme and bring to a boil. Whisk in a thickening paste of 2 Tablespoon cornstarch and ¼ cup almond or coconut milk. Stir continuously for 1 minute then reduce heat and let simmer for 5 minutes. Season to taste with salt and pepper.
Continue to assemble and cook as stated above.
Nutrition
Calories:
189
kcal
|
Carbohydrates:
20
g
|
Protein:
6
g
|
Fat:
10
g
|
Saturated Fat:
4
g
|
Cholesterol:
6
mg
|
Sodium:
511
mg
|
Potassium:
393
mg
|
Fiber:
4
g
|
Sugar:
6
g
|
Vitamin A:
995
IU
|
Vitamin C:
17
mg
|
Calcium:
87
mg
|
Iron:
2
mg
This post has been updated and was first published on November 13, 2013.