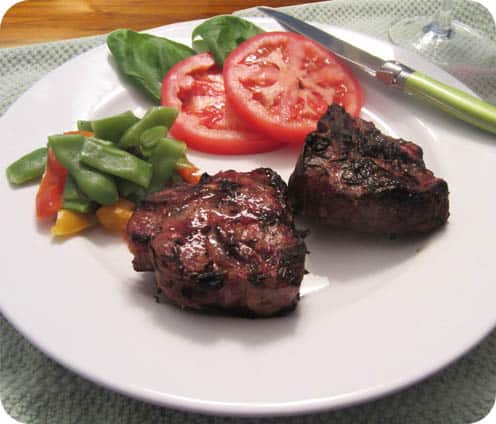 I am so excited to be posting my first recipe on our new blog. It wasn't too hard to decide what to make when I happened to come across some beautiful thick lamb chops in Costco the other day. They were just crying out for me to pick them up and make them into something delicious. My backyard garden is also at its peak so using some fresh basil and rosemary in the recipe was a no-brainer.  I love my garden, and my rosemary seems to grow no matter what the weather (or what I do to it) but, on the other hand, my basil thrives from about October through May and then the hot southern Florida heat hits and it is toast. I hate to waste anything so using up my herbs was high on my list.
I love having lamb for dinner once in a while as it adds a little variety to our normal chicken, fish and beef dinners. It is one of the leanest red meats you can serve and is richer in iron than both chicken and fish. It is also high in protein, Vitamin B12, niacin and selenium, all important to our overall health.
And now that springtime has arrived, what better way to fix a quick and healthy dinner than on the grill. Serve with a caprese salad or grilled corn on the side.
Hope you enjoy!
Grilled Rosemary and Basil Lamb Chops
Ingredients:
1/8 cup olive oil
2 Tablespoons fresh basil, chopped
2 teaspoons fresh rosemary, chopped
1 garlic clove, minced
½ lemon, zested
½ teaspoon salt
¼ teaspoon pepper
4 loin lamb chops
Directions:
Preheat grill to medium heat (350-450 degrees).
In a small bowl, mix everything but the lamb chops. Stir to combine. Pat the basil mixture into both sides of the lamb chops and place in re-sealable plastic bag. Marinate in refrigerator for at least 30 minutes.
Remove the lamb chops from bag and place directly on preheated grill and cook for 8-12 minutes, turning halfway through. Chops will be between medium rare and medium depending on thickness of chops.
Let rest 3-5 minutes then serve.
Serves 2.
DON'T MISS A RECIPE!