Meet your newest obsession: Air Fryer Apple Fritters! An easy-to-make breakfast or dessert that is air fried to a golden brown crispy outside and bursting with the sweet flavor of fresh apples.
In less than 25 minutes you can have this mouthwatering treat, with no deep fat frying, that gives you all the flavor you love with less guilt. You won't be able to resist!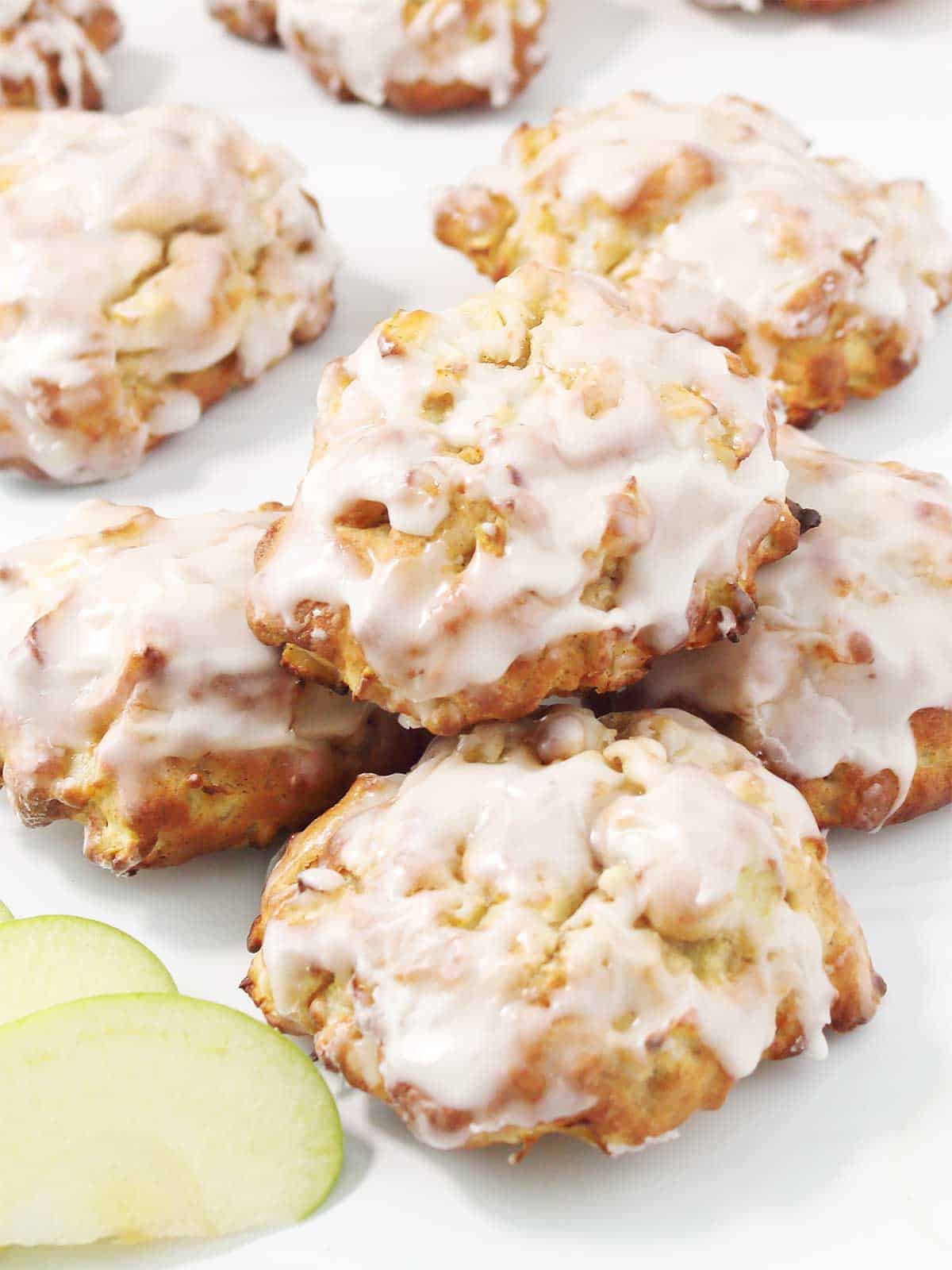 FYI - This post contains affiliate links. As an Amazon Associate, I earn from qualifying purchases. All links are products I use when making my recipes.
Delicious Apple Recipes
Apples are one of the world's most favorite fruits. With over 7,500 varieties from Granny Smith to Fuji to Golden Delicious you're bound to find the perfect one for any recipe. And with the abundance of crisp apples in the fall, whether you're fresh from apple picking or just grocery shopping, it's the perfect time to whip up some delicious, and easy recipes with this versatile fruit.
Apples can go from sweet to savory to everything in between, adding tons of flavor and sweetness to the recipe. From breakfast choices like Crockpot Cinnamon Apple French Toast, to salads like this fruity Waldorf Salad, and from appetizers like Apple Bacon Phyllo Cups, to desserts like Apple Bundt Cake, Caramel Apple Cupcakes, and Apple Dumplings, you'll find plenty of ways to enjoy their sweetness and crunch all season long.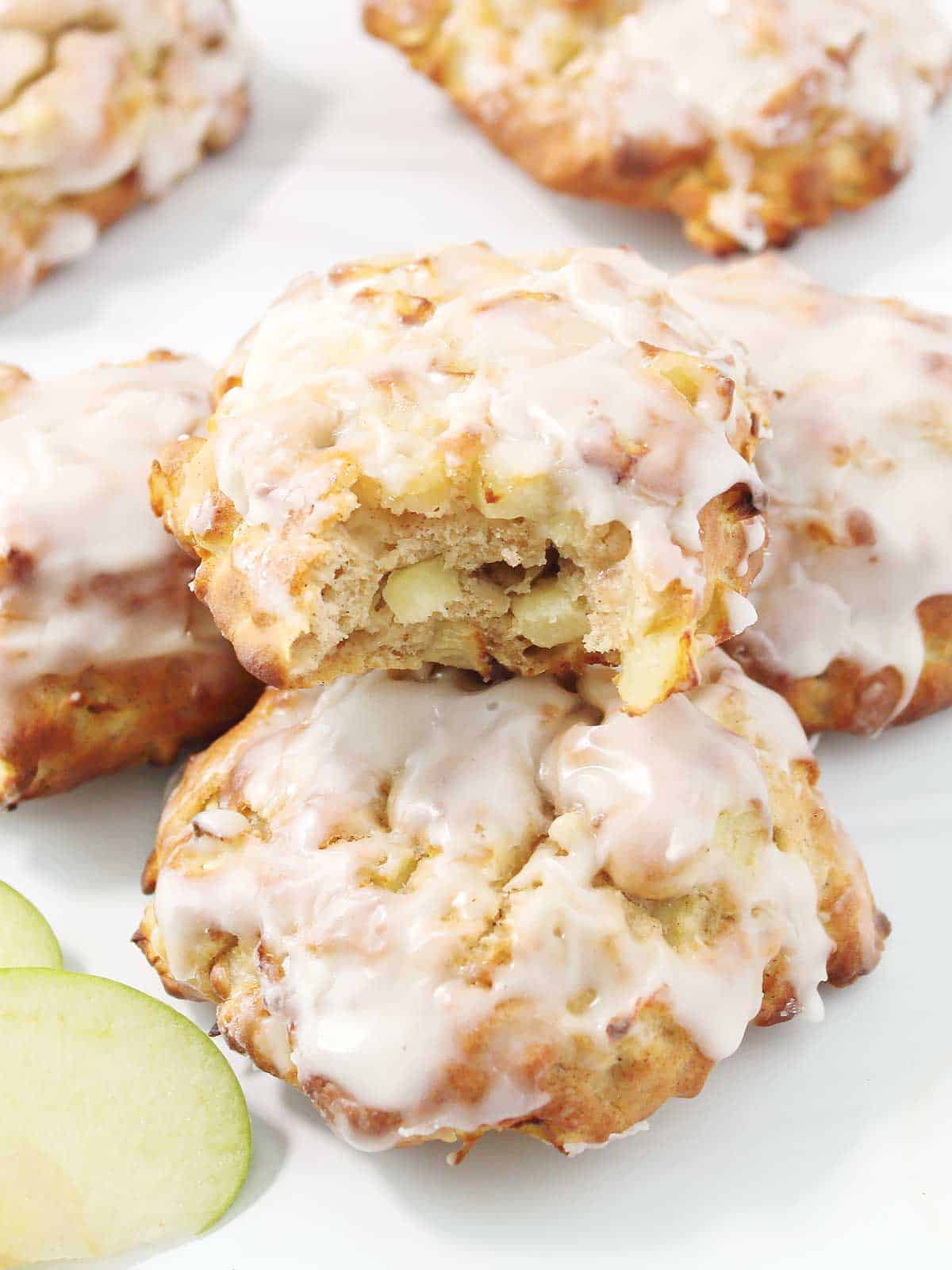 Why You'll Love This Air Fryer Fritters Recipe
No yeast - it's like making a muffin or quick bread batter.
Quick and easy - ready in less than 30 minutes.
Healthier - not deep fried in oil
Delicious - sweet but not too sweet with plenty of apple pieces tucked inside
What are apple fritters?
Apple fritters are a type of sweet pastry that's popular in various cuisines around the world. They typically involve pieces of apple that are coated in a sweet batter and then deep-fried until they're golden brown and crispy.
Once fried, apple fritters are usually drizzled with a sweet glaze or dusted with powdered sugar. They can be enjoyed as a sweet breakfast, snack, or dessert.
What are apple fritters made of?
In a basic apple fritter recipe, the batter often includes flour, sugar, eggs, a liquid, a leavening agent, and spices.
Ingredients
For the apple fritters batter: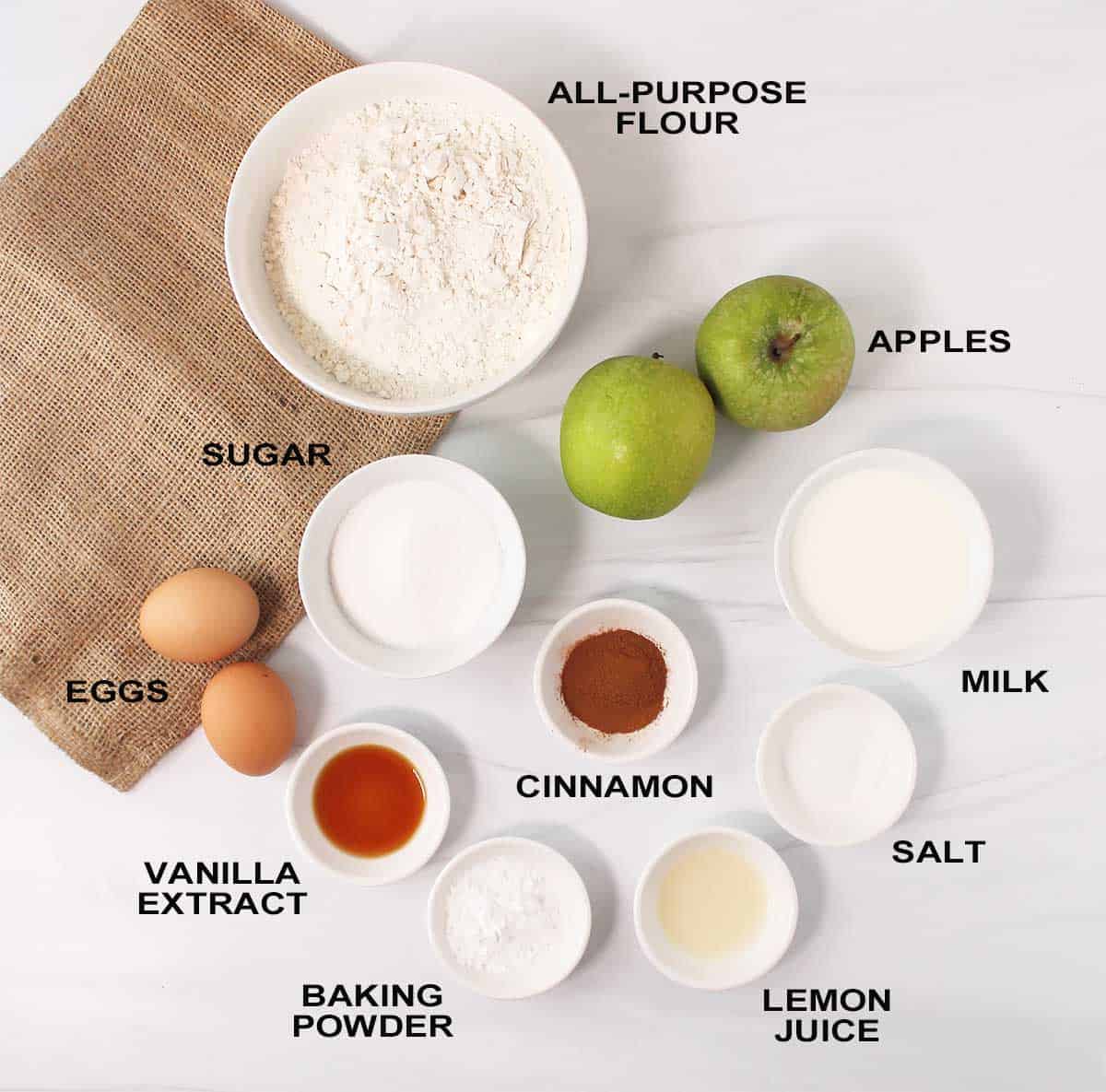 All-purpose flour
White granulated sugar
Baking powder
Ground cinnamon
Salt
Large eggs
Whole milk
Vanilla extract
Lemon juice
Granny Smith apples
For the apple fritter glaze: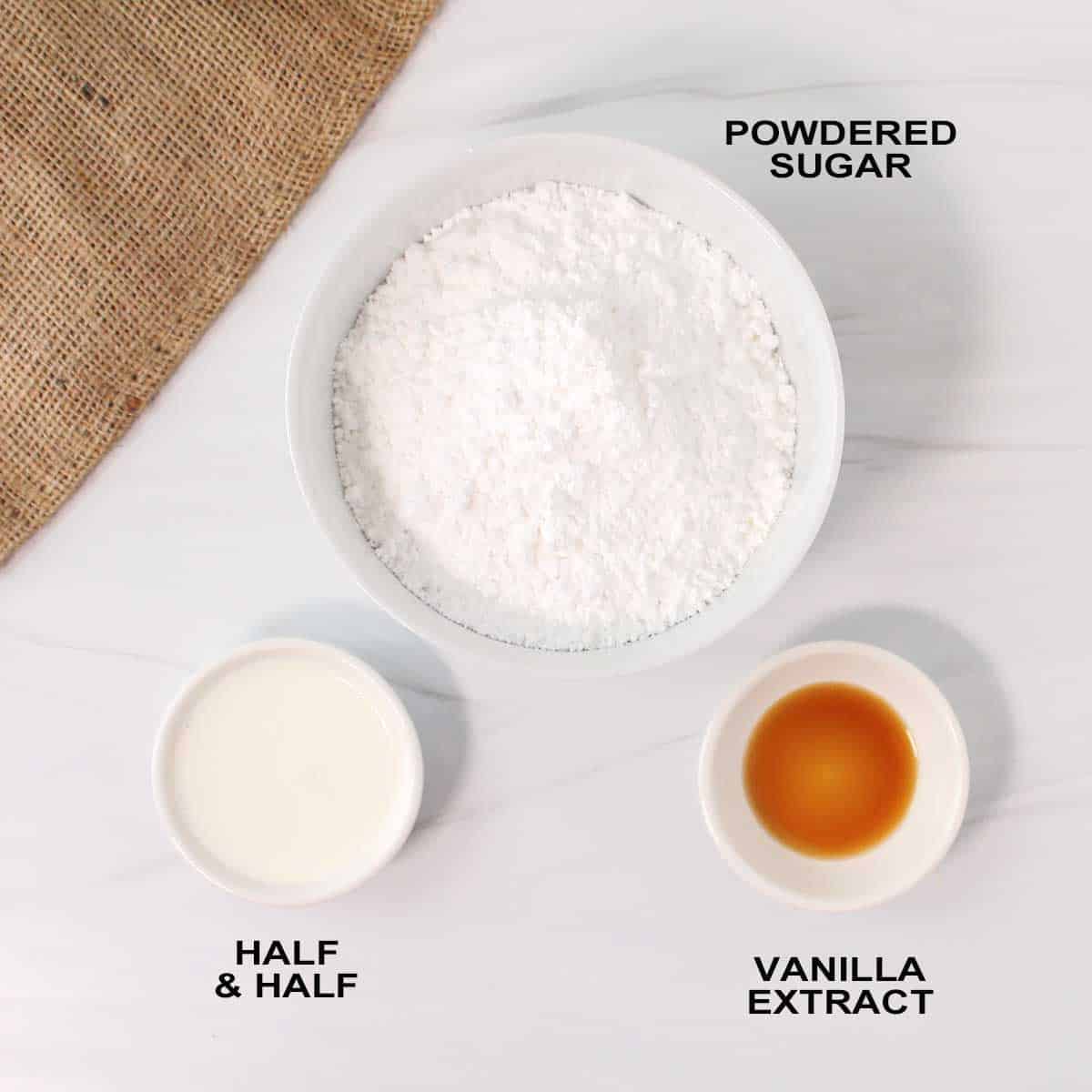 Powdered sugar
Vanilla extract
Half and half or cream
Best Apples for Fritters
When choosing apples for apple fritters, it's best to go for a variety that is firm and has a nice balance of sweet and tart flavors. Here are a few common recommendations:
Granny Smith Apples: These are a popular choice for many apple desserts, including fritters. They're quite tart, which provides a nice contrast to the sweet batter, and they hold up well during cooking.
Honeycrisp Apples: These are sweeter and more subtly tart than Granny Smiths, but still firm enough for frying. They're also quite juicy, which can add to the overall flavor of the fritters.
Braeburn Apples: These apples have a unique combination of sweet and tart flavors, with a firm texture that holds up well in fritters.
Golden Delicious Apples: Golden Delicious are sweeter and softer than some other varieties, but their flavor can work well in apple fritters.
Jonagold Apples: Jonagold apples have a nice balance of sweet and tart flavors and are quite crisp.
The best apples for apple fritters can also come down to personal preference. Some people might prefer a sweeter apple fritter, while others might want more tartness. If you're not sure, you could try making a batch of fritters with a few different apple varieties to see which one you like best!
How to Make Apple Fritters in the Air Fryer
To make the apple fritter batter and air fry the fritters: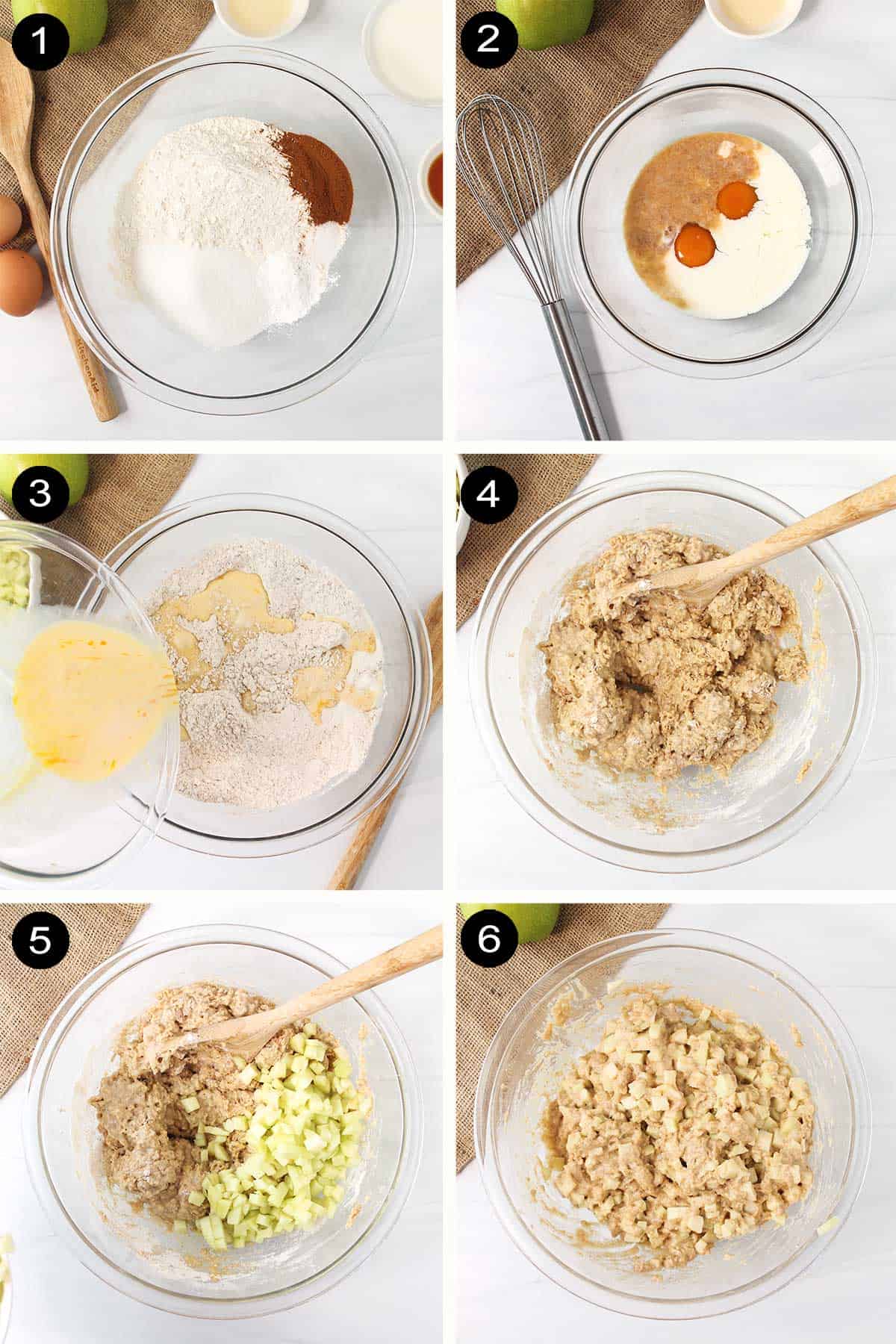 In a large mixing bowl, combine flour, sugar, baking powder, cinnamon, and salt.
In a small bowl, whisk together eggs, milk, and extract.
Add the wet ingredients to the dry ingredients
Stir together until just combined.
Add the diced apples to the batter.
Gently stir until the apples are evenly distributed.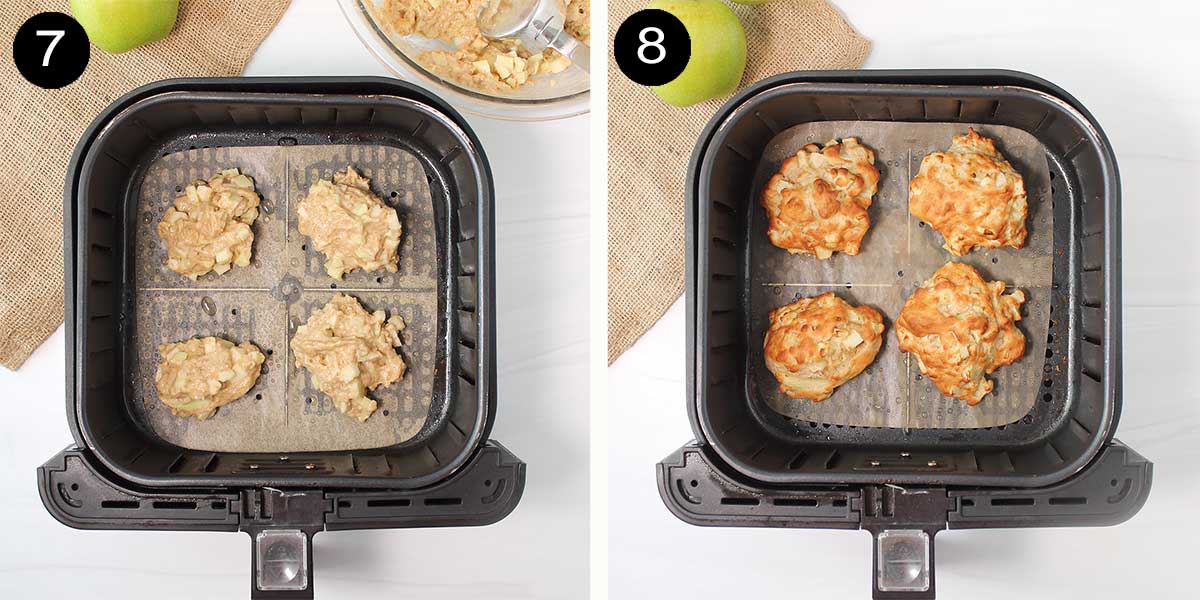 Preheat the air fryer to 400°F then line it with a piece of parchment paper that has been sprayed with oil. DO NOT ADD THE PARCHMENT WHEN PREHEATING THE AIR FRYER.
Drop ¼ cup of batter for each fritter onto the parchment paper. Spray the tops with oil. My 5.8-quart air fryer can fit 4 at a time.
Air fry for 8 minutes, turning halfway through cooking time.
To make the fritter glaze: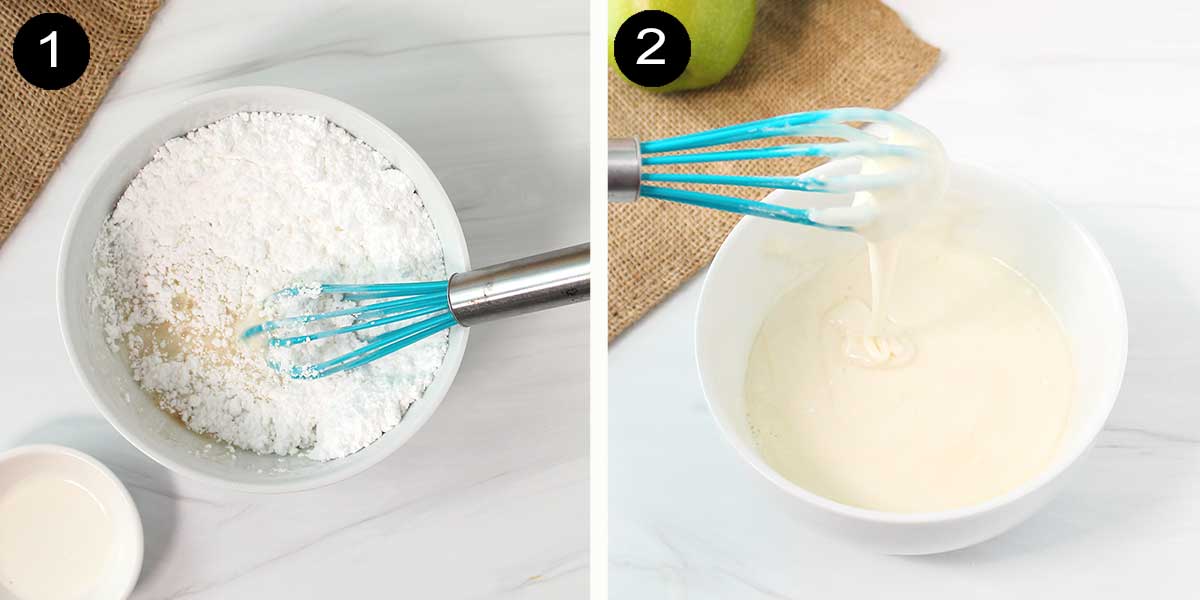 Whisk the powdered sugar with vanilla extract and half and half.
The glaze should drip easily from the whisk. If it is a little too thick, add more half and half. If the glaze is too thin, add a bit more powdered sugar until the right consistency is reached.
Finishing air fried apple fritters: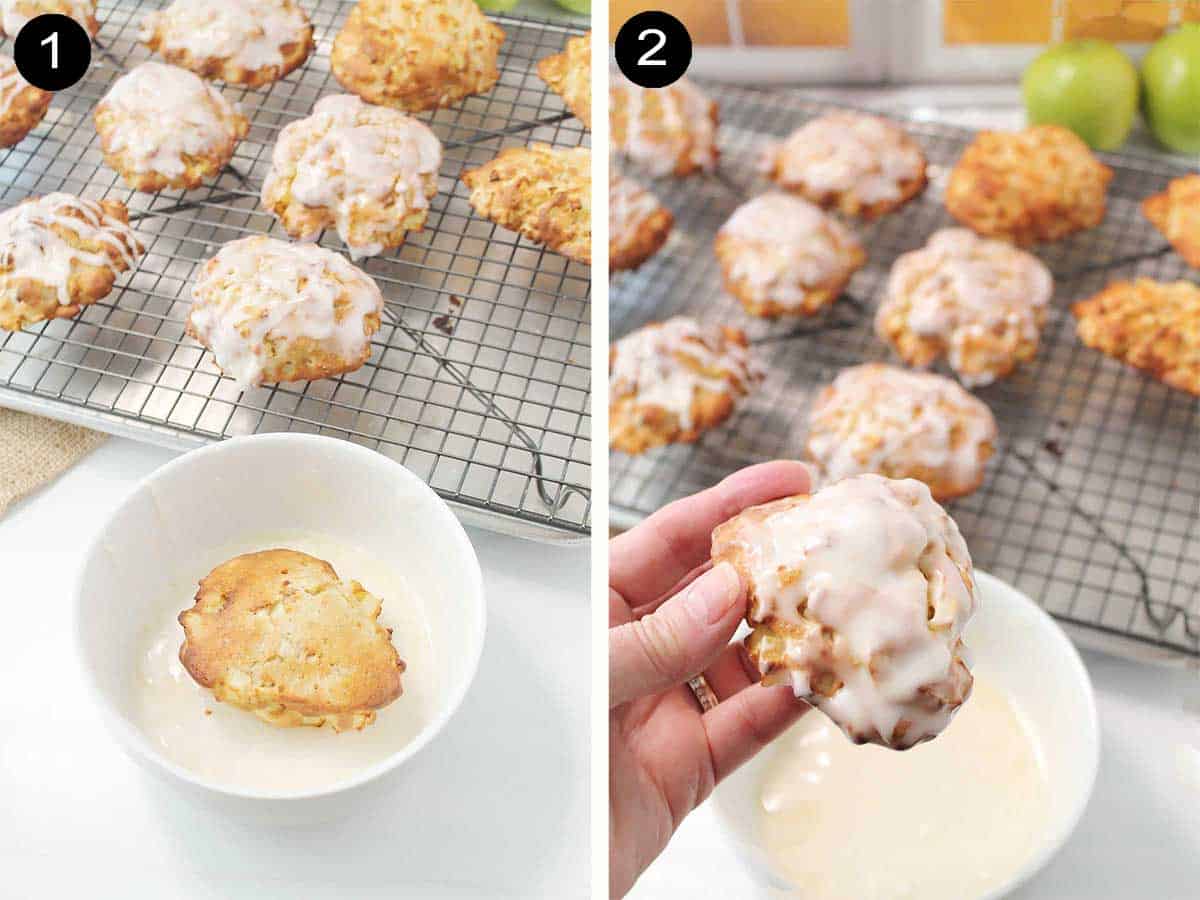 Immediately upon finishing air frying each batch, remove the apple fritters to a wire rack with parchment paper or a cookie sheet underneath. Dip the top of the fritter into the glaze.
Let the excess drain off then place back on the wire rack until the glaze sets. Of course, they're best eaten warm right after dipping!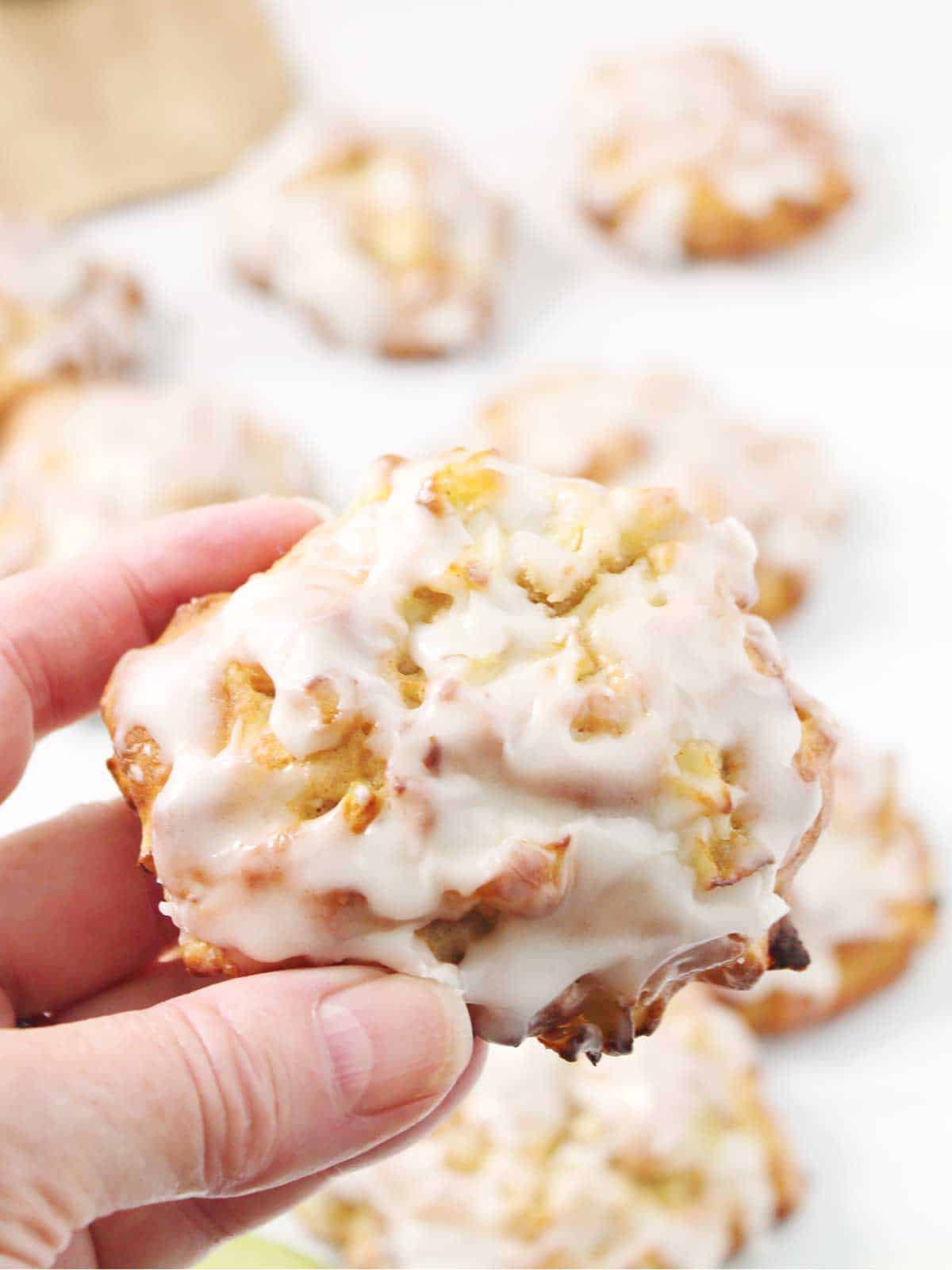 Recipe Tips
It's up to you on peeling the apples. Don't peel the apples if you enjoy the texture of the skin. Otherwise, peel them.
Don't overmix the batter or it will create dense fritters.
Make sure you line the air fryer basket with parchment paper or use an air fryer liner. If you do not line the basket, the batter may seep through the holes and make a mess.
Use a #16 cookie scoop or a ¼ cup measuring cup (4 tablespoon capacity) to ensure the fritters are the same size.
Don't drop too much batter into the air fryer or the fritters may be doughy in the center.
Don't overcrowd the air fryer basket. Make sure there is plenty of room between the drops of dough to give them room to expand and still have air flowing around them.
Place the air-fried fritters on a wire rack over parchment paper to catch any glaze that drips off (easy cleanup).
Recipe Variations
Caramel Apple Fritters - use caramel sauce instead of vanilla glaze.
Other Fruit - substitute the apples with banana slices, blueberries, peaches, pears, or strawberries.
Spice It Up - substitute the cinnamon with apple pie spice.
Extra Apple Flavor - substitute the lemon juice with apple cider or juice.
Baked Apple Fritters
Don't have an air fryer or want to bake the fritters instead of air frying them? It's easy to do!
Scoop the dough onto a baking sheet lined with parchment paper or a silicone mat.
Bake at 400°F for 12 to 15 minutes.
How to Serve Apple Fritters
Serve them as-is for a delicious breakfast or snack.
Serve them topped with ice cream or whipped cream for an air fryer apple dessert. Drizzle caramel sauce on top for some extra decadence.
Make Ahead
Prepare the batter and refrigerate it in an airtight container for up to 4 days.
Prepare the glaze and refrigerate it for up to 4 days. Bring it to room temperature before using it.
How to Store, Freeze, and Reheat
Storing: Cool the fritters to room temperature. Place them in an airtight container. Keep them at room temperature for up to 2 days or in the refrigerator for up to 1 week.
Freezing: Allow the fritters to cool to room temperature. Place them in an airtight freezer-safe container and store them in the freezer for up to 3 months. Thaw at room temperature or in the fridge overnight.
Reheating: Place a fritter on a microwave-safe plate and microwave it in 10-second intervals until it reaches the desired temperature. You can also arrange fritters on a parchment paper-lined baking sheet and bake in the oven at 325°F for 5 to 10 minutes or until heated through.
Easy Air Fryer Breakfast Recipes
Air Fryer French Toast Roll Ups
Air Fryer Cinnamon Sugar Donut Holes
Air Fryer Stuffed French Toast
Find even more air fryer recipes here on 2CM!
LOVE QUICK & EASY RECIPES? FOLLOW ME ON INSTAGRAM, FACEBOOK, & PINTEREST FOR ALL THE LATEST RECIPE INSPIRATION! PLUS JOIN MY EMAIL LIST AND RECEIVE A FREE E-BOOK.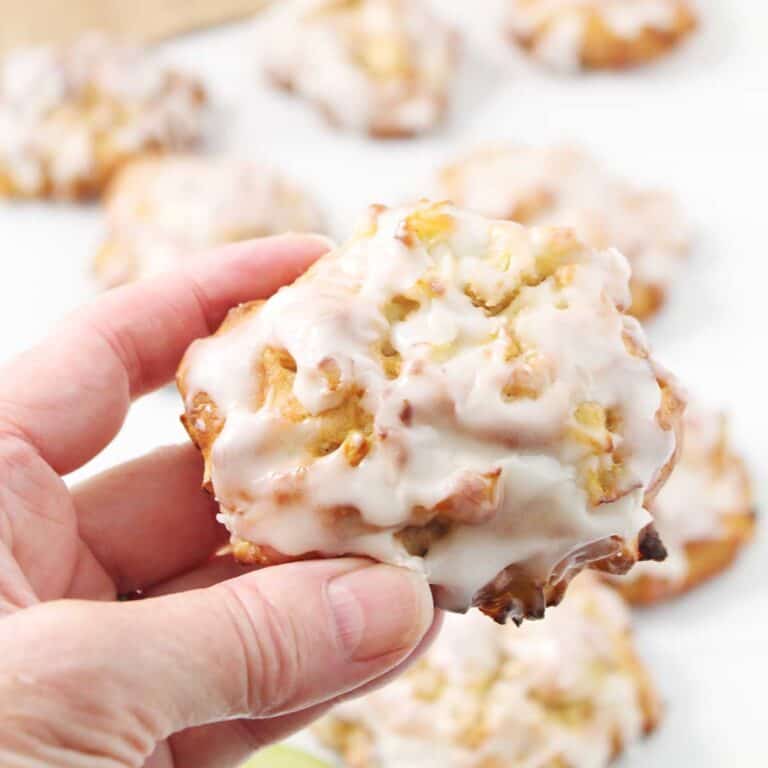 Air Fryer Apple Fritters
Air Fryer Apple Fritters are an easy-to-make treat that has a crispy outside and plenty of sweet apple flavor inside. And all in less than 25 minutes!
Print
Rate
Ingredients
Apple Fritters
2

cups

all-purpose flour

⅓

cup

granulated sugar

2 ½

teaspoon

baking powder

1 ½

teaspoon

ground cinnamon

½

teaspoon

salt

2

large eggs

¾

cup

whole milk

2

teaspoons

vanilla extract

2-3

teaspoons

lemon juice

2

granny smith apples

cored, peeled and diced

Powdered sugar for dusting or glaze (see below)
Glaze
1 ½

cups

powdered sugar

1

teaspoon

vanilla extract

3-4

Tablespoons

half and half
Instructions
Preheat air fryer to 400°F then line the bottom of the basket with parchment paper. Spray with oil.
Apple Fritters
In a large mixing bowl, combine the flour, sugar, baking powder, cinnamon, and salt.

In a medium bowl, whisk the eggs.

Add milk and vanilla extract to eggs and mix well.

Add the dry ingredients to the wet ingredients and mix until just combined. You do not want to overmix as the dough can become tough.

Chop the apples and sprinkle with lemon juice. Fold into the batter. It will be very chunky.

Drop ¼ cup of the batter onto the parchment paper in the air fryer. Leave enough space between the dropped batter to allow them to cook properly. Spray the tops with oil. (I made 4 at a time in my Cosori 5.8-qt air fryer)

Air fryer for 8 min, turning halfway through, or until golden brown.

Place on a wire rack with a piece of waxed paper or parchment paper underneath. Dip into the glaze immediately. Place back on the wire rack to let the glaze set.
Glaze
In a medium bowl, whisk together the powdered sugar, salt, and vanilla extract,

Add just enough half and half to make it the right consistency for dipping. Test it by holding the whisk up and if it drizzles off the whisk it is perfect.

You can also omit the glaze and just dust with powdered sugar.
Notes
STORING/REHEATING Storing: Cool to room temperature before sealing them in an airtight container. Keep them at room temperature for up to 2 days or in the refrigerator for up to 1 week. Reheat: Place in the microwave in 10-second intervals until they reach the desired temperature. You can also arrange them on a parchment paper-lined baking sheet and bake in the oven at 325° F for 10 minutes or until heated through.
Nutrition
Calories:
200
kcal
|
Carbohydrates:
42
g
|
Protein:
4
g
|
Fat:
2
g
|
Saturated Fat:
1
g
|
Polyunsaturated Fat:
0.3
g
|
Monounsaturated Fat:
1
g
|
Trans Fat:
0.003
g
|
Cholesterol:
30
mg
|
Sodium:
117
mg
|
Potassium:
181
mg
|
Fiber:
1
g
|
Sugar:
24
g
|
Vitamin A:
95
IU
|
Vitamin C:
2
mg
|
Calcium:
71
mg
|
Iron:
1
mg