Take the hassle out of breakfast! This Crockpot French Toast is so simple to make and oh so delicious to wake up to! Throw it in the pot and you're done.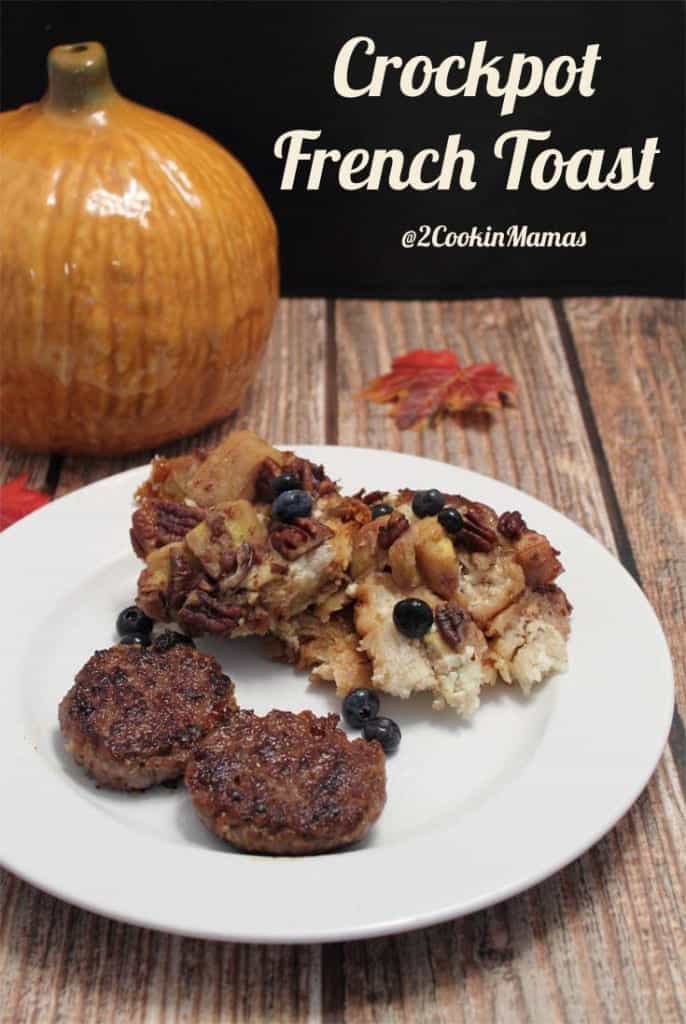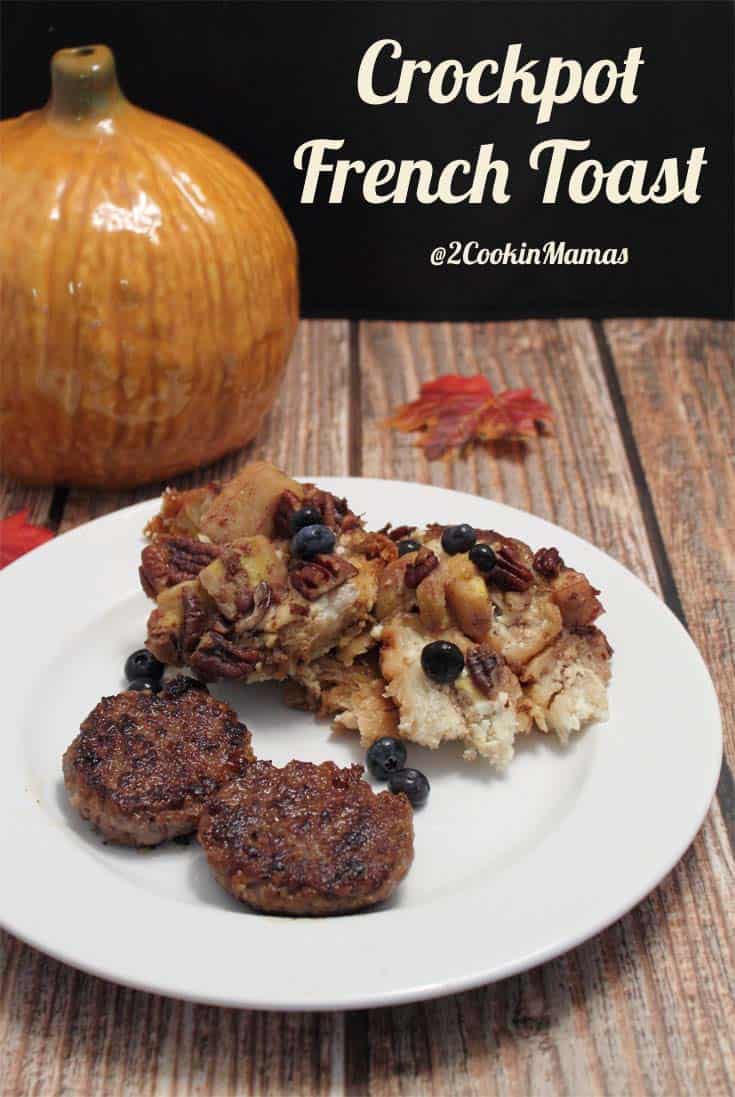 If you have been following us this past week you will have seen that a bunch of us food bloggers are celebrating October with an event we call #Crocktoberfest (and a great giveaway!). Now I don't do a lot of cooking with the crockpot, especially breakfast, but I thought this was an excellent opportunity to try something different.
Not only was this the first time doing a breakfast dish in the crockpot but it was the first time I have ever tried making French Toast in one. I had no idea what to expect so I kept my fingers crossed that we would have a delicious breakfast come morning.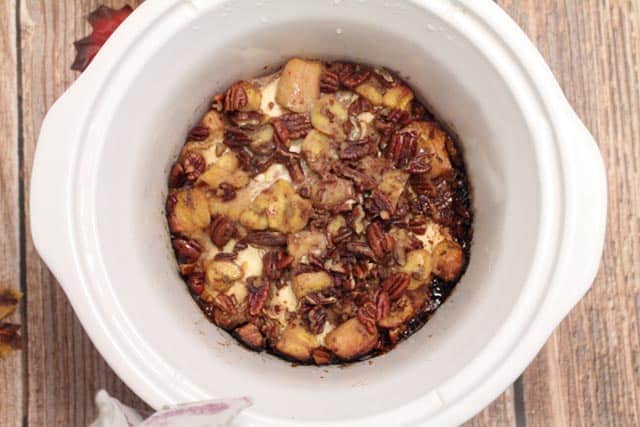 I did notice a problem straight away. I don't have a programmable crockpot so, in order to have it for breakfast, I would have to get up at 5AM on a Saturday morning to have it ready when the hubs woke up. What sacrifices we make for our blog & family!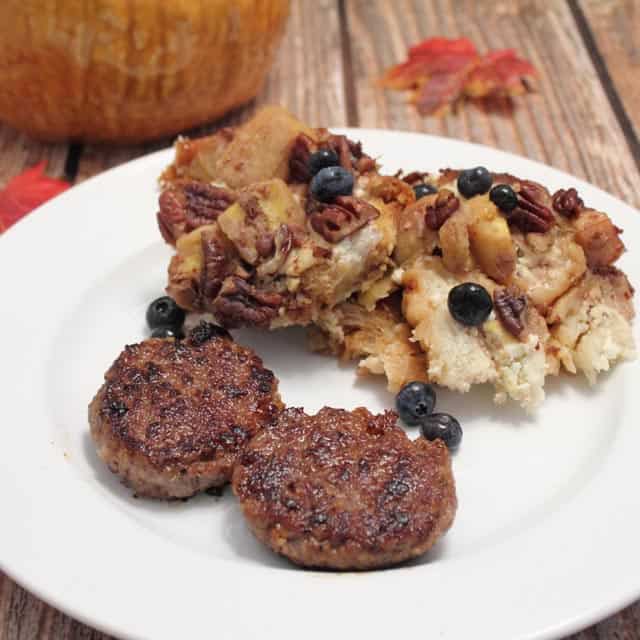 Anyway, Friday evening, I made the bread cube mixture and let it sit for a few hours in the refrigerator. I then mixed the crumb mixture and set that it the fridge too. Now all I had to do was wake up, be alert enough to put everything in the crockpot, try to take a picture, oh remember to turn it on, then hop back into bed to catch another couple hours of zzzzz.
And it turned out to be a little different than what I would expect but delicious none-the-less. If you don't have time to make real French Toast for the whole family this is an excellent way to feed everyone all at once. And it is great to wrap up in separate portions and have it for a quick breakfast during the work week too!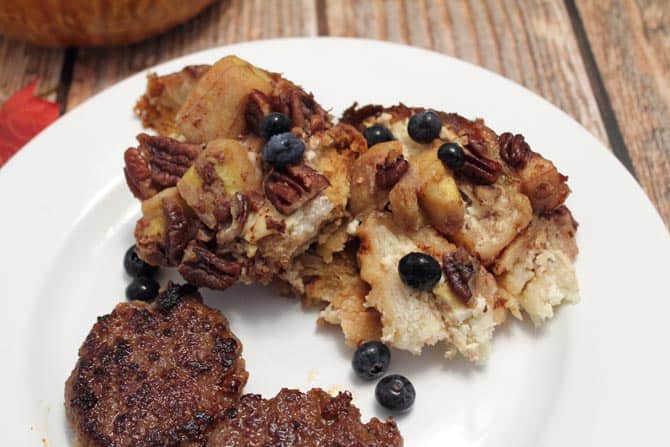 Hope you enjoy!
Crockpot French Toast
Ingredients:
1 loaf French bread, sliced
3-4-oz cream cheese, softened
6 eggs
2 cups milk
1 teaspoon vanilla
1 Tablespoon brown sugar
1-1/2 teaspoons cinnamon
1/8 teaspoon nutmeg
3-4 bananas, sliced
Topping
1/4 cup butter
1/2 cup brown sugar
1/2 teaspoon vanilla
1/2 cup pecans, chopped
Directions:
Prepare your crockpot by spraying well with a non-stick spray.
Cut french bread and spread one side with cream cheese. Cut into cubes.
In a large bowl, combine eggs, milk, vanilla, brown sugar, cinnamon & nutmeg in a large bowl. Add bread cubes and toss to coat. At this point you can place in refrigerator and let bread soak in liquid for about 4 hours, which is the best method, or you can put right into the bottom of your crockpot.
Place banana slices on top of bread cubes.
In a small bowl, combine butter, brown sugar and vanilla and mix until resembles coarse crumbs. Toss in nuts. Sprinkle on top of mixture.
Cook on low for 4 hours or on high for 2 hours.
Serve warm topped with your favorite toppings, fresh berries, more bananas or powdered sugar and a side of maple syrup.
Serves 4-6.