Thick, creamy, rich, and filled with the sweet and spicy flavors of cinnamon and sugar, crockpot French toast casserole will be your favorite way to make this breakfast staple.
Take the hassle out of breakfast! This Crockpot French Toast with apples is so simple to make and so delicious to wake up to! Just coat French bread with cream cheese, toss with cinnamon egg batter, stir in apples and top with crumbs and pecans. Throw it in the slow cooker and you're done. It's a hot breakfast that is delicious, mess-free, and great for a crowd.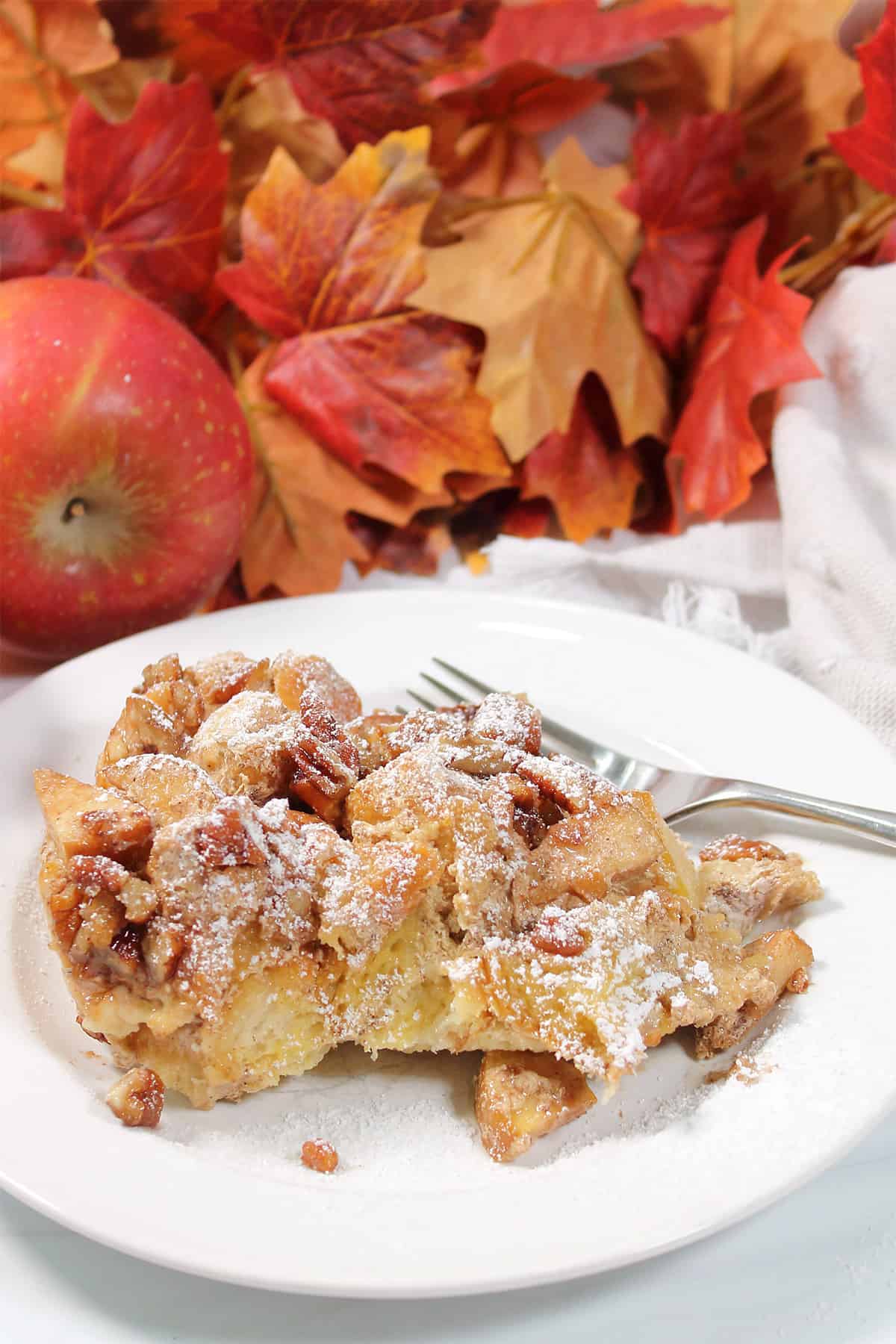 Amazing Autumn Breakfast with French Toast
If you thought the slow cooker was just for dinner recipes, think again! It's actually really easy to make French toast casserole in the crockpot. When you follow this easy recipe, it comes out perfectly - with a thick and fluffy texture and all the warm spices you love.
French toast is one of those breakfast recipes that make you feel warm and cozy - and there are so many different ways to make it! Air fryer French Toast roll-ups are crispy finger-foods, Overnight blueberry French toast is rich with berries, and Apple french toast muffins are sticky-sweet and perfectly portioned. It's so hard to choose which French Toast to enjoy in the morning.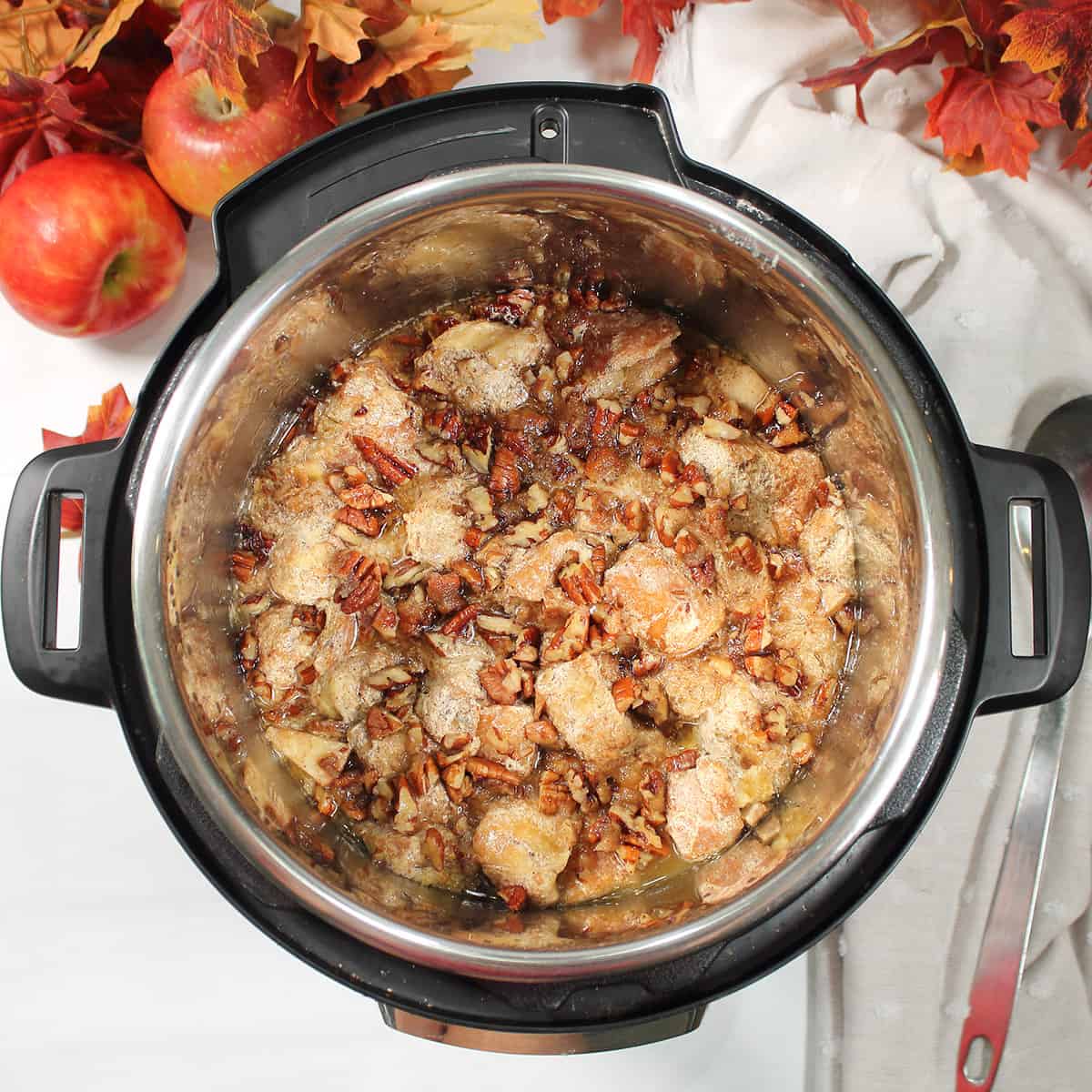 Why You'll Love This Apple Cinnamon French Toast Crockpot Recipe
It's a one-pot, no-mess way to make French toast.
It brings all the flavors of fall to the table with fresh apples and spicy cinnamon.
Make it ahead of time and cooked it up in the morning.
It makes enough for a crowd, quickly and easily.
Best Bread for French Toast
This recipe calls for French bread but you can substitute it with the following bread to use for French toast casserole:
Brioche
Challah
Baguette
Bagel - plain or cinnamon
Hamburger Buns
Texas Toast or other thick-sliced regular white bread
Thick Sliced Cinnamon Toast
Ingredients
For the French Toast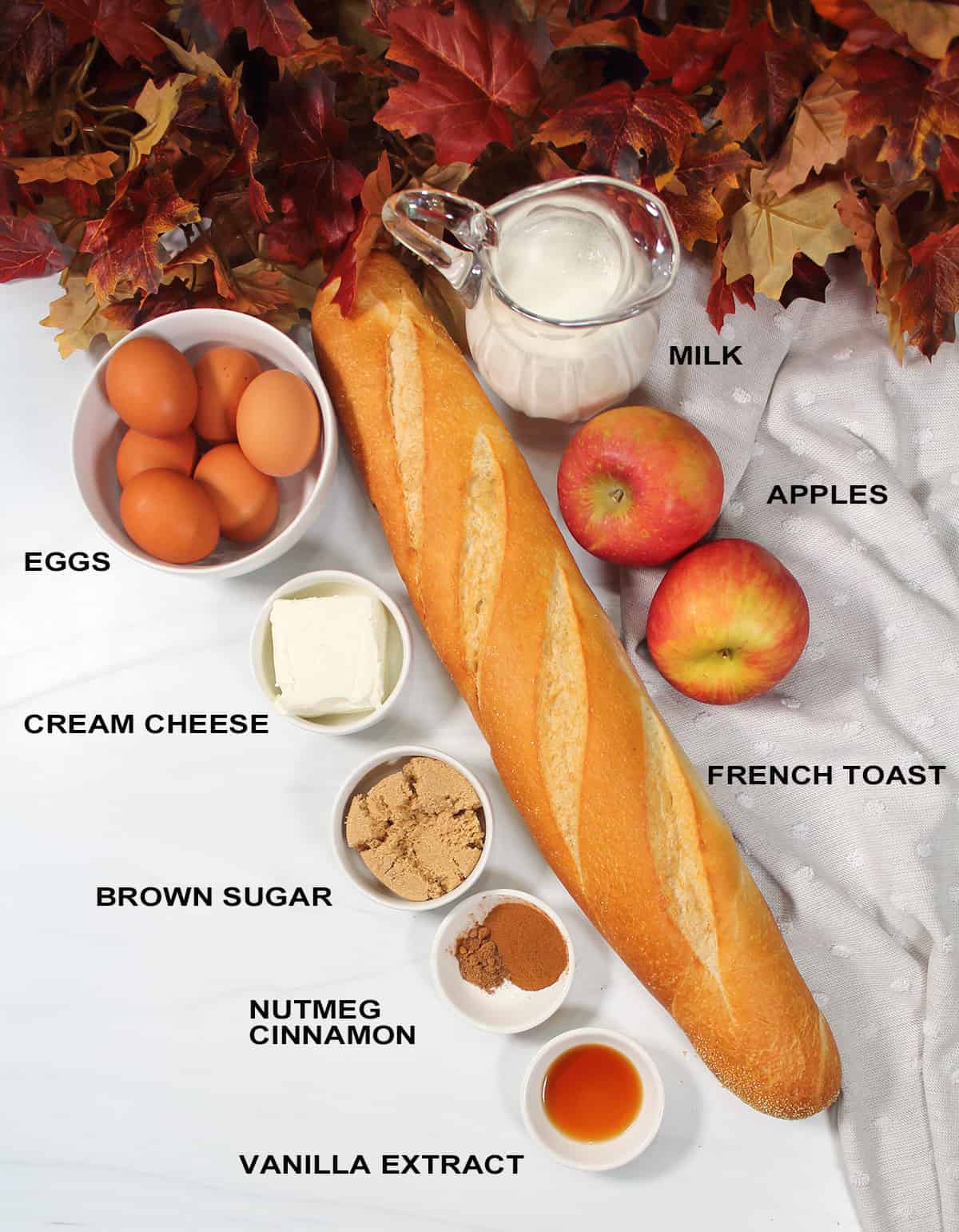 French Bread - slightly stale works best
Cream Cheese - you will want it soft so it can be spread easily
Eggs
Milk - you can use non-dairy milk, whole milk, or half and half
Vanilla Extract
Brown Sugar - adds sweetness
Cinnamon and Nutmeg - warm spices perfect for fall
Apples - any type of crisp apple will work such as Honeycrisp or Granny Smith
For the Crumb Topping
Butter - make sure it is very cold to help form the crumbs
Brown Sugar
Vanilla Extract
Pecans - you can sub your favorite type of nuts such as almonds or walnuts.
How to Make Crockpot French Toast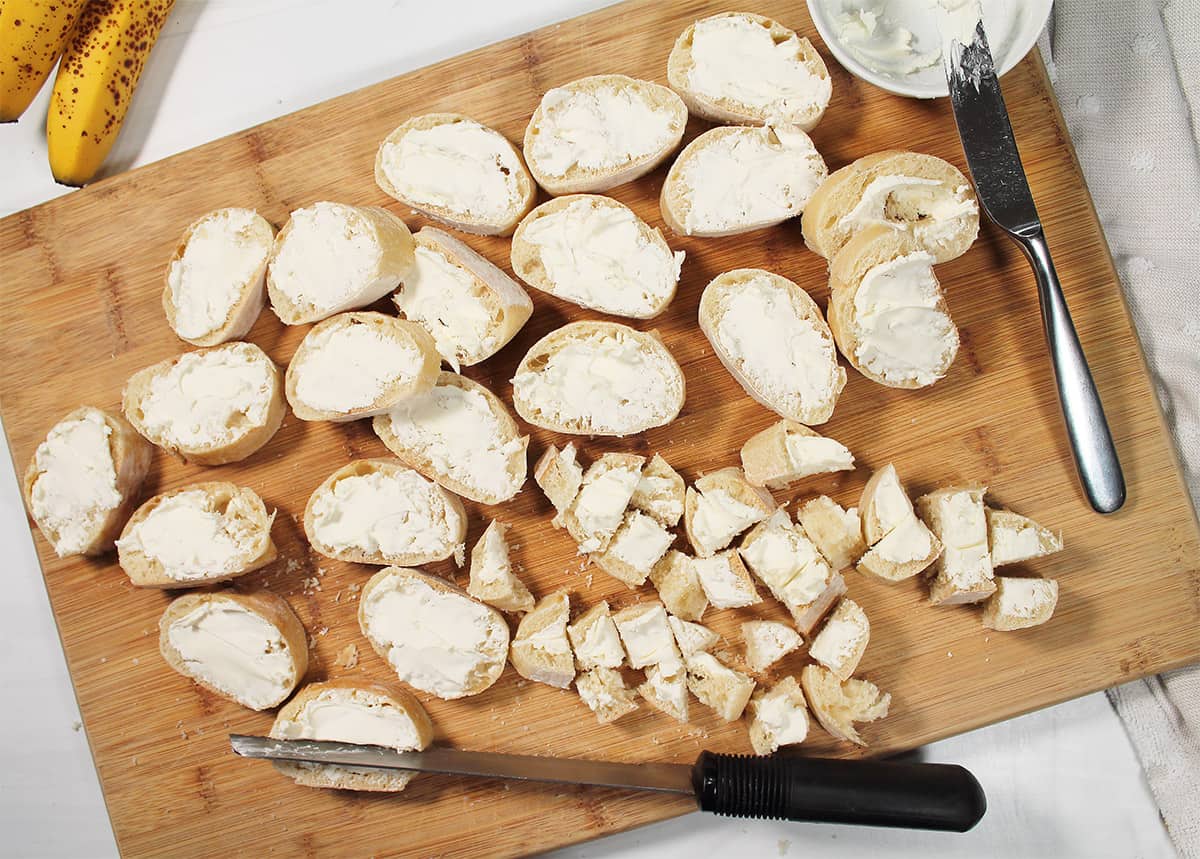 Slice the French Bread, smear with cream cheese then cut into smaller pieces.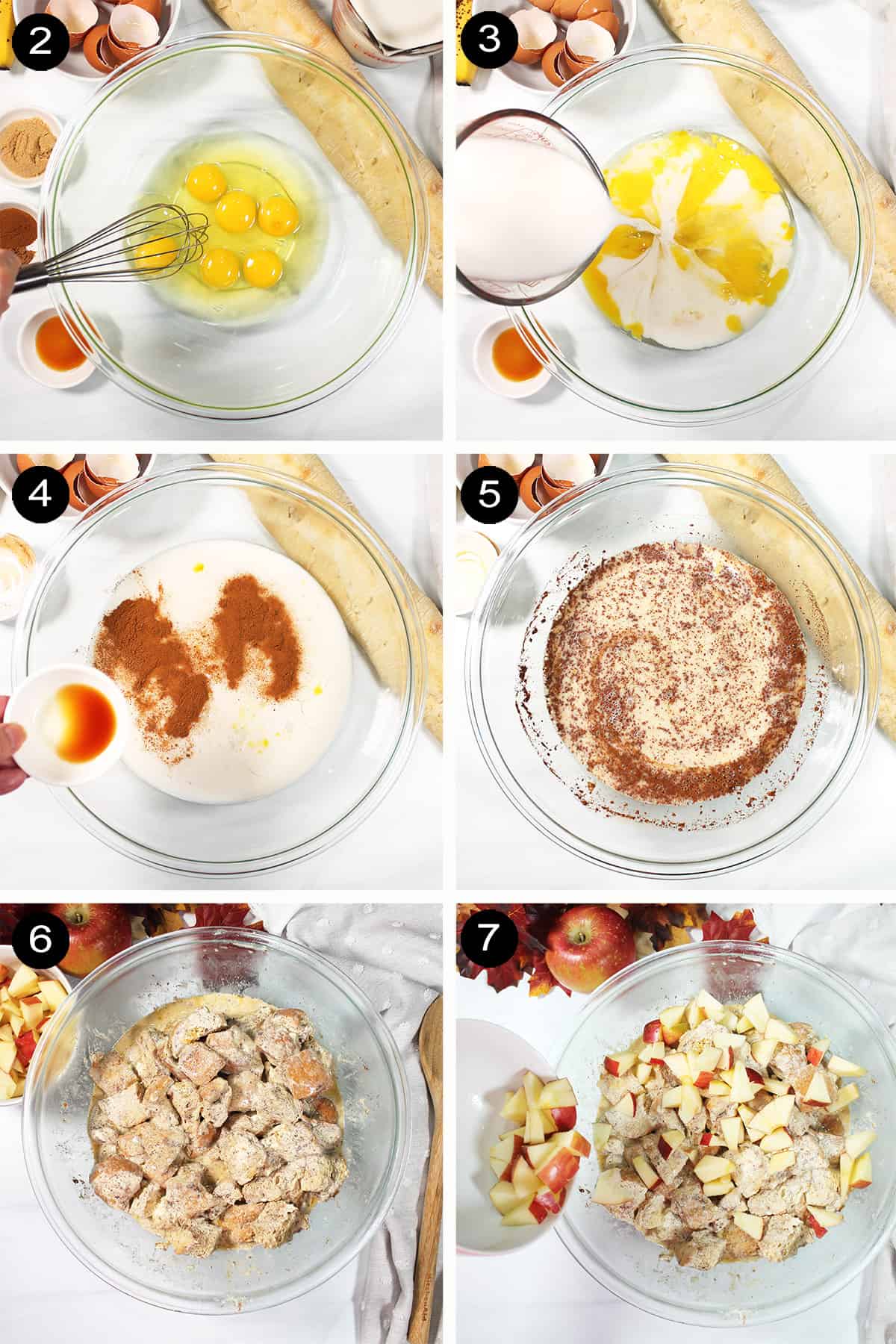 Whisk eggs in a large bowl.
Pour in milk.
Add brown sugar, vanilla extract, and spices.
Stir well.
Drop in cubes of cream cheese smeared bread. Push down to soak all the bread.
Stir in the apples.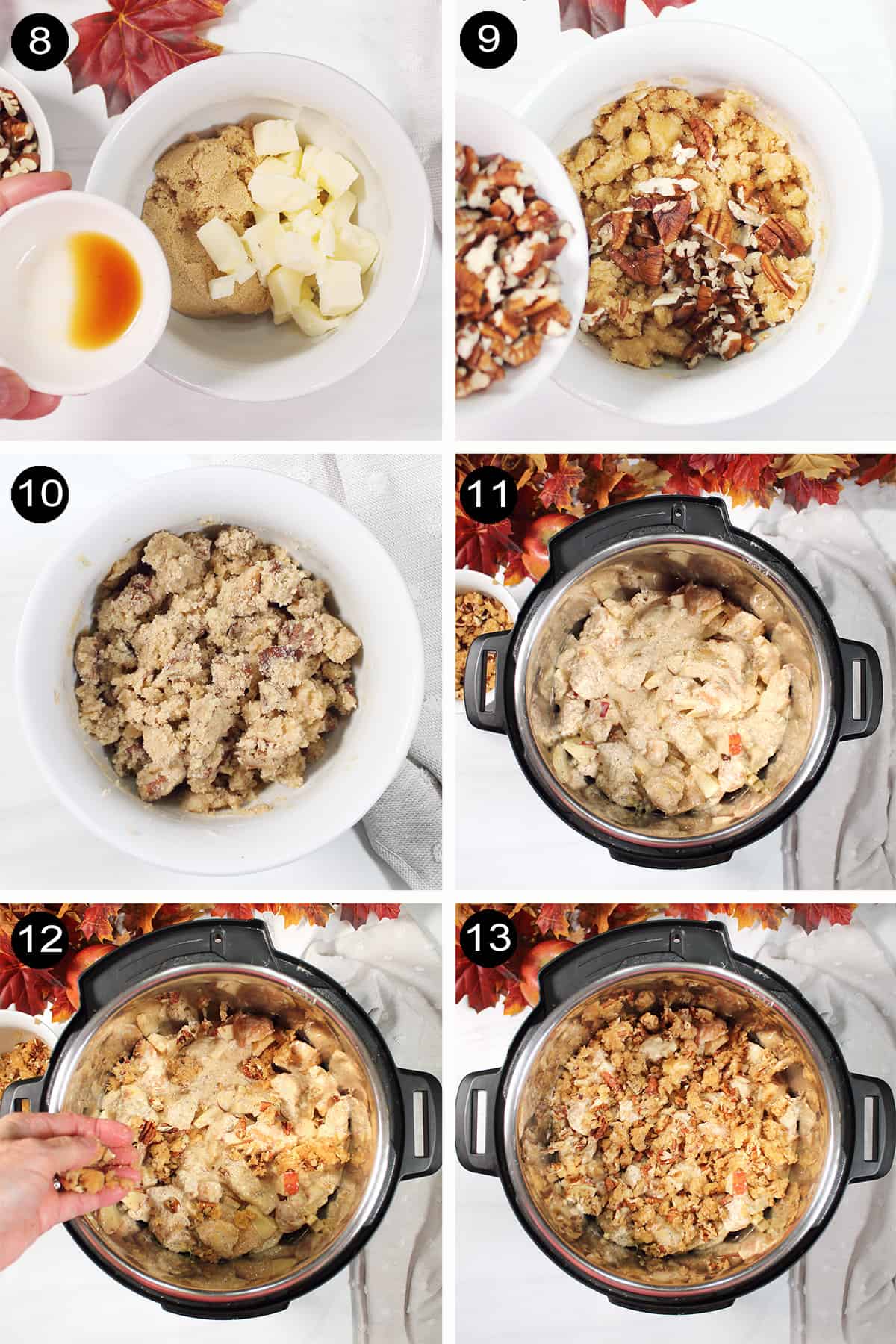 Combine cold butter, brown sugar, and vanilla extract in a small bowl.
Work with a fork or your fingers until the mixture resembles coarse crumbs then add in pecans.
Stir. The mixture should look like this.
Pour the milk-soaked bread into the prepared crockpot.
Sprinkle with crumbs. Place several paper towels under the lid to absorb condensation.
Cover and cook for 4 hours on low.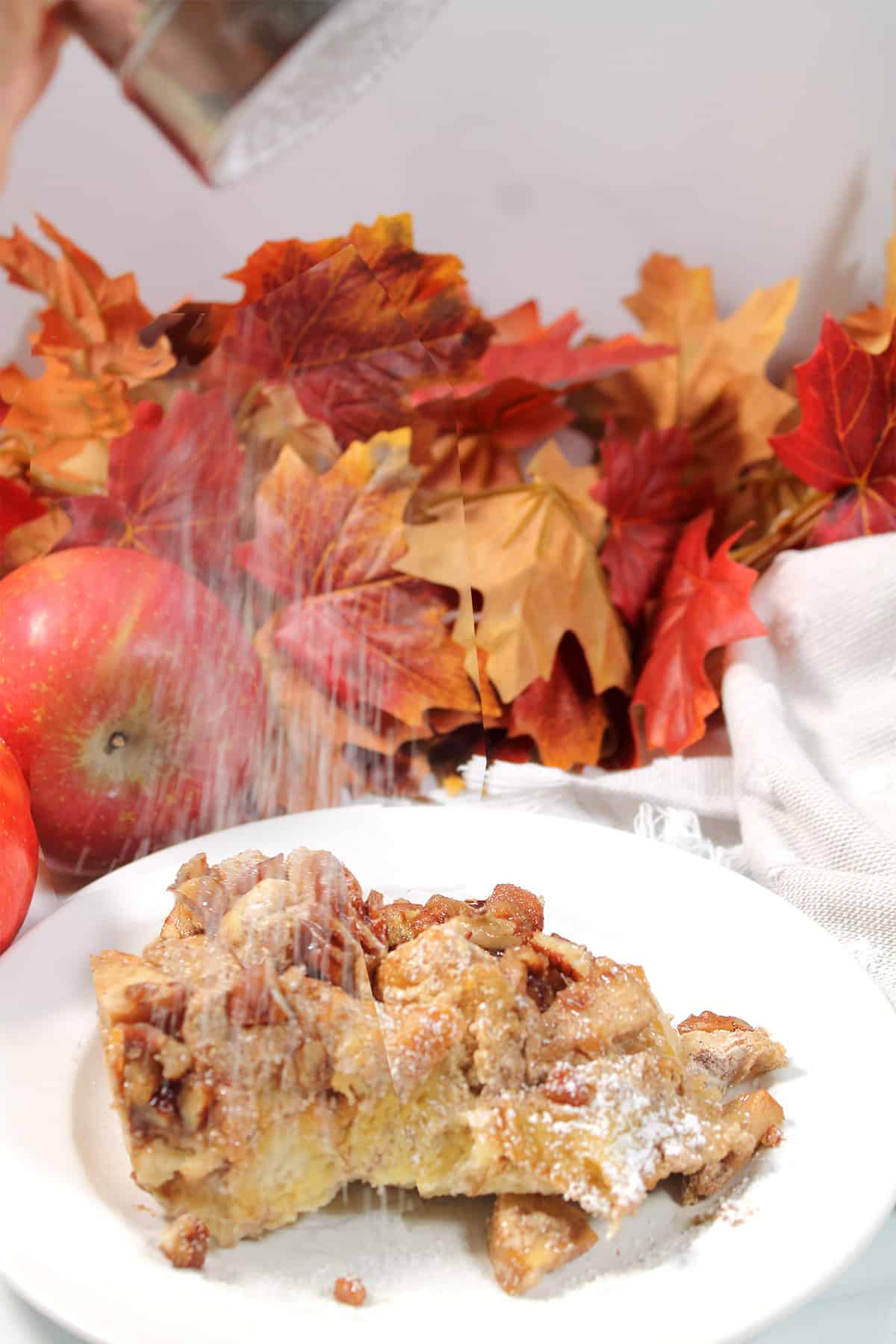 To finish, scoop a nice serving of warm French Toast out of the crockpot and plate. Sprinkle with powdered sugar to make it look pretty.
Drizzle on the syrup. My mouth is watering just looking at the photo!
Note: The best syrup for French Toast is pure maple syrup.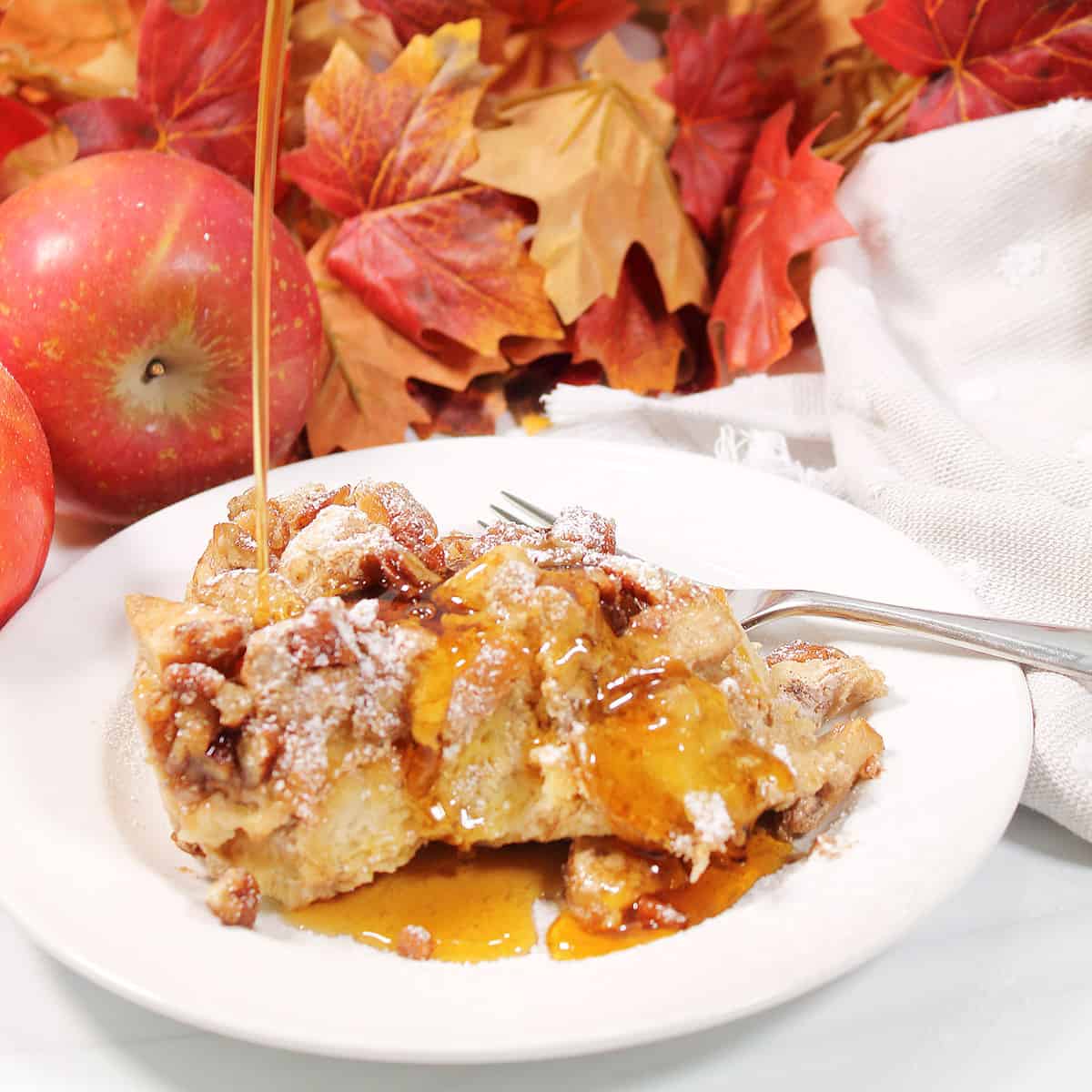 Now dig in! I know you've been dying to ever since those awesome aromas have been circulating throughout the house. It's moist and flavorful with a sweetness from the crumbs and a crunch from the pecans.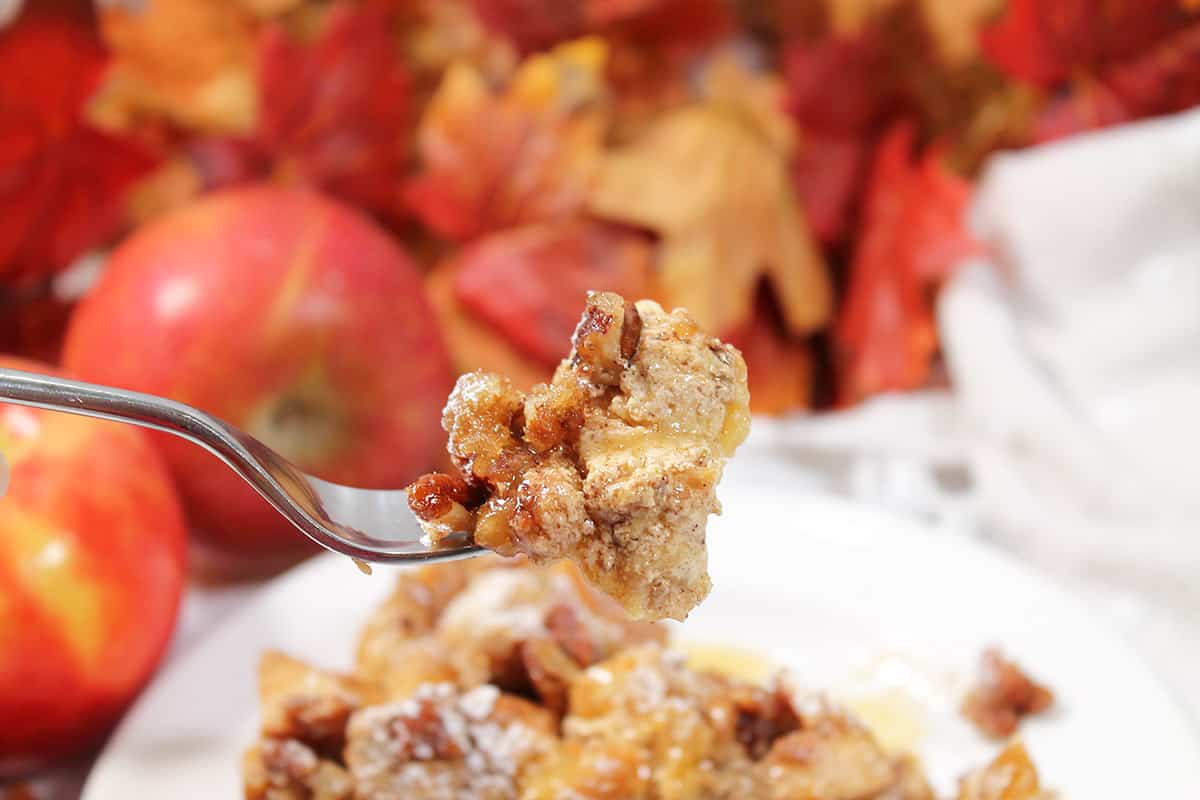 What To Serve With French Toast Casserole
Fresh Fruit
Eggs or an Omelette
Bacon or Sausage
This is a great breakfast or brunch for every day but delicious enough for company and holidays. You can also wrap it in separate portions and save it for a quick breakfast during the week. Enjoy!
How to Store and Reheat
To Store: Place the French Toast casserole in an airtight container in the refrigerator. It will last up to 5 days.
To Freeze: Place the French Toast casserole in a freezer-safe airtight container. Freeze for up to 3 months. Thaw in the fridge overnight.
To Reheat: Place a portion of it in an oven-safe dish or ramekin. You can reheat it in the microwave, oven, or air fryer. Microwave in 30-second increments until heated though. Bake at 350°F for about 10 minutes. Air Fry at 325°F for about 4 minutes.
Frequently Asked Questions About French Toast Casserole
Is it better to use stale bread for French Toast?
Yes, day-old or stale bread has dried and will allow it to soak up more of the flavorful batter.
How can I dry out bread for French Toast casserole?
Cut the bread into cubes and place them on a baking sheet. Bake at 170°F for about 15 minutes. Stir them halfway through to ensure even drying.
Why is my Crockpot French Toast soggy?
There are 4 reasons why slow cooker French Toast is soggy:
One: There was too much liquid because the bread wasn't dried out enough first.
Two: You didn't place paper towels under the lid to absorb condensation.
Three: You may have cooked it on the WARM setting instead of LOW or HIGH as instructed.
Four: It needs to cook a little longer.
LOVE QUICK & EASY RECIPES? FOLLOW ME ON INSTAGRAM, FACEBOOK, & PINTEREST FOR ALL THE LATEST RECIPE INSPIRATION! PLUS JOIN MY EMAIL LIST AND RECEIVE A FREE E-BOOK.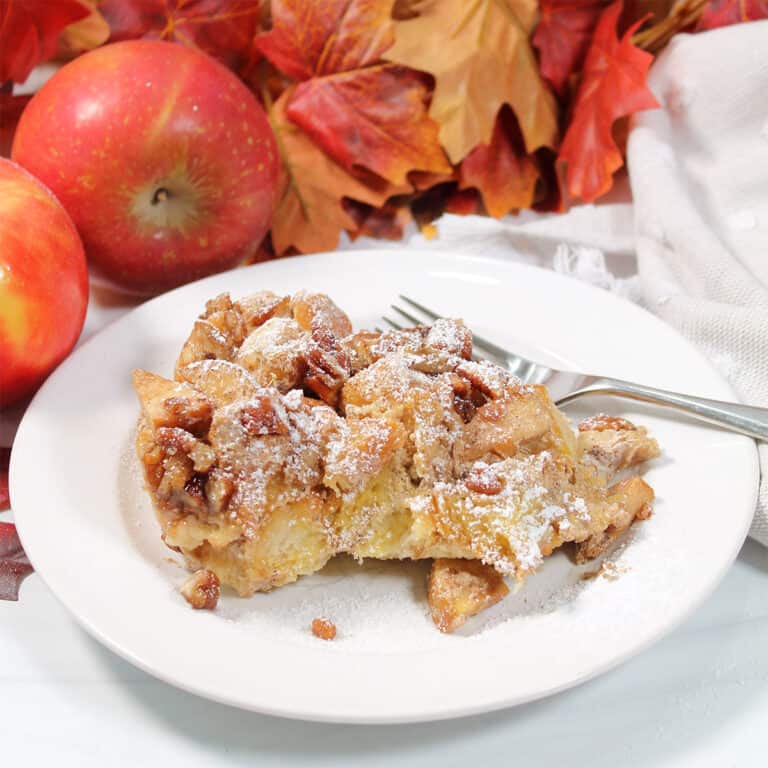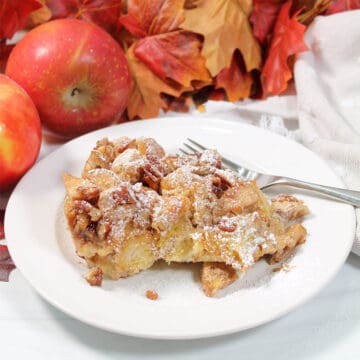 Crockpot French Toast with Apples
Take the hassle out of breakfast! This Crockpot French Toast is so simple to make and oh so delicious to wake up to! Throw it in the pot and you're done.
Print
Rate
Ingredients
French Toast
1

loaf French bread,

sliced

3-4

oz

cream cheese

softened

6

eggs

2

cups

milk

1

teaspoon

vanilla extract

¼

cup

light brown sugar

1 ½

teaspoons

cinnamon

½

teaspoon

nutmeg

1-2

cups

diced apples

(about 2 apples)
Topping
¼

cup

cold butter,

cut into squares

½

cup

brown sugar

½

teaspoon

vanilla extract

½

cup

pecans,

chopped
Instructions
Prepare your crockpot by spraying well with a non-stick spray.

Slice french bread and spread one side with cream cheese. Cut into cubes.

In a large bowl, combine eggs, milk, vanilla, brown sugar, cinnamon & nutmeg.

Add bread cubes and toss to coat. Place mixture in the refrigerator and let the bread soak in the liquid for overnight or at least 4 hours.

When you are ready to make breakfast, stir the cubed apples into the bread mixture then pour it into the prepared crockpot.

In a small bowl, combine butter, brown sugar and vanilla and mix until resembles coarse crumbs. Toss in nuts.

Sprinkle the crumbs on top of the soaked bread mixture.

Cover and cook on low for 4 hours or on high for 2 hours. Note: Place several paper towels under the lid and trap them there. This will help keep the condensation from making the French Toast too wet.

Serve warm topped with your favorite toppings such as powdered sugar and maple syrup.
Notes
BEST BREAD FOR FRENCH TOAST
French Bread
Brioche
Challah
Baguette
Bagel - plain or cinnamon
Hamburger Buns
Texas Toast or other thick-sliced regular white bread
Thick Sliced Cinnamon Toast
Nutrition
Calories:
586
kcal
|
Carbohydrates:
71
g
|
Protein:
17
g
|
Fat:
27
g
|
Saturated Fat:
12
g
|
Polyunsaturated Fat:
4
g
|
Monounsaturated Fat:
9
g
|
Trans Fat:
0.3
g
|
Cholesterol:
208
mg
|
Sodium:
608
mg
|
Potassium:
378
mg
|
Fiber:
3
g
|
Sugar:
37
g
|
Vitamin A:
814
IU
|
Vitamin C:
1
mg
|
Calcium:
211
mg
|
Iron:
4
mg
This post has been updated with step-by-step instructions and new photos. It was first published on October 4, 2015.