These Air Fryer Italian Meatballs are crispy on the outside, juicy on the inside, and take just 15 minutes to make. Just a few simple ingredients make these healthier than fried meatballs and bonus, cleanup is a breeze. Serve them for dinner or as an appetizer. Options for gluten-free, keto, and low carb.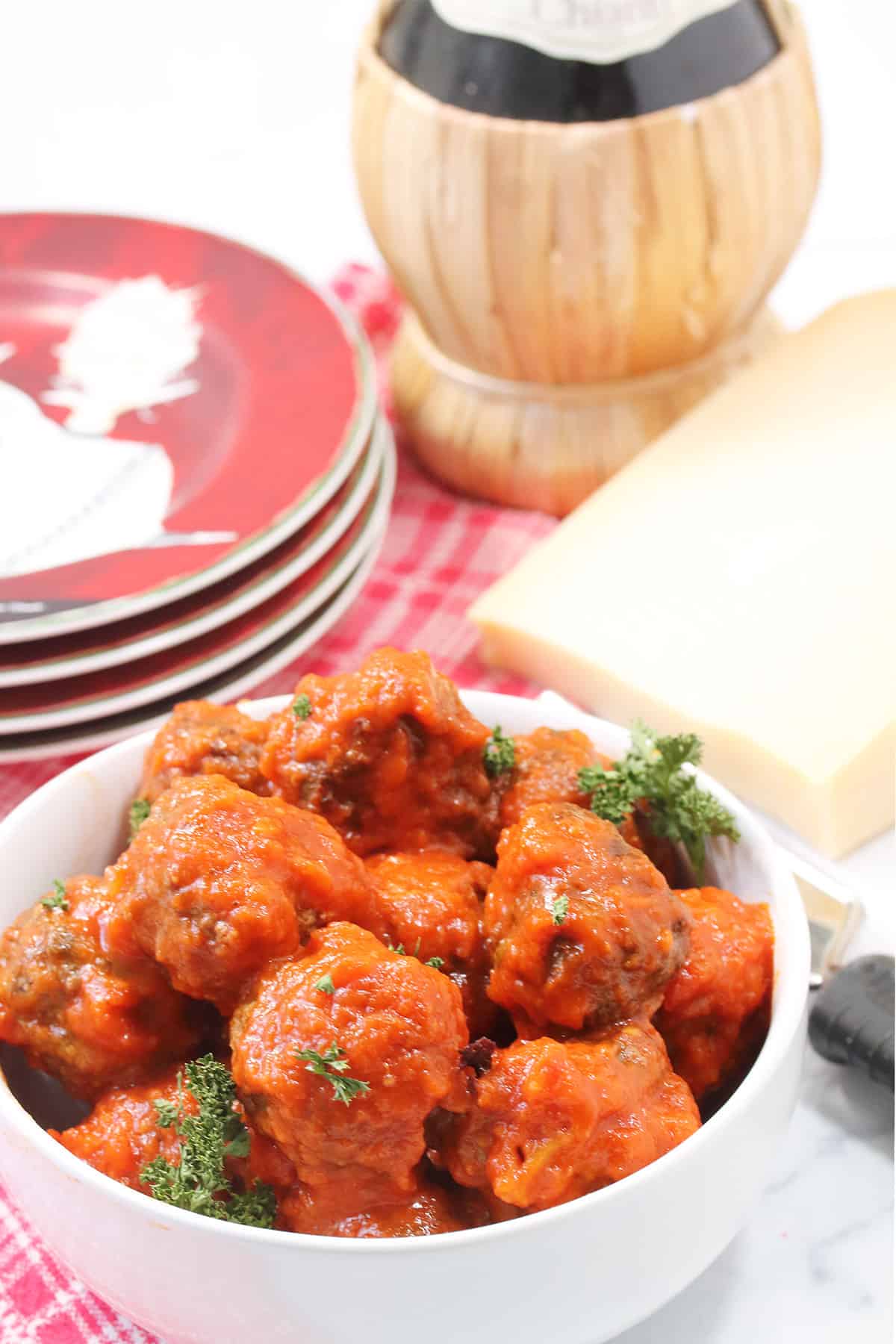 These Air Fryer Italian Meatballs are one of my family's favorite dinners. And that's saying a lot since we all love our meatballs! This air fryer meatball recipe is super easy to make, tastes fantastic, and, simply said, is the best homemade meatball recipe you'll ever taste.
Deciding to make them in the air fryer was a real eye-opener. I love my air fryer and have made everything from Southwest Egg Rolls to Grilled Cheese to Chicken Parmesan so why I never thought to make air fry meatballs before now is beyond me.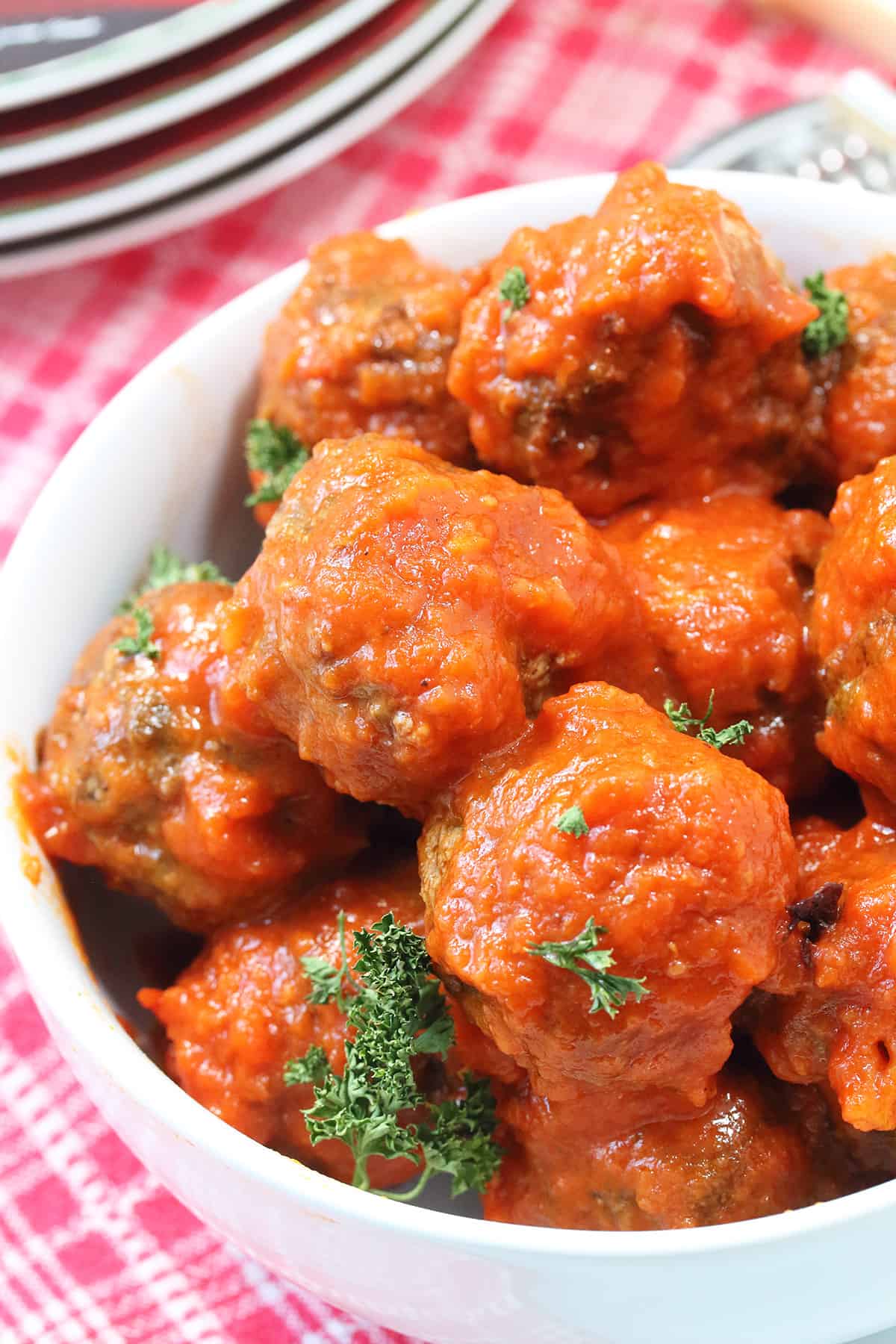 It turns out these air-fried meatballs are quick and easy to whip up, come out perfectly browned with a nice crispy outside, and still deliver that moist inside that makes them so popular.
And using an air fryer is a healthier and way less messy method of cooking them. No grease splattered all over the stove from frying them in a pan and no turning is needed as you do when baking them. Pretty hands-off including the simple cleanup. They're a hands-down winner in my house!
Why You'll Love These Air Fryer Meatballs
Simple ingredients, simple recipe and no turning necessary
Brown up with a crispy outside without all the spattering of oil
Healthier than frying and so juicy
Quick turnaround – just 5 minutes prep and 10 minutes to air fry
Super easy cleanup
Freezing Leftover Meatballs
These beef meatballs are quick to make and last up to 4 days in the refrigerator but they also freeze well. Just make them as per the recipe, let them cool, then place them on a baking sheet and freeze for 1-2 hours. Once frozen, place them in a freezer-safe resealable bag and take them out wherever you need them. They're your own homemade bag of frozen meatballs!
Can I Cook Frozen Meatballs in Air Fryer
Absolutely! Whether they are your own home-cooked beef meatballs or a bag purchased from the store, they can be cooked in the air fryer. Bonus - you cook them right from their frozen state. Preheat your air fryer to 400 degrees then air fry for 9-11 minutes or until brown. Shake halfway through.
Ingredients for Italian Meatballs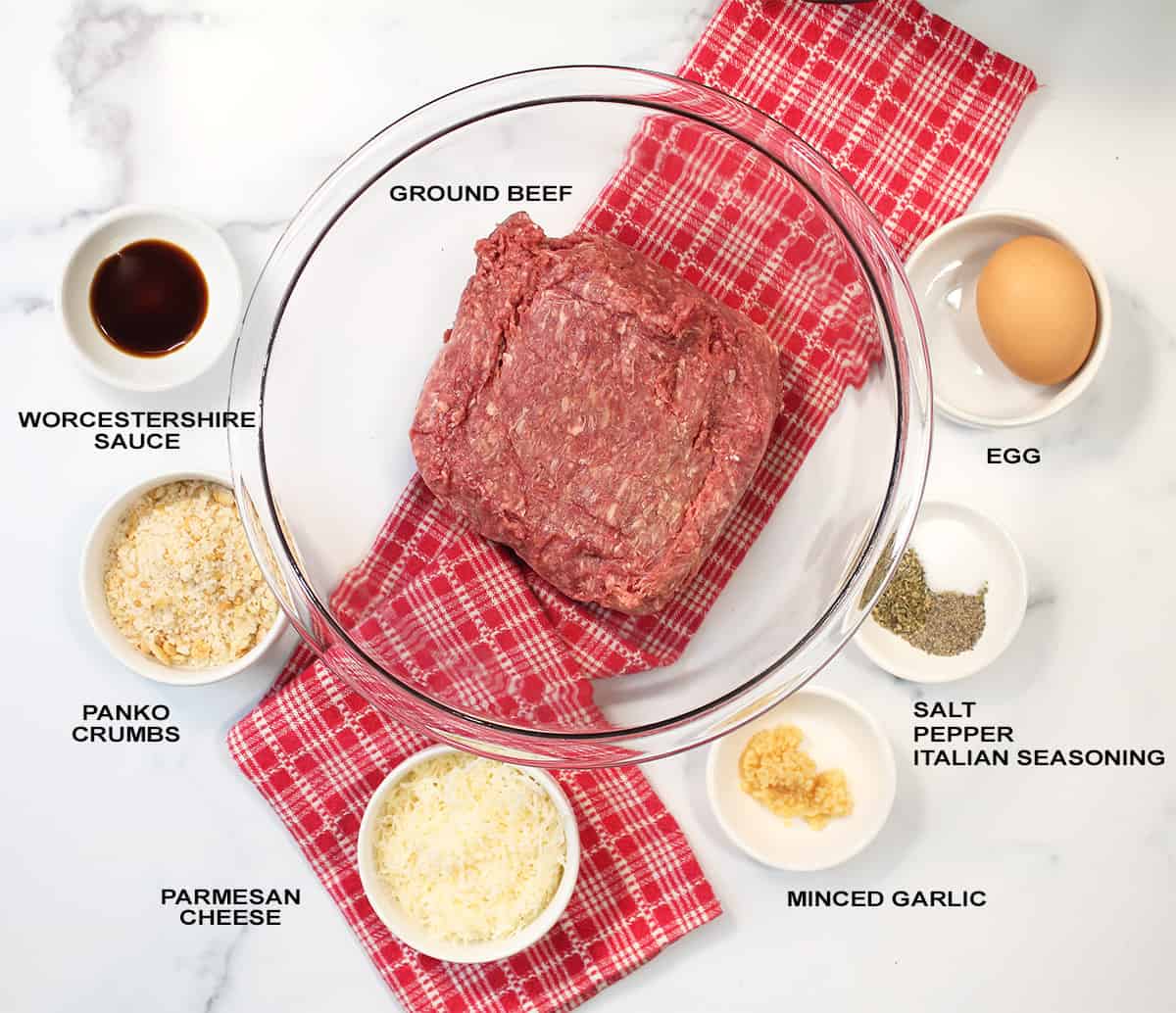 Easy, everyday ingredients make these meatballs a snap to make.
Ground Beef – I like to use organic ground beef which I feel gives you the healthiest meatballs while still being juicy. If you are using very lean ground beef, you can add some ground pork or Italian sausage to make them a bit juicier.
Minced Garlic – always a favorite in Italian food. You can use either fresh chopped garlic or jarred minced garlic.
Italian Panko Crumbs – lend the perfect seasoning to the meatballs while helping to make the meatballs soft and tender. Flavored breadcrumbs can be substituted.
Egg – is the glue that holds the meatballs together. They should be room temperature for easier blending.
Parmesan cheese – adds a flavorful zing to the mix. Grate the cheese very fine so that it blends better with the other ingredients.
Seasonings – Worcestershire sauce adds a nice tang to the meatballs while the Italian seasoning provides flavor.
Salt & pepper – Never forget these two ingredients as they enhance all the other flavors.
How to Make Homemade Meatballs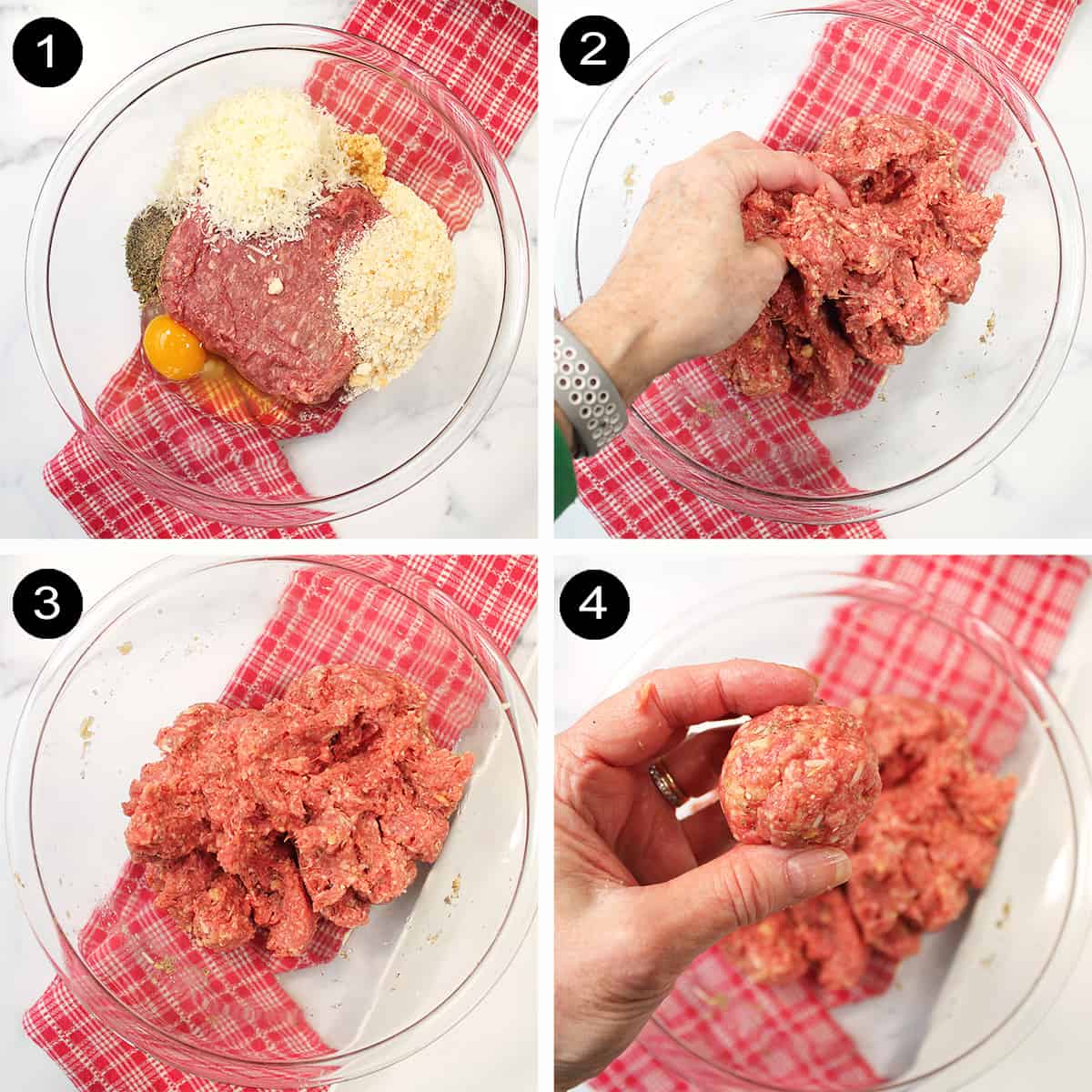 In a large bowl, combine ground beef, egg, panko crumbs, parmesan cheese, Italian seasoning, salt and pepper.
Mix well using your hands to work the mixture together.
The meatball mixture should have a uniform look when finished. Try not to overwork the mixture or the meatballs may be tough.
Using your hands, roll meatballs into balls that are about 2" in diameter.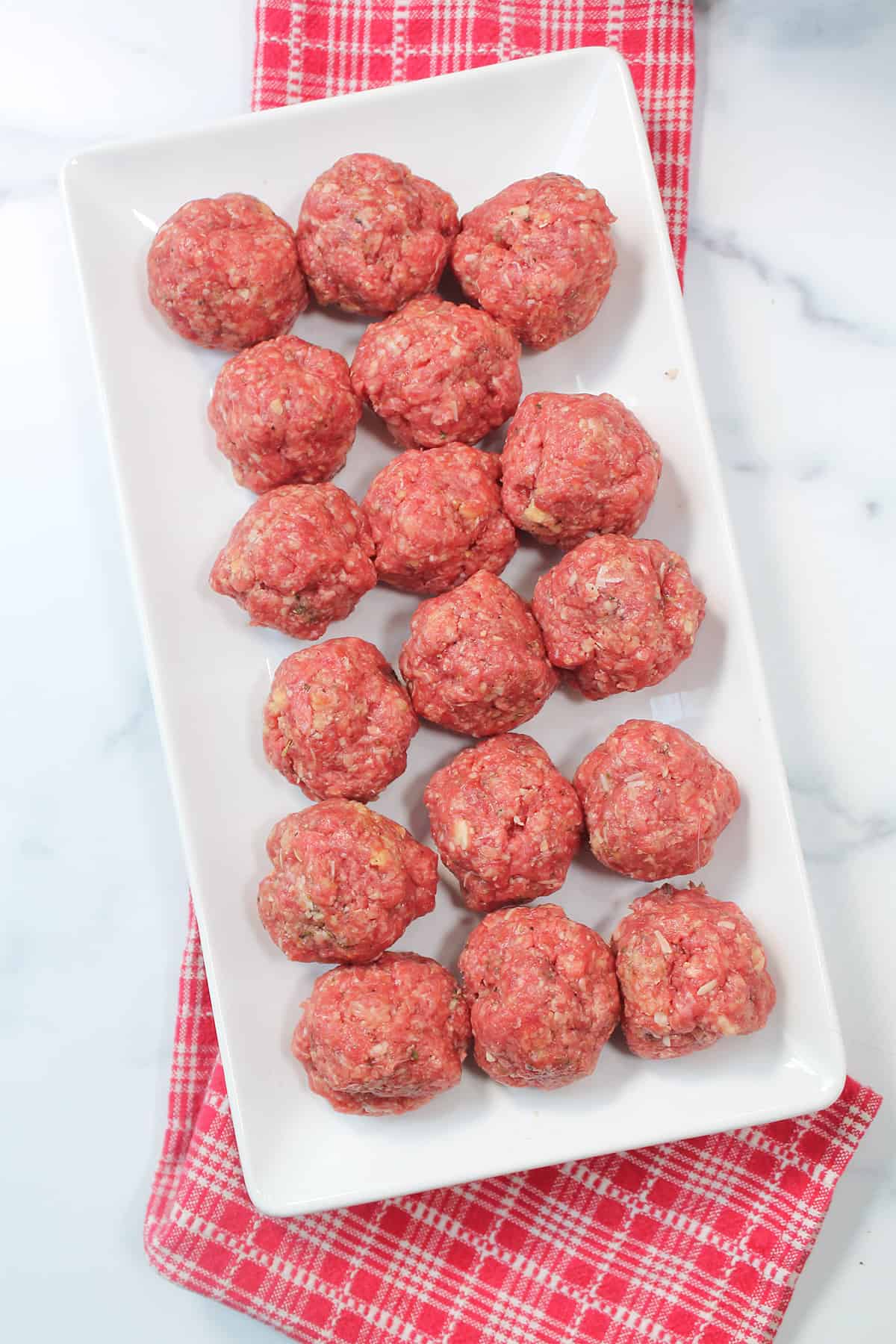 Meatballs ready for air fryer.
How to Cook Meatballs in Air Fryer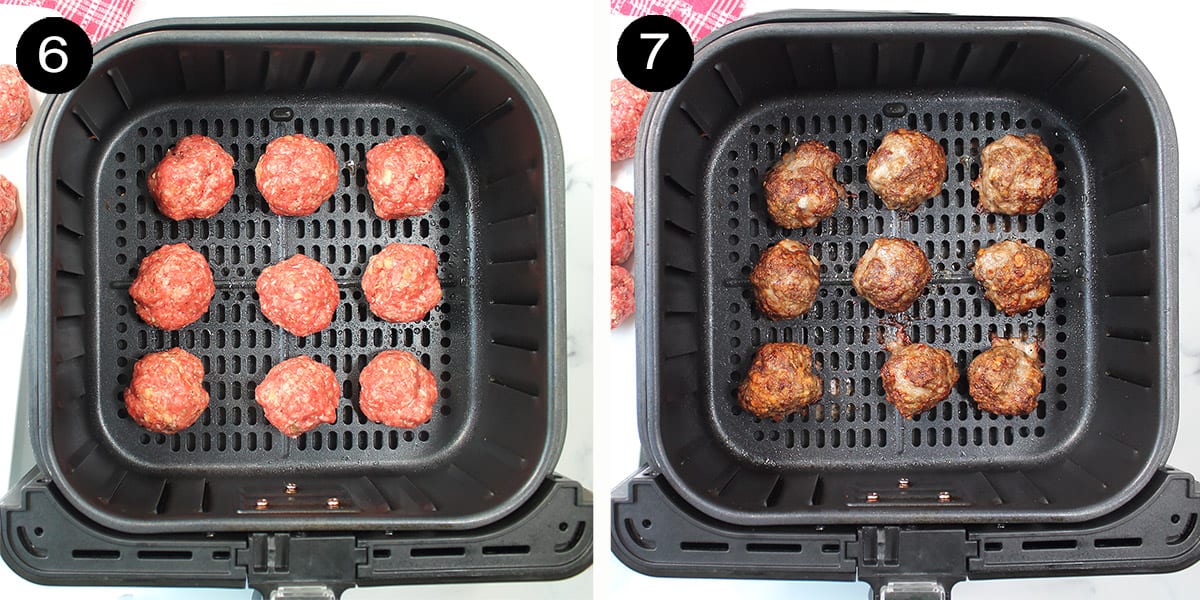 Place meatballs in air fryer. Make sure there is sufficient room around the meatballs so that the air can circulate. This will ensure even cooking.
Air fry for 10-11 minutes at 400 degrees.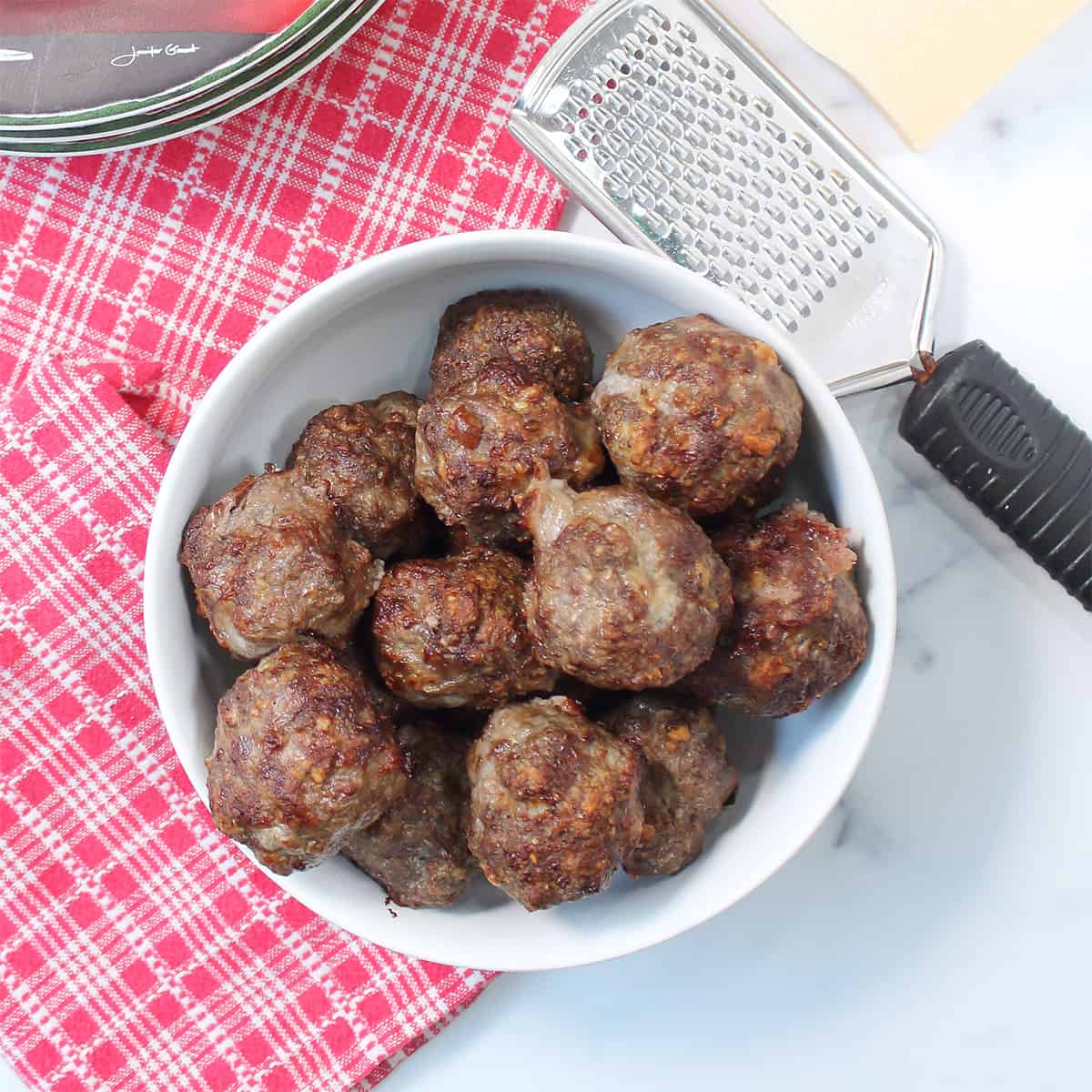 Beautifully browned air fryer meatballs ready to serve in your favorite way.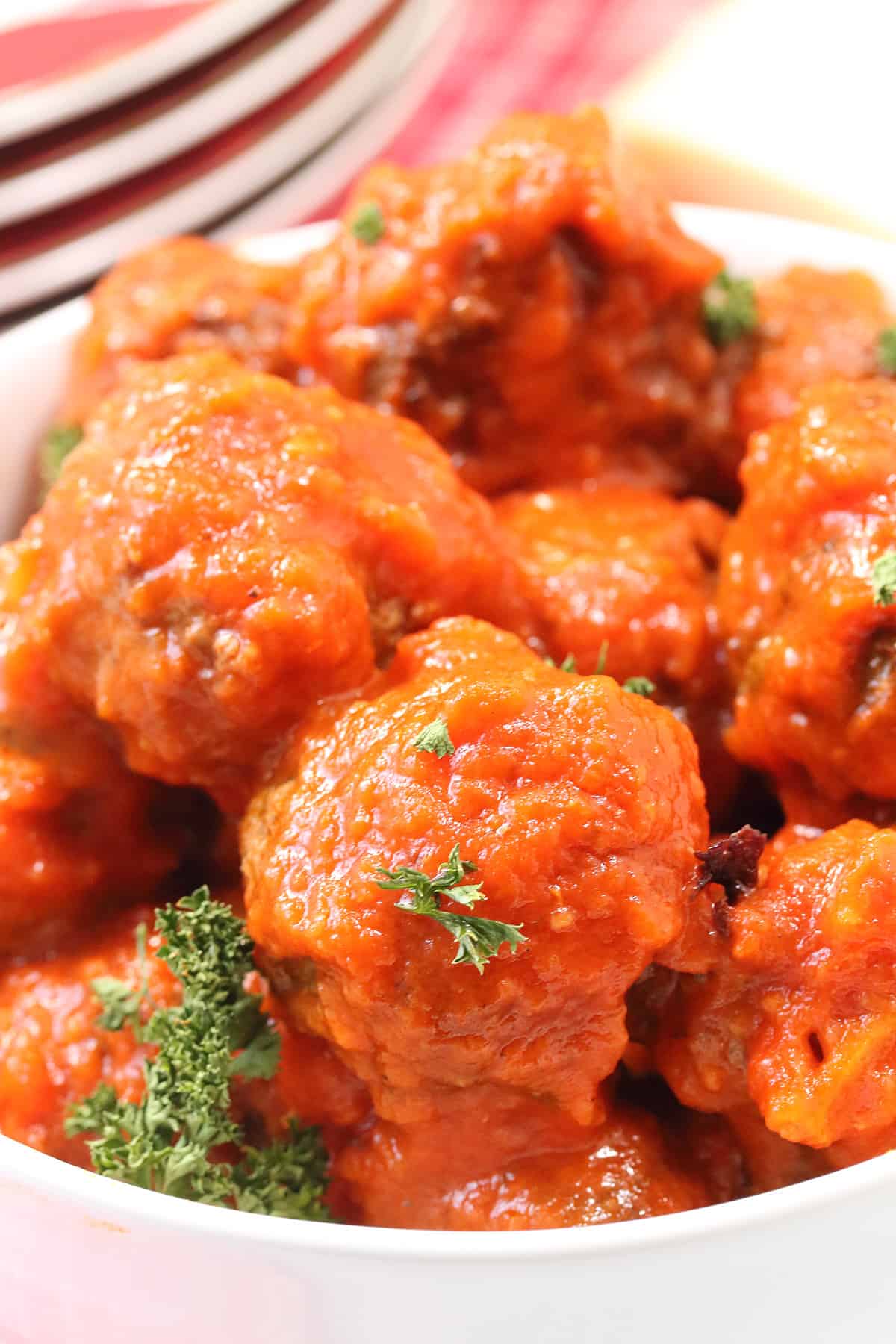 Make these Air Fryer Italian Meatballs for dinner tonight and serve over pasta with marinara sauce or as is with baked or mashed potatoes and a side of roasted vegetables or corn on the cob. It's a meal the whole family will love! Enjoy!
Tips for Air Fryers
Air Fryers vary temperature-wise from brand to brand. Check your meatballs a few minutes early to make sure they are not getting too done. Look for a temperature of 165 degrees in the center.
Preheat your air fryer while making your meatballs to help cook the food more evenly and shave a little time off.
Always make sure to load your air fryer basket in a single layer leaving room around the meatballs for the air to circulate
** Don't use cooking sprays (like Pam) as they will cause the coating of the air fryer basket to chip. Instead, use avocado or olive oil in an oil mister.
Variations
Meats - you can substitute any number of meats for the ground beef. Try ground turkey meatballs, ground chicken meatballs, ground pork meatballs, bison, ground lamb, or venison.
Combine Meats - to make these meatballs even moister, consider adding ground Italian sausage or ground pork for part of the ground beef.
Vegetables - add finely chopped onion for a heartier flavor
Gluten-free Meatballs - replace the panko crumbs with a gluten-free variety
Keto/Low Carb Italian Meatballs - replace the panko crumbs with almond meal or flour. You can also use crushed, not ground, pork rinds for the breadcrumbs. Remember to add some extra Italian seasoning to replace that of the seasoned crumbs.
What Can I Make with Leftover Meatballs
These Italian Meatballs are simply handy to have on hand. Whether they're homemade, fresh, or frozen, they can make recipes from appetizers to dinner quick and easy.
APPETIZERS
DINNER
Spaghetti and Meatballs
Swedish Meatballs
Meatball Subs
Meatball Pizza
More Air Fryer Recipes
Air Fryer Ravioli - are one of the tastiest, easiest appetizer recipes. Toasted ravioli comes out hot and cheesy and is great dipped into marinara.
Air Fryer Hot Dogs - are a quick and easy way to get crispy, juicy hot dogs complete with a toasty roll.
Air Fryer Tuna Patties - are simply made starting with a can of tuna and 8 minutes in the air fryer. They cook up deliciously soft on the inside, crunchy on the outside, and are always a family favorite.
Find more easy Air Fryer recipes on 2CM!
LOVE QUICK & EASY RECIPES? FOLLOW ME ON  INSTAGRAM, FACEBOOK, & PINTEREST FOR ALL THE LATEST RECIPE INSPIRATION! PLUS JOIN MY EMAIL LIST AND RECEIVE A FREE E-BOOK.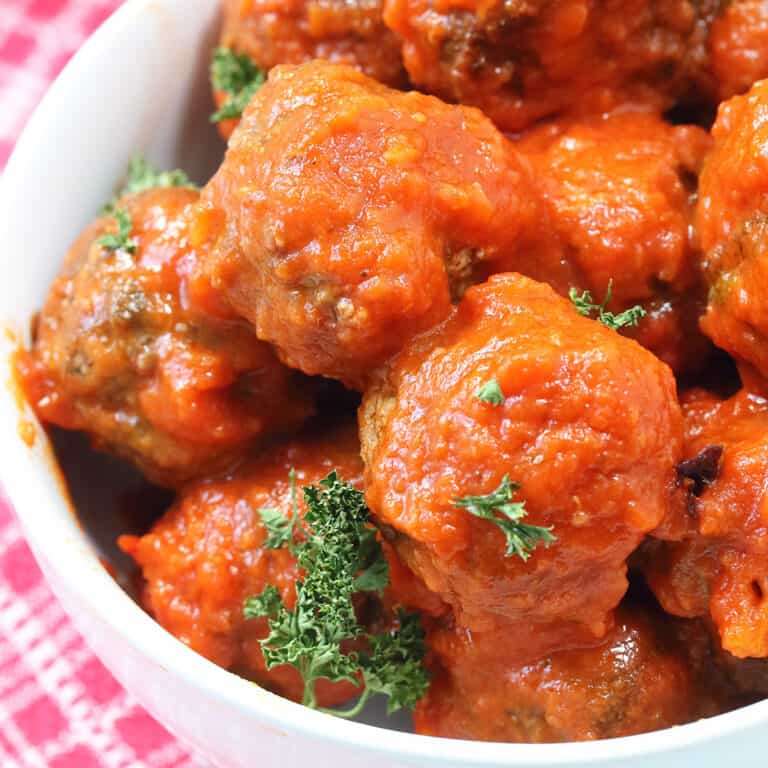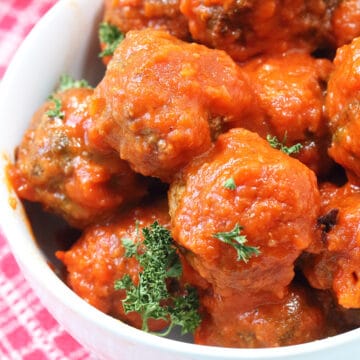 Air Fryer Italian Meatballs
These Air Fryer Meatballs are crispy on the outside, juicy on the inside, and take just 15 minutes. Serve them for dinner with pasta or as an appetizer.
Print
Rate
Ingredients
1 ½

lbs

ground beef

2

teaspoons

Worcestershire sauce

1

egg

beaten

¼

cup

Italian-flavored panko crumbs

(use gluten-free panko crumbs for gf diets)

⅓

cup

Parmesan cheese

grated

1

teaspoon

minced garlic

1

teaspoon

dried Italian seasoning or dried basil or 1 Tablespoon chopped fresh basil

½

teaspoon

salt

¼

teaspoon

black pepper
Instructions
Preheat air fryer to 400 degrees.

In the meantime, mix all ingredients together in large bowl. Try not to overwork the mixture or the meatballs with be tough.

Form 2" diameter meatballs (about 1-½ oz each), making sure not to compact them too much or they will cook up rather dense.

Spray preheated air fryer with nonstick spray. Place meatballs carefully in air fryer in a single layer making sure there is ample room around them to cook evenly. (you may have to do 2 batches)

Air fry for 10-11 minutes or to an internal temperature of 165 degrees.

Take out and place in your favorite marinara sauce and let simmer for 20-30 minutes to absorb some of the flavors.

Makes 16-20 meatballs or about 3 meatballs per serving.
Notes
To Reheat Meatballs
Preheat air fryer to 250 degrees then air fry meatballs for 5 minutes or until warm.
To Cook from Frozen
Preheat your air fryer to 400 degrees then air fry for 9-11 minutes or until brown. Shake halfway through.
Nutrition
Calories:
340
kcal
|
Carbohydrates:
6
g
|
Protein:
22
g
|
Fat:
25
g
|
Saturated Fat:
10
g
|
Polyunsaturated Fat:
1
g
|
Monounsaturated Fat:
10
g
|
Trans Fat:
1
g
|
Cholesterol:
87
mg
|
Sodium:
405
mg
|
Potassium:
336
mg
|
Fiber:
1
g
|
Sugar:
1
g
|
Vitamin A:
51
IU
|
Vitamin C:
1
mg
|
Calcium:
96
mg
|
Iron:
3
mg