These Air Fryer Ravioli are a crispy, bite-sized fried cheese appetizer that takes just 12 minutes to whip up. Only 4 simple ingredients and you'll be dipping these toasted ravioli in your favorite marinara in no time. Great for game day, fun get-togethers, or make it dinner. No air fryer? No problem. Baking directions are also given.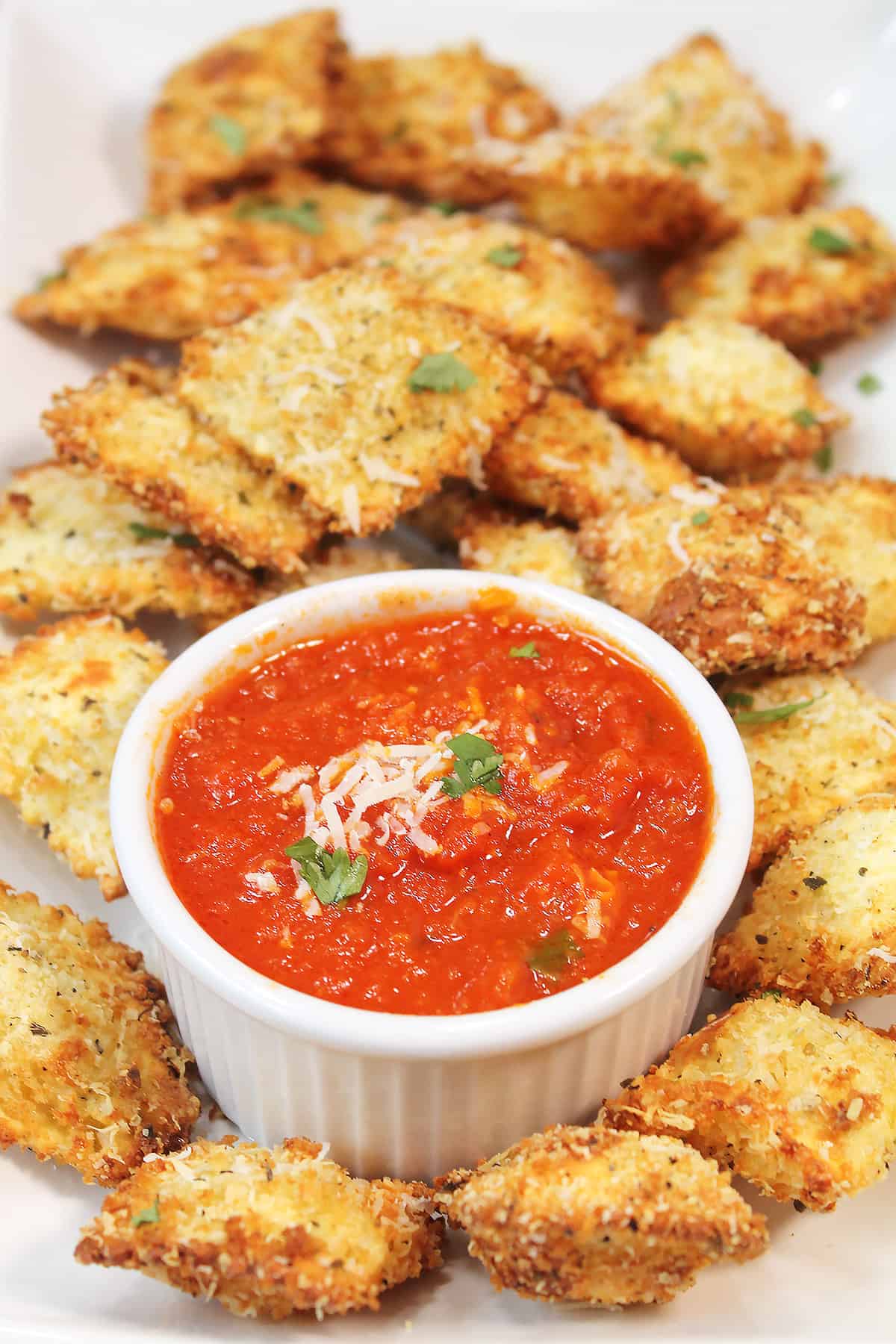 I love Italian food, and especially ravioli, so being able to convert one of my favorite foods to an appetizer is simply the best. And these little bite-sized ravioli are easy to make, using either fresh or frozen ravioli, and come out so crispy and delicious you won't be able to stop eating them!
Favorite dinners that you can turn into appetizers for parties and game days always turn out to be crowd favorites. Recipes like Meatball Sliders, Caprese Empanadas, and Air Fryer Spaghetti and Meatball Cups are some of my favorites.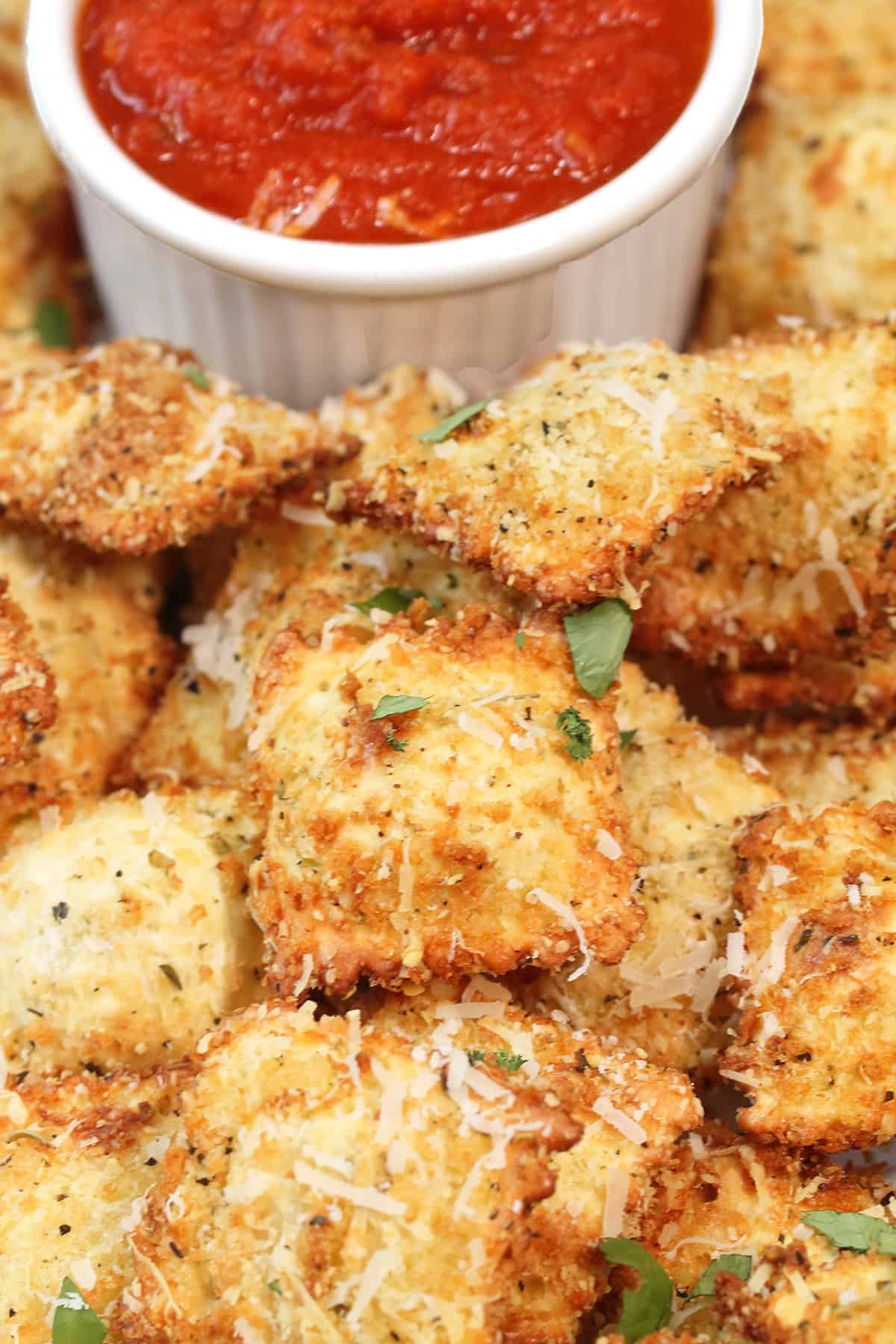 Now on to these little Italian appetizers! Just look at those mouthwatering air fryer ravioli done to perfection! And all in less than 15 minutes!
When air fried, they puff up, turn crispy, and become a beautiful toasty golden-brown that will make your mouth water! Finish these air fryer toasted ravioli with a sprinkle of grated parmesan and chopped parsley or basil and dig in! Serve nice and hot with sides of marinara sauce, ranch dressing, or even pesto.
What is Toasted Ravioli?
It's a breaded ravioli dusted with parmesan that has been toasted in either an oven or air fryer and served as an appetizer. It originated in St. Louis Missouri in the 1950s in an Italian restaurant. There is some dispute as to which restaurant can lay claim to this delicious appetizer but take your pick from Angelo Oldani's on the Hill, Mamas Campisi's or Charlie Gittos. They're all good!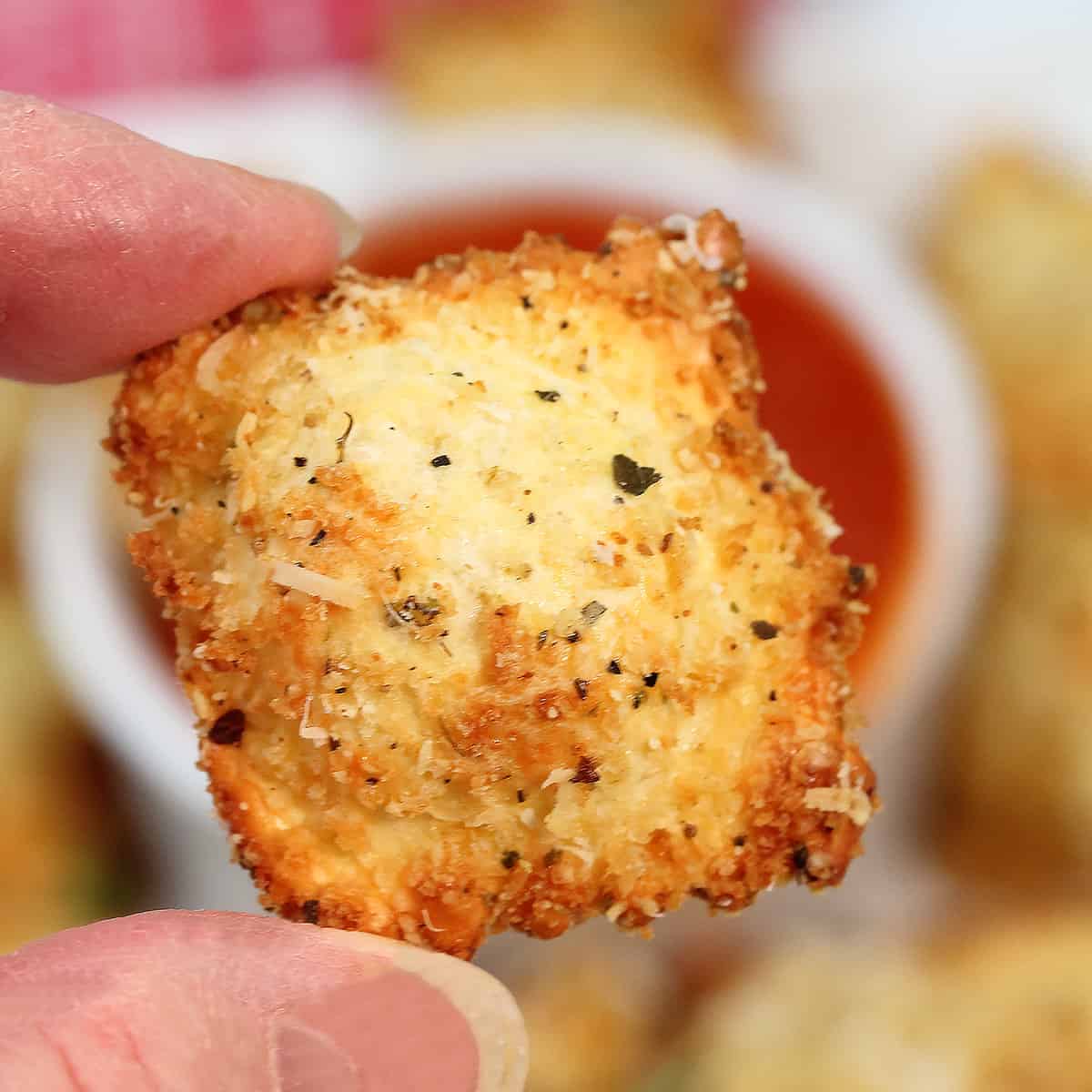 Why You'll Love This Air Fried Ravioli
Easy to make with only 4 ingredients
A quick appetizer made in just 12 minutes!
Lower fat and a bit healthier than the usual deep fried ravioli
No grease splatters or mess with the air fryer so clean up is a breeze
A delicious mix of crispy and cheesy that you can hold in your hand
Ingredients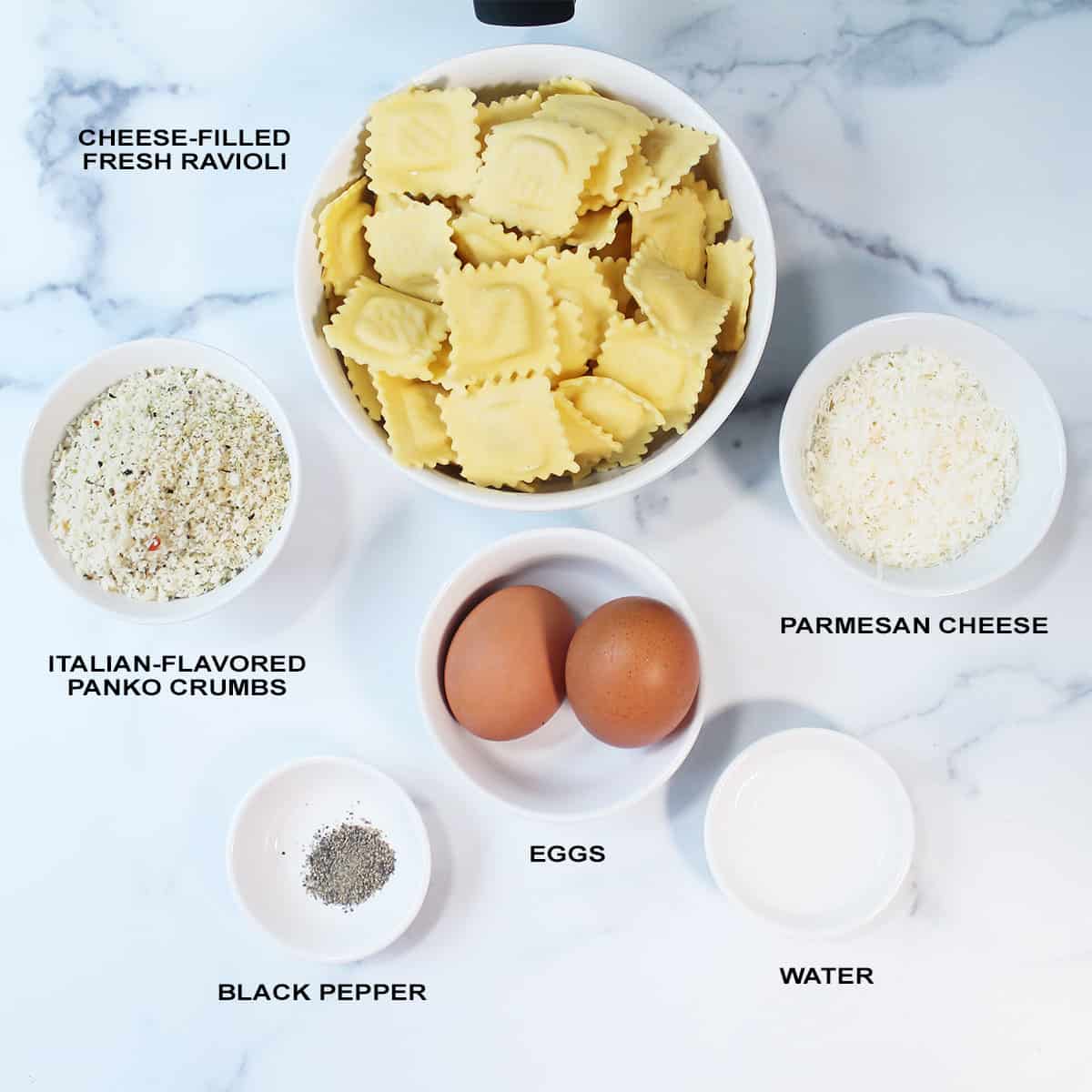 Ravioli – round, square, small or large, any ravioli with any filling will do. Plus you can use either fresh or frozen. I like to use the small square ravioli to make them the perfect size for popping into your mouth.
Egg – helps the panko crumbs stick to the outside of the ravioli
Panko Crumbs – are the best coating for crispiness although, if you prefer, you can also use regular breadcrumbs. Use a flavored variety, such as Italian and Parmesan crumbs, for an additional pop of flavor
Parmesan Cheese – is added to the panko to make the appetizer even more cheesy
Seasonings – add just a touch of pepper for a bit of a bite while letting the flavored Panko crumbs take care of the rest. If you would prefer to add your own, use plain Panko crumbs and try adding Italian seasoning or garlic powder and salt.
Spray Oil – helps to crisp up the outside of the ravioli. I like to use Avocado Oil but vegetable oil also works.
How to Make Air Fryer Toasted Ravioli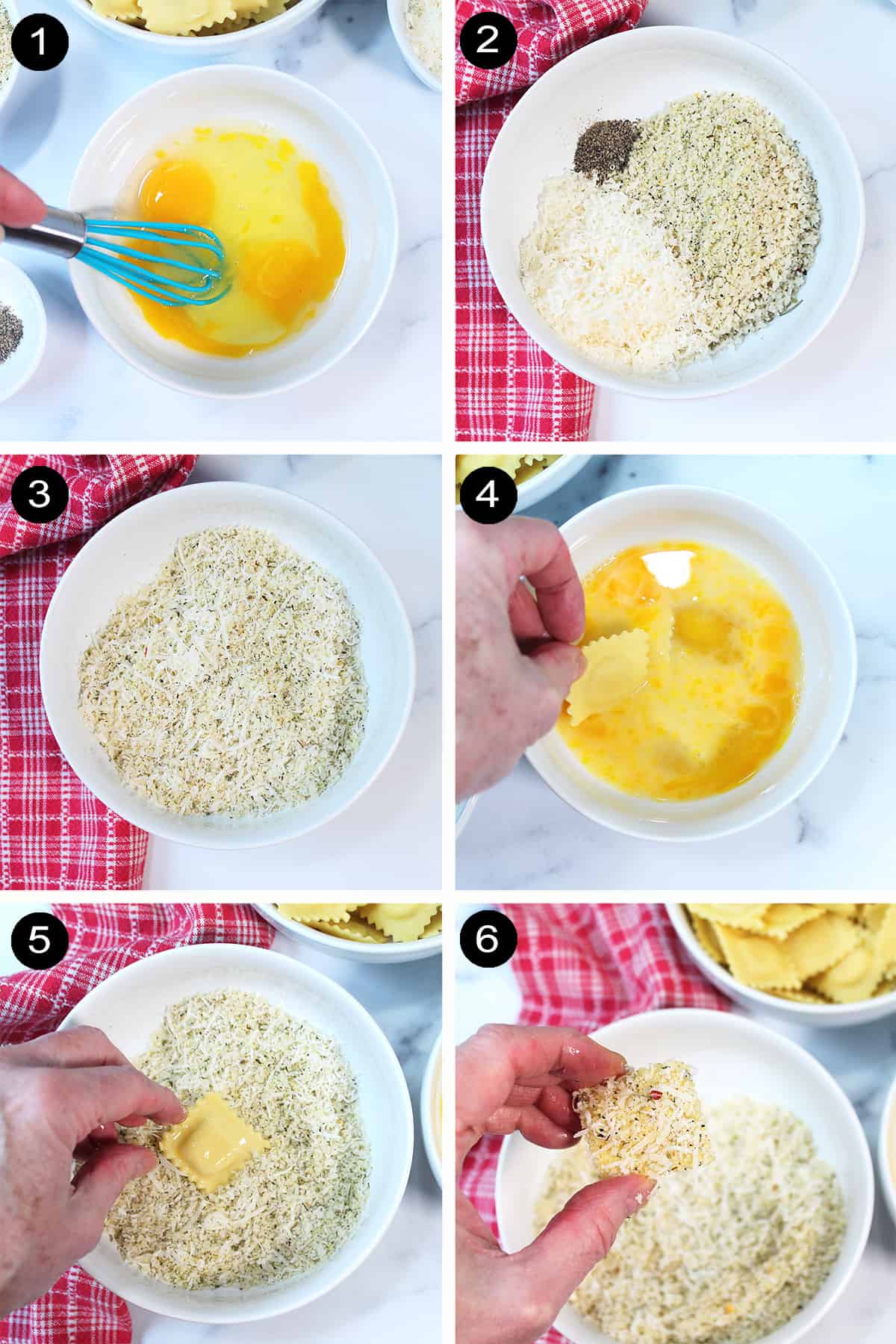 Preheat the air fryer prior to frying the ravioli to get the crispiest, crunchiest result.
In a medium bowl, whisk eggs with water.
In a large wide-mouthed bowl, place panko crumbs, Parmesan cheese and black pepper.
Mix well.
Dip each ravioli in egg mixture.
Drop ravioli into panko mixture.
Pat a little mixture into each side and continue until all are covered.
Pro Tip: To make breading these bite-sized appetizers easier, make sure to use one hand for dipping the ravioli into the egg wash and the other hand for applying the panko-cheese mixture.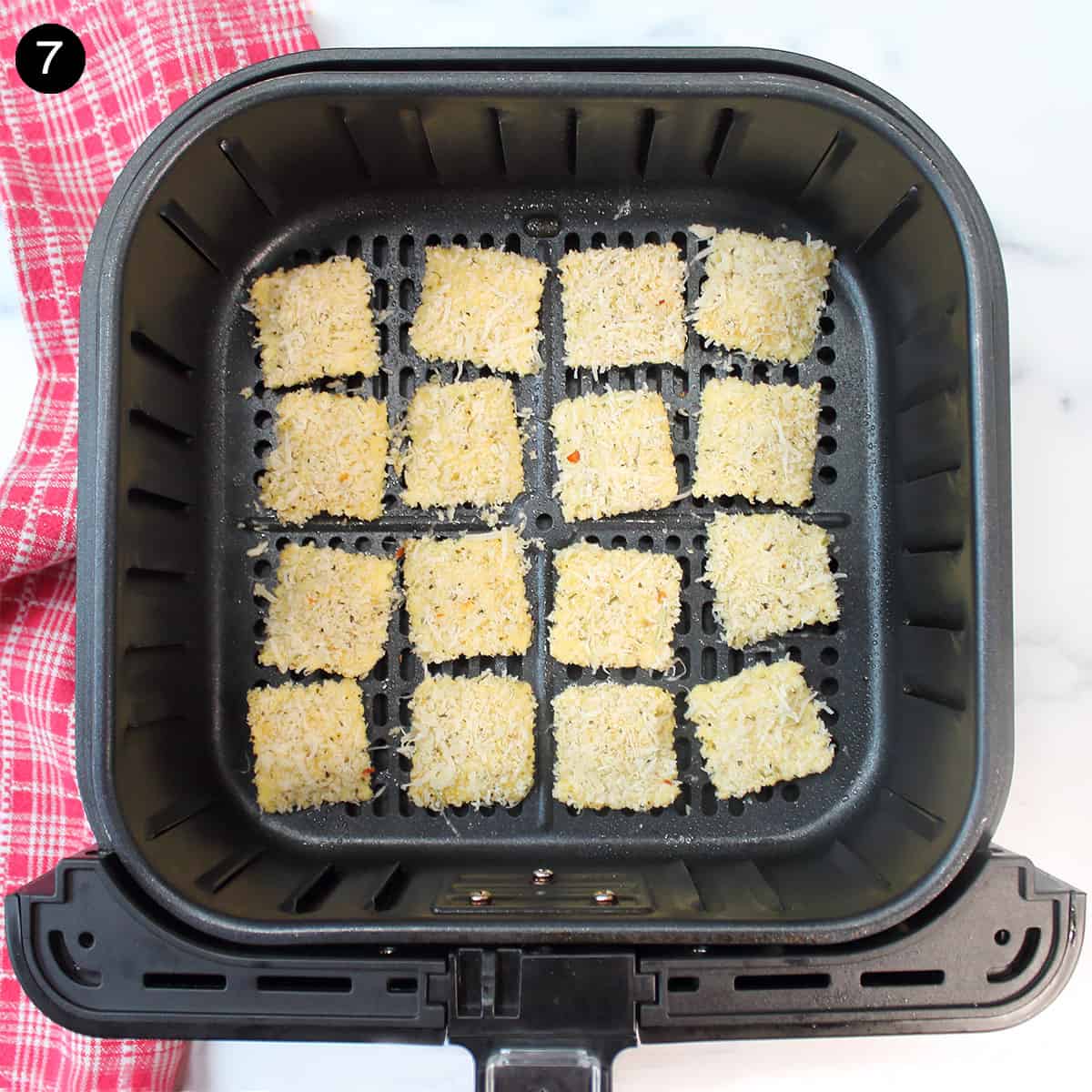 Spray the air fryer basket with oil then place the breaded ravioli into the basket. Make sure the ravioli are spread in a single alyer in the air fryer basket with enough room to circulate the air. You will need to do several batches to cook the entire 1 pound bag.
Air fry at 370 degrees for 4 minutes. Note that the size of your ravioli and whether they are frozen or not will alter the time required as will the brand of your air fryer. Check on your ravioli often. If it is getting too brown then you have cooked it long enough on the first side. If it is not done or browned, cook another minute or two.
Turn ravioli with a pair of silicone tongs. Spray tops with oil spray and air fry for an additional 3 minutes. Again check often to see if they are done and need less or more cook time.
Tip: As you will need to do several batches, keep the air-fried ravioli warm by laying them on a baking sheet lined with parchment and placing them in a 275-degree oven.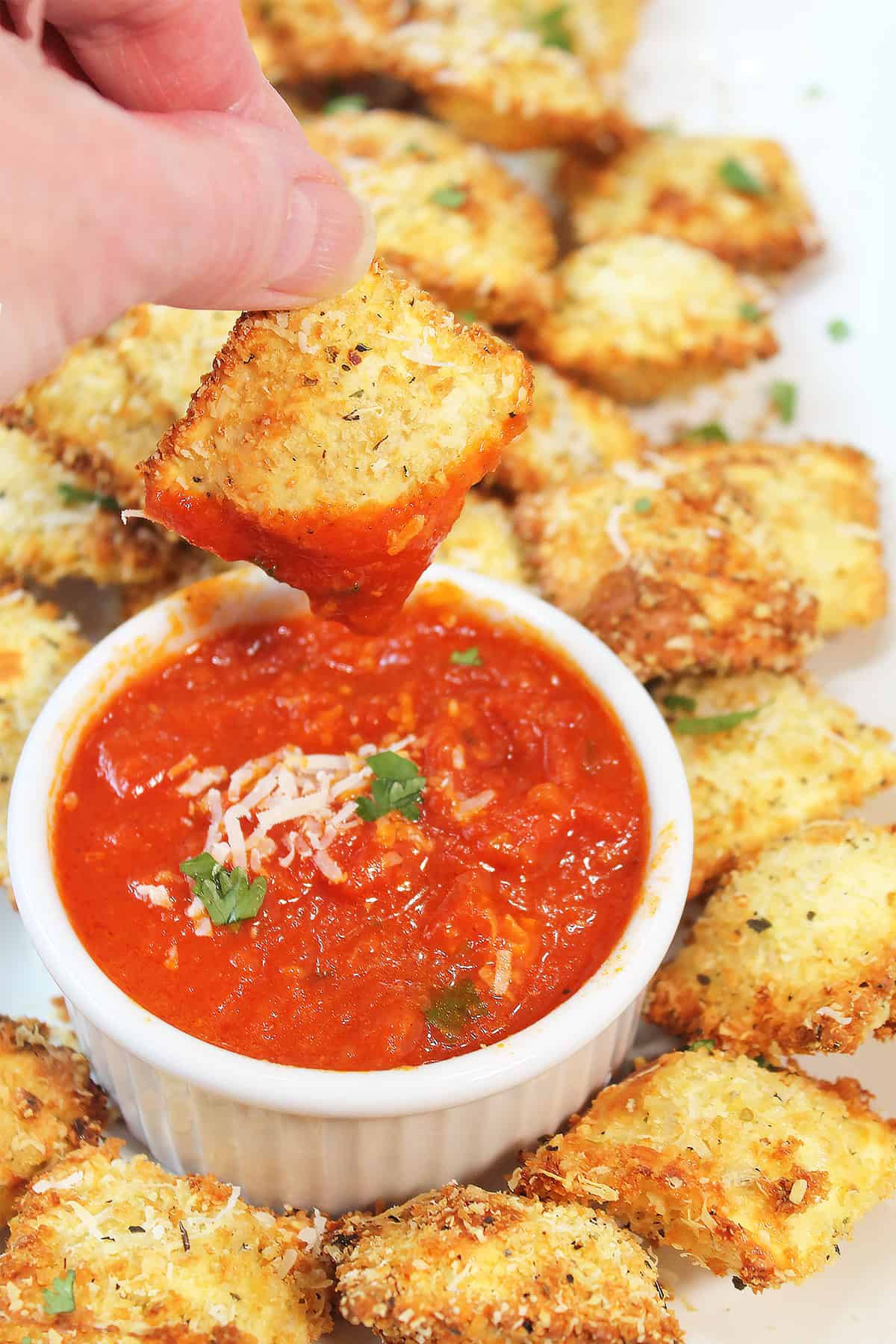 Variations
Ravioli – Square, round, rectangular, and any flavor you like. I like to use cheese ravioli but other flavors are pretty tasty too. Try it with lobster, cheese & spinach, mushroom, or chicken and roasted garlic. Also, make sure that the ravioli are plump and filled to the brim with the filling. You know, for that ooey gooey cheese pull!
Other pasta – try this with tortellini too
Dipping Sauces – I use marinara but pesto, alfredo and ranch work well too
Gluten-free version – use gluten-free ravioli such as La Pasta or Udi's brand as well as gluten-free panko crumbs
Instructions for Baked Toasted Ravioli
Now you're probably wondering if you can make these tasty little tidbits even if you don't have an air fryer. Yes, you can. In fact, it was the first way I ever fixed these toasted ravioli.
Just preheat the oven to 375 degrees and spray a baking sheet with an oil spray or use parchment paper or a silicone mat. Prepare the ravioli in the same way as you would for air frying. You can also sprinkle some extra Parmesan cheese on top of them right before baking. Then bake for 12-15 minutes or until crispy and golden brown.
FAQs
Do I have to thaw frozen ravioli before air frying?
Nope, not necessary. You can use either fresh or frozen ravioli and the only thing different is the timing. There is no need to thaw frozen ravioli, just add a minute or two to the cooking time.
How long does air fryer ravioli last?
This fried ravioli will keep up to 5 days in the refrigerator.
How do I reheat toasted ravioli?
To warm, just air fry at 350 degrees for 2-3 minutes with a spritz of cooking oil applied. If you prefer the oven method, just place on a rimmed baking sheet and warm for 10-15 minutes in a 375-degree oven.
Can I freeze air fryer ravioli?
Sure. Just place on a baking sheet and freeze then dump into a freezer-safe resealable bag. It will keep for 2-3 months.
What to Serve with Air Fried Ravioli
When serving as an appetizer I like to serve next to a bowl of my favorite marinara but these crispy, cheesy bites will also pair deliciously with ranch dressing or pesto.
You can also serve as a side with an Italian dinner like chicken parmesan or alongside an antipasto salad, caesar salad, or air-fried garlic bread.
More Air Fryer Recipes
Air Fryer Southwest Egg Rolls - are great for an appetizer or side dish. Just fill egg roll wrappers with spicy chicken, black beans, and plenty of cheese then into the air fryer for just 10 minutes.
Air Fryer Crispy Chicken Wings - are deliciously crispy, have no breading, and come out moist and flavorful. They're the perfect appetizer for game time or even dinner! 
Air Fryer Frozen Dumplings from Aubrey's Kitchen - these dumplings are quick, easy, and take less than 15 minutes for the best, crispiest potstickers ever!
Air Fryer Zucchini Fries - are a great alternative to French fries. Just 8 minutes in the air fryer and out comes some deliciously crispy on the outside and soft and tender on the inside healthy fries.
Find lots more air fryer recipes here on 2CM!
LOVE QUICK & EASY RECIPES? FOLLOW ME ON INSTAGRAM, FACEBOOK, & PINTEREST FOR ALL THE LATEST RECIPE INSPIRATION! PLUS JOIN MY EMAIL LIST AND RECEIVE A FREE E-BOOK.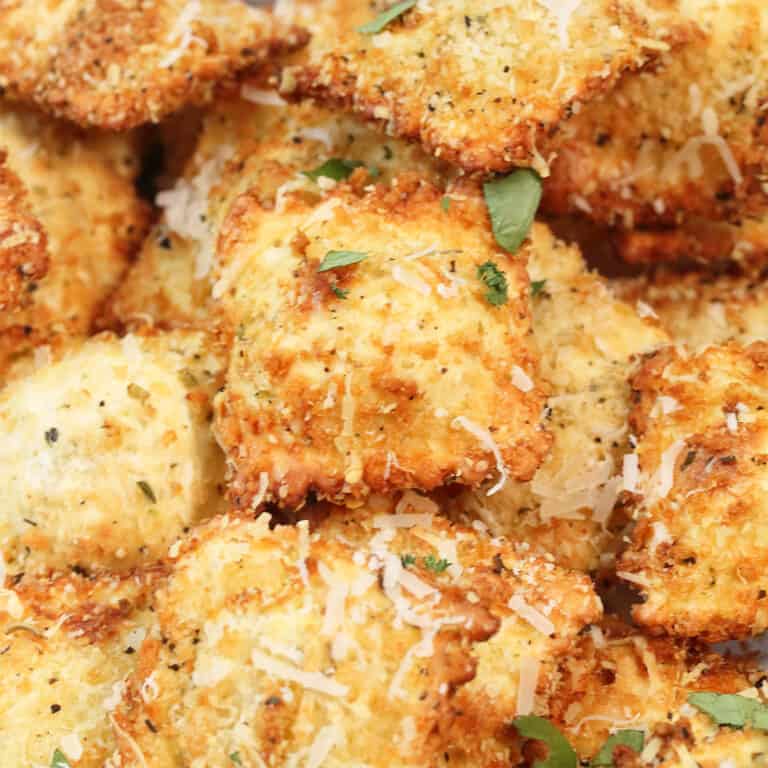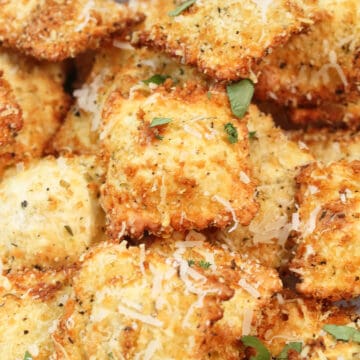 Air Fryer Toasted Ravioli
Take your favorite ravioli to the next level with this toasted ravioli appetizer. Quick and easy, crisp & delicious, and perfect for your next party.
Print
Rate
Ingredients
Oil cooking spray

preferably avocado or vegetable

2

eggs

2

Tablespoons

water

¾

cup

seasoned Panko crumbs

¼

cup

Parmesan cheese,

grated + additional for topping

¼

teaspoon

black pepper,

or more to taste

12-16

oz

fresh or frozen small square cheese raviolis

Marinara for dipping
Instructions
Preheat ai fryer to 370 degrees.

Whisk eggs and water together in small bowl.

Place Panko, ¼ cup Parmesan and black pepper into a large wide-mouthed bowl. Mix well.

Set up like an assembly line with the ravioli, the whisked eggs, the panko mixture, and a large plate for the finished breaded ravioli.

Using one hand, dip ravioli into egg wash then, using your dry hand, place the ravioli into the panko mixture, gently patting in the crumbs so some adheres to the surface. Continue until all ravioli are breaded.

Spray the basket of the preheated air fryer and carefully place ravioli in the bottom of the basket. Make sure to leave room around each ravioli so the air can circulate and toast them. I fit about 16 pieces in my Cosori Air Fryer.

Spray the tops of the ravioli then air fry for 4 minutes, checking at 3 minutes to see if they are crispy and brown. When browned, turn over carefully using tongs and spray tops again. Air fry for another 3 minutes.

Remove to serving platter and dust with parmesan and sprinkle with chopped parsley or basil.

Serve ravioli with your favorite marinara for dipping.

Makes about 30-32 or enough for 7-8 people to have a serving of 4.
Notes
Note:  Air fryer temperatures can vary from brand to brand. These fried ravioli were cooked in a Cosori 5.8-quart air fryer at 370 degrees for 4 minutes then 3 minutes. If you are using a different brand, check several times throughout the cooking process so the ravioli don't overcook and dry out. 
Nutrition
Calories:
192
kcal
|
Carbohydrates:
22
g
|
Protein:
9
g
|
Fat:
7
g
|
Saturated Fat:
3
g
|
Polyunsaturated Fat:
1
g
|
Monounsaturated Fat:
1
g
|
Trans Fat:
1
g
|
Cholesterol:
66
mg
|
Sodium:
369
mg
|
Potassium:
30
mg
|
Fiber:
1
g
|
Sugar:
1
g
|
Vitamin A:
84
IU
|
Calcium:
62
mg
|
Iron:
5
mg
This post has been updated with a new recipe for air fryers, new photos, and step-by-step instructions. It was first posted on January 9, 2013.