Easy Meatball Sliders are a quick meal or hot appetizer that starts with prepackaged ingredients to get it on the table in less than 15!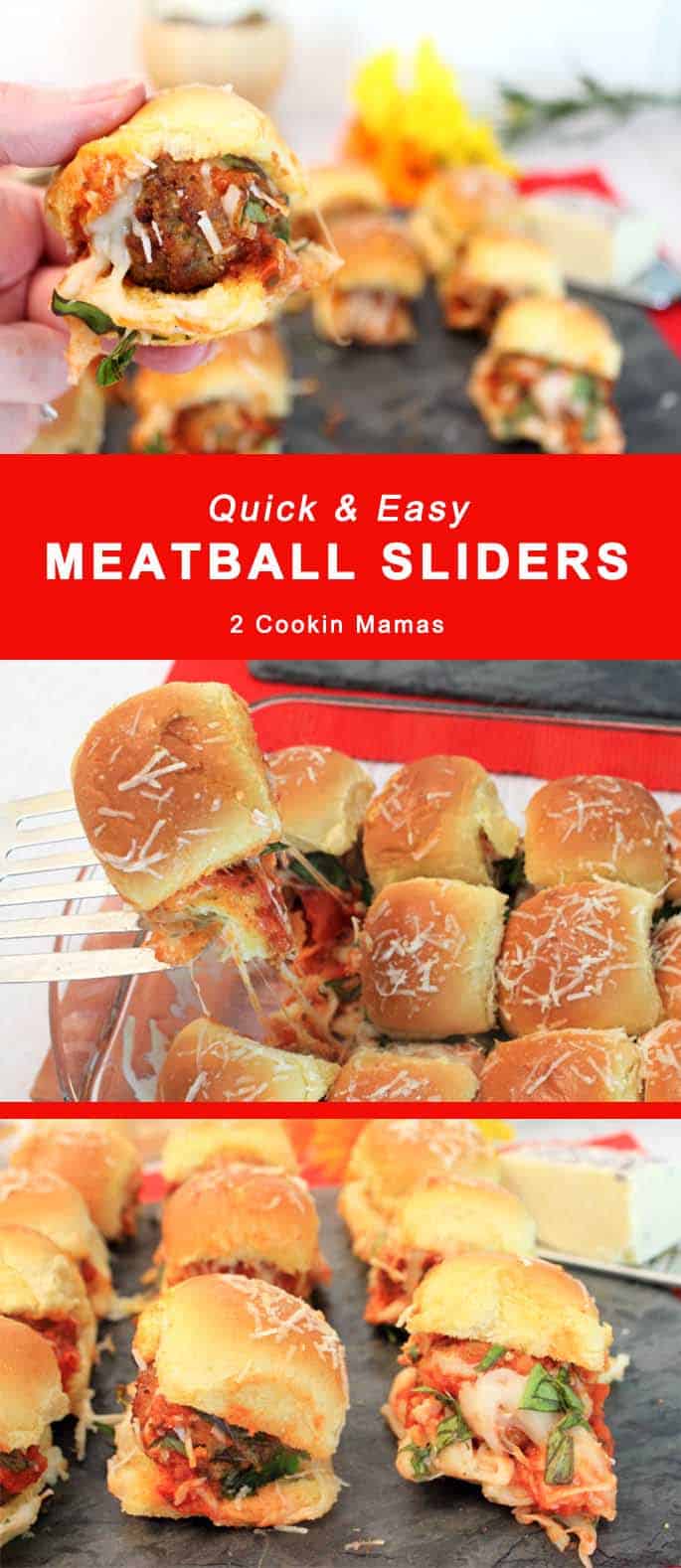 This summer has been a particularly hot one and easy lunches or dinners are always welcome. This recipe for Meatball Sliders came about after I had the most delicious Sloppy Joe meal at my daughter's house. She made her version in a casserole dish and only had to pop it in the oven to toast the rolls and voila it was done and on the table in less than 30! So I thought why not do the same for one of my all time favorites, Meatball Parmesan.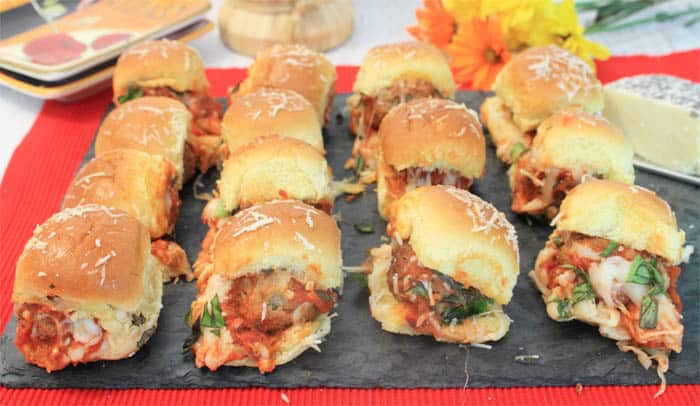 I made these with slider rolls because I started thinking of football season. I know it's only July but this past weekend I got invited to a Foodie Football Fans group (we are so gearing up for fall football season & can't wait) and I realized these meatball sliders would be perfect as football party appetizers too! Yay! So you're asking how easy are they? Super easy when made with frozen meatballs, your favorite jarred pasta sauce and already shredded cheese. It can be on the table in about 15 minutes! Can't get much easier than that!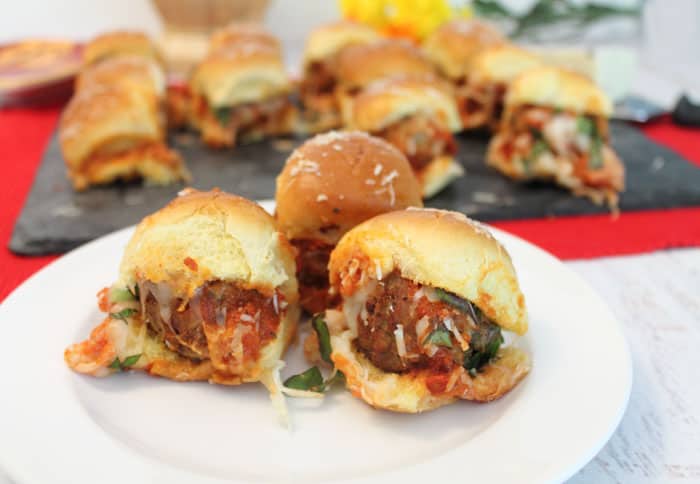 These were soooo good that they got added to my favorite appetizers list along with my Whiskey Sliders, Crockpot Cocktail Meatballs and Baked Jalapeno Poppers.
Make them with larger rolls for dinner and serve with french fries or a side salad (depending on how good you want to be 🙂 )
Enjoy!
EASY MEATBALL SLIDERS
A quick & easy meal or appetizer starting with frozen meatballs & jarred pasta sauce that can be ready to go in less than 15 minutes.
Ingredients
15

small slider buns

3-5

Tablespoons

garlic infused olive oil

15

pre-cooked meatballs

(I like to use the Angus Beef meatballs found in your grocer's freezer)

1/2

jar of favorite pasta sauce

Handful of fresh basil

chopped (optional)

4

oz

mozzarella cheese

shredded

Parmesan or Pecorino Romano Cheese
Directions
Preheat broiler.

In an 8x11-inch baking dish, lay out the bottom of the 15 slider buns. Brush with garlic olive oil (or a mixture of garlic and oil or melted butter) and place under broiler, about 6" from heat) until toasted. Watch carefully as they can brown quickly. (Don't pass up this step as it keeps the buns from getting too soggy with the tomato sauce.)

Remove from oven. Turn oven to bake and set at 350 degrees.

Place a meatball, that's been warmed (per package directions), on each bun. Top with pasta sauce, a little basil, mozzarella and a little Parmesan cheese. Place remaining halves of buns on top. Brush again with garlic infused oil and sprinkle additional Parmesan cheese on top, if preferred.

Place back in oven and cook for 5 minutes or until all is toasty and cheese is melted.

Remove, cut into individual rolls and serve on a platter. Great for dinner, buffets, snacks or pot lucks.

DON'T MISS A RECIPE!