Apple French Toast Cups are individual servings of French Toast in muffin form with a sweet apple topping. Easy to make & perfect for on-the-go.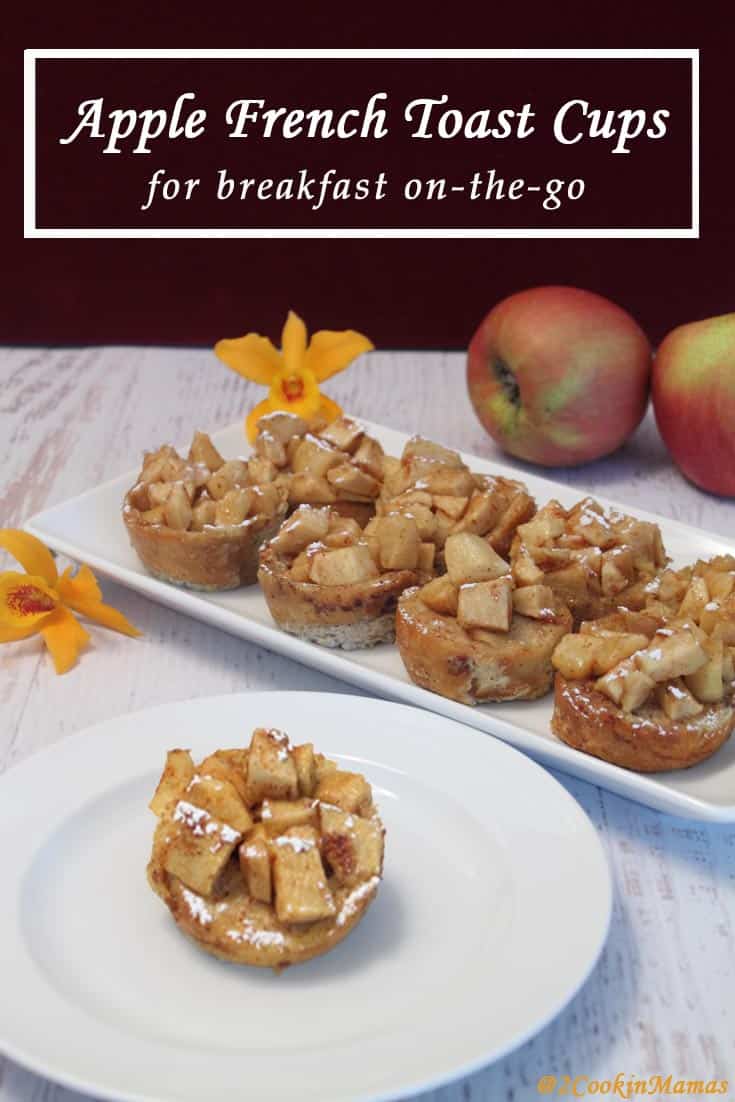 If you've been following me you know how much I strive to get my hubby to eat breakfast in the morning. It seems the perfect way is to make it in a form he can grab and take to work with him and eat it at his leisure.
I've been making Muffin Tin Eggs for a while as well as oatmeal for on the go, like my Banana Maple Oatmeal Cups, and kolaches, but I wanted something a little different, like French Toast. But how to get French toast in a form he could easily take with him, ah ha, put it in a muffin pan (silly me, that was a no brainer).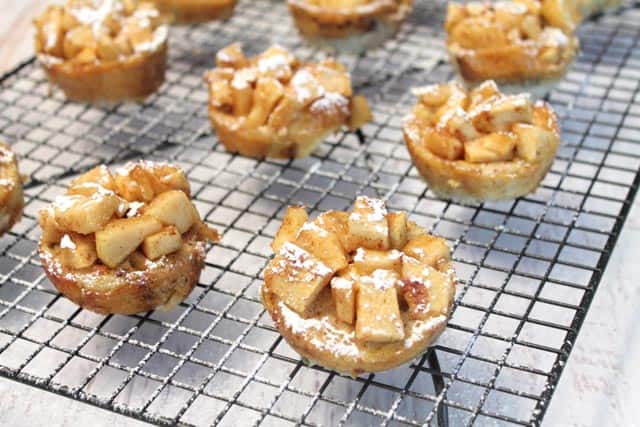 Hence the Apple French Toast Cups I'm writing about today. I followed a recipe that I found on the King Arthur Flour site (btw, their flour is fantastic) and, with a little adapting, it was perfect for making in a muffin pan. I love starting out with one of those long thin baguettes, sour dough or crusty white, since the slices fit pretty well into the bottom of a muffin cup. It also holds together well and soaks up the egg mixture super deliciously.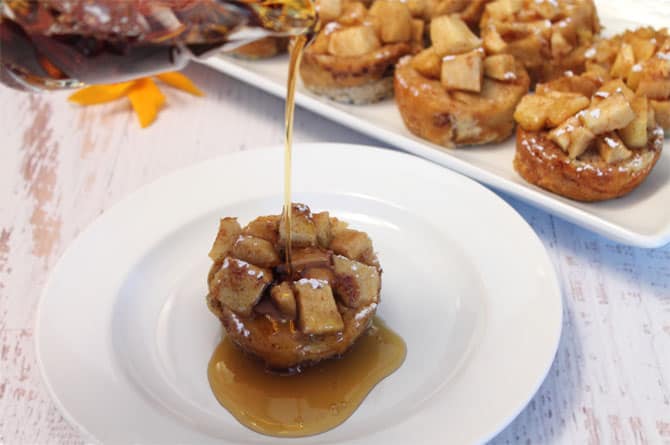 You can always change it up and make this with your favorite fruit topping such as peach, strawberry or blueberry but apples, flavored with cinnamon, are always one of my favorites.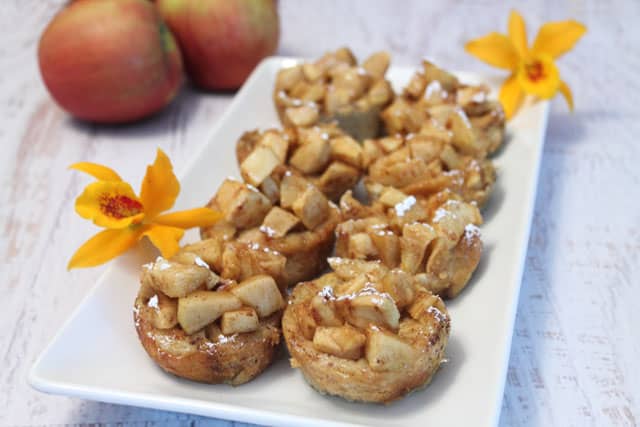 These are great to wrap individually and freeze then, when you're ready for breakfast, just pop into the microwave for a minute or two to reheat. Voilà! Hot breakfast in less than a few minutes. Hope you enjoy!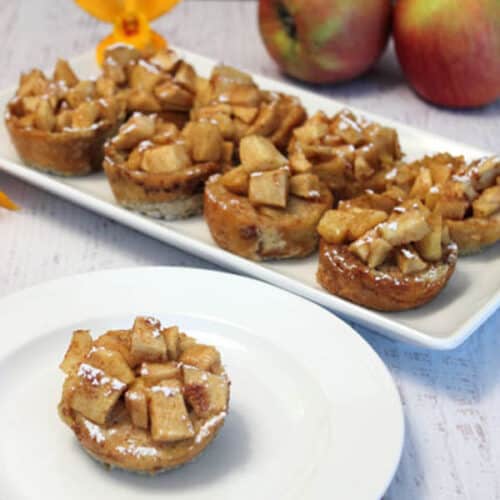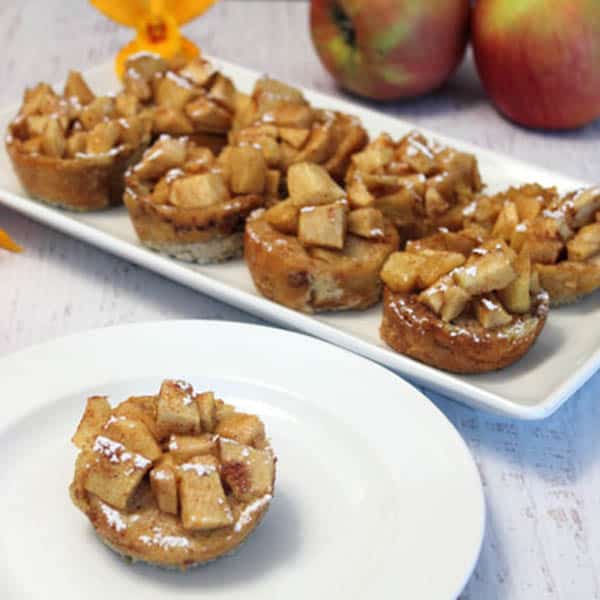 APPLE FRENCH TOAST CUPS
Apple French Toast Cups are individual servings of French Toast in muffin form with a sweet apple topping. Easy to make & perfect for on-the-go.
Servings
:
12
-24 servings (depending on how hungry everyone is)
Ingredients
French Toast
1

baguette,

cut into 24 3/4"-thick pieces

8

eggs

3

cups

milk

(I used almond milk & it came out great)

1/3

cup

sugar

1

Tablespoon

vanilla extract

1

Tablespoon

maple syrup

1/4

teaspoon

nutmeg

1/4

teaspoon

salt
Apple Topping
6

apples,

peeled, cored and diced

1

Tablespoon

lemon juice

1/4

cup

sugar

1

teaspoon

cinnamon

2

Tablespoons

maple syrup

2

Tablespoons

butter,

melted

Pinch

of salt

Garnishes: Confectioner's sugar,

maple syrup
Directions
Preheat oven to 375 degrees. Spray 2 muffin pans with nonstick spray.

Slice baguette and place a slice in the bottom of each muffin cup.

In a medium bowl, whisk remaining French toast ingredients together.

Pour over bread slices, dividing evenly between all muffin cups. Let it soak in while you prepare topping. As the bread softens, it will be easier to push the bread more securely into the bottom of the cup.

In a medium bowl, toss apples with remaining apple topping ingredients. Sprinkle over each cup of French toast.

Place in oven and bake for 30 minutes or until the egg mixture has set.

Remove and place pan on wire racks to cool.

Once cool, run spatula or knife around outside edge of each muffin then remove carefully. Let cool completely. Sprinkle with powdered sugar.

Serve with maple syrup on the side.
Recipe Notes
I like to wrap mine individually and place them in the freezer. To reheat, just unwrap, place on microwave safe plate and heat on high for 1 to 1-1/2 minutes. (Pack up a little maple syrup if you are bringing them to work) You can easily divide the recipe in half as I find 12 is a sufficient quantity where we don't get tired of it.
Adapted from recipe found on King Arthur Flour.

DON'T MISS A RECIPE!