Bread Cakes are little breads fried to golden perfection - soft on the inside & crunchy on the outside. Perfect with a pat of butter or a dollop of honey.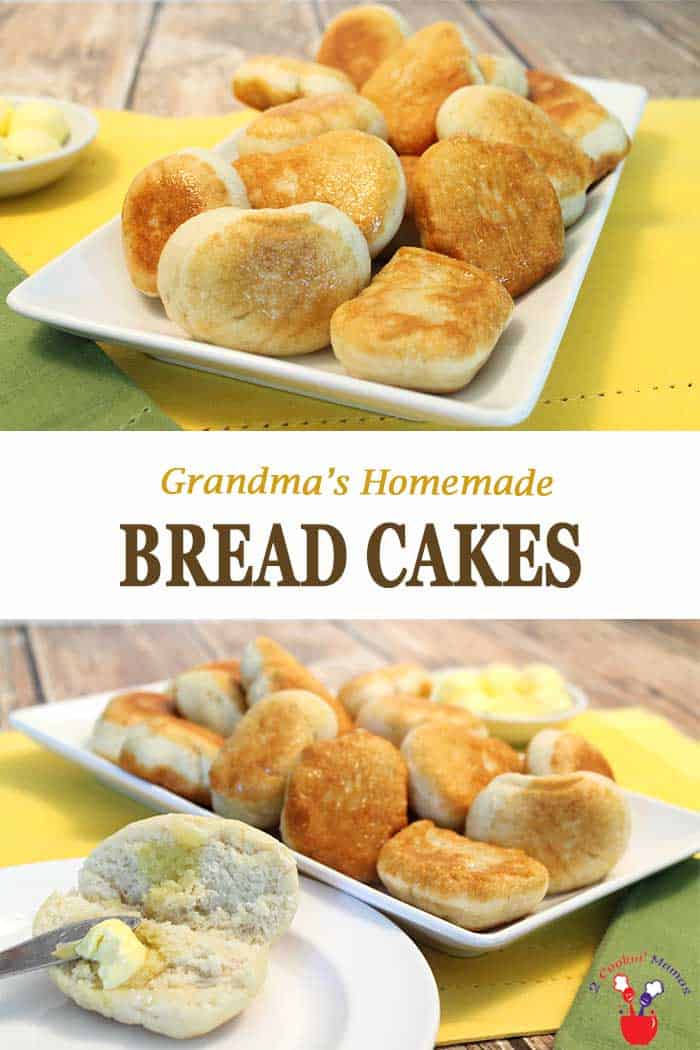 The idea for this post, as well as others in our blog hop, was the brain child of the Association of Food Bloggers. They decided that a hop, similar to a progressive dinner, would be fun. You can think of it as Foodstalgia! We will be remembering restaurants of the past, old family favorites and recipes you just don't see any more. So relax, put your feet up, and let us take you back to the good ole days.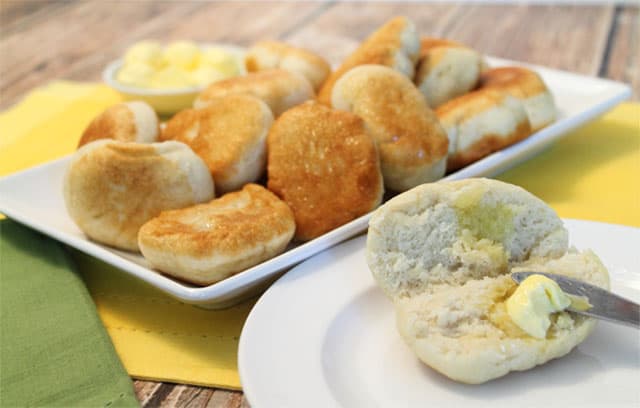 This really turned out to be so much fun. Going back in time and remembering the wonderful memories of my childhood certainly brought a smile to my face. Just visualizing my mom and grandma and how much they enjoyed being in the kitchen, the center of our home, and how much they inspired me with their love of cooking and love of life.
They were truly two wonderful and strong women who I still consider to be among the best cooks I've ever known. I've shared some of their recipes here on the blog previously, like Mom's New York Cherry Cheesecake and Grandma's Apple Dumplings and it will be a pleasure to share another favorite.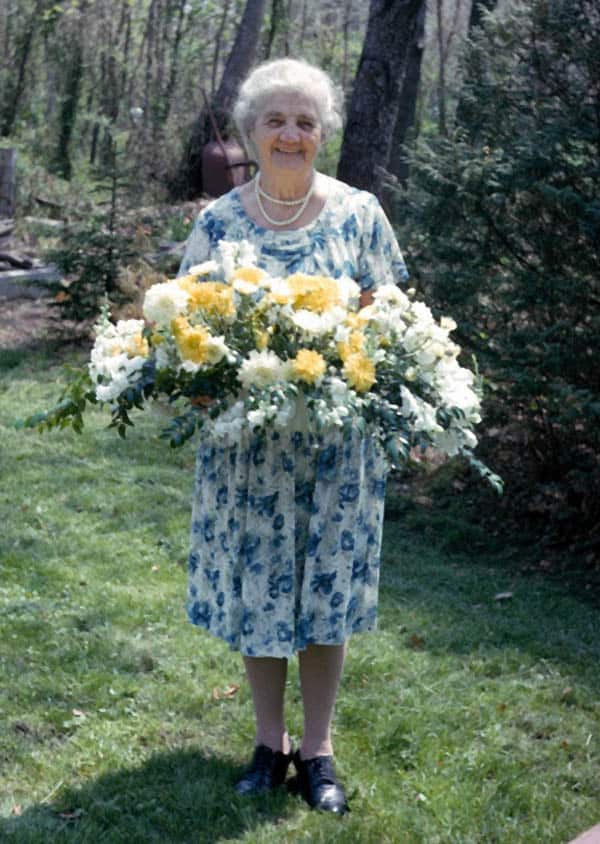 Today's post is all about my grandmother (pictured above at age 81) and the recipe that brings me back to my childhood and our warm, loving kitchen - bread cakes which is pan fried bread.
First a little history, my grandmother had always lived with us, at least since the time I was born, had been married twice but lost each of her husbands prior to moving in with her son & my mom. Having her there was always something we considered special and speaking to her, especially as I got older, was always interesting.
She was born in Brooklyn in 1885 and grew up on a farm where she could see cows from her bedroom window. Imagine New York City with farmland and cows - holy cow is right! She had the most amazing stories of growing up, like the one when we found out that her family was one of several that actually owned the land the Empire State Building was built on in New York City.
About the time I was a teenager, some lawyers came to the house for her to sign an affidavit turning ownership over to the current owner. She was also a concert pianist and hearing her play is something I will always remember. I could go on and on about her but I'm sure you're here to see a recipe - so on to the kitchen.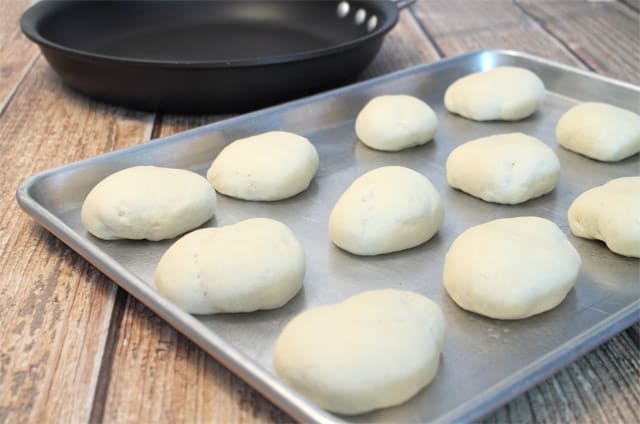 When grandma worked in the kitchen it was entirely by memory or just something she happened to whip up. There were no measuring cups or spoons and certainly no recipe book nearby. And you'll never believe what I had to do to get this recipe!
I was about 10 years old at the time and I just sat down next to her as she made these bread cakes and wrote down everything she did. Now that's not as easy as it sounds! First, she just grabbed several handfuls of flour and threw it into a bowl. (STOP - I've got to measure that in my measuring cup) And, by the way, how could you possibly bake like that when everyone's hand is a different size?
Next, she tossed in a little salt (you guessed it - measure that!), dissolved a portion of a yeast cake (I had to look up how much yeast was in a yeast cake - about 3 packets worth of our dry yeast today) in warm water then added it to the flour.
As she kneaded she would add more flour as necessary. Here she became very patient. She would let me touch the bread dough and tell me to remember how it felt. Then she would add a bit more flour until there was no stickiness to it and have me touch it again so I would know how it felt when it was ready. Both of us would shape the cakes and then she would take over the frying.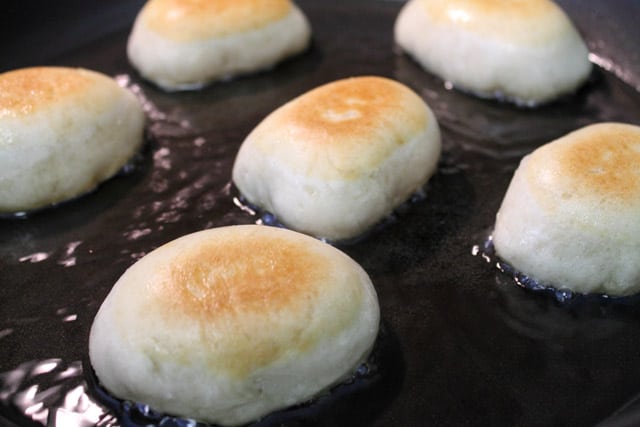 Normally, when not teaching one of her grandchildren how to cook, she would make the cakes the night before and put them in the refrigerator after the first rise. She would then get up early and take them out so they could rise the second time.
I can remember getting up in the morning and seeing these cute little bread cakes sitting on a cookie sheet all ready to brown in the hot oil. And, believe me, the absolute best time to eat these is hot out of the pan, when they are warm and soft on the inside and crunchy on the outside, cut in half and served with a big pat of butter or a drizzle of honey on top. Excuse the drool!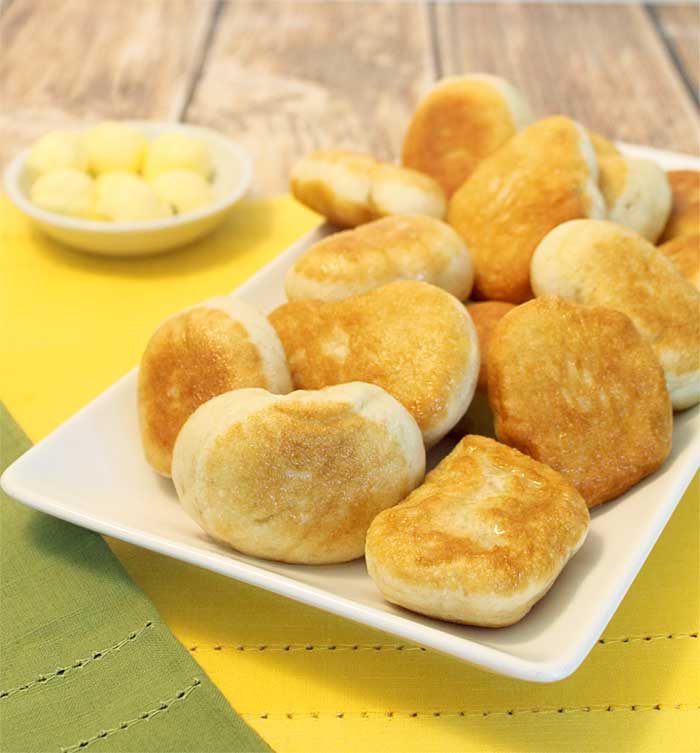 I think the closest thing I can compare her bread cakes to is Indian Fried Bread which I had while visiting a Navajo Trading Outpost during a trip to Arizona. Not nearly as good but definitely along the same lines.
So thank you Association of Food Bloggers for letting me travel back in time and enjoy the experience of cooking something that I hadn't cooked since I was little and for bringing back such warm and sweet memories.
I hope y'all enjoy these as much as our family did.
Great bread recipes to try:
French Bread is easy to make and great for any dinner.
Rosemary Skillet Bread with garlic is fluffy and delicious.
Old Fashioned Buttermilk Biscuits are perfect for breakfast or dinner.
Find even more easy bread recipes here on 2CM!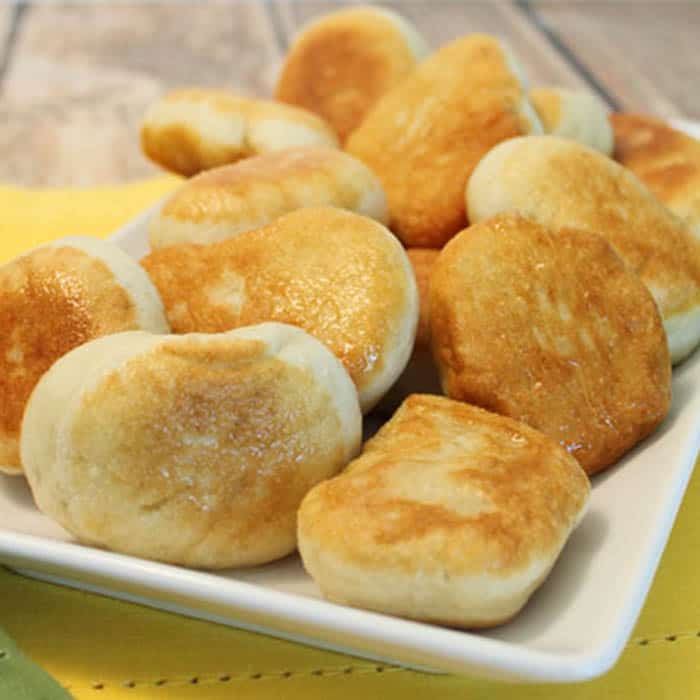 BREAD CAKES
Grandma's Bread Cakes are little breads fried to golden perfection - soft on the inside & crunchy on the outside. Perfect with a pat of butter or a dollop of honey.
Print
Rate
Ingredients
2-¼

cups

bread flour + more as needed

1

packet

rapid-rise yeast

1

teaspoon

salt

1

cup

water

Vegetable oil
Instructions
In a large bowl of electric mixer, stir together 2-¼ cups of flour, yeast and salt.

Warm water to between 125-130 degrees and add to flour mixture.

Knead with mixer for about 5 minutes or by hand about 10 minutes. Check the dough often and if it is sticky to the touch, add a little more flour (a small handful at a time). When dough feels smooth you have added enough flour.

Let dough rest in bowl, covered with towel, for 10 minutes.

Divide into 12 pieces and shape into little oval loaves. Place on cookie sheets that have been sprayed with nonstick spray. Leave a few inches in-between as they will expand as they rise.

Cover with towel and set in warm place, away from breezes (I like to put mine in my oven with a pan of hot water in the bottom) until risen, about 1-2 hours.

When ready to fry, heat about 2-4 tablespoons vegetable oil in a large skillet over medium heat. Once hot, carefully place about 5 bread cakes in oil and brown slowly on all sides.

Serve hot with butter or honey.
Notes
Total time does not include the time it takes bread cakes to rise, about 1-2 hours.
This post has been updated and was first published on April 1, 2016.