Think homemade fudgesicles gone gourmet! Chocolate Pistachio Popsicles are the perfect treat for hot summer days and backyard BBQs. Simple to make with a rich chocolate pistachio spread, milk, cocoa powder, and a few hours in the freezer.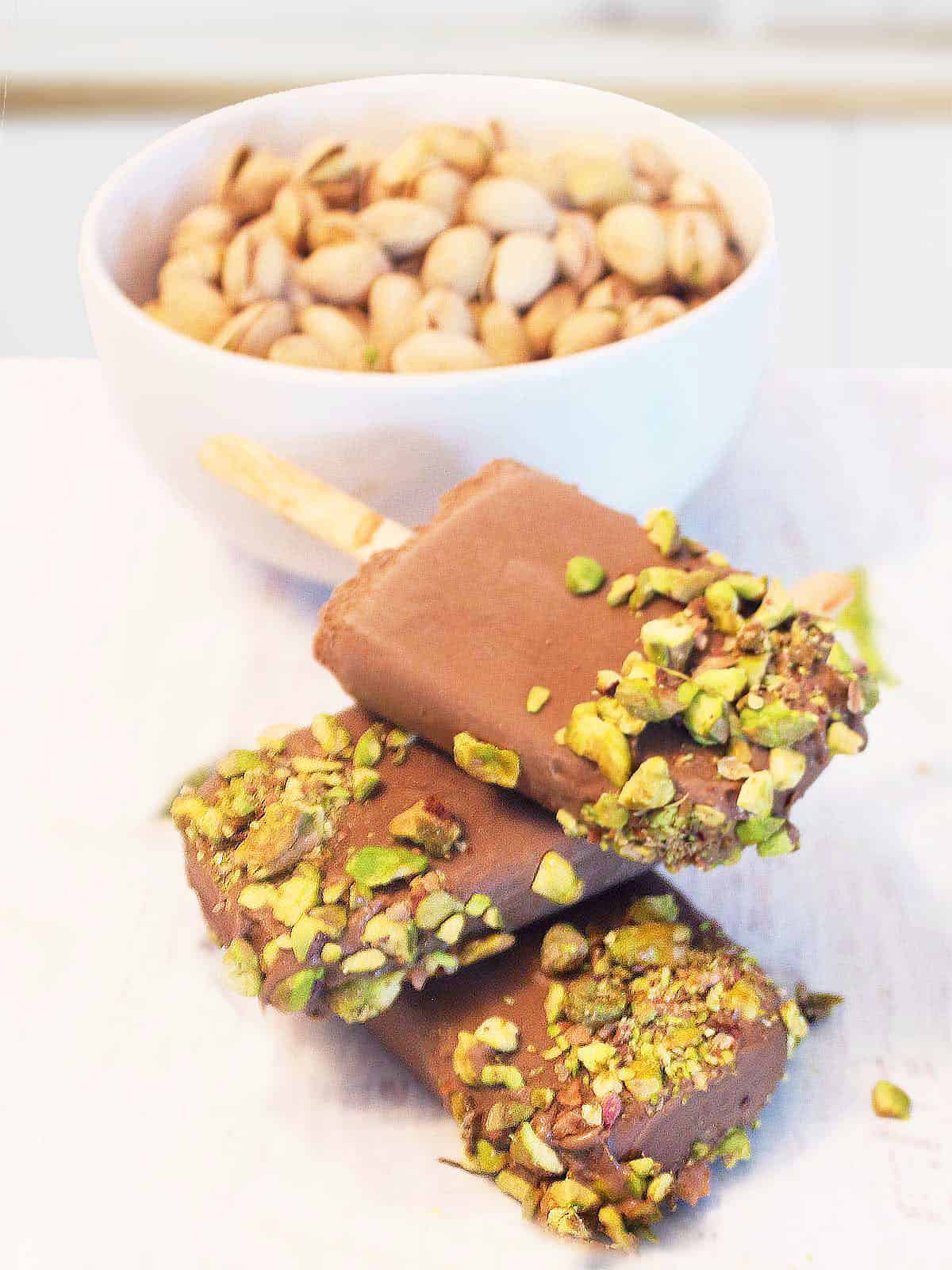 FYI - This post contains affiliate links. As an Amazon Associate, I earn from qualifying purchases. All links are products I use when making my recipes.
Tasty Frozen Treats for Summer
Summer is the perfect time for cool treats, right?! I mean what could be better on a steamy hot day than something ice cold and chocolaty that cools you down just thinking about it?
You know, things like Death by Chocolate Ice Cream, Homemade Ice Cream Sandwiches, Grasshopper Pie, and a fudgesicle popsicle.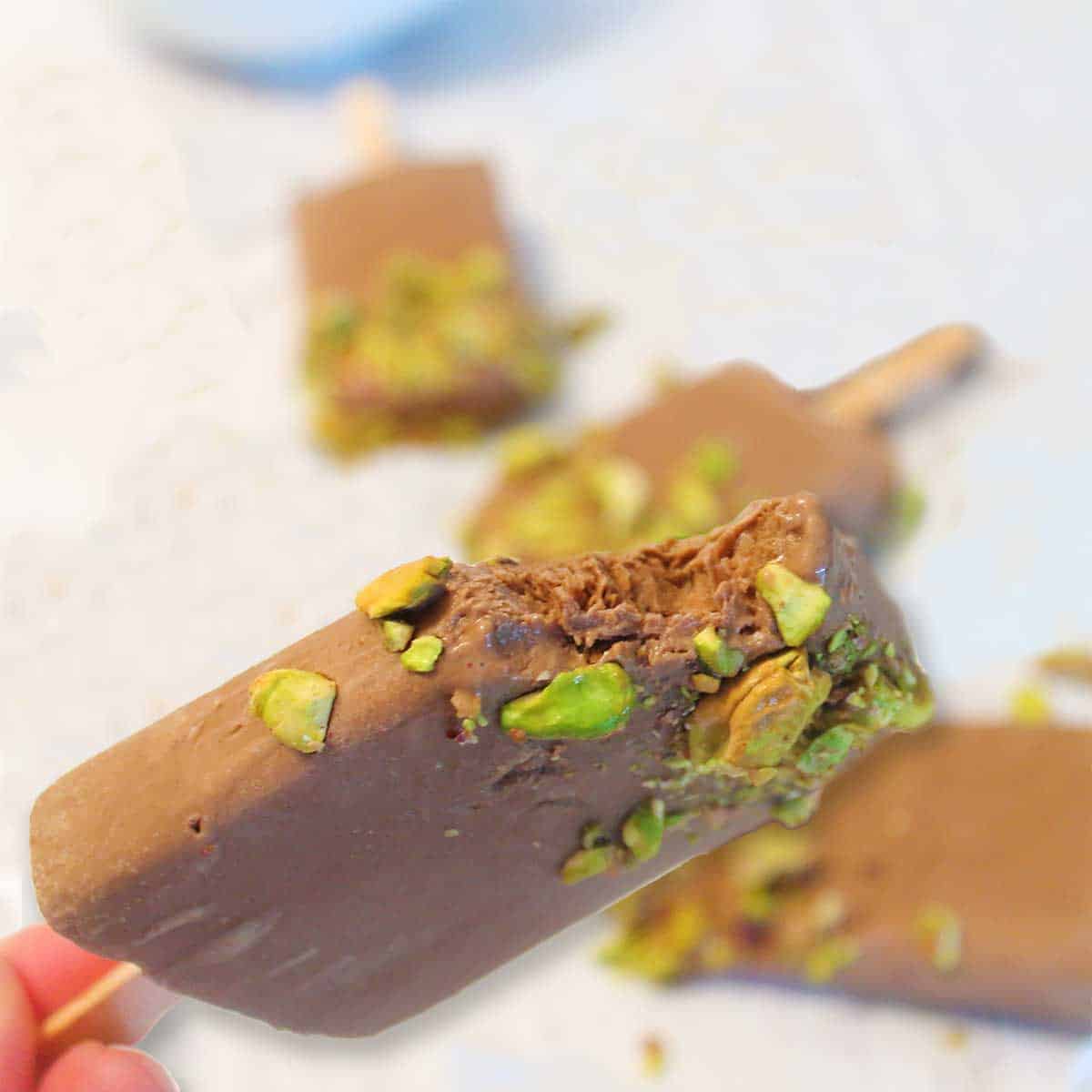 Why You'll Love This Pistachio Chocolate Popsicles Recipe
Move over Nutella, these fudge pops made with homemade chocolate pistachio spread are simply divine! Seriously, when you're wanting a chocolate popsicle with nuts and you love pistachios, this is the recipe for you!
Just the thought of Fudgsicles will bring you back to your childhood. Can you remember getting on your bike and heading down to the local store to hit up their freezer for our favorite chocolaty ice pops?
Smooth, creamy, frozen deliciousness on a stick - oh yeah! And these pistachio chocolate popsicles I'm bringing you today are even better, more like gourmet with a capital "G".
Popsicle Ingredients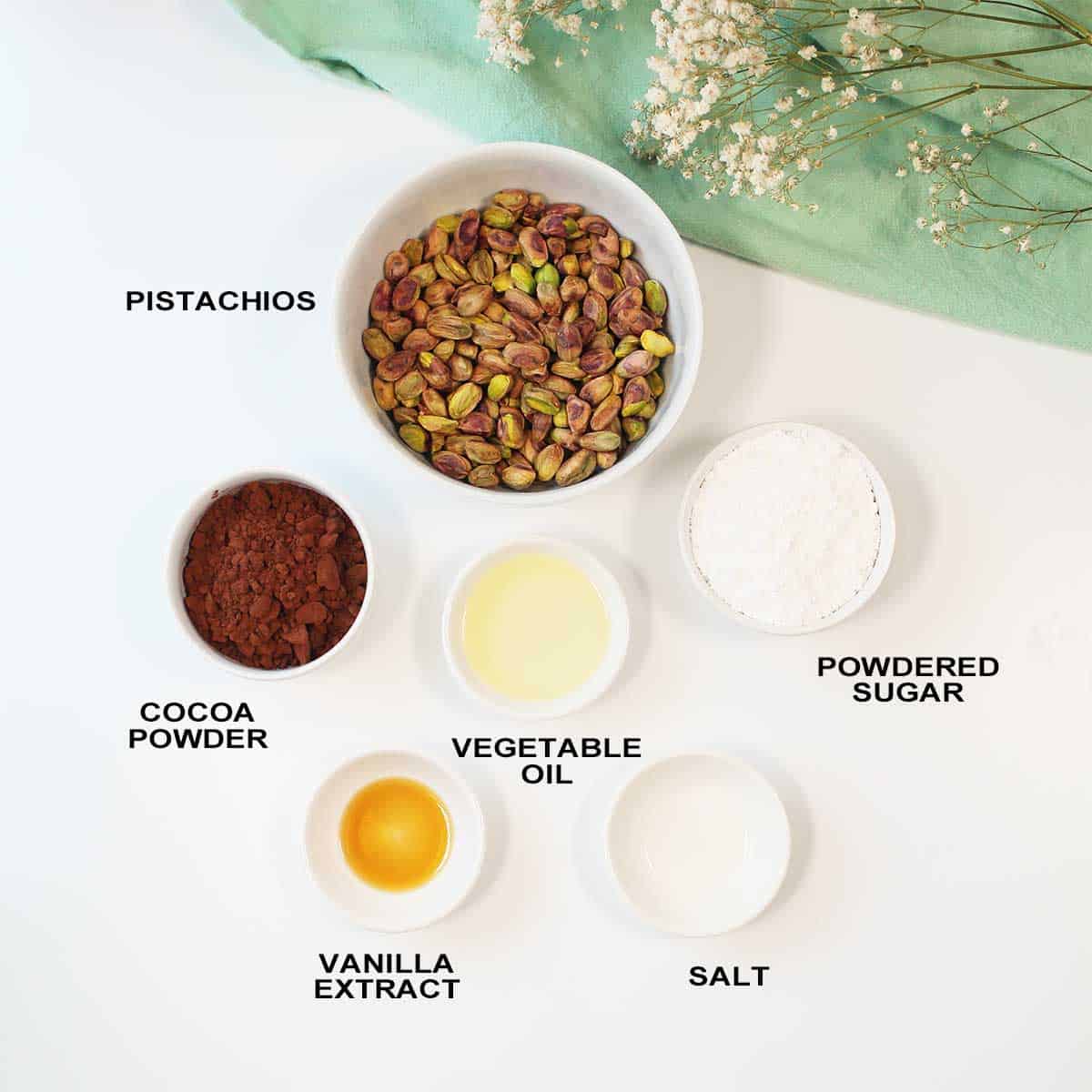 What you'll need for the chocolate pistachio spread:
Roasted and shelled pistachios
Powdered sugar
Cocoa powder
Salt
Vanilla extract
Oil - Avocado or vegetable oil
NOTE: You can also use a chocolate spread, such as Hershey's Chocolate Spread, and add 1 teaspoon pistachio extract per cup. Taste and adjust if more flavor is needed.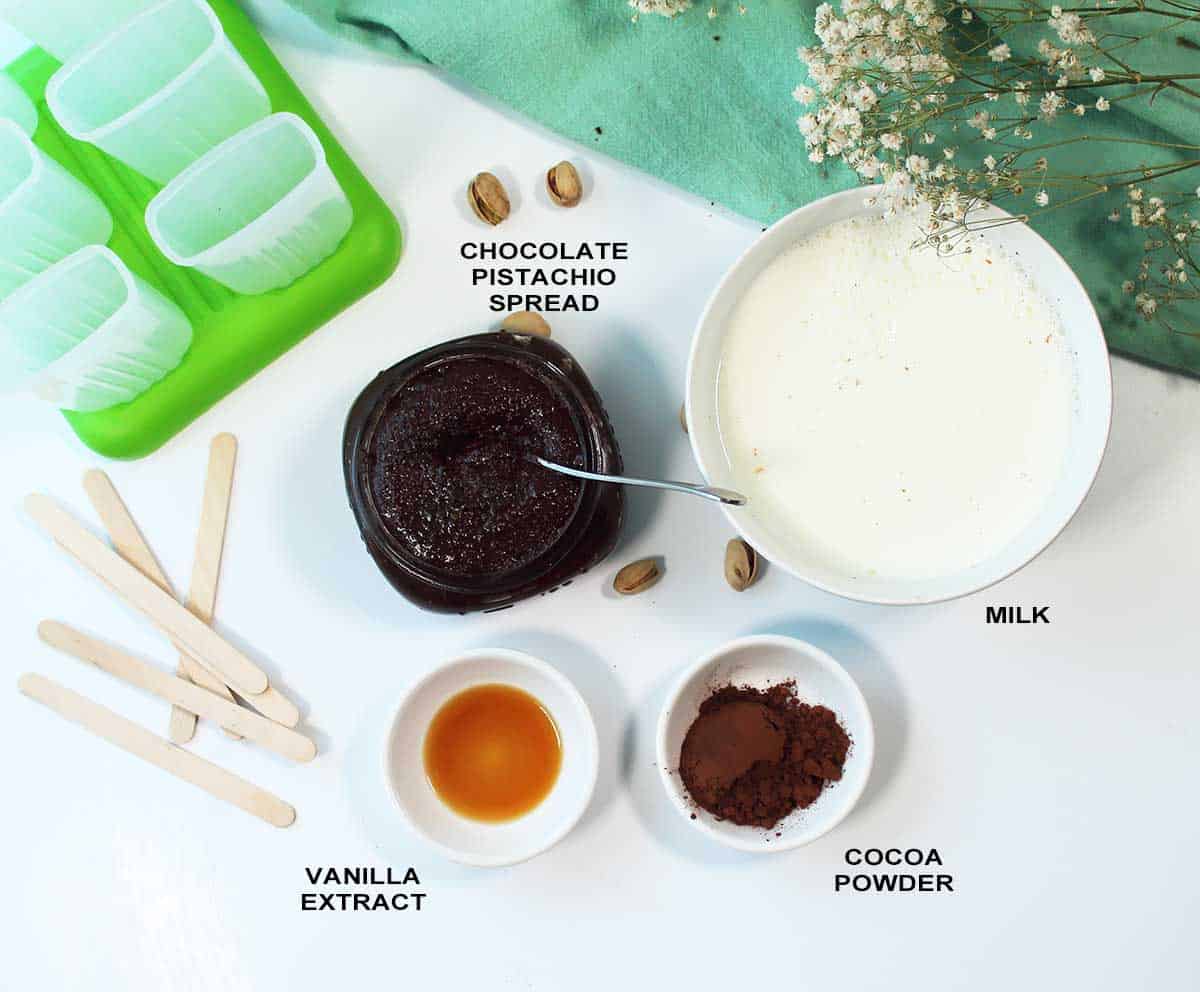 What you'll need for the popsicles:
Chocolate pistachio spread
Milk
Dark cocoa powder
Vanilla extract
Roasted and shelled pistachios
Supplies Needed
How to Make Chocolate Pistachio Spread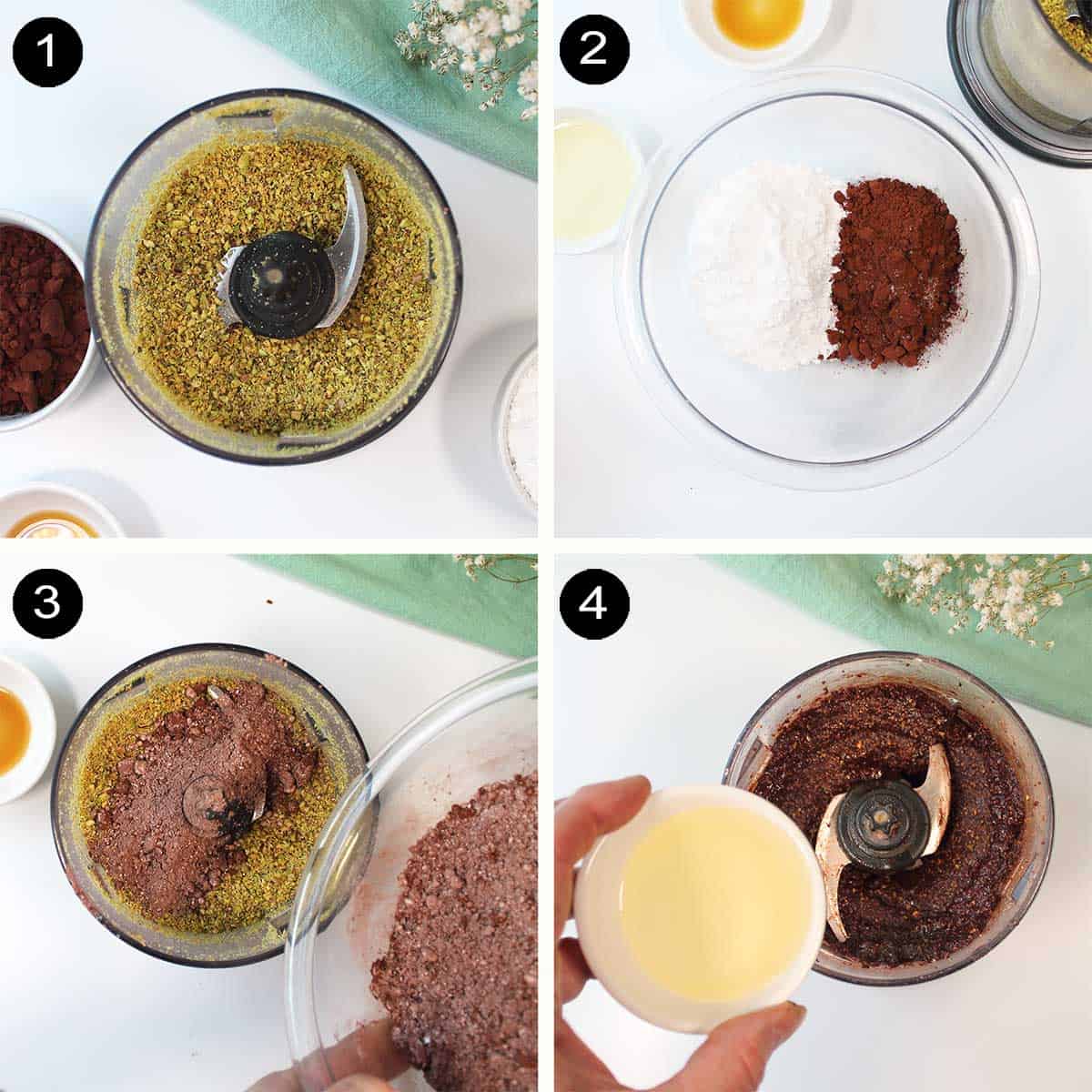 Place nuts in a food processor or chopper and process for about 10 minutes until they start to become more of a paste.
Mix powdered sugar, salt, and cocoa powder together.
Add to nuts and process again to mix then add vanilla extract.
Finally, add just enough oil to make the mixture spreadable. Process for another 5 minutes.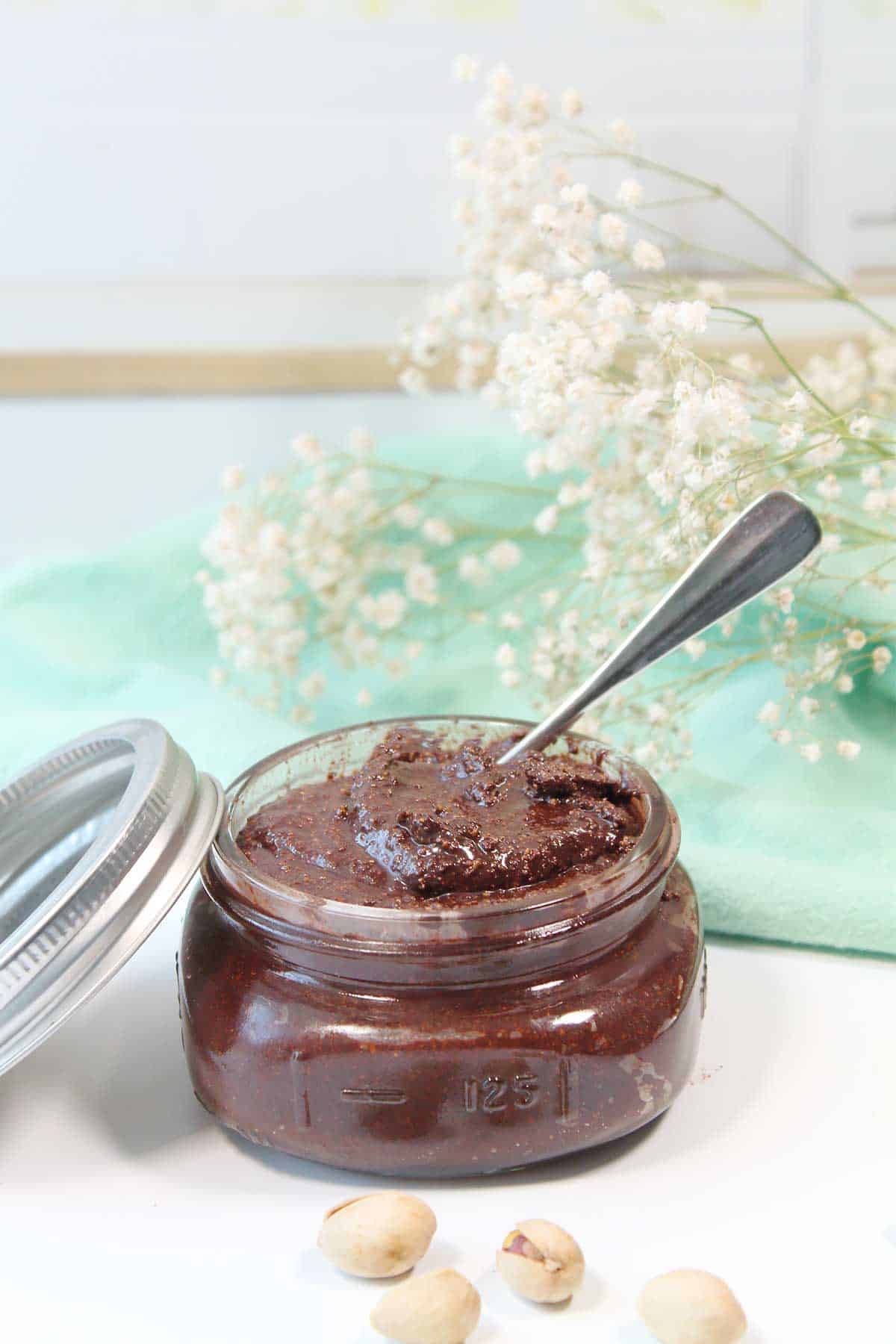 Place in small jars and store in the refrigerator. It's great on toast, in pastries, and even on ice cream. Around the holidays, give them away as gifts.
How to Make Chocolate Popsicles with Pistachio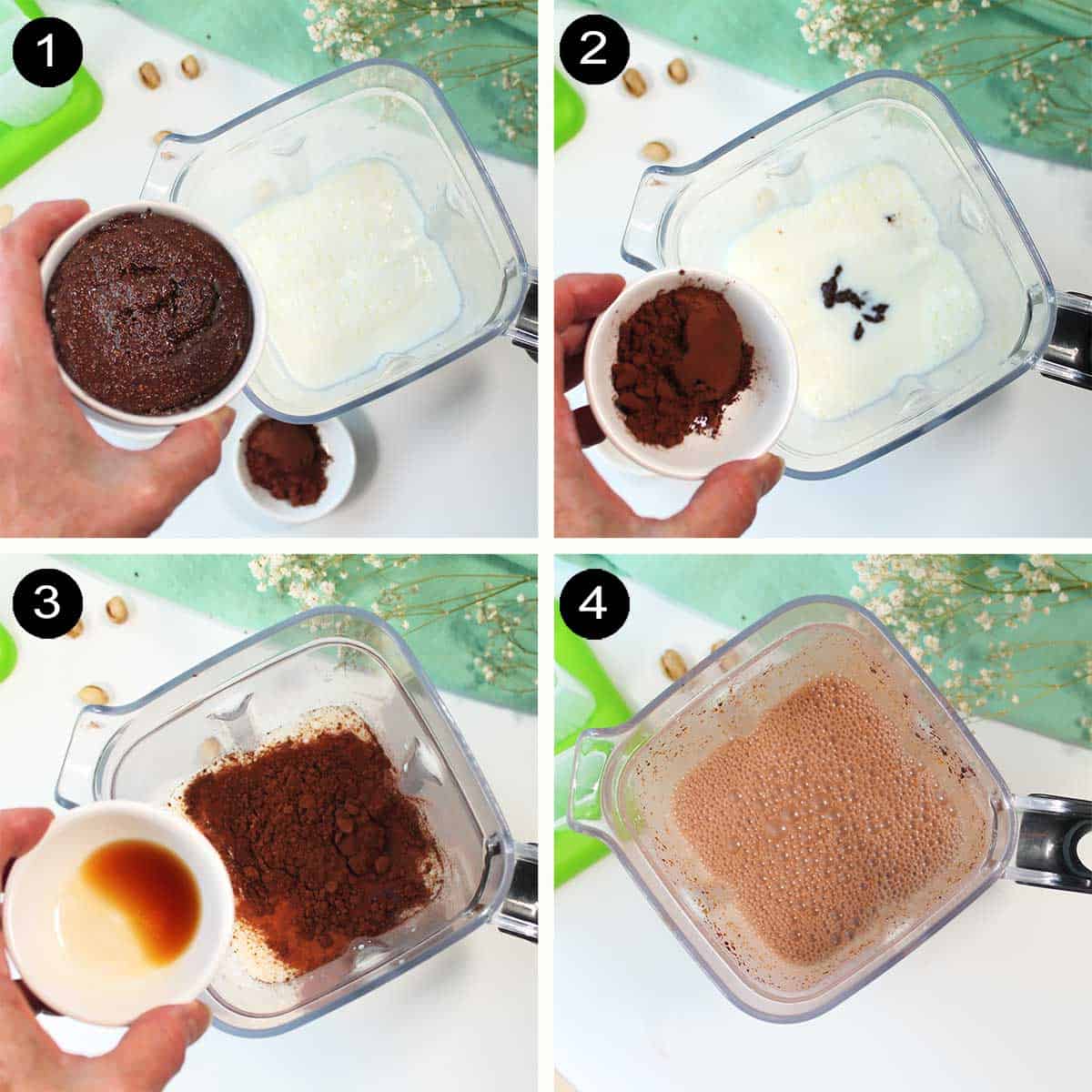 Place milk in a blender. Add chocolate pistachio spread.
Sprinkle in cocoa powder.
Pour in vanilla extract.
Blend until smooth.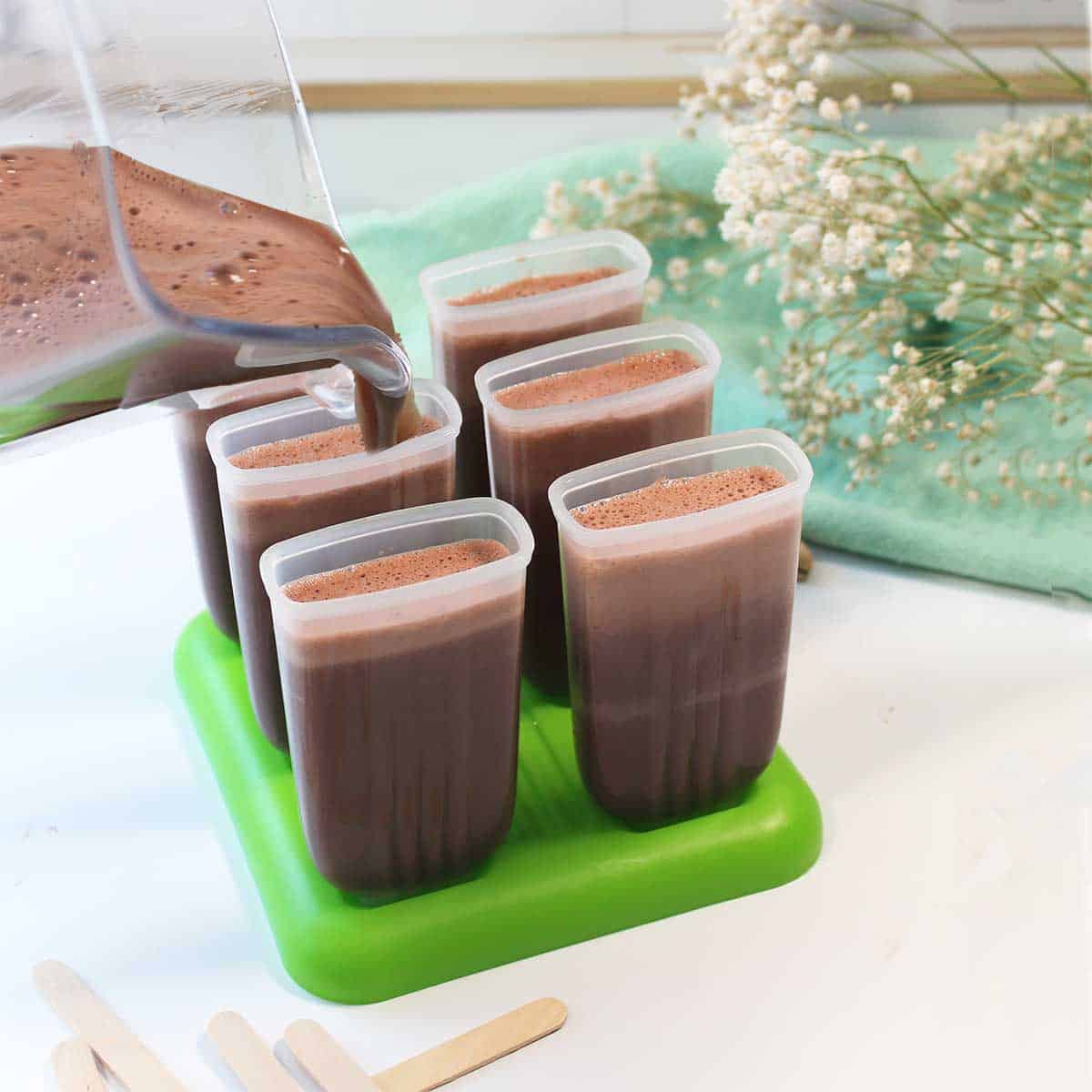 Pour the chocolate mixture into popsicle molds and freeze for 1 hour. Remove from the freezer and insert popsicle sticks. You want the mixture slightly firm to help hold the popsicle sticks in place. Return the fudgesicles to the freezer for about 2 hours or until they are frozen solid.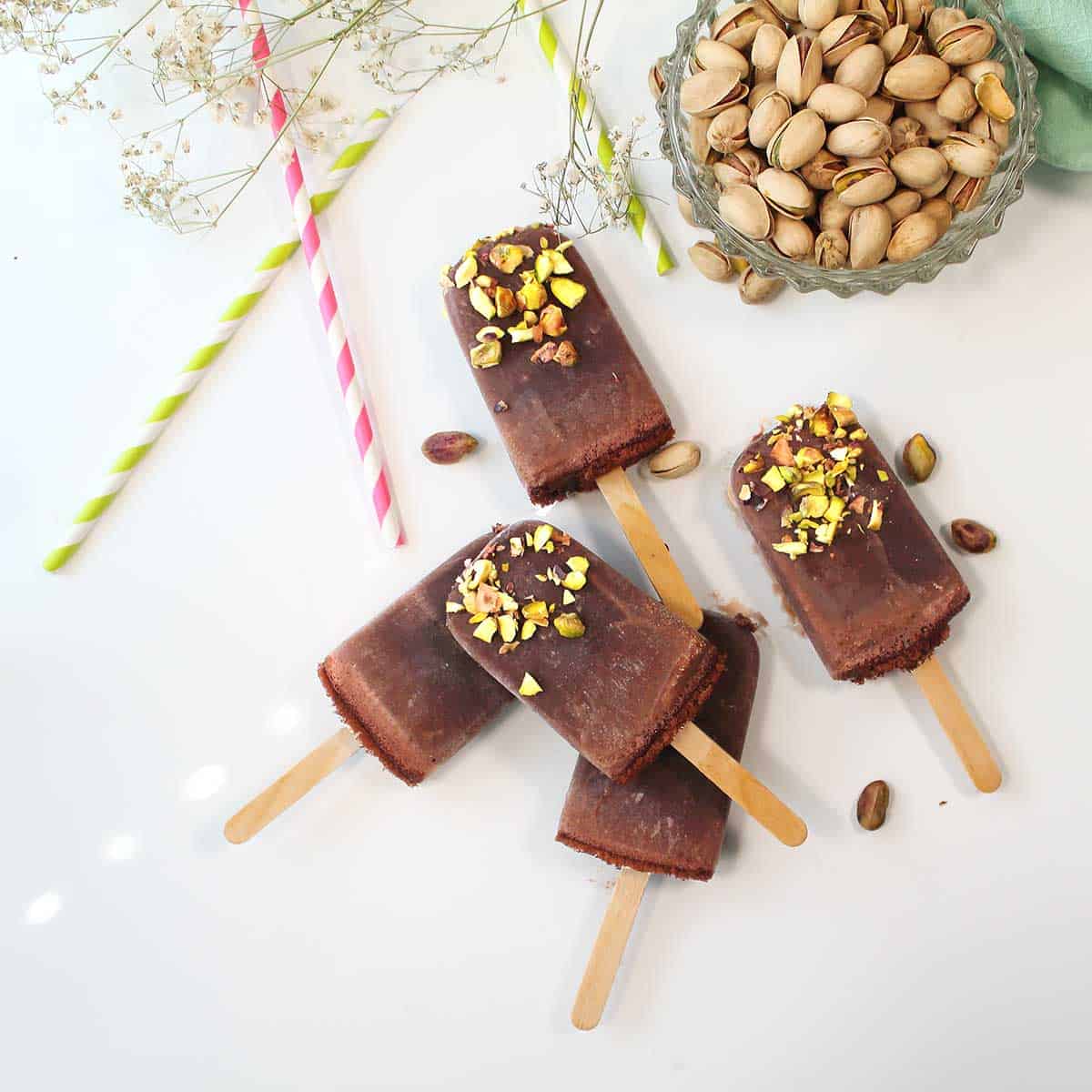 Garnish with chopped pistachio nuts once they are removed from the molds.
How to Garnish
You can dip them in some chopped pistachio nuts or set up your own popsicle bar and let the kids (and I use that term loosely because big kids have fun too) dip them into their favorite toppings.
Just set out bowls with sprinkles, toasted coconut, and chopped nuts, and let the fun begin. You can even add some melted chocolate to use for drizzle. Now what type of monster popsicle would you create?
Recipe Variations
Chocolate Milk Popsicles - For extra chocolatey flavor, use chocolate milk instead of regular milk.
Dairy Free Chocolate Popsicles - Use non-dairy plant-based milk instead of cow's milk. The best option is oat milk. Almond milk or other nut milk will impart its own nutty flavor to the popsicles. This also makes them vegan chocolate popsicles.
Time to stop drooling and whip up these to-die-for popsicles that will definitely help you chill this summer.
More Popsicle Recipes
Find lots of easy summer dessert recipes right here on 2CM!
LOVE QUICK & EASY RECIPES? FOLLOW ME ON INSTAGRAM, FACEBOOK, & PINTEREST FOR ALL THE LATEST RECIPE INSPIRATION! PLUS JOIN MY EMAIL LIST AND RECEIVE A FREE E-BOOK.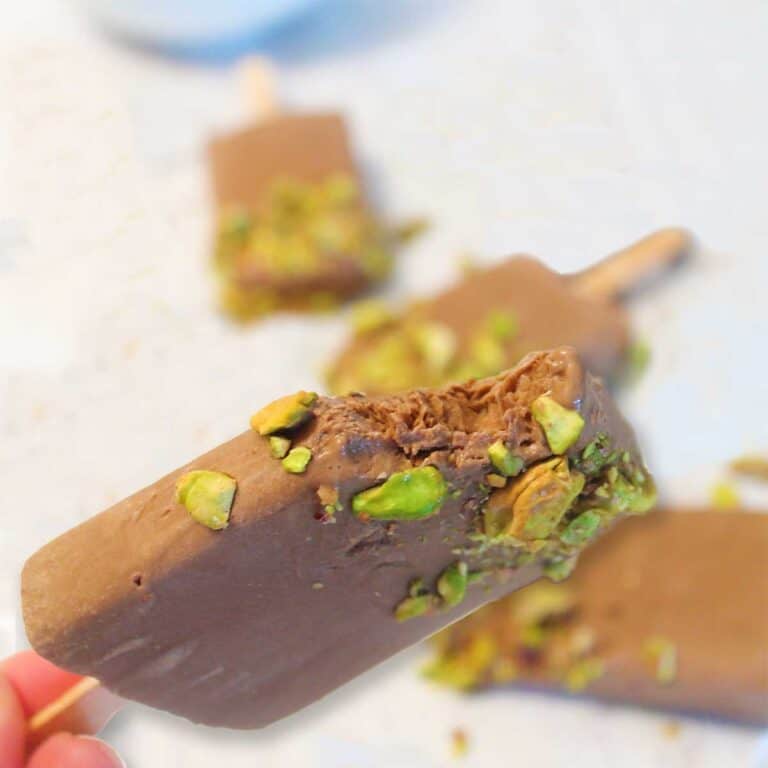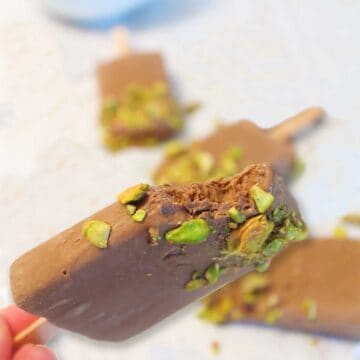 Chocolate Pistachio Popsicles
Think homemade fudgsicles gone gourmet! These easy 4-ingredient Chocolate Pistachio Popsicles are perfect for hot summer days and backyard BBQs.
Print
Rate
Ingredients
Chocolate Pistachio Spread
1

cup

roasted pistachios

½

cup

powdered sugar

¼

cup

cocoa powder

Pinch

salt

¼

teaspoon

vanilla extract

1-2

Tablespoons

oil

as needed to make spreadable
Popsicles
½

cup

chocolate pistachio spread

1 ½

cups

milk

1 ½

Tablespoons

dark cocoa powder

1

teaspoon

vanilla extract

6

popsicle sticks

Garnish: chopped pistachios
Instructions
Chocolate Pistachio Spread
In a food processor or large food chopper, process the roasted pistachios for 10 minutes or until they turn creamy. Note: You can also use ½ cup nut butter in place of the roasted nuts and no processing necessary.

Whisk together powdered sugar, cocoa powder and salt. Add to food processor with nuts.

Add vanilla extract to mix and 1 tablespoon of oil and process another 5 minutes.

If it is not spreadable, a little more oil can be added.

Note: If you want to use a chocolate spread in place of homemade, just add 1-2 teaspoons pistachio extract for the same flavor. You can also opt for 1-2 Tablespoons Pistachio Syrup instead of extract.
Popsicles
Combine ½ cup chocolate pistachio spread with milk, cocoa powder, and vanilla extract in a blender. Blend until smooth and well mixed.

Divide mixture evenly into 6 popsicle molds.

Freeze for 1-2 hours then insert popsicle sticks. You want the popsicle sticks to be able to remain upright. Put the popsicles back in the freezer until hard, about 2-3 more hours.

When ready to serve, remove popsicles from freezer and run mold under a little hot water to loosen. Remove from mold then, if desired, dip immediately into a plateful of chopped pistachios. You can also coat with toasted coconut, sprinkles or even drizzle with white/dark chocolate.
Notes
TO ROAST NUTS
Bake nuts on a cookie sheet in a 350°F oven for 10 minutes, shaking at least 2 times.
Nutrition
Calories:
175
kcal
|
Carbohydrates:
19
g
|
Protein:
4
g
|
Fat:
9
g
|
Saturated Fat:
8
g
|
Polyunsaturated Fat:
0.1
g
|
Monounsaturated Fat:
0.5
g
|
Cholesterol:
7
mg
|
Sodium:
34
mg
|
Potassium:
207
mg
|
Fiber:
2
g
|
Sugar:
17
g
|
Vitamin A:
100
IU
|
Calcium:
103
mg
|
Iron:
1
mg
This post has been updated with an improved recipe, new photos, and step-by-step directions. It was first posted on June 29, 2016.