I can't think of anything better than creme brulee in cookie form. These Creme Brulee Cookies are soft, chewy cookies filled with delicious coffee and rum flavors then dipped in dark chocolate. Sweet!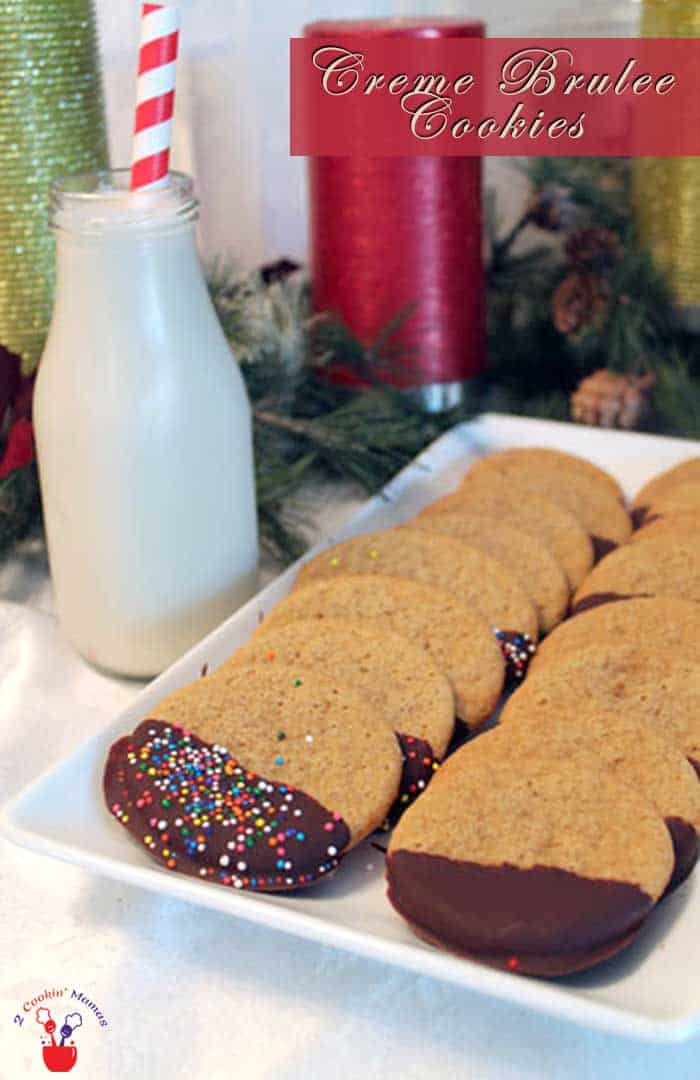 On the 2nd day of Christmas Day this Cookin' Mama sent to you ...2 Creme Brulee Cookies! If you love creme brulee and  coffee you will love these flavorful cookies. They are soft and chewy and made even more indulgent by the addition of dark chocolate. They are rich, so maybe only eat one or two at a time. OK, who am I kidding, hide them so no one else eats more than one or two at a time!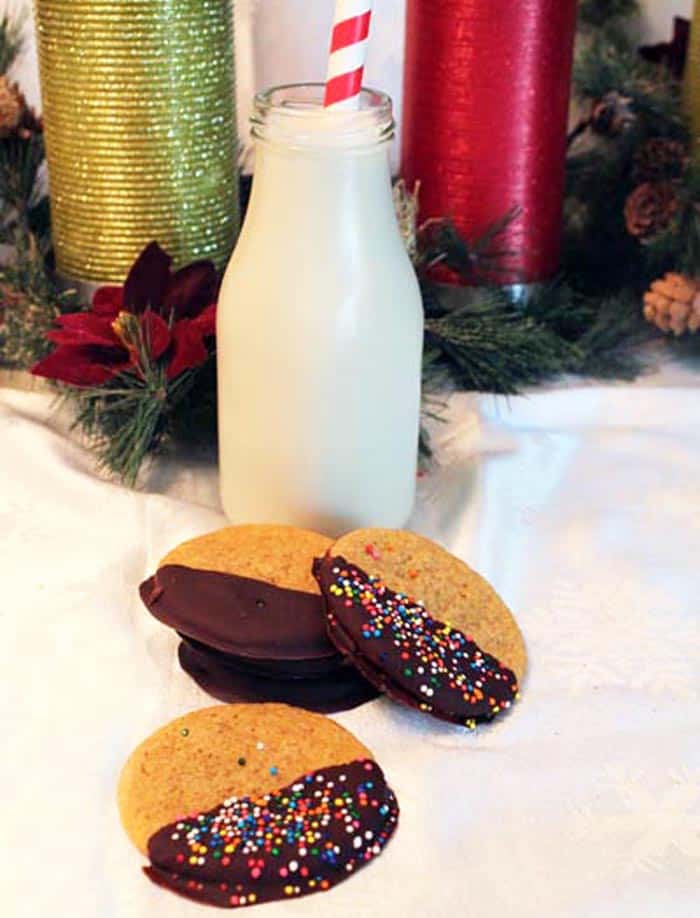 Now you are probably wondering how I came up with the idea for these cookies. Well, besides the fact that I absolutely love authentic creme brulee, I also love creme brulee flavored coffee a lot. OK, any flavored coffee really. The only thing I had to figure out was how to use my Keurig K-cup of flavored coffee and put it into a cookie. Easy peasy! Just brew up a 4-oz cup with a regular K-cup and it is strong enough to flavor a whole batch of cookies and more. I cut down on the other liquid in the cookie dough and it turned out great!
The addition of the chocolate was my other brilliant idea because who wouldn't want chocolate on this over-the-top cookie? Chocolate just makes everything taste better, right?!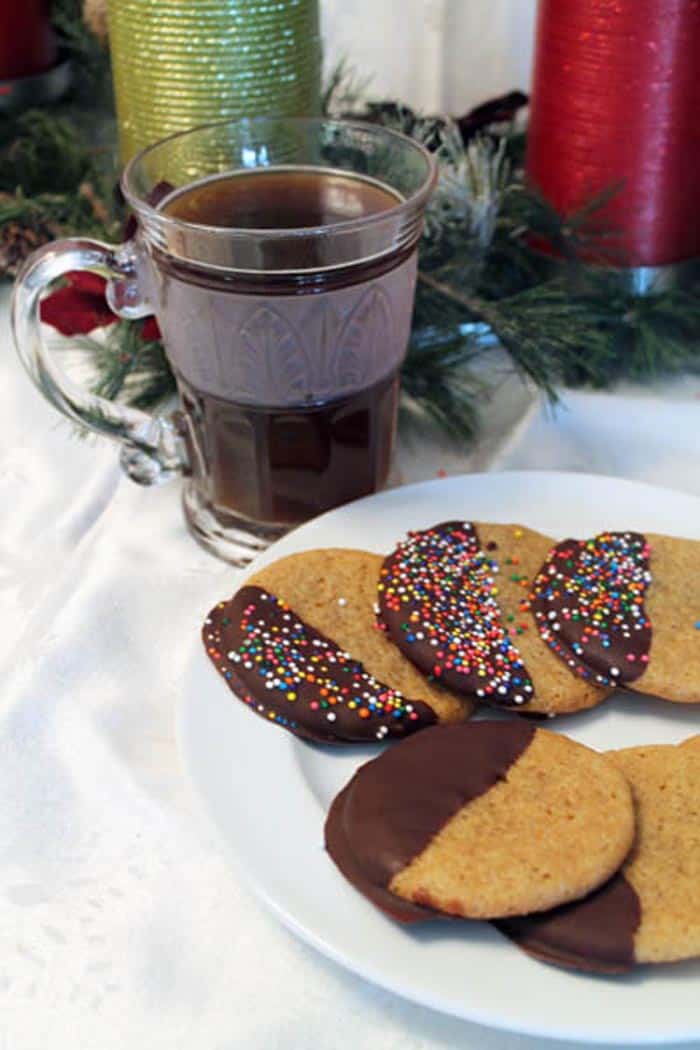 This is an easy recipe to follow and, after experimenting, I found that you could use just about any flavor of coffee you wanted to make a whole slew of variations. You can also use less coffee for a more subtle taste, but what coffee lover would think of doing that? They are really great with a cup of coffee but milk will satisfy those non-coffee drinkers. I don't know about you but I am addicted to coffee so I have a cup with just about everything!
Enjoy!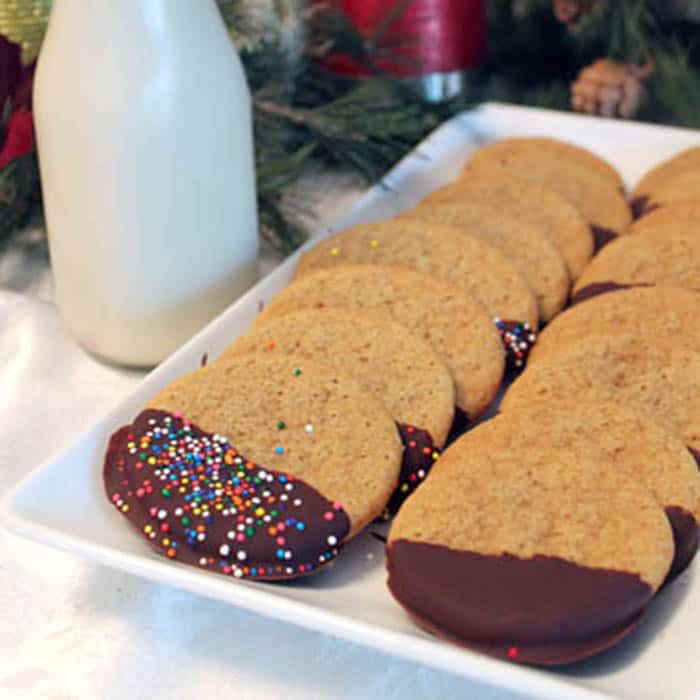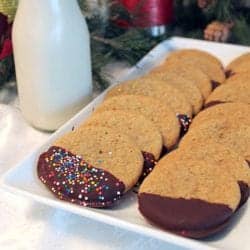 CREME BRULEE COOKIES
These creme brulee cookies are soft & chewy and filled with delicious coffee and rum flavors then finished with a dip in dark chocolate. Sweet!
Print
Rate
Ingredients
½

cup

butter

1

cup

light brown sugar

1

egg

2

Tablespoons

creme brulee-flavored espresso coffee

½

teaspoon

vanilla extract

¼

teaspoon

rum extract

1-¾

cup

flour

½

teaspoon

cream of tartar

¼

teaspoon

baking soda

¼

teaspoon

nutmeg

⅛

teaspoon

salt

3.5

oz.

bar dark chocolate

(I used Ghiradelli Intense Dark)

Colored sprinkles

(optional)
Instructions
In a large bowl, cream butter and sugar until light and fluffy. Beat in egg, espresso and extracts.

In a medium bowl, combine dry ingredients (all except for chocolate). Add to creamed mixture and beat until well incorporated.

Divide dough into 2 halves and roll each half into a log that is about 2" in diameter. Wrap in plastic wrap and chill in refrigerator for a few hours or even overnight.

When ready to bake. preheat oven to 350 degrees.

Remove dough from refrigerator, one log at a time, and using a very sharp knife, cut log into ¼" slices. Place on cookie sheets at least 2" apart as these cookies will spread.

Bake for 10-12 minutes or until they are golden brown.

Remove from oven and let cool for a few minutes on the cookie sheets then remove cookies to wire racks to cool completely.

When cookies are cool, it is time to coat with chocolate. Prepare several cookie sheets by lining with wax paper and set aside.

Break the chocolate into pieces and place in a microwave safe measuring cup. Melt in microwave in 30 second intervals, stirring in between, until chocolate is completely melted and smooth. Usually this takes about 1-½ minutes.

Dip the cooled cookies in the chocolate or use a spoon to pour some chocolate over half the cookie then place on waxed paper lined cookie sheets to set. While the chocolate is still wet, sprinkle with colored sprinkles or leave as is. At this point you can speed things up by placing in refrigerator for an hour or so.

Once set, store in airtight container.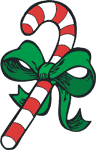 Stay tuned for more delicious and delectable cookies throughout the next 10 days. You won't be able to choose just one!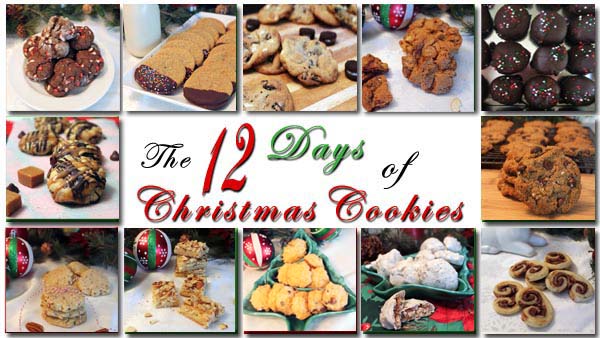 12 Nutella Palmiers, 11 Forget Them Cookies, 10 Sure Bet Macaroons, 9 Almond Bar Cookies, 8 Pecan Sandies, 7 NuttZo Nut Butter Cookies, 6 Turtle Cheesecake Cookies, 5 Key Lime Truffles, 4 Vanilla Almond K Cookies, 3 Cookies and Cream Cookies, 2 Creme Brulee Cookies and a Chocolate Peppermint Drop.
And check out some of our tasty cookies from last year to warm up your Christmas holidays.
DON'T MISS A RECIPE!