Peppermint Pinwheel Cookies are made of peppermint cookie dough colored half red, rolled into a log then cut and baked. These pretty pinwheel cookies are perfect for party trays, cookie exchanges, and gift-giving.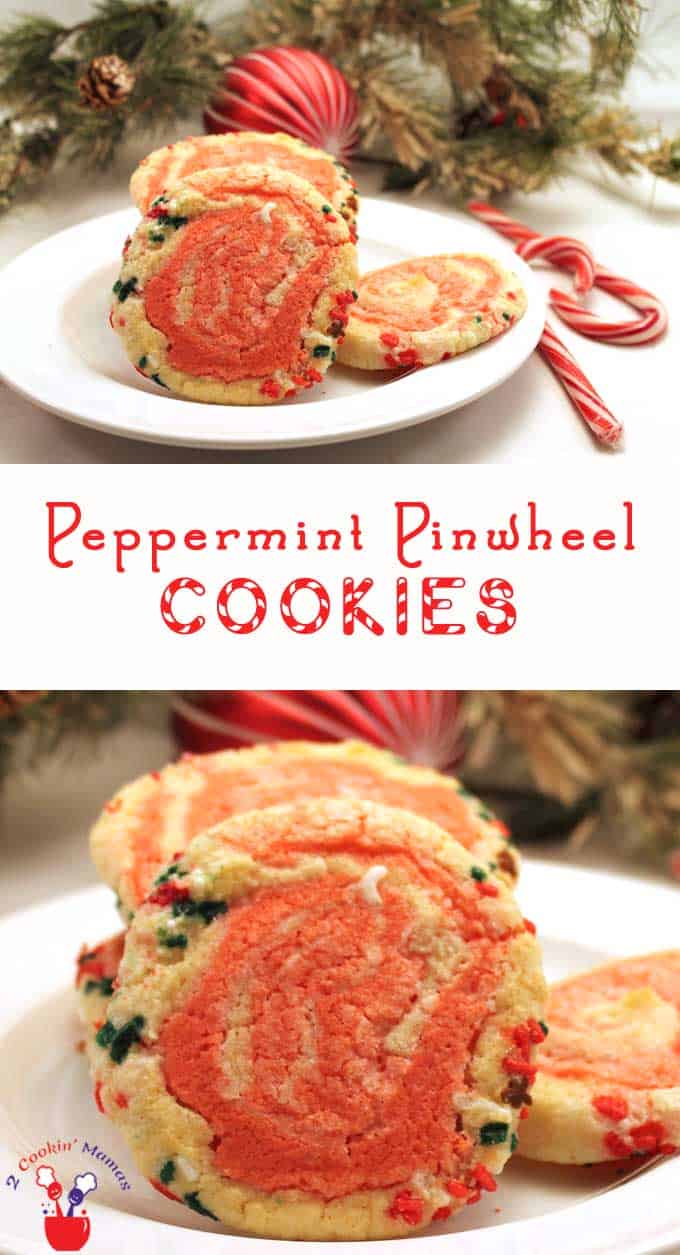 Aren't these just the pretties cookies you've seen for Christmas?! I just couldn't help trying my hand at making them. And they weren't as difficult as I thought although I think mine aren't quite the circle I imagined. 🙂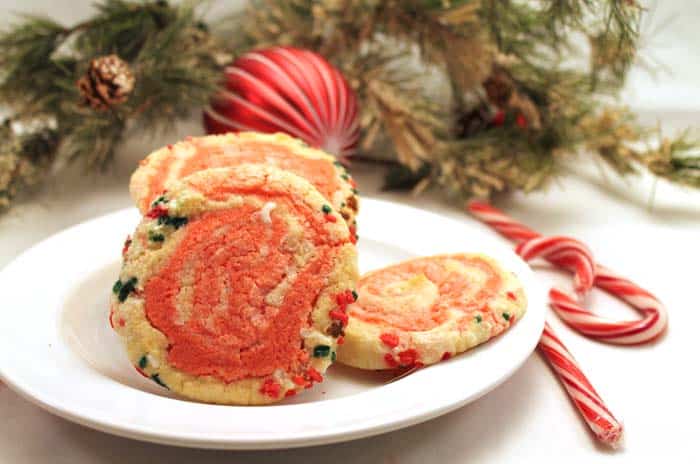 These do take a bit more time than most slice and bake cookies but I think the end result is worth it. The peppermint dough is made in one bowl then divided so you can color half of it red.
Each color is then rolled out into a rectangle then stacked one on top of the other. Roll it into a log, roll in colorful Christmas sprinkles then chill. Whew! Now that's a lot of rolling! All that's left is slice and bake.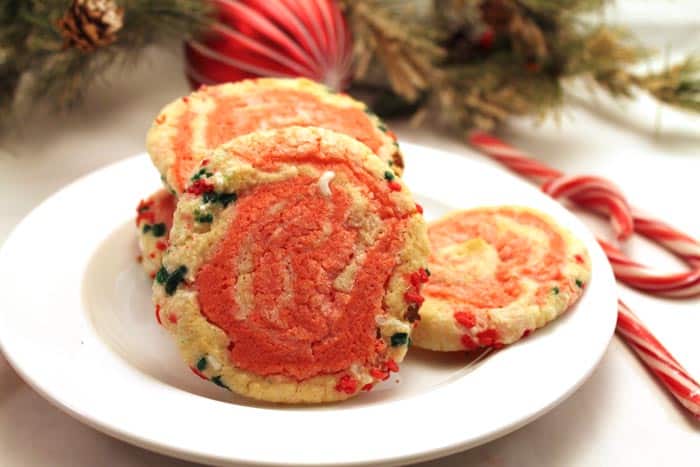 These minty sugar cookies will be the hit of your cookie tray. That is if you want to share. But it's Christmas so go ahead and bake some up for the office, neighbors and your next party.
Check out more cookie deliciousness in my Christmas Cookie Marathon series. Enjoy!

Christmas Cookie Marathon Series
Christmas Cookie Marathon
More Cookie Deliciousness
Cookies + Pudding = Scrumptious
Chocolate Peppermint Pudding Cookies
Pistachio Cherry Meltaway Cookies
Snowballs and Truffles
Simple and Delicious Cookies
Graham Cracker Chocolate Chip Bars
Seasonal Flavors - Peppermint and Eggnog
Peppermint Chocolate Chip Cookies
Love quick & easy recipes? Follow me on Instagram, Facebook, Pinterest & Twitter for all the latest recipe inspiration! Plus join my email list and receive a free e-book.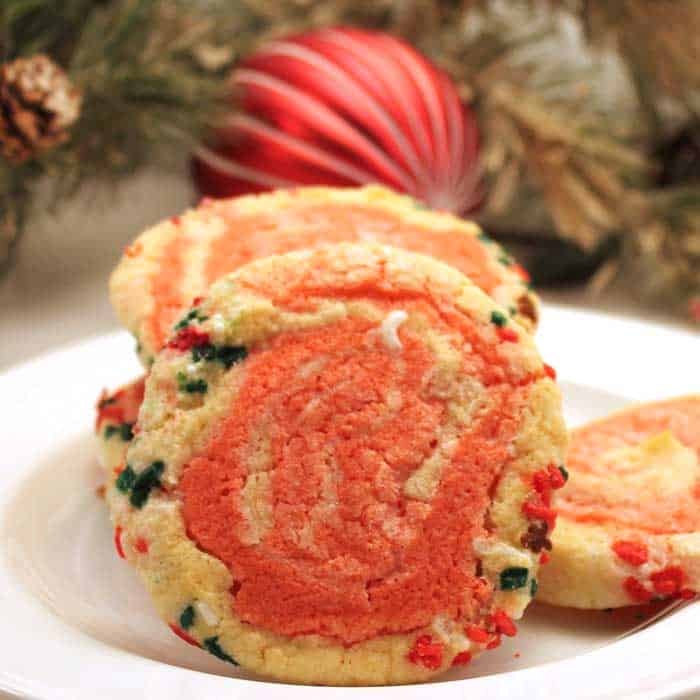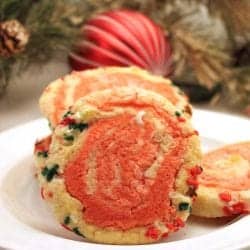 PEPPERMINT PINWHEEL COOKIES
Pretty slice & bake cookies flavored with peppermint. Half red/half white dough is rolled into a log then cut and baked. These cookies are perfect for party trays & gift-giving.
Print
Rate
Ingredients
2 ½

cups

all-purpose flour

½

teaspoon

salt

½

teaspoon

baking powder

1

cup

unsalted butter,

softened

1

cup

sugar

1

egg

3

Tablespoons

milk

½

teaspoon

pure vanilla extract

1

teaspoon

peppermint extract

1

Tablespoon

red food coloring

Confectioner's sugar

Garnish: White or multi-colored sprinkles
Instructions
Combine dry ingredients by sifting flour, salt and baking powder together. Set aside.

In a large bowl, cream butter and sugar together. Add egg, milk, vanilla and peppermint extracts and continue beating until combined. Gradually add dry mixture, beating until well mixed. Divide dough in half and add red food coloring to half of dough.

Cut off 2 pieces of wax paper, each about 24" long to use as a size gauge. Sprinkle generously with powdered sugar. Take the white dough, and using a rolling pin or your fingers, form a large rectangle about ¼-inch thick on one of the pieces of wax paper. Use more powdered sugar as you roll the dough to keep it from sticking. Repeat with the red dough on the other sheet of wax paper.

Place the red dough on top of the white dough by flipping the wax paper side up. Trim evenly. Carefully roll the dough into a tight log mending tears as they appear.

Place sprinkles on flat surface and roll your cookie log in the sprinkles patting them to help them adhere. Wrap tightly in plastic wrap and place in refrigerator to chill for at least 2 hours.

Preheat oven to 375 degrees. Prepare cookie sheets by lining with parchment paper.

Remove dough from refrigerator, unwrap and, using a very sharp knife, slice dough into ⅓"-½" wide slices. Place on prepared cookie sheets about 2" apart. Bake 10-15 minutes.

Remove to wire rack and let cool.
This post has been updated and was first published on December 24, 2013.