Lebkuchen Cookies, aka German Christmas cookies, are deliciously spicy, soft, gingerbread-like cookies made with molasses, warm spices, and nuts. Dressed up with almonds and a cherry, then brushed with a shiny sugar glaze, they will be the prettiest cookies on your holiday table.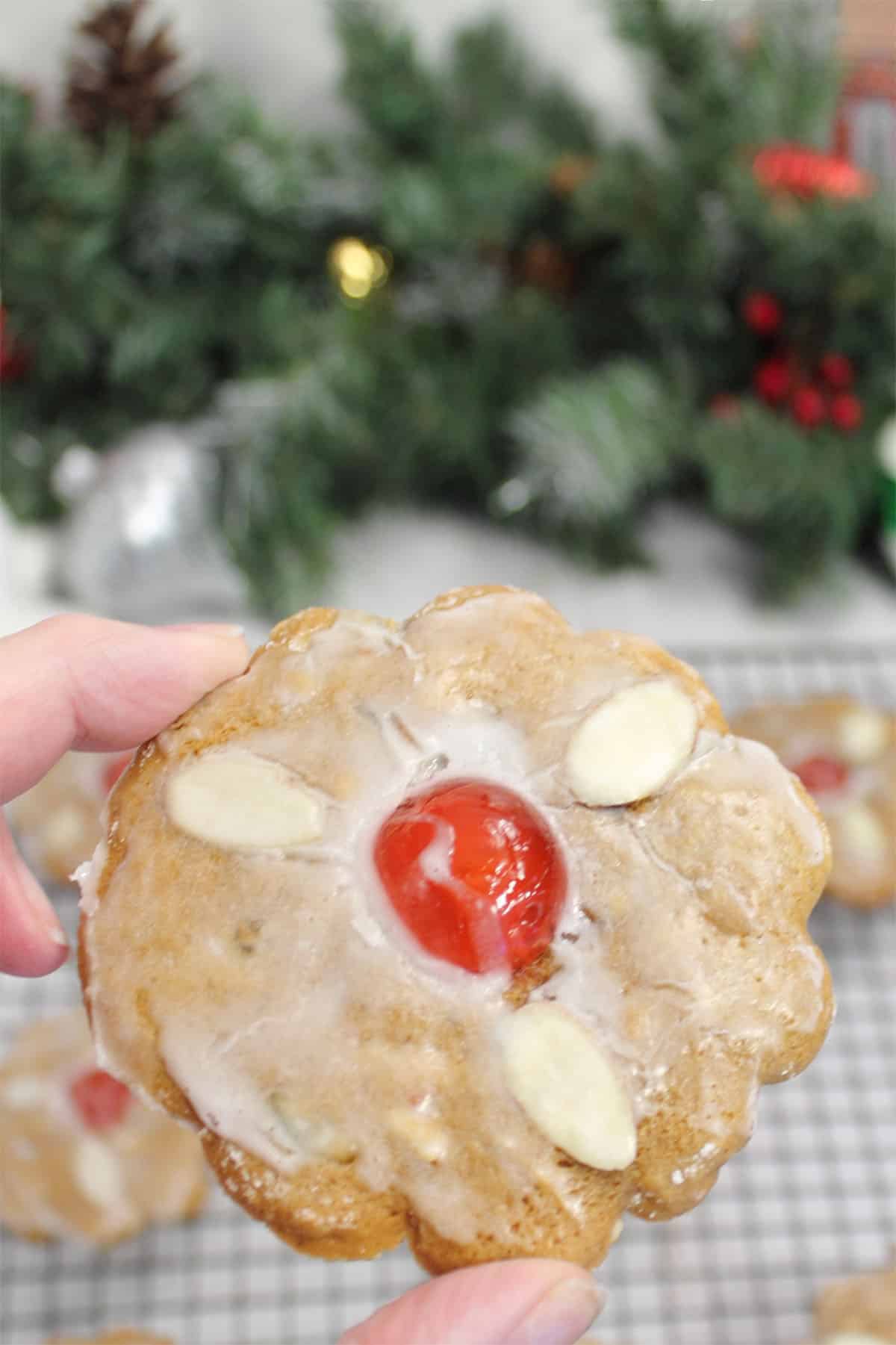 These German Christmas cookies, traditionally known as German Lebkuchens or Pfefferkuchen, have been a tradition in my family for years. They were my dad's favorite cookie reminding him of his much-beloved gingerbread. Of course, he wouldn't pass up my Peanut Brittle or Peppermint Chocolate Chip Cookies either.
Not only are these German spice cookies delicious and beautiful to look at but the scent of warm spices like cinnamon, cloves, and allspice as they're baking will make your mouth water! It's the perfect way to bring the scents of Christmas into your home.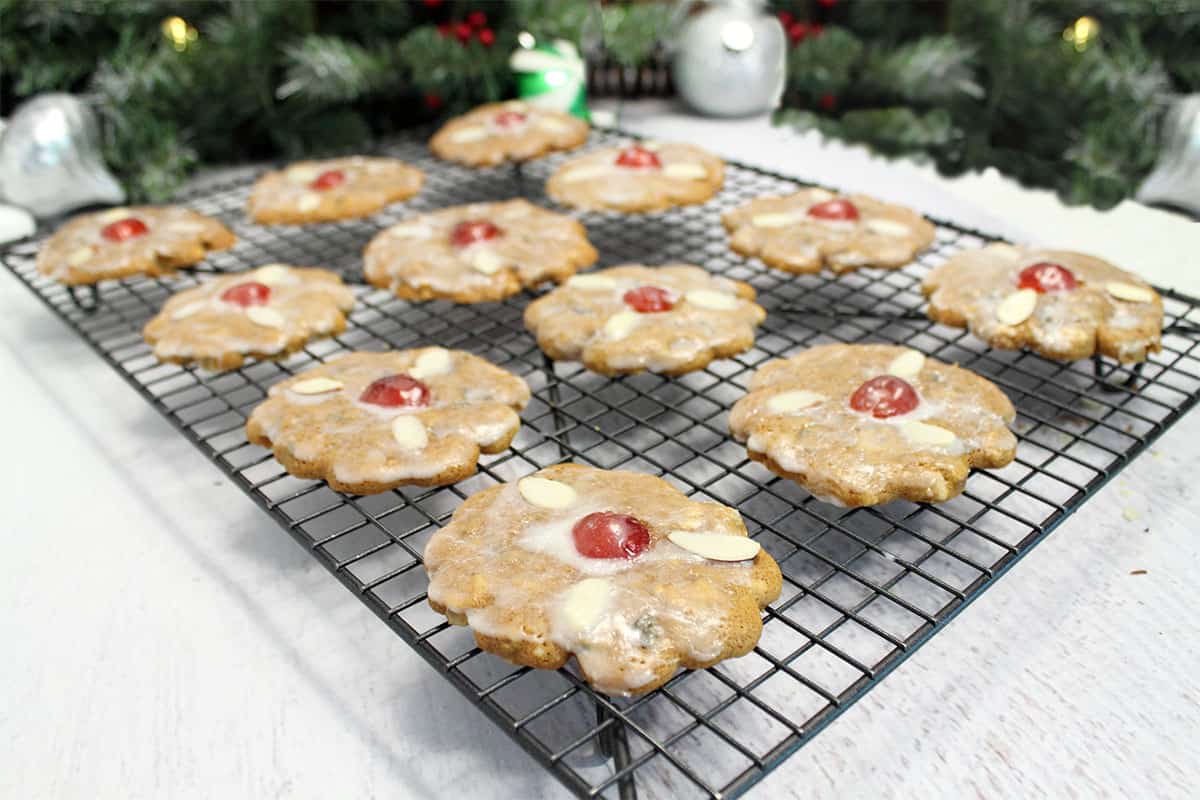 I have to warn you, these German spice cookies do take a little bit of work but they are worth every minute of your time. You can even bake them several weeks ahead of time to get some of your holiday baking out of the way. Store them in an airtight tin and they'll stay soft and chewy as the day you baked them.
What is Lebkuchen
Lebkuchens are known as German gingerbread cookies. They were originally invented by German monks back in the 13th century and were known as honey cakes. It was believed they had magical healing powers and were often worn as a talisman in battle as protection against evil spirits.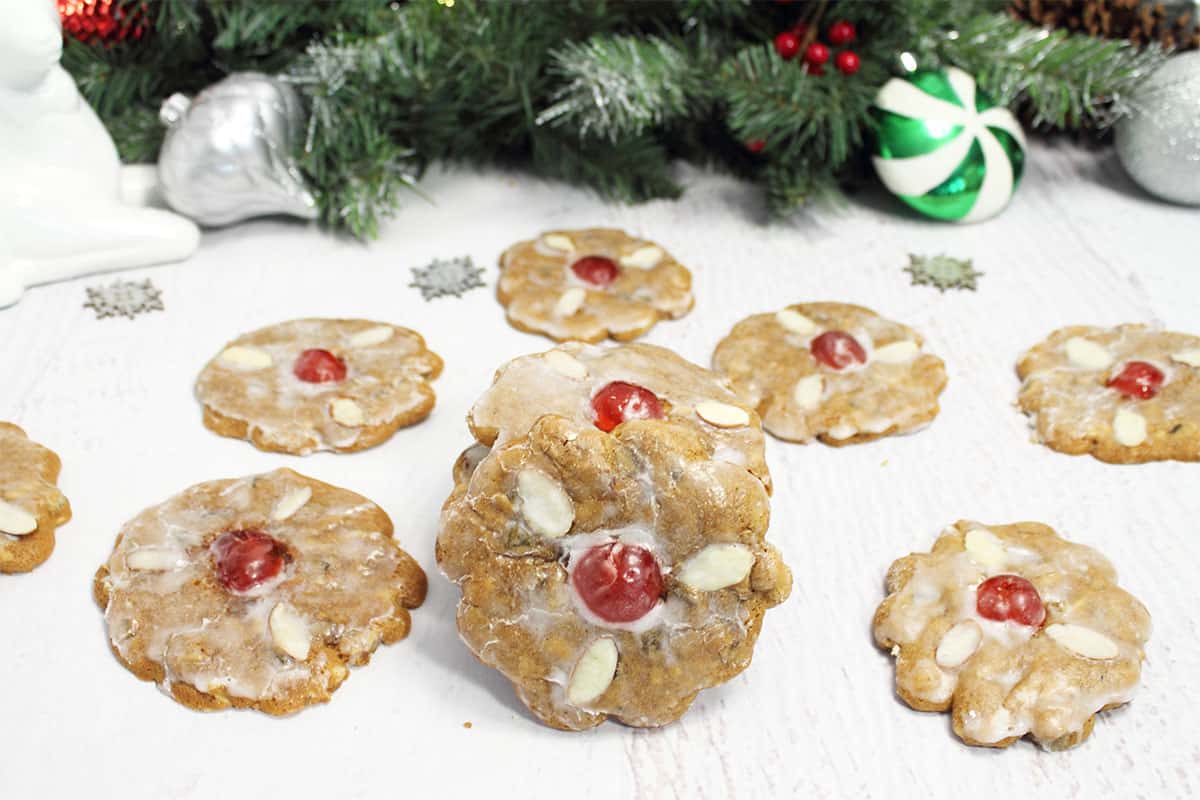 These traditional German cookies can be made in a variety of shapes, round being the most common. The cookies are flavored with honey and plenty of spices and commonly contain nuts and crystallized ginger (or the more common citron). Plus they are one of the only cookies with no fat other than eggs. Today they are one of the most popular German cookies made at Christmas time.
Frequently asked questions
How far in advance can I make lebkuchen cookies?
I like to make them about 1-2 weeks prior to serving to allow the spices to permeate the cookie. They get better as they age!
Can I freeze these cookies?
Absolutely! The uncooked dough can be frozen for 6-8 months. Just make sure to wrap it in plastic wrap then secure it in a plastic freezer bag. Thaw in the refrigerator prior to rolling out and baking.

You can also freeze the baked cookies for the same 6 months. Place unglazed cookies in an airtight resealable freezer bag with parchment paper between cookies and freeze. When you remove them from the freezer, thaw them in the refrigerator then glaze.
Why don't these German gingerbread cookies have the traditional wafer on the bottom?
The wafer is placed underneath the cookie dough to prevent sticking and is usually not eaten. In lieu of the wafer, you can bake them on parchment paper or a silicone mat and get the same result much easier.
Ingredients for Lebkuchen
Flour - I use all-purpose flour which gives me the best results in creating a soft, chewy cookie.
Baking Soda - leavening agent
Molasses - adds sweetness, flavor, and aids in keeping the cookies soft
Honey - plays the same role as molasses
Brown Sugar - sweetens the cookies and enhances the molasses flavor
Allspice, cinnamon, ground cloves, nutmeg - warming spices that lend a gingerbread flavor to these German Christmas cookies
Salt - enhances all the flavors
Almonds - add flavor and crunch
Candied Citron - adds moistness
Lemon Juice & Lemon Zest - adds a touch of citrus flavor that complements the citrus glaze
Confectioners' Sugar - is the base of the glaze
Cream - thins and smooths out the powdered sugar
How to Make German Christmas Cookies
Combine the four, baking soda, salt and spices in a large bowl and set aside. (photo 1)
In a medium saucepan, heat honey, molasses and sugar to boiling and stir continuously until sugar has dissolved. You can test this by running a spoon through it and checking to see if any sugar crystals are present. If they are, boil a little longer. (photo 2)
You will see it foam up and get a beautiful golden color. (photo 3)
Let cool slightly. Then add egg, lemon juice and lemon zest. Cooling the liquid will prevent the egg from solidifying when added. (photo 4)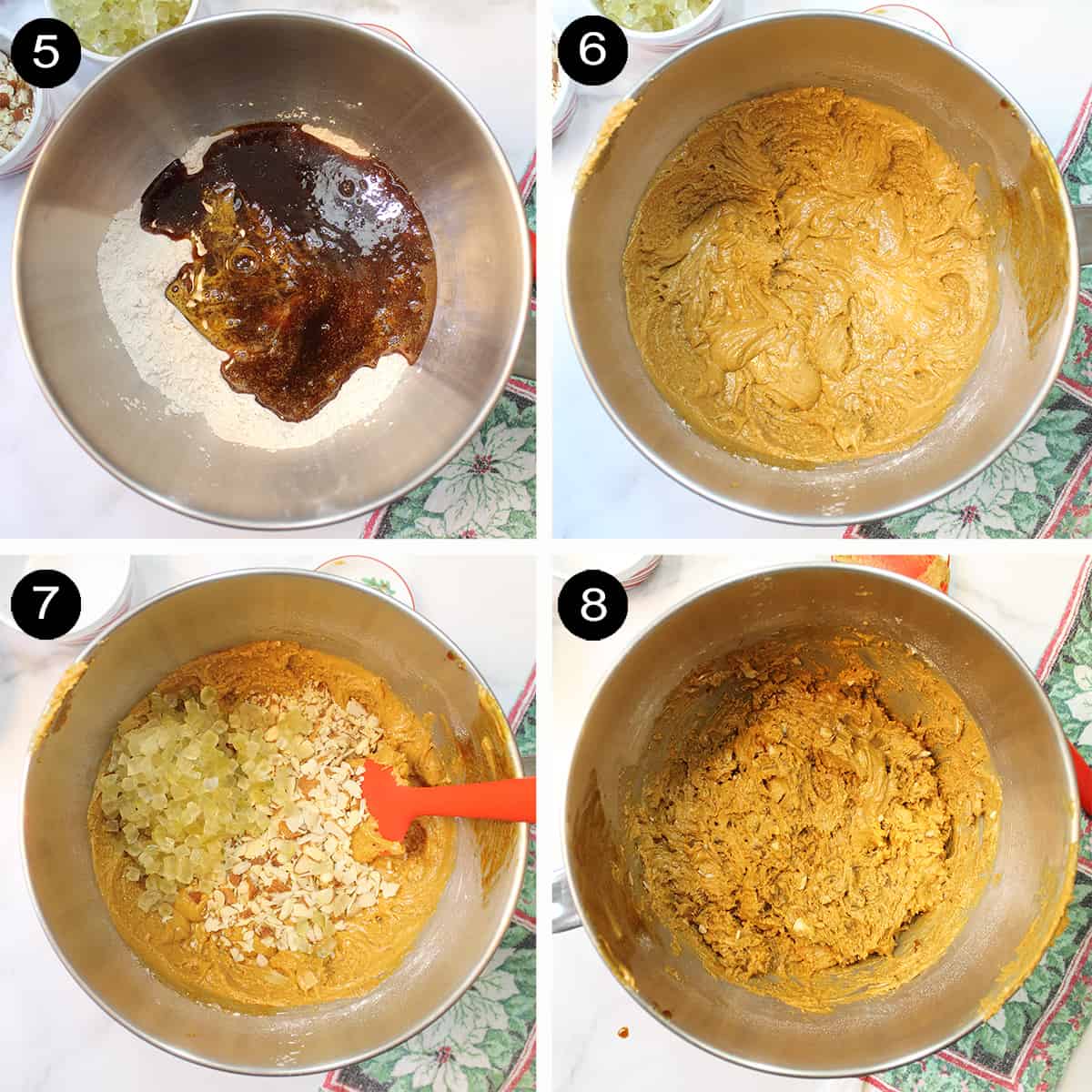 Add wet ingredients to flour mixture. (photo 5)
Mix well until all is combined. (photo 6)
Add chopped nuts and citron. (photo 7)
Stir well. The dough will be very thick and sticky. (photo 8)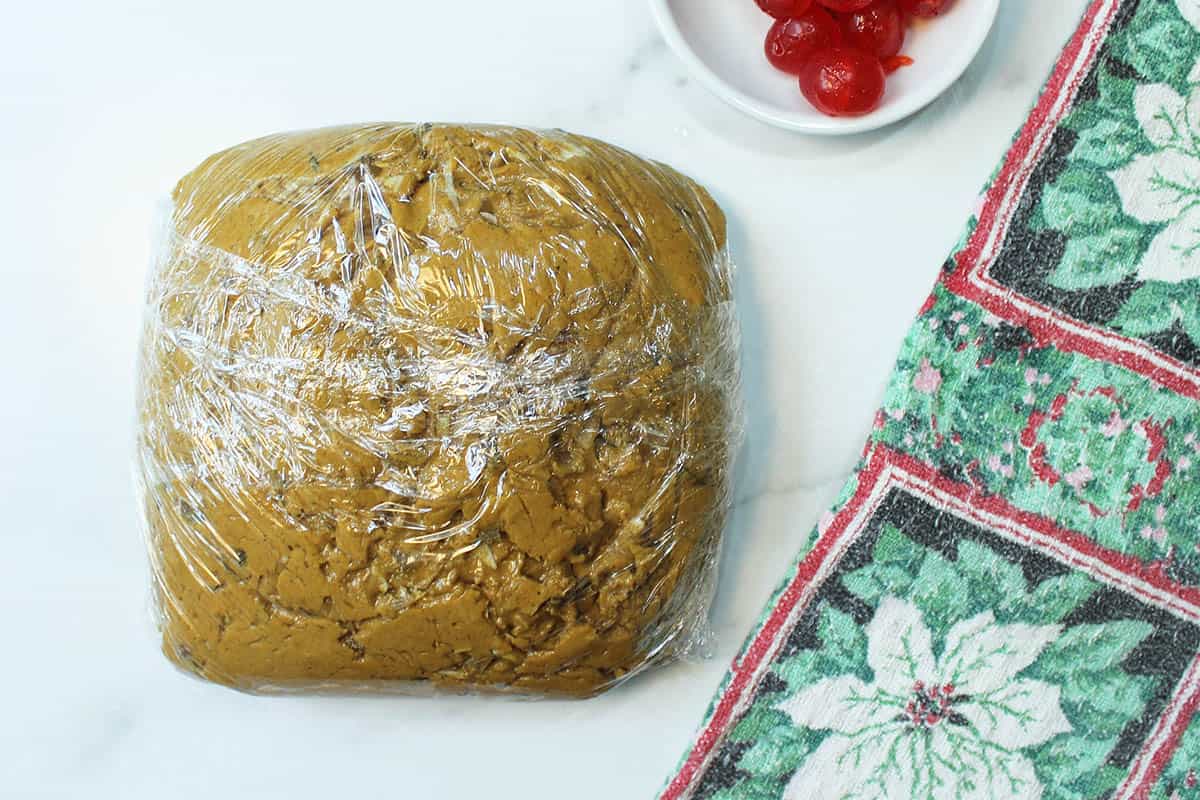 Wrap the dough in plastic wrap and place in refrigerator overnight. This will make the dough easier to work with.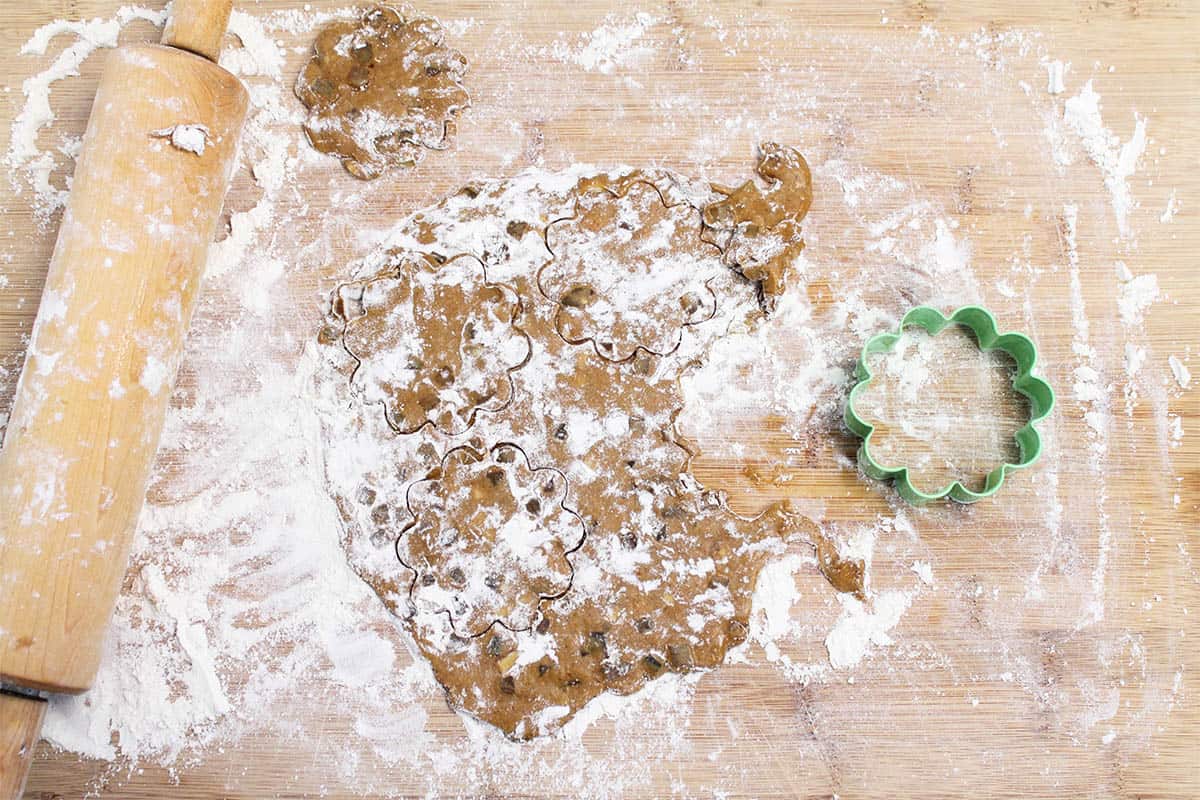 Remove the dough from the refrigerator. Divide into smaller batches and roll about a quarter of the dough at a time. Flour working surface and roll to about ¼" thickness. Cut with your favorite shaped cookie cutter. One with a 2-½" diameter works best.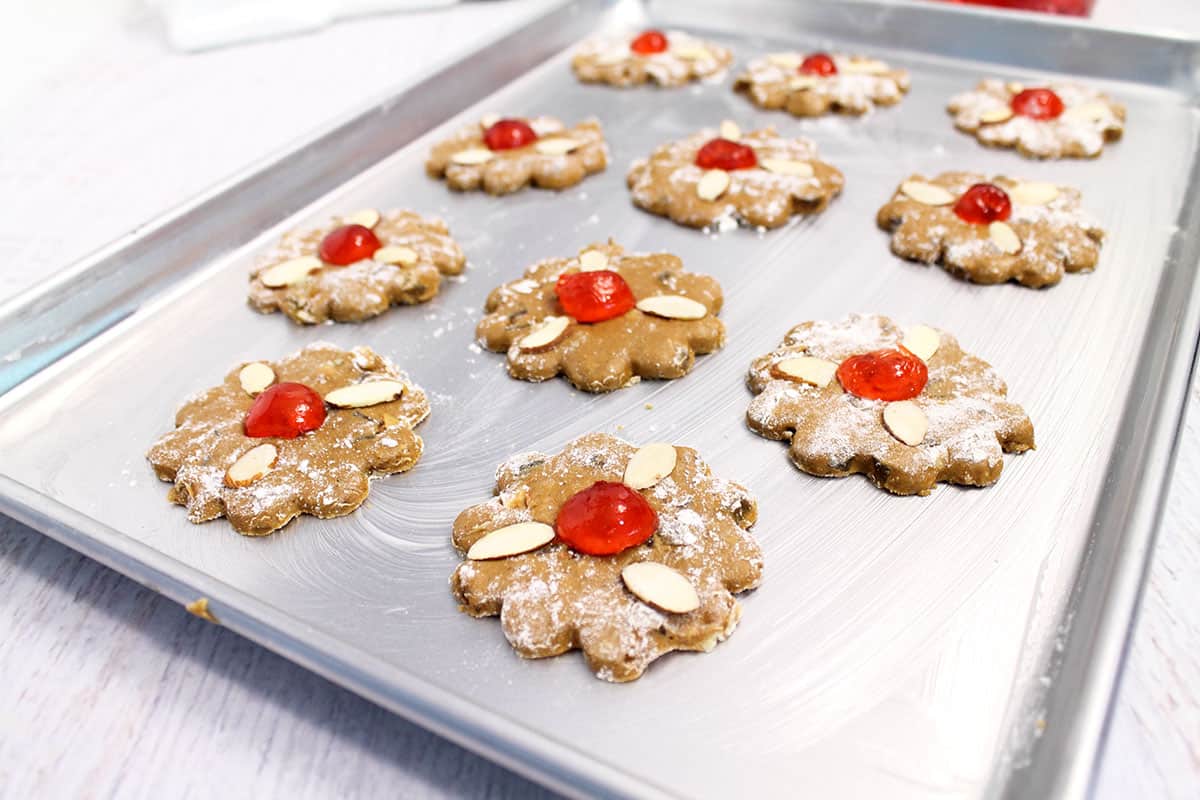 I like to decorate my lebkuchen cookies with 3 sliced almonds and half of a candied cherry in the center. It makes the cookies look even more Christmassy and pretty. Now bake for 10-12 minutes.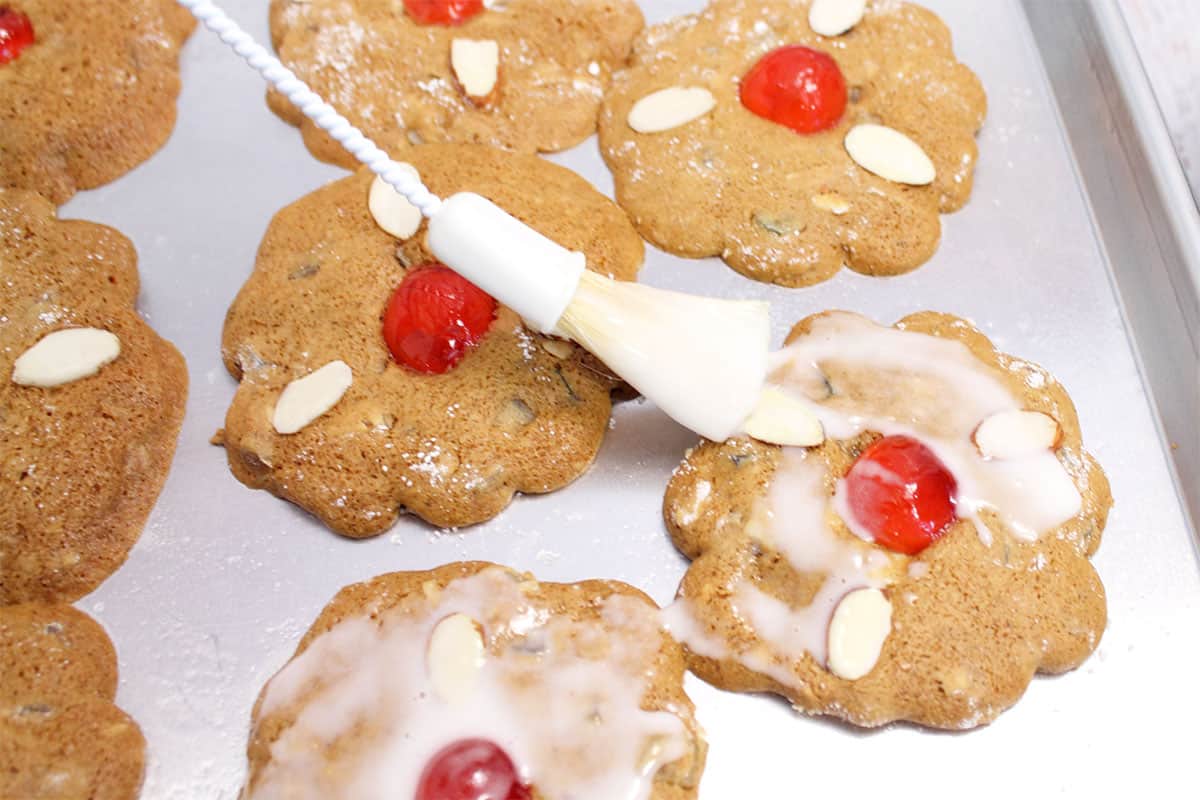 Prepare the sugar glaze while the cookies are baking. Just mix confectioner's sugar with cream and a little lemon juice in a bowl. Once the cookies are out of the oven, while still warm, brush on the sugar glaze.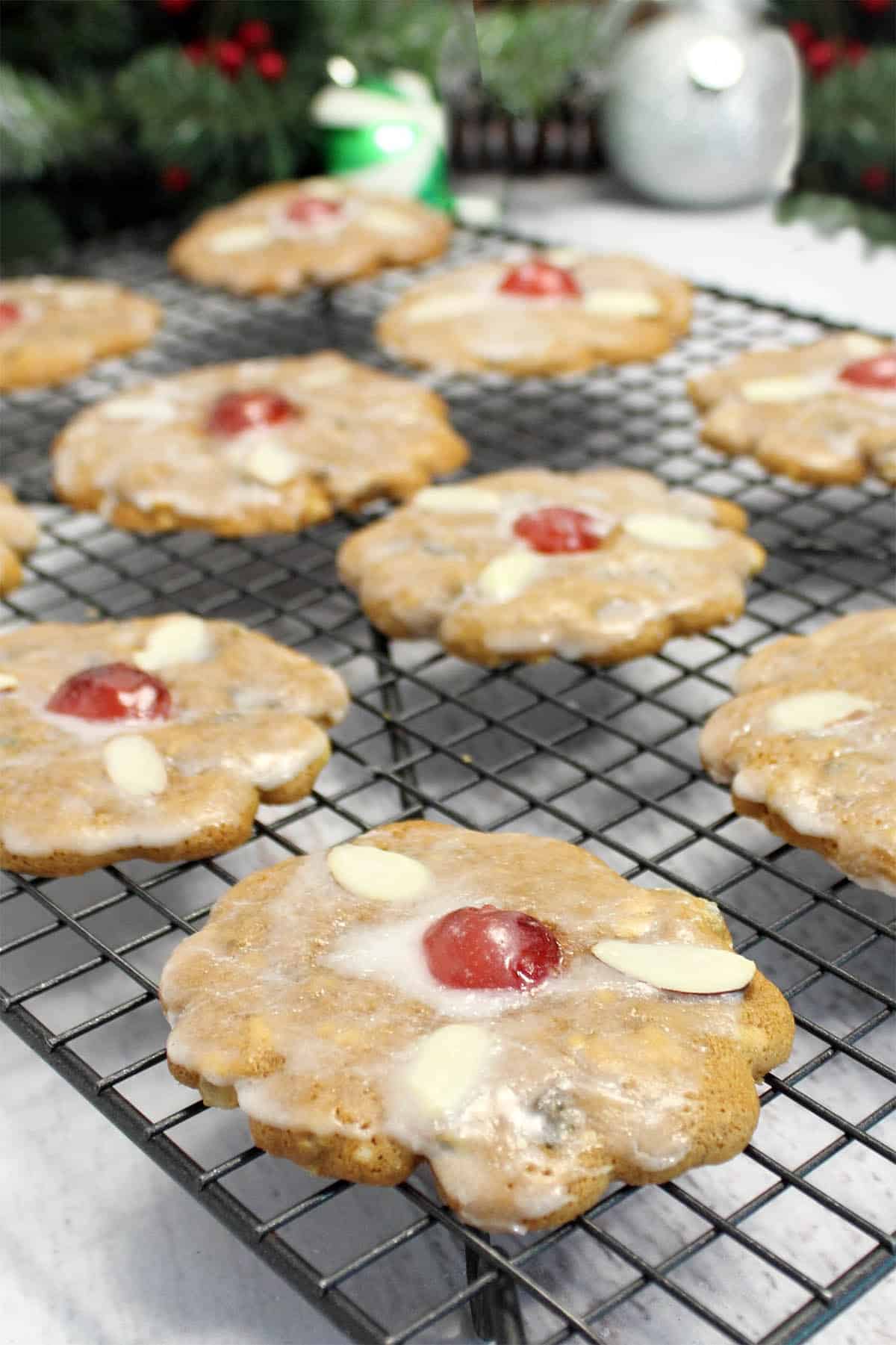 Let them set until the surface is shiny and hard. When cool, place them in an airtight cookie tin for about a week to enhance the spice flavors. However, I'm pretty impatient when it comes to eating something this delicious so, I know from experience, that they are almost as yummy eaten right away. It was no hardship to test that theory out.
Top Tip
Make sure the glaze is dry before storing. Putting parchment paper between the layers of cookies keeps them all looking perfect.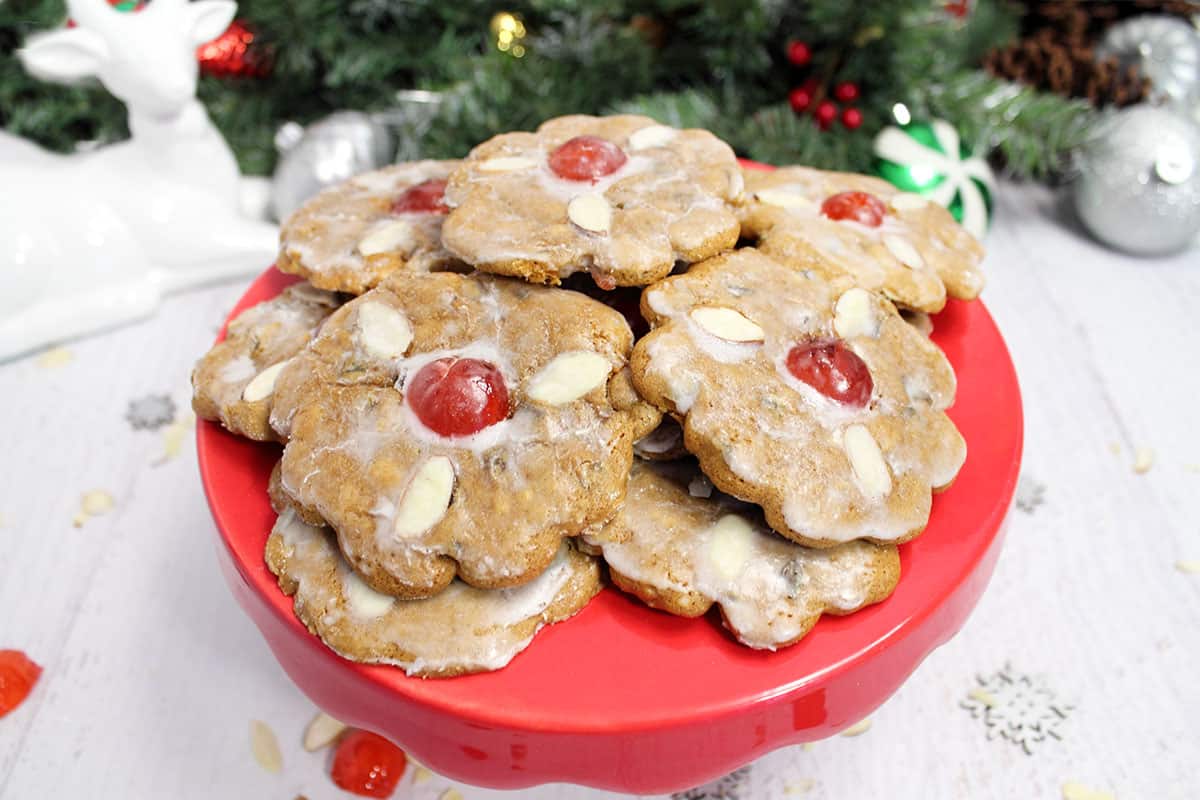 These spiced cut-out lebkuchen cookies are a great addition to your holiday cookie tins. Their gingerbread-like flavor is so different from the standard collection of Christmas cookies which makes them an extra special addition to your cookie tins.
Plus they are so pretty and Christmassy looking! Don't be surprised when they're the hit of your holiday baking. Enjoy!
LOVE QUICK & EASY RECIPES? FOLLOW ME ON INSTAGRAM, FACEBOOK, & PINTEREST FOR ALL THE LATEST RECIPE INSPIRATION! PLUS JOIN MY EMAIL LIST AND RECEIVE A FREE E-BOOK.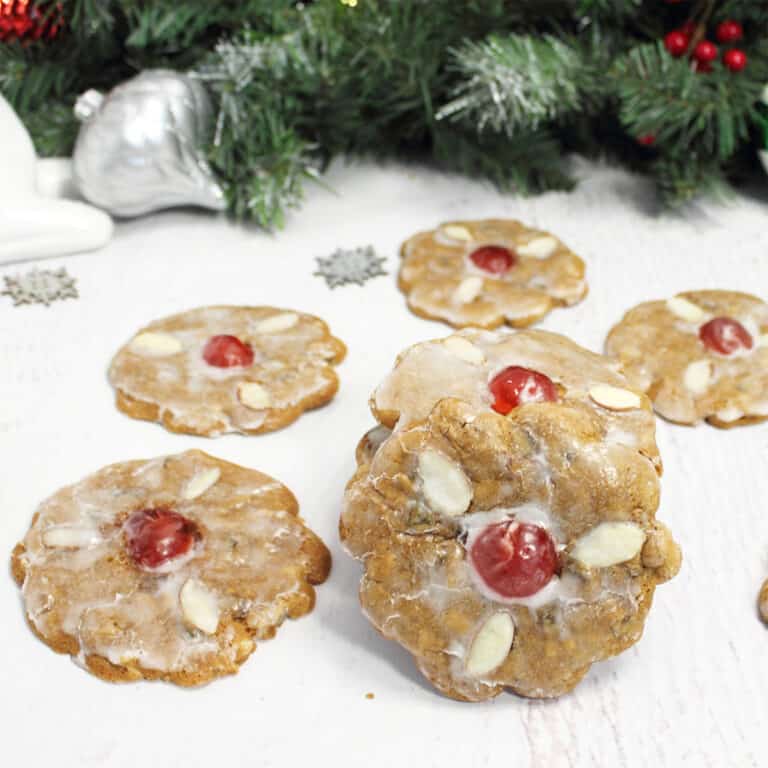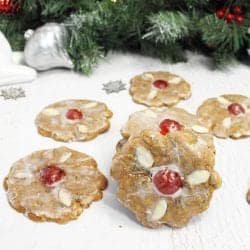 Lebkuchen Cookies
Lebkuchens are spicy gingerbread-like cookies that are soft, spicy treats decorated with almonds and topped with a shiny sugar glaze.  
Print
Rate
Ingredients
Cookies
2 ¾

cup

all-purpose flour

½

teaspoon

baking soda

½

teaspoon

salt

1

teaspoon

nutmeg

1

teaspoon

ground cloves

1

teaspoon

cinnamon

1

teaspoon

allspice

½

cup

honey

½

cup

molasses

¾

cup

light brown sugar, packed

1

egg

1

teaspoon

lemon zest

1

Tablespoon

lemon juice

½

cup

almonds, chopped

¾

cup

diced candied citron

Garnish: sliced almonds, red candied cherry halves
Hard Sugar Glaze
1

cup

confectioner's sugar

(more can be added to get to the right spreading consistency)

3-4

Tablespoons

heavy cream

1

teaspoon

lemon juice
Instructions
Cookies
In a large bowl, combine first 7 ingredients. Set aside.

In a medium saucepan, combine honey, molasses and sugar. Heat to boiling, stirring until sugar is dissolved.

Cool then stir in egg, lemon zest and lemon juice.

Add to dry ingredients and beat with mixer until smooth.

Stir in chopped nuts and citron.

Wrap dough in moisture proof paper and chill in refrigerator overnight.

Preheat oven to 400 degrees. Grease cookie sheets.

When ready to bake, roll out dough in small batches, on a floured board, to about ¼" thickness. Cut with a round or other 2-½" diameter cookie cutter.

Place on prepared cookie sheets and decorate each with 3 almonds and a half cherry in the center.

Bake for 10-12 minutes.

White baking, prepare sugar glaze.
Sugar Glaze
In a medium bowl, stir together sugar, heavy cream and lemon juice. Add more sugar or cream to get a nice spreading consistency.

While still hot, brush lebkuchen with sugar glaze. Let cool just slightly then move to wire racks to cool completely.

Store in airtight containers for at least a week before using. They also freeze well, ship well and keep for weeks.
Notes
Can I freeze these cookies?
Absolutely! The uncooked dough can be frozen for up to 6 months. Just make sure to wrap it in plastic wrap then secure in a plastic freezer bag. Thaw in the refrigerator prior to rolling out and baking.
You can also freeze the baked cookies for the same 6 months. Just put freezer paper between cookies and place in an airtight resealable freezer bag.
Nutrition
Calories:
142
kcal
|
Carbohydrates:
29
g
|
Protein:
2
g
|
Fat:
2
g
|
Saturated Fat:
1
g
|
Cholesterol:
6
mg
|
Sodium:
69
mg
|
Potassium:
138
mg
|
Fiber:
1
g
|
Sugar:
19
g
|
Vitamin A:
8
IU
|
Vitamin C:
1
mg
|
Calcium:
33
mg
|
Iron:
1
mg
This post has been updated. It was first published on December 19, 2017.