Lebkuchen, a German Christmas cookie, is a spicy gingerbread-like cookie that is made with honey, spices and nuts. A soft, fragrant treat decorated with almonds and topped with a shiny sugar glaze. It will be the prettiest cookie on your table.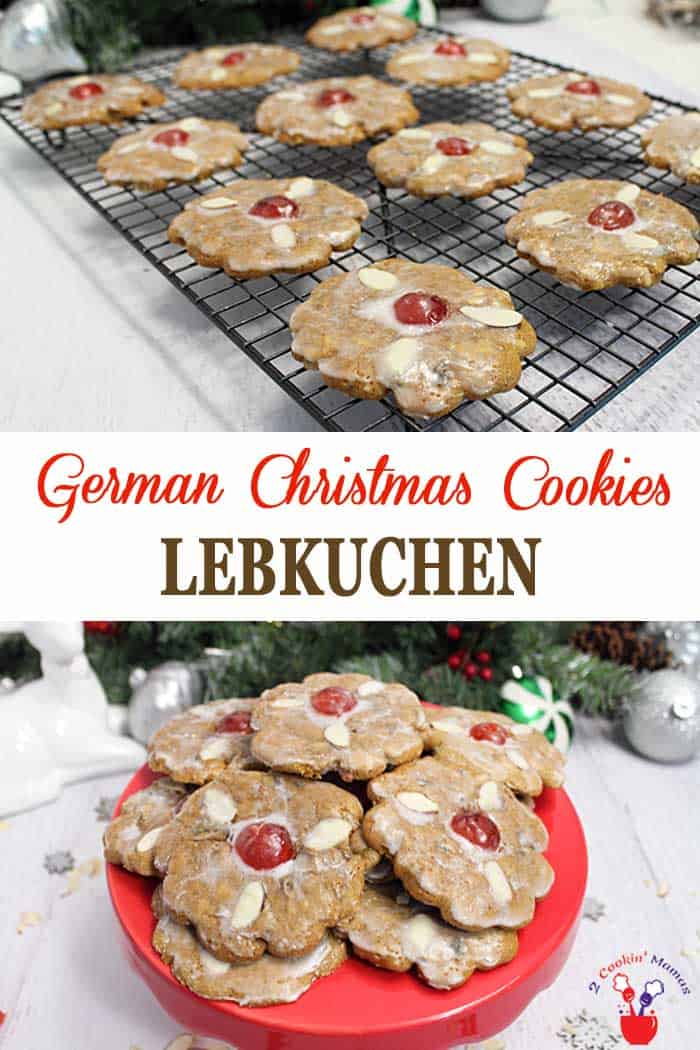 It's Creative Cookie Exchange time again and, this time of year, we are sharing our recipes for our favorite International traditional holiday cookies. And I just couldn't pass up the chance to make my dad's favorite cookie, which I made every Christmas until he passed away,  the German Lebkuchen or Pfefferkuchen.
The lebkuchen is a traditional German cookie resembling gingerbread. The original lebkuchen was invented by German monks back in the 13th century. The forerunner to these cookies were honey cakes, believed to have magical healing powers and worn as a talisman in battle as protection against evil spirits. That's saying a lot for these deliciously spicy cookies. It is now one of the most popular German cookies made at Christmas time.
Lebkuchen can be made in a variety of shapes, round being the most common, and usually include honey, spices such as nutmeg, cinnamon, cloves and allspice, nuts, including almonds (which I prefer), hazelnuts and walnuts as well as crystallized ginger or the more common citron. They are also one of the only cookies with no fat other than eggs.
These spicy cookies take a little bit of work but the end result is well worth it. You'll want to make them at least a week ahead of time and store in an airtight tin to enhance the spicy flavors. Now I'm pretty impatient when it comes to eating something so delicious so I have to be honest and say they are almost just as yummy eaten right away – I tested that theory really well. 🙂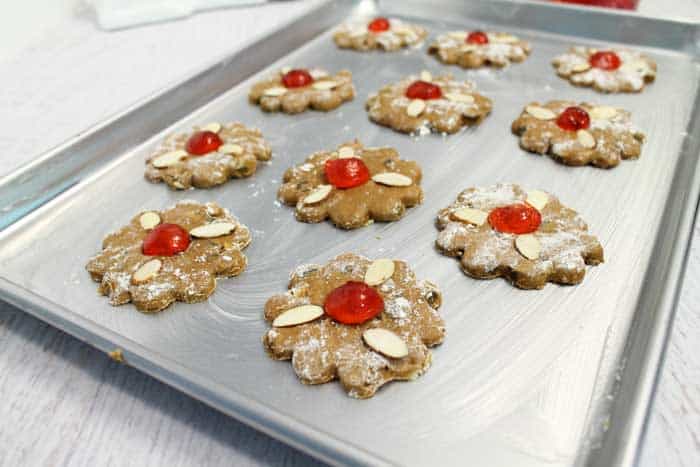 You'll find the spicy gingerbread-like dough is rather sticky and an overnight stay in the refrigerator will help with the handling. Once rolled out, it can be cut in any shape then decorated. I like to add 3 sliced almonds to the top and place a candied cherry in the center. It makes them look so Christmassy and pretty, perfect for adding to neighbors cookie tins.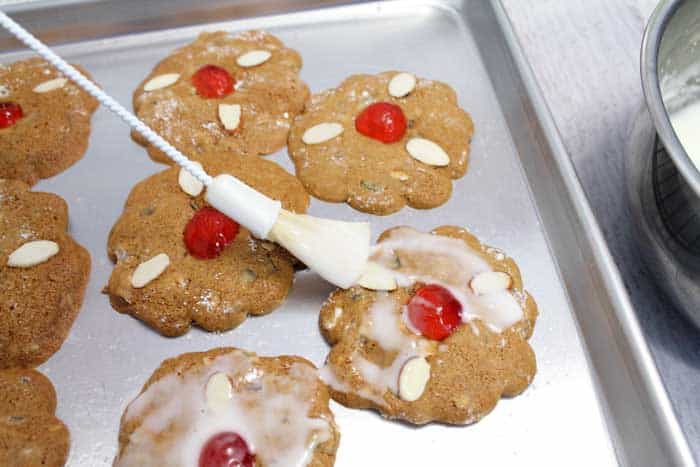 Once out of the oven, while still warm, brush on a sugar glaze which will harden into a hard, shiny surface. They'll be the highlight of any holiday celebration.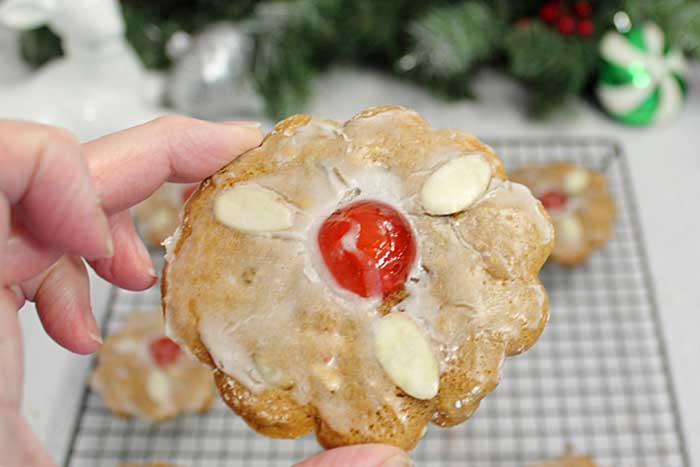 While you're enjoying a lebkuchen, take time to look over the other Christmas cookie recipes that my fellow bloggers are sharing today. Happy baking!
Love unusual cookies? You might want to check out my Peppermint Pinwheels, all pretty in red and white, or for coffee lovers, my Creme Brulee cookies, like a cuppa in cookie form.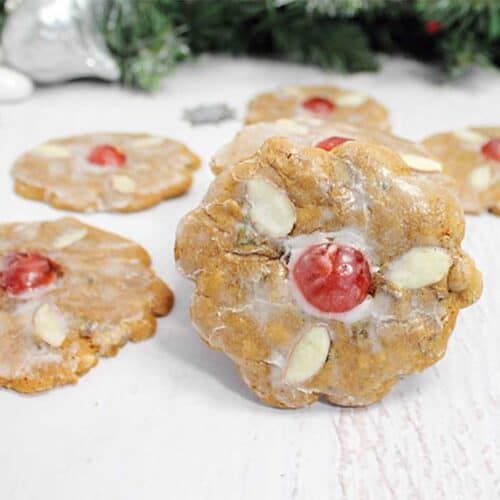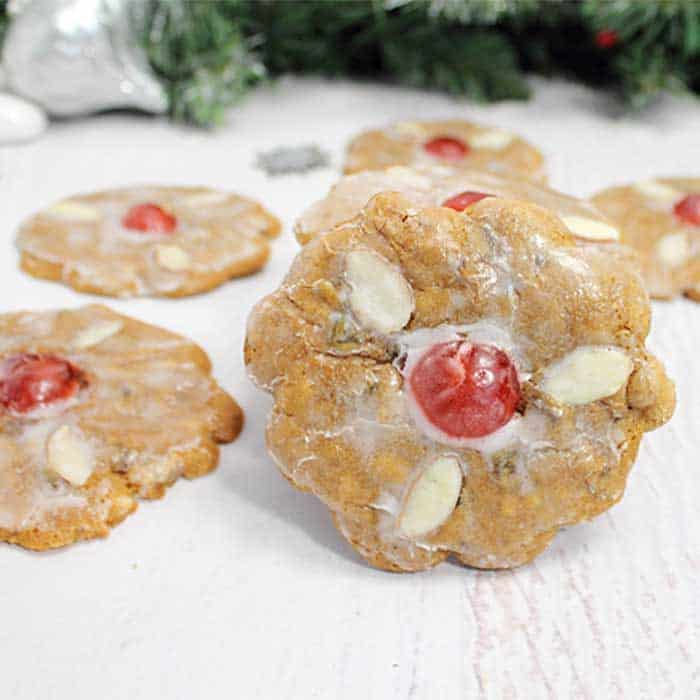 LEBKUCHEN
Lebkuchen, a German Christmas cookie, is a spicy gingerbread-like cookie that is made with honey, spices and nuts. A soft, fragrant treat decorated with almonds and topped with a shiny sugar glaze. It will be the prettiest cookie on your table.
Ingredients
Cookies
2-3/4

cup

all-purpose flour

1/2

teaspoon

baking soda

1/2

teaspoon

salt

1

teaspoon

nutmeg

1

teaspoon

ground cloves

1

teaspoon

cinnamon

1

teaspoon

allspice

1/2

cup

honey

1/2

cup

molasses

3/4

cup

light brown sugar, packed

1

egg

1

teaspoon

lemon zest

1

Tablespoon

lemon juice

1/2

cup

almonds, chopped

3/4

cup

diced candied citron

Garnish: sliced almonds, red candied cherry halves
Hard Sugar Glaze
1

cup

confectioner's sugar

(more can be added to get to the right spreading consistency)

3-4

Tablespoons

heavy cream

1

teaspoon

lemon juice
Directions
In a large bowl, combine first 7 ingredients. Set aside.

In a medium saucepan, combine honey, molasses and sugar. Heat to boiling, stirring until sugar is dissolved.

Cool then stir in egg, lemon zest and lemon juice.

Add to dry ingredients and beat with mixer until smooth.

Stir in chopped nuts and citron.

Wrap dough in moisture proof paper and chill in refrigerator overnight.

Preheat oven to 400 degrees. Grease cookie sheets.

When ready to bake, roll out dough in small batches, on a floured board, to about ¼" thickness. Cut with a round or other 2-1/2" diameter cookie cutter.

Place on prepared cookie sheets and decorate each with 3 almonds and a half cherry in the center.

Bake for 10-12 minutes.

White baking, prepare sugar glaze.

In a medium bowl, stir together sugar, heavy cream and lemon juice. Add more sugar or cream to get a nice spreading consistency.

While still hot, brush lebkuchen with sugar glaze. Let cool just slightly then move to wire racks to cool completely.

Store in airtight containers for at least a week before using. They also freeze well, ship well and keep for weeks.
Recipe Notes
Total time does not include overnight chill time.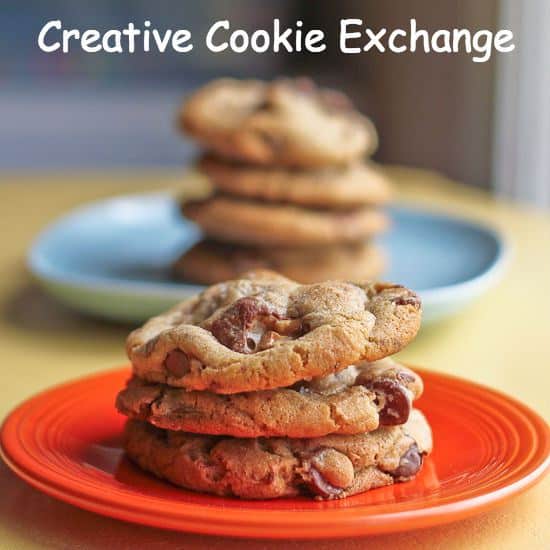 Everyone loves cookies at the holidays–no matter what holidays you are celebrating. And there are so many wonderful traditional cookies all over the world that we have decided to revisit this theme. Check out December 2014 for other choices from our first time doing it. And get inspired to get into the kitchen!
You can also use us as a great resource for cookie recipes. Be sure to check out our Pinterest Board and our monthly posts (you can find all of them here at The Spiced Life). You will be able to find them the first Tuesday after the 15th of each month! If you are a blogger and want to join in the fun, contact Laura at thespicedlife AT gmail DOT com and she will get you added to our Facebook group, where we discuss our cookies and share links.
If you are looking for inspiration to get in the kitchen and start baking, check out what all of the hosting bloggers have made:
DON'T MISS A RECIPE!